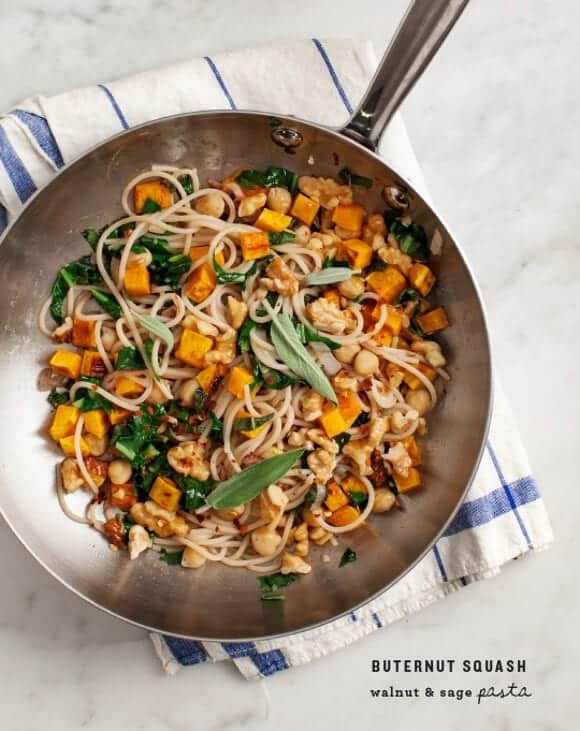 Happy Saturday! Jack and I are in Nashville this weekend for the wedding of one of my best college friends. It's been fun getting out of town for a few days to spend time catching up with old friends. But the thing Jack and I really love about weddings is attending them when they're not our own. Last month, we celebrated our 5th wedding anniversary, and although we had an amazing wedding day, the stress of planning it all is still part of the memory as well. (Note to self, next time: elope in Italy).
But what's not stressful is this butternut squash pasta. (I know, dumb segue – but hey, it's early and we were up late last night electric sliding). This is a pretty easy throw-together pasta made from a classic fall flavor combo: butternut squash, sage, and walnuts.

I threw some chickpeas in here because I had some that I needed to use up. This butternut squash pasta can be customized a few other ways: omit the pecorino if you're vegan, if you're not vegan some creamy feta or goat cheese might be a nice addition, and if you're not vegetarian, some crispy pancetta would add a nice salty bite.
Either way, this a great dish to stay in and eat with someone you love.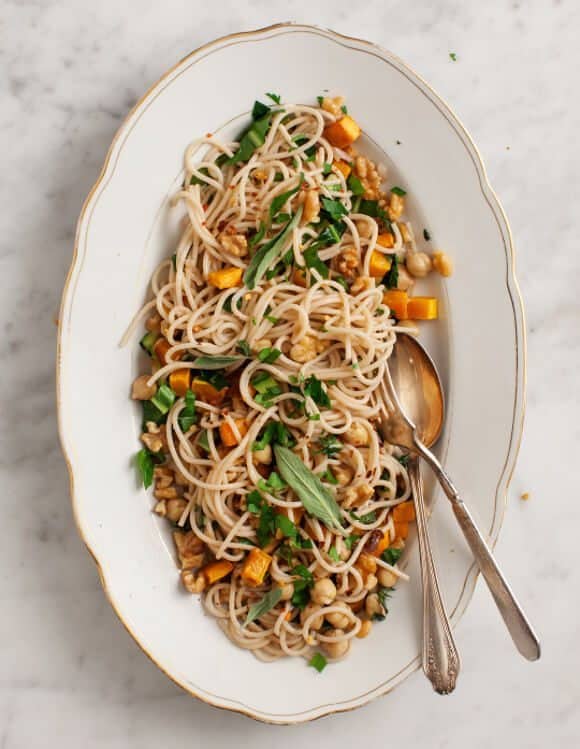 If you love butternut squash as much as I do, try it in this sandwich, this pudding, or this curry!
Butternut Squash Walnut & Sage Pasta
Ingredients
2 cups cubed butternut squash
1 tablespoon extra-virgin olive oil
1 tablespoon butter (or vegan butter or more olive oil)
1 small shallot, sliced
¼ cup chopped sage leaves
¼ cup chopped walnuts
½ cup cooked chickpeas
1-2 garlic cloves, finely chopped
Big squeeze of lemon
Splash balsamic vinegar
4-6 ounces spaghetti or linguine (and save some pasta water)
A few handfuls of chopped spinach (or kale or chard)
½ cup chopped parsley
Grated pecorino cheese (optional)
Sea salt and freshly ground black pepper
Instructions
Preheat the oven to 350 degrees. Roast the butternut squash cubes with a little olive oil, salt, and pepper for about 20 minutes, or until they're soft and mostly cooked through. Remove from the oven and set aside.
Cook pasta in salty water until al dente and reserve at least 1 cup of the starchy pasta water.
Meanwhile, heat a medium skillet over medium heat. Add the olive oil and butter, then add the shallot and cook until translucent. Add the chopped sage and cook for another 30 seconds, then add the walnuts, chickpeas, butternut squash cubes, garlic, salt, and pepper. Cook until the chickpeas and squash brown a bit (but before the garlic burns).
Add a big squeeze of lemon and a good splash of balsamic and stir.
Add the cooked pasta and spinach. Use tongs to gently toss the pasta with everything in the pan, allowing the greens to wilt. Add pasta water to help loosen it (I used about ¼ cup).
Add some grated pecorino at this step if you wish.
Remove from heat, then stir in the chopped parsley.
Taste and adjust seasonings and serve with extra grated cheese.
Notes
Make this vegan by skipping the butter (or use vegan butter) and omit cheese. Make this gluten-free by using gluten-free pasta.