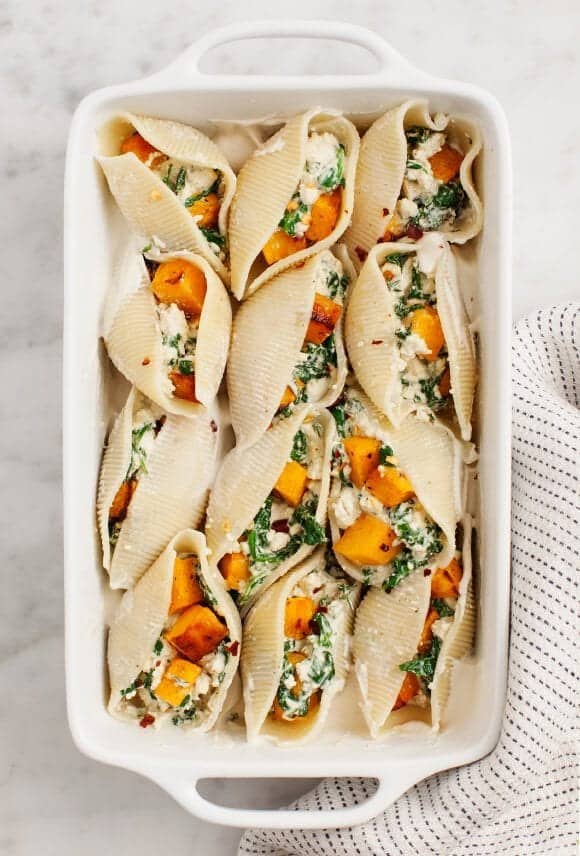 I know – there's nothing especially Thanksgiving-ey about this recipe. I had a number of vegetarian "main course" ideas that I thought of sharing this year. At the top of the list was a creamy vegan pot pie with a delectable flaky crust… but I didn't get to it. I'm still excited by that idea and when I do get to it, it'll be amazing… but the week I was creating this recipe, I had leftover butternut squash, and I was craving pasta. Pot pie had to wait.

This recipe is loosely based on the other stuffed shell recipe that I made for this blog a few years ago. It's been a favorite, mostly because (in my opinion) it hardly tastes vegan. The "ricotta" – made from cashew cream, crumbled tofu, herbs, and lemon zest – is rich and flavorful. If your family is squeamish about tofu, just don't tell them. They'll never suspect it here.

In the spirit of fall, I stuffed my shells with roasted butternut squash. Fill them, bake, and top with dollops of the extra cashew cream, if you like.

Butternut Squash Stuffed Shells
This vegan stuffed shell recipe is a great one for entertaining. Make it as a vegetarian main at Thanksgiving or serve it for the winter holidays!
Ingredients
1½ cups cubed butternut squash
extra-virgin olive oil, for drizzling
16 jumbo shells
cashew cream
1½ cups raw cashews*(see note)
1 cup fresh water
1 garlic clove
3½ tablespoons fresh lemon juice
½ teaspoon sea salt
freshly ground pepper
filling
4 cups fresh baby spinach
1 cup crumbled firm tofu
1 teaspoon dried oregano
½ teaspoon lemon zest
pinch of red pepper flakes
1 cup cashew cream (from the recipe above)
sea salt and freshly ground pepper
Instructions
Preheat the oven to 350°F and line a baking sheet with parchment paper. Toss the butternut squash with a drizzle of olive oil and a few generous pinches of salt and pepper. Roast until golden brown, 20 to 25 minutes.
Make the cashew cream: Blend together the drained raw cashews, fresh water, garlic, lemon juice, ½ teaspoon salt and pepper.
Make the filling: In a medium skillet, heat a drizzle of olive oil over medium heat. Add the spinach in increments, along with a pinch of salt, and sauté until all the spinach is incorporated and wilted. Remove from heat and let cool slightly. Squeeze out any excess liquid and chop. In a medium bowl, combine the the spinach with the crumbled tofu, oregano, lemon zest, red pepper flakes, at least ¼ teaspoon salt, freshly ground black pepper and 1 cup of cashew cream. Season to taste, adding more salt and pepper as desired.
Bring a large pot of salted water to a boil. Add the shells and cook according to the package directions until al dente. Drain.
Assemble the shells. Spread ¼ cup of the reserved cashew cream on the bottom of an 11x7-inch baking dish. Fill each shell with some of the filling and a few cubes of butternut squash, and place into the baking dish. Drizzle a little olive oil over the shells and bake, covered, for 15 minutes, or until heated through. Remove from the oven and serve with the remaining cashew cream.
Notes
*Depending on your blender, you may want to soak the cashews in water for a few hours (or overnight) in order for them to become creamy when pureed. Drain and rinse when ready to use. If using a Vitamix blender or similar, soaking is not necessary.