This delicious and zesty roasted butternut squash pasta is a quick, easy, 10-ingredient vegetarian weeknight dinner.
Happy post-Halloween! I hope you all had a fantastic holiday. Ours was… I guess you could say, a little low key. We worked late and then went to the bar at Whole Foods for drinks and dinner. Because these types of activities are actually really fun when you're an old married couple like we are :). Another thing that's fun for us – pasta! But not just any pasta – spicy butternut squash pasta!
I've been on a butternut squash kick lately, see here and here.
For this post, I had originally planed to make a more traditional fall pasta with herbs like sage and rosemary. Then suddenly, we had a streak of sunny warm-ish days here in Chicago, and I craved something bright and zesty instead. I caught a glimpse of this pasta on Bon Appétit and that became my starting point. I'm always craving bright and zesty things (hence the name of our blog), so essentially, this is my perfect fall meal.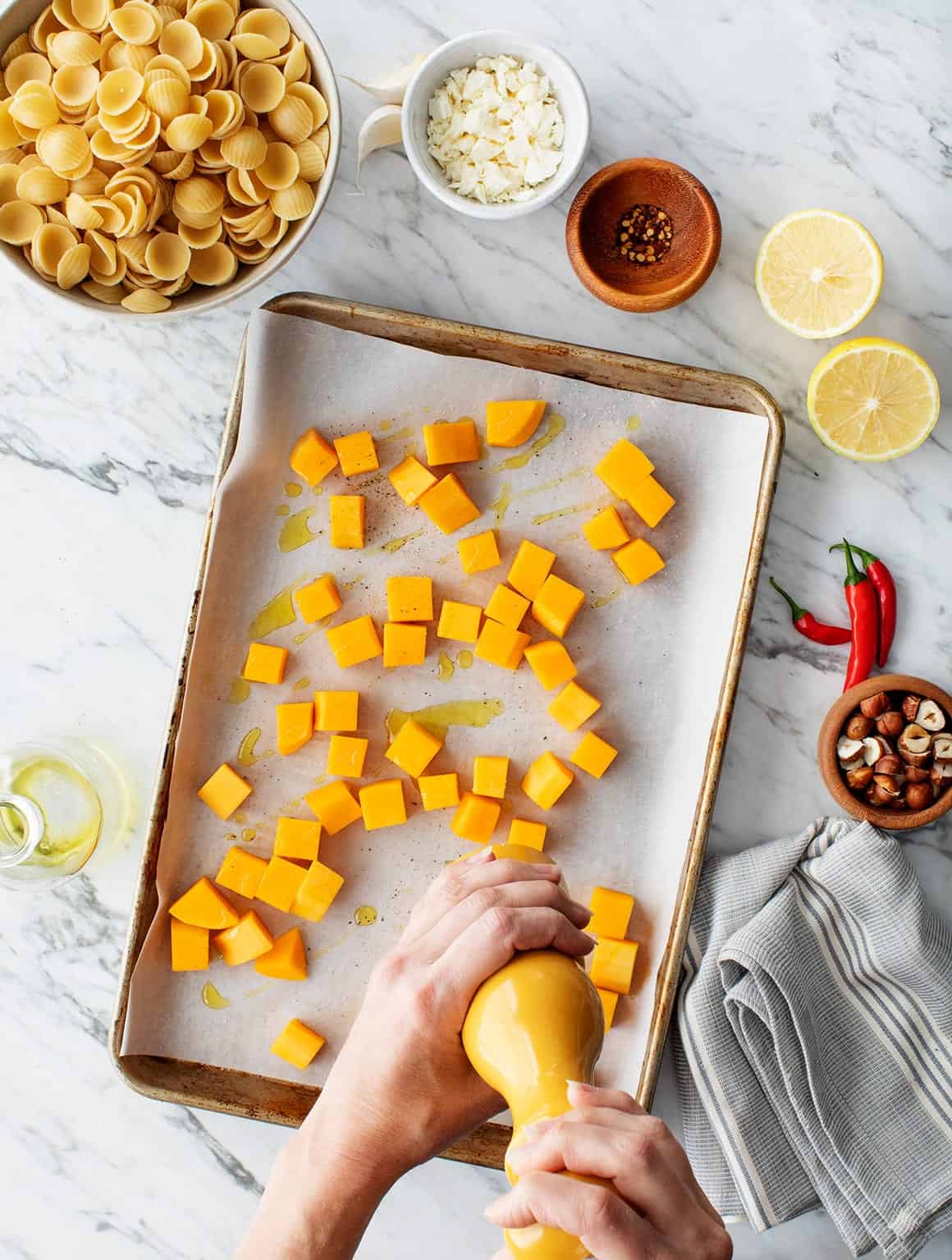 I had some beautiful mint from the farmers market and 3 Thai chiles left on our little deck plant, which inspired the rest of the recipe. I made a quick chili-garlic oil that gets tossed onto the pasta with the roasted butternut squash, olive oil, lots of lemon, hazelnuts, and a good bit of tangy feta. If you don't have Thai chiles, you can use regular red pepper flakes instead… or in addition, if you like things extra spicy.
I hope you enjoy this quick weeknight pasta!
If you're craving more pasta, check out this homemade mac and cheese, linguine, pesto pasta, or roasted vegetable pasta next!
Butternut Squash Pasta with Chili Oil, Feta & Mint
This delicious and zesty roasted butternut squash pasta is a quick, easy, 10-ingredient vegetarian weeknight dinner.
Ingredients
3 cups cubed butternut squash
2 tablespoons extra-virgin olive oil, divided, plus more for drizzling
12 ounces orecchiette pasta
2 garlic cloves, thinly sliced
2 small red Thai chili peppers*
Pinches of red pepper flakes
¼ cup fresh lemon juice
½ cup crumbled feta cheese
⅓ cup chopped hazelnuts, toasted
⅓ cup fresh mint leaves
½ teaspoon sea salt, more for sprinkling
Freshly ground black pepper
Instructions
Preheat the oven to 425°F and line a large baking sheet with parchment paper. Place the squash on the sheet and drizzle with olive oil and pinches of salt and pepper. Roast for 22 to 25 minutes or until the squash is tender and golden brown around the edges.
Cook the pasta according to the package directions, or until al dente. Drain and transfer to a large bowl.
Heat 1 tablespoon of the oil in a small skillet over low heat. Add the garlic, chiles, and red pepper flakes. Stir and cook for 1 minute, or until the garlic is cooked but not burned. Remove from the heat and drizzle the chili oil over the cooked pasta. Add the lemon juice, ½ teaspoon salt and freshly ground black pepper and toss. Add the butternut squash, feta, hazelnuts, mint, and the remaining 1 tablespoon olive oil, and toss again. Season to taste and serve. Drizzle with more olive oil, if desired.
Notes
*If you don't have Thai red chiles increase the red pepper flakes to ¼ to ½ teaspoon, depending on your spice preference.

Make this gluten free by using gluten free pasta.