This spiced fall stew is full of butternut squash, kale, quinoa & tomatoes. It's one of our favorite healthy dinners, and it's great to pack for lunch!
And soup season continues! It might not be snowing here, but the fact that it's been 80 degrees outside doesn't stop me from craving big pots of stewy vegetables. Plus I just love having the leftovers around for lunch all week. They get better on the second day, and even better on the third day.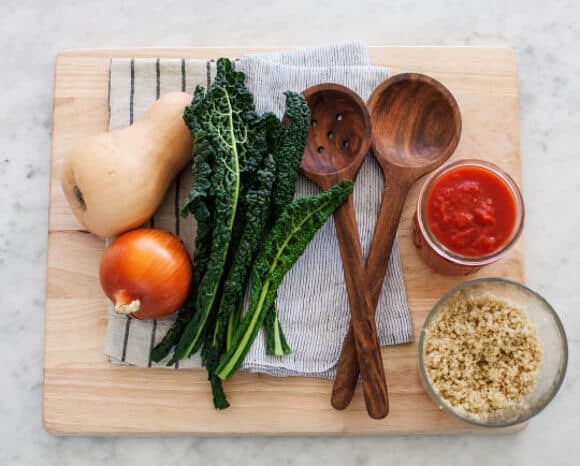 This stew has pretty much all of my favorites: hearty butternut squash, quinoa & kale. It all gets simmered in a stewy tomato broth. It's a pretty simple recipe that you should spice up as much as you like. I used cumin, coriander & smoked paprika, but (as I type this), I'm thinking about how delicious it would be in a curry-spice direction. I'll keep you posted when I give that a go…
I'm excited to partner once again with Crate & Barrel. They have so many kitchen staples that I use all the time – this classic French oven, my go-to vegetable peeler, not to mention these bowls, and how cute are those wooden spoons?
If you love soup as much as I do, make this stew, and then try this many-veggie soup & this spiralized veggie minestrone!
Butternut Squash, Kale & Quinoa Stew
Ingredients
2 tablespoons extra-virgin olive oil
1 large onion, diced
2 cups cubed butternut squash
3 garlic cloves, minced
1 teaspoon ground cumin
1 teaspoon ground coriander
½ teaspoon red chile flakes
½ teaspoon smoked paprika
1 tablespoon white wine vinegar
1 (14.5 ounce) can diced tomatoes
4 cups (32 ounces) vegetable broth
½ cup dry quinoa
2 to 3 cups chopped kale
Sea salt and freshly ground black pepper
Instructions
Heat the oil in a large pot over medium heat. Add the onion and a few pinches of salt and pepper and cook, stirring occasionally, until the onion is soft, about 4 minutes.
Add the butternut squash, another pinch of salt, and stir. Let the butternut squash cook for a few minutes, then stir in the garlic, cumin, coriander, paprika, and red pepper flakes. Add the white wine vinegar and stir to deglaze the bottom of the pan. Add the tomatoes, broth, and quinoa. Cover and simmer until the butternut squash is tender and the quinoa is cooked through, about 40 minutes. Halfway through the cooking time, I like to taste and adjust seasonings. Add additional spices if you like.
When the soup is nearly done, stir in the kale and cook about 5 minutes more, or until the kale is wilted. Taste and adjust seasonings again.
Notes
Leftover stew can be frozen or stored in the fridge for 3 to 4 days.
This post is in partnership with
Crate & Barrel.
Products used in this post: Le Creuset Signature 5.5qt Round French Oven, 18th Street Bowls, Suits Napkins, OXO Good Grips Swivel Peeler, Shesham Wood Spoon, Shesham Wood Straining Spoon