This butternut squash casserole is a fresher take on classic bread stuffing. Roasted squash, leeks, and pearl onions fill it with texture and flavor.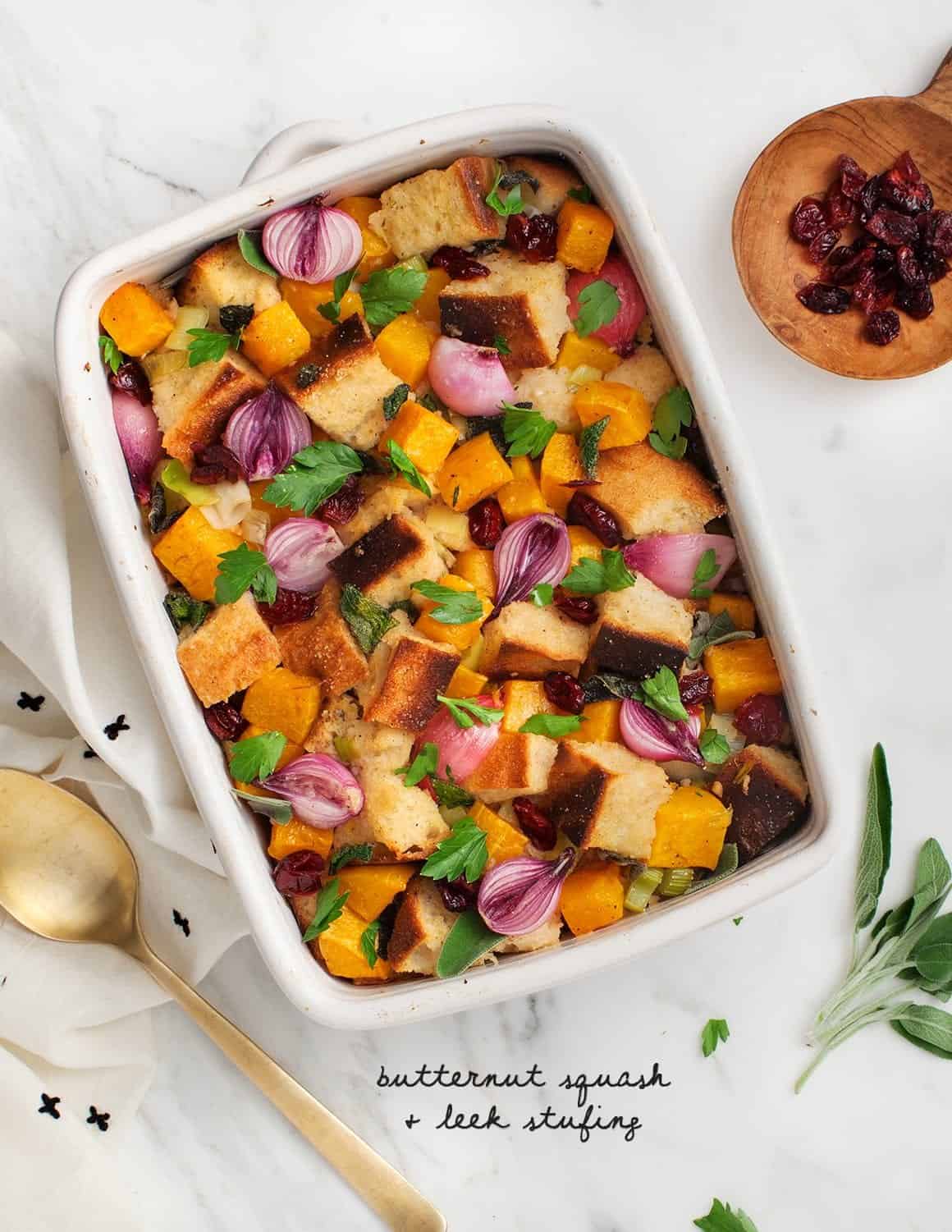 This butternut squash casserole recipe is a veggie-fied version of my favorite Thanksgiving food: stuffing! I'd be excited to devour any plate of stuffing in the fall, but this butternut squash casserole is my favorite version yet. Creamy cubes of squash, purple onions, and dried cranberries add gorgeous color and delicious flavor to this classic autumn dish. I encourage you to make this butternut squash casserole for Thanksgiving, but if you're anything like me, it might end up in your regular recipe rotation too. After a few rounds of testing and taking these photos, I've made it 5 times this fall at least, and I still can't get enough.
Butternut Squash Casserole Recipe Ingredients
Here's what makes this butternut squash casserole recipe so delicious:
Butternut squash, of course! I cube and roast it before adding it to the casserole.
Sourdough bread – It gives this butternut squash casserole plenty of heft. Don't worry if your bread is a day or two old – it'll be even better at soaking up the flavors in this recipe!
White wine – Its tangy flavor contrasts wonderfully with the sweet roasted squash.
Leeks – Leeks are often packed with grit, so slice them into half-moons and wash them well before you start to cook.
Celery – For classic savory stuffing flavor.
Garlic – It adds sharp depth of flavor.
Pearl onions – Use red ones if you can find them. They add a gorgeous pop of color to this dish!
Fresh sage, rosemary, and parsley – Their earthy flavors make this casserole taste like fall!
Dried cranberries – I sprinkle them on after the casserole bakes so that they stay soft and red.
Vegetable broth adds moisture, olive oil adds richness, and salt and pepper make all the flavors pop.
Find the complete recipe with measurements below.
To make this recipe, you'll start by roasting the squash. While it cooks, sauté the leeks and celery. Then, stir in the garlic, along with some chopped sage and rosemary. Deglaze the pan with the wine, and stir in the bread and a cup of vegetable broth.
Next, bake! Layer the bread mixture into a casserole dish, drizzle on more broth, and dot the roasted butternut squash, pearl onions, and whole sage leaves on top. Add a final drizzle of olive oil, and bake the casserole at 350° until the top is nicely golden brown. Top it with the dried cranberries and more herbs, and serve!
Butternut Squash Casserole Serving Suggestions
I love this butternut squash casserole so much that I've eaten it for lunch every day this week! To make my meal a little heartier, I serve it with my creamy Parsnip Puree. It would also be delicious with my Pear Salad or Shredded Brussels Sprouts Salad or a bowl of soup such as my Cream of Mushroom Soup, Wild Rice Soup, or Cauliflower Soup.
But if you make this recipe, I think it's more likely that you'll serve it as a dinner side dish. Pair it with your favorite protein, or serve in place of the traditional stuffing at your Thanksgiving dinner. It would fit in perfectly next to classic side dishes like mashed potatoes, green bean casserole, and sweet potato casserole. Don't forget the pumpkin pie for dessert! Of course, if you have leftovers, they're great for lunch the next day. 🙂
More Favorite Squash Recipes
If you love this butternut squash casserole, try one of these squash recipes next:
For more delicious fall recipes, check out this post!
Butternut Squash Casserole
This butternut squash casserole recipe is a fresher take on classic bread stuffing. I love to serve it at Thanksgiving, but feel free to enjoy it all fall and winter long.
Ingredients
2 cups cubed butternut squash
2 tablespoons extra-virgin olive oil, divided, plus more for drizzling
1 heaping cup chopped leeks, white and light green parts, rinsed well
2 celery stalks, chopped
¼ cup dry white wine
3 garlic cloves, minced (or 5 cloves roasted garlic from this recipe, minced)
Heaping ¼ cup chopped fresh sage, plus about 12 small leaves
2 teaspoons minced fresh rosemary
Heaping 5 cups cubed sourdough bread (1-inch cubes)
1½ cups vegetable broth, more if needed
8 tiny pearl onions, peeled and sliced in half
¼ cup dried cranberries
¼ cup chopped fresh parsley
sea salt and freshly ground black pepper
Instructions
Preheat the oven to 400°F and line a baking sheet with parchment paper. Place the butternut squash cubes on the pan and toss with a drizzle of olive oil and generous pinches of salt and freshly ground black pepper. Roast 25 minutes or until tender.
Reduce the oven heat to 350°F and lightly grease or spray a 7.5x10-inch (or similar) pan with olive oil.
In a large skillet, heat 1 tablespoon of olive oil over medium heat. Add the leeks, celery, and generous pinches of salt and pepper and cook until translucent, about 5 to 7 minutes. Add the garlic, chopped sage, and rosemary and stir. Add the wine, stir, and cook for 30 seconds.
Stir in the bread, then 1 cup of the broth, and gently toss until the bread cubes are evenly coated. Transfer to a baking dish and drizzle on the remaining ½ cup of broth, especially over areas that may seem dry. Evenly distribute the butternut squash, pearl onions, and sage leaves through the spaces between the bread. Drizzle 1 tablespoon of olive oil on top along with a few more pinches of salt and pepper.
Bake for 20 to 25 minutes or until the bread is golden brown on top. Sprinkle on the cranberries and chopped parsley, and serve.