Happy Friday from super-freezing Austin! Yikes, it got way too cold here yesterday and I've been bundled up in the house ever since. Last night, we stayed in, ate veggie bowls with roasted sweet potatoes and "vegged" out on the couch.
I think we'll stay in again tonight and I just realized (thanks to the tortillas that I keep on hand in the freezer), that I have most of the ingredients to make enchiladas so perhaps these will be on tonight's menu. This recipe comes from the "Winter Squash" section of our cookbook:
Unlike some enchiladas, these are pretty simple to make. And to make things even easier – this recipe is available next week from The Purple Carrot, which means that you can click over and order this recipe (plus a week's worth of other delicious plant-based meals), and the ingredients will come to your door pre-measured ready for you to cook and assemble without leaving your house. The only difference is that my version here has cheese – the version you order will be a delicious vegan version!. Order by next Tuesday, December 13th and type in the code LEMONS25 for $25 off your first order!

The filling here is a mixture of roasted butternut squash, black beans, and scallions (although I think sweet potatoes in here would be delicious as well). Roll it up in corn tortillas and smother them with this smoky tomato-chipotle sauce. Top with cheese if you like. Note – pictured here is not the vegan version, but there is a vegan option in the recipe below.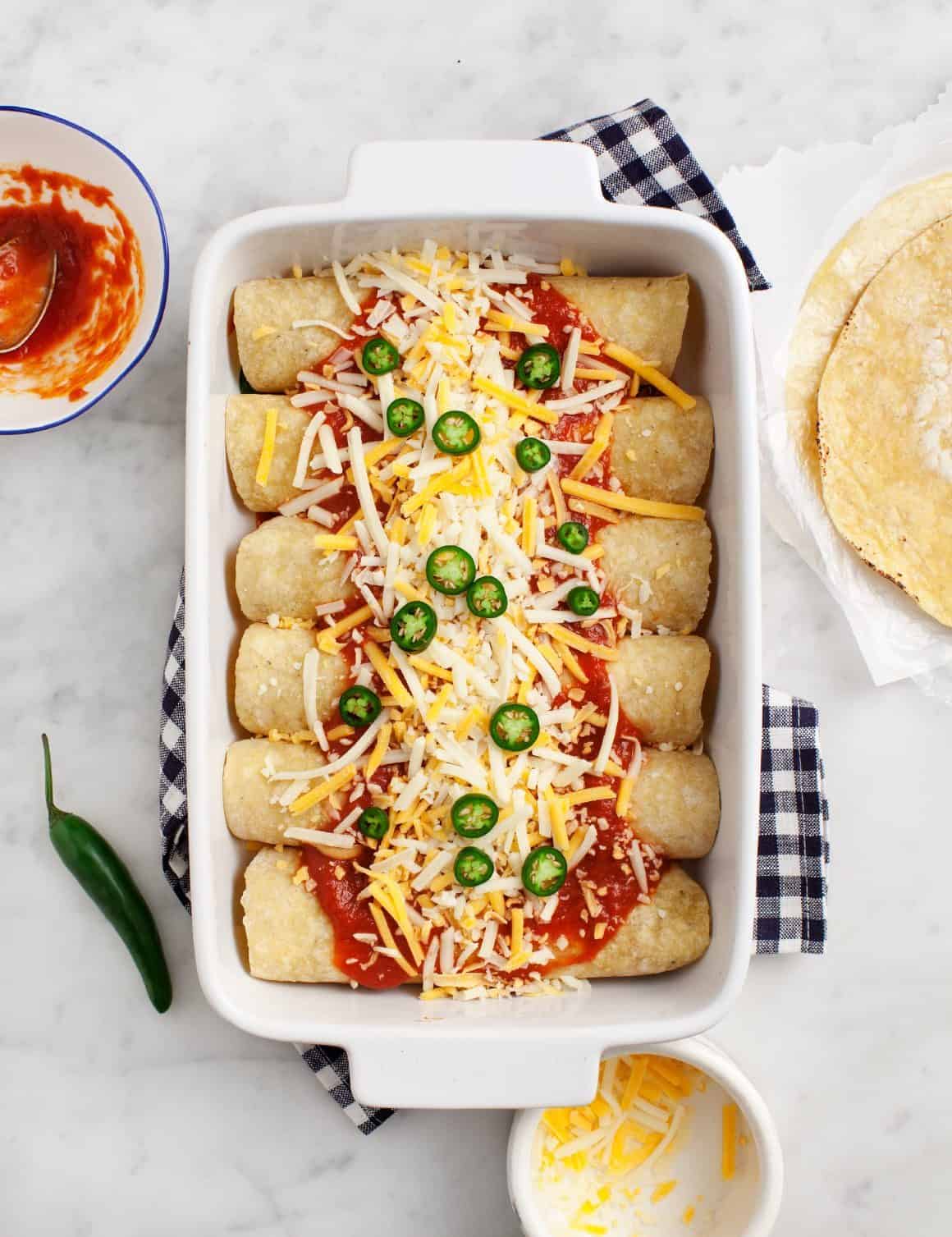 Butternut Squash & Black Bean Enchiladas
Ingredients
filling:
2 teaspoons extra-virgin olive oil
2 cups cubed butternut squash
⅓ cup chopped scallions
1 cup cooked black beans, drained and rinsed
Sea salt and freshly ground black pepper
sauce:
2 teaspoons extra-virgin olive oil
1 (14-ounce) can tomato sauce
1 garlic clove, minced
3 tablespoons adobo sauce from canned chipotles in adobo sauce
Sea salt and freshly ground black pepper
for the enchilada assembly:
6 corn tortillas* (see note)
2 cups grated white cheddar cheese
1 jalapeno, sliced
serve with:
Cilantro, for garnish
Avocado slices
Lime slices, on the side
Instructions
Preheat the oven to 400°F. Line a baking sheet with parchment paper.
Make the filling: Spread the butternut squash cubes on the baking sheet. Drizzle with olive oil, add a pinch of salt and pepper, and toss to combine. Roast until golden brown, about 25 minutes. Transfer the roasted squash to a bowl and stir in the scallions and black beans.
Make the sauce: In a medium skillet, heat the olive oil over medium heat. Add the tomato sauce, garlic, and adobo sauce. Let simmer for about 5 minutes, stirring often.
In a 9x13 inch baking dish, spread 2 tablespoons of the tomato sauce on the bottom of the dish. Assemble the corn tortillas with about ½ cup of the filling, a tablespoon of the sauce, and a sprinkle of cheese. Roll each tortilla and place seam side down into the baking dish.
Pour the remaining tomato sauce over the enchiladas, and sprinkle with the remaining cheese and the jalapeños slices. Bake covered for 20 minutes. Uncover and bake for 5 more minutes, or until the cheese is bubbling.
Serve with fresh cilantro, avocado slices and lime slices.
Notes
Vegan option: skip the cheese and serve the enchiladas with vegan sour cream mixed with a squeeze of lime on the side.

*you can use 8 tortillas if yours are smaller and they will all fit in your pan. (mine pictured here were on the large side)