Are you as excited as I am that it's soup season? Soups, stews, chili – whatever you call it – I love making a big batch on Sunday and eating it for lunch all week.
This butternut squash chili is hearty and healthy, warming and slightly spicy. It's also one of those soups that gets a little better every day, so unlike most leftovers, I loved eating this chili for lunch just about every afternoon last week.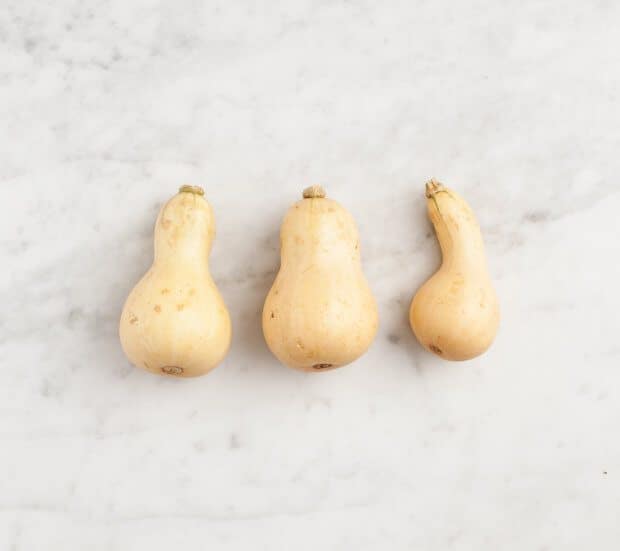 When I made this chili, I had 3 tiny butternut squashes on hand, but you won't need 3 to make it. Just cube up enough squash to equal about two cups.
Along with the butternut squash, I used poblanos in this recipe. Poblano peppers are usually mild, but just a heads up – if you are in Austin and using these little guys from JBG – they're quite spicy. I used a little apple cider vinegar in this butternut squash chili because I love the bright balanced flavor it adds, but it also helps tone down the spice if you overdo it.


I topped my bowls of butternut squash chili with leftover cashew poblano cream, crispy tortilla strips, and cilantro. Feel free to top yours with whatever you like – cheese or diced avocado would also be delicious.

Butternut Squash Black Bean Chili
Ingredients
1 tablespoon extra-virgin olive oil
1 medium yellow onion, diced, about 1½ cups
2 garlic cloves, minced
1 carrot, chopped
2 cups cubed butternut squash
1 poblano pepper, stem and seeds removed, and diced*
1 teaspoon chili powder*
½ teaspoon chipotle paste or powder*
1 cup halved cherry tomatoes, or 1 cup canned diced tomatoes
2 teaspoons apple cider vinegar
1 cup cooked black beans, drained and rinsed
2 to 3 cups vegetable broth
Juice of ½ to 1 lime
Sea salt and freshly ground black pepper
Optional toppings:
Grilled corn kernels
Handful of cilantro
Baked tortilla strips (or crumbled chips)
Lime slices
Dollops of poblano cashew cream
Instructions
Heat the oil in a large pot over medium heat. Add the onion and a pinch of salt and pepper and cook until soft, 5 to 8 minutes. Stir in the garlic, carrots, poblano, butternut squash, and another pinch of salt and pepper. Cook until the vegetables just start to become tender and the onion is lightly browned, about 15 minutes. Reduce the heat if necessary.
Add the chili powder, chipotle powder, and tomatoes and cook for 1 minute. Stir in the apple cider vinegar and black beans and then add 2 cups of vegetable broth (or enough to cover everything). Simmer until the butternut squash and carrots are tender, 20 to 30 minutes, adding more broth as needed.
Add a big squeeze of lime. Season to taste with more salt, pepper, and spices to your liking. If your chili is too spicy, stir in a small splash of apple cider vinegar. If it's too thick, add another cup of broth.
Serve with grilled corn, cilantro, tortilla strips, lime slices, and poblano cashew cream.
Notes
*if you're sensitive to spice, start with less, you can always add more. If your chili is too spicy in the end, add more lime juice and/or splashes of apple cider vinegar to tone it down.