This loaded veggie burrito bowl blows the Chipotle version out of the water. Adobo sauce adds deep, smoky flavor to the meaty portobello caps on top.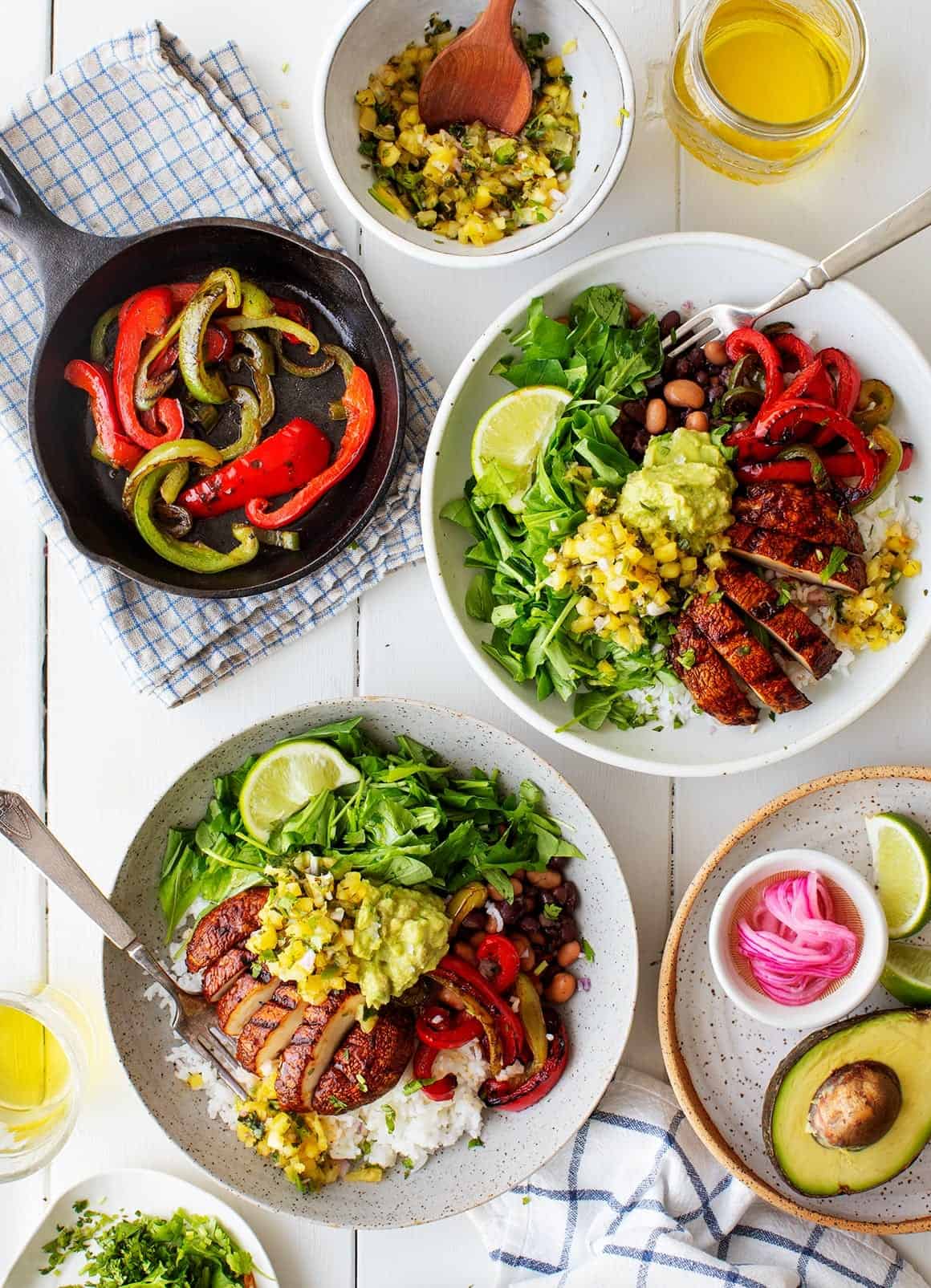 Everyone loves a good burrito bowl, and here's one that we've been really into lately!
We love mushrooms, but even if you don't think you do, give this a try because the preparation is so so delicious! Smoky, charred portobello slices are topped onto bowls of sizzling fajita peppers, beans, rice, arugula, guacamole, and fresh pineapple salsa. This burrito bowl is summer eating at its finest, and it's also a great way to use pineapple salsa if you have any left over from making this recipe or this recipe.
Vegan Burrito Bowl "Meat"
To make this bowl, season savory portobello mushrooms with a simple 1-ingredient marinade: adobo sauce (the sauce that comes in the can of chipotle peppers)! Open the can, brush them with the sauce, and that's it! Set them aside to marinate while your grill pre-heats. The first time I made these, I was surprised by how juicy and flavorful the mushrooms turned out with so few ingredients and such little effort. If you don't have a grill, you could make this recipe on the stove on a cast iron grill pan, or under the broiler in your oven.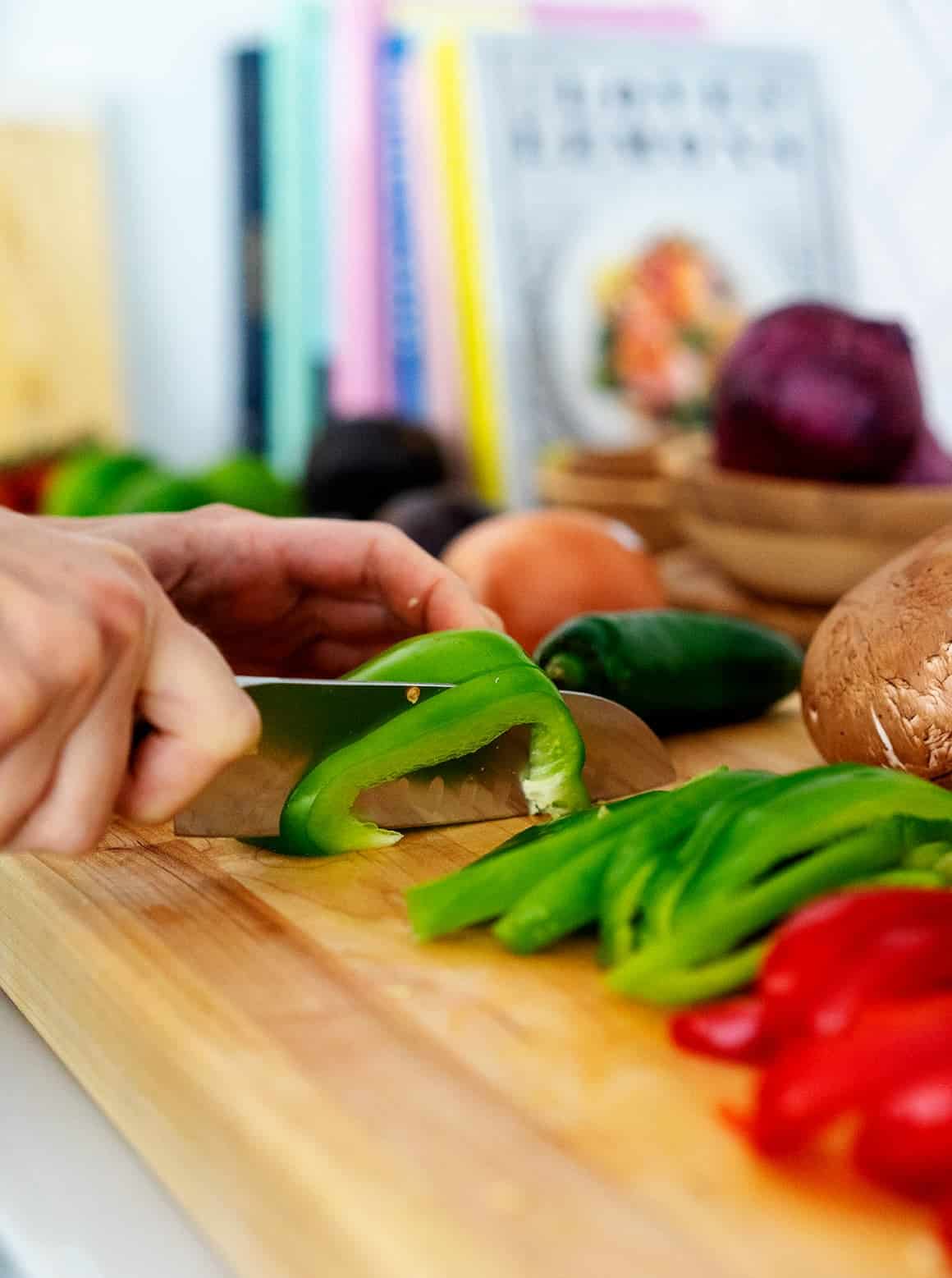 Burrito Bowl Fajita Peppers
You can't have a burrito bowl without fajita peppers! Ok, well, you can… but the charred peppers and onions are one thing I never skip when I'm ordering a burrito bowl at Chipotle. To make them at home, I cook the peppers in this cast iron skillet on the grill next to the mushrooms. Get the pan sizzling hot so that the peppers really char.
If you don't have a grill, you could, of course, make the peppers in a cast iron skillet on the stovetop.
In this recipe, I season the peppers simply with salt and pepper, but if you want to spice things up, try tossing them with 1/2 teaspoon chili powder or taco seasoning!
Burrito Bowl Components
Once your veggies are ready, assemble your bowl with these other flavorful components:
Rice – Use brown rice, cilantro lime rice, or cauliflower rice, if you wish.
Pinto Beans or Black Beans – I like to mix them with chopped chipotles for smoky flavor.
Guacamole – I make a quick version with just lime and sea salt.
Pineapple Salsa, or you could use tomatillo salsa verde, mango salsa, or pico de gallo!
Salad greens – Try chopped romaine or arugula.
Lime slices & cilantro – The bright lime juice and fresh cilantro are the perfect finishing touches!
Tips to Meal Prep your Burrito Bowl
While all these components take time to prepare, if you prep them in advance, a burrito bowl can be a great weeknight dinner or packed lunch.  Here are a few tips to meal prep weeknight-worthy burrito bowls:
Store components separately. That way, the greens and herbs will stay nice & fresh in the fridge.
Try using quinoa instead of rice, which can dry out in the fridge.
Instead of making guacamole, top your bowls with avocado slices just before serving.
The other components – the beans, veggies, and salsa – can all be made ahead and stored in the fridge for several days. Prep them in advance and make burrito bowls all week! They're delicious warm or cold.
Love this burrito bowl?
Then make sure to check out my favorite veggie tacos or stuffed poblanos next!
Loaded Burrito Bowl
This easy vegan burrito bowl recipe is loaded with rice, beans, chipotle portobellos & fajita veggies.
Ingredients
Bowls
1 cup cooked pinto beans or black beans, drained and rinsed
1 to 2 chopped chipotle peppers from a can of chipotles in adobo
½ teaspoon extra-virgin olive oil, more for drizzling
1 tablespoon lime juice, plus wedges for serving
1 small avocado, pitted
1 cup cooked white or brown rice
2 cups arugula, chopped
½ cup Pineapple Salsa (recipe below)
¼ cup chopped cilantro
Sea salt and freshly ground black pepper
Veggies
2 portobello mushroom caps
Extra-virgin olive oil, for drizzling
Adobo sauce from the can of chipotles used above
Sea salt and freshly ground black pepper
1 red bell pepper, stem, ribbing and seeds removed, sliced into strips
1 green pepper, stem, ribbing and seeds removed, sliced into strips
1 jalapeño pepper, ribbing and seeds removed, sliced into thin strips, optional
Instructions
In a small bowl, combine the beans with the chipotle peppers, olive oil, lime juice, ¼ teaspoon salt, and several grinds of pepper.
Prepare the veggies: Preheat a grill to medium heat with a cast iron pan inside. You'll grill the mushrooms directly on the grill, and the sliced peppers in the cast iron pan.
Rub the whole mushroom caps with a drizzle of olive oil and a few spoonfuls of adobo sauce. Use enough sauce to coat the mushrooms well on each side. Sprinkle with salt and pepper. Grill the portobellos (directly on the grill grate) 4 to 5 minutes per side or until charred and tender. Slice just before assembling the bowls.
Toss the pepper strips with a drizzle of olive oil and pinches of salt and pepper. Grill in the cast iron pan or grill pan for 8 to 10 minutes, tossing occasionally, until charred and soft.
In a small bowl, or directly over the avocado halves, squeeze lime juice and pinches of salt. Mash with the back of a fork to make a quick guacamole.
Assemble the bowls with the rice, beans, arugula, sliced mushrooms, peppers, guacamole, scoops of pineapple salsa, and cilantro. Serve with extra salsa and extra lime wedges on the side. (Note: If you would like your arugula and rice seasoned/dressed more, drizzle with olive oil, squeezes of lime and pinches of salt and pepper).
Notes
Pineapple salsa: (makes extra)
2 cups diced fresh pineapple
¼ cup diced red onion
½ jalapeno, diced
Juice and zest of lime
½ cup cilantro
1 clove minced garlic
¼ teaspoon sea salt

In a medium bowl, combine the pineapple, red onion, jalapeño, lime juice and zest, cilantro, garlic, and sea salt. Season to taste and chill until ready to use.