I like a Chipotle burrito bowl as much as the next person, but if you try this delicious burrito bowl recipe with cauliflower rice, you'll never look back!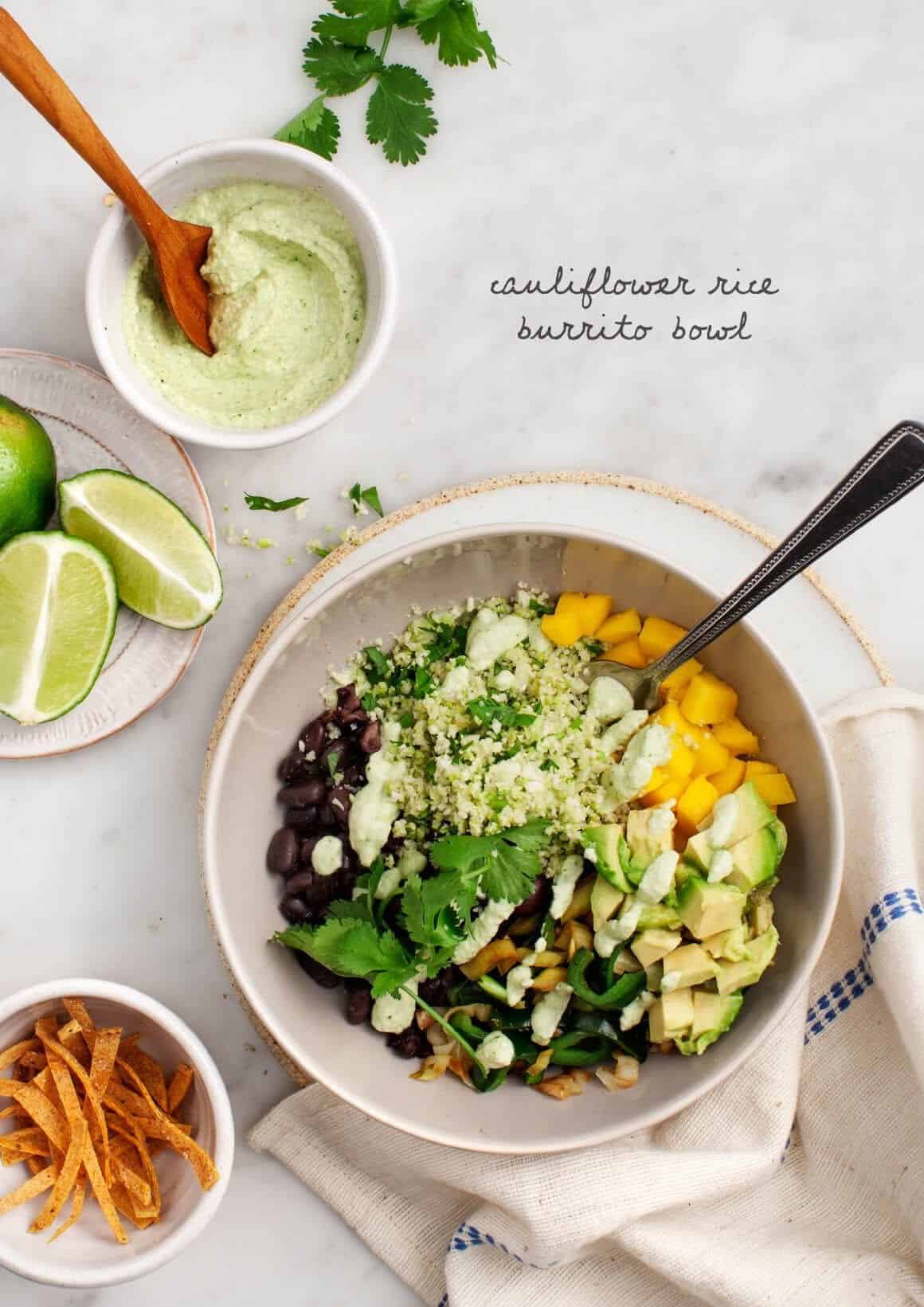 Happy Cinco de Mayo week! A.K.A. – the week that we indulge on margaritas, chips, salsa, guacamole, and tacos galore. Which pretty much looks like every week in Austin any day of the year, but I digress…
Over the years of posting here, I've come to learn that Cinco de Mayo is celebrated here in the U.S more than it is in Mexico. So with that in mind, I'm bringing you this delicious burrito bowl recipe that has nothing to do with authentic Mexican cuisine. I just can't think of anything that represents America-mex as much as a burrito bowl, can you?
My Burrito Bowl
Everyone loves a Chipotle burrito bowl. If you try to tell me that you don't, well… I don't believe you. The combo of rice, beans, guacamole, fajita veggies, and salsa is an unbeatable one. This burrito bowl recipe is just as good, but it's totally different. It's a mean green version of a burrito bowl that uses cauliflower rice instead of regular rice, mango instead of tomato, and a ridiculously delicious creamy green chili sauce instead of sour cream or any kind of cheese element.
Burrito Bowl Components
Cauliflower rice: Make it by pulsing cauliflower until it resembles the shape and texture of rice. If you have picky eaters in your household, try starting with a mix of 1/2 cauliflower rice to 1/2 regular rice. No one will know the difference!
Black Beans: An essential burrito bowl component.
Fajita Veggies: Instead of onions and bell peppers, I use a mix of leeks and poblano peppers.
Diced Mango: I love this sweet pop of flavor, but feel free to use diced tomato for a more traditional burrito bowl.
Diced Avocado: Or a scoop of guacamole, if you wish.
Creamy Green Chile Sauce: This yummy sauce is a mixture of vegan cashew cream and green chiles. I promise that you're going to drizzle it over every meal you eat for the rest of the week!
Burrito Bowl Variations
Here are a few ideas to change things up, as you like!
Instead of leeks and poblanos, make a more traditional sauté of bell peppers and onions.
In place of diced mango, used diced tomato or make mango salsa!
Instead of the creamy green chili sauce, simply dollop scoops of guacamole onto your burrito bowl. Creamy chipotle sauce would also be delicious.
Enjoy!
Burrito Bowl Recipe with Cauliflower Rice
This delicious healthy burrito bowl recipe has a secret ingredient - cauliflower rice! An easy vegan & gluten-free main dish.
Ingredients
Green Chili Cashew Cream
1 cup raw cashews*
¾ cup water
2 tablespoons fresh lime juice
2 tablespoons canned mild green chiles
⅓ cup cilantro
1 garlic clove
¼ teaspoon sea salt
For the burrito bowls
3 corn tortillas, sliced into strips
1 recipe Seasoned Cauliflower Rice
2 leeks, white and light green parts, rinsed well & sliced
2 poblano peppers, stem, seeds and ribs removed, thinly sliced
1 garlic clove, minced
½ teaspoon dried oregano
1 cup cooked black beans, drained and rinsed
2 ripe mangoes, cubed
1 avocado, diced
½ cup chopped cilantro
lime wedges, for serving
Extra-virgin olive oil
Sea salt and freshly ground black pepper
Instructions
Make the cashew cream. In a blender, combine the cashews, water, lime juice, green chilis, cilantro, garlic, and salt. Blend until creamy.
Make the burrito bowls. Preheat the oven to 350°F and line a baking sheet with parchment paper. Place the tortilla strips on the baking sheet and toss with a drizzle of olive oil and a pinch of salt. Bake for 10 minutes or until crispy. Remove from the oven and set aside.
In a medium skillet, heat 1 teaspoon of olive oil over medium heat. Sauté the leeks and poblanos with generous pinches of salt and pepper. Cook until soft for 7 to 10 minutes, and then add the minced garlic and oregano. Stir, cook for 1 minute, then add a squeeze of lime and remove from heat.
Assemble the burrito bowls with the cauliflower rice, poblano mixture, black beans, mango, avocado, and cilantro. Drizzle with the cashew cream and top with the crispy tortilla strips. Serve with lime wedges and additional cashew cream.
Notes
Note: a high powered blender is best for this, otherwise, soak your cashews for 2 hours or overnight and drain before using.