If you've never had burrata, you have to try this easy recipe! The rich cheese pairs perfectly with fresh tomatoes, peaches & a vibrant lemon-thyme oil.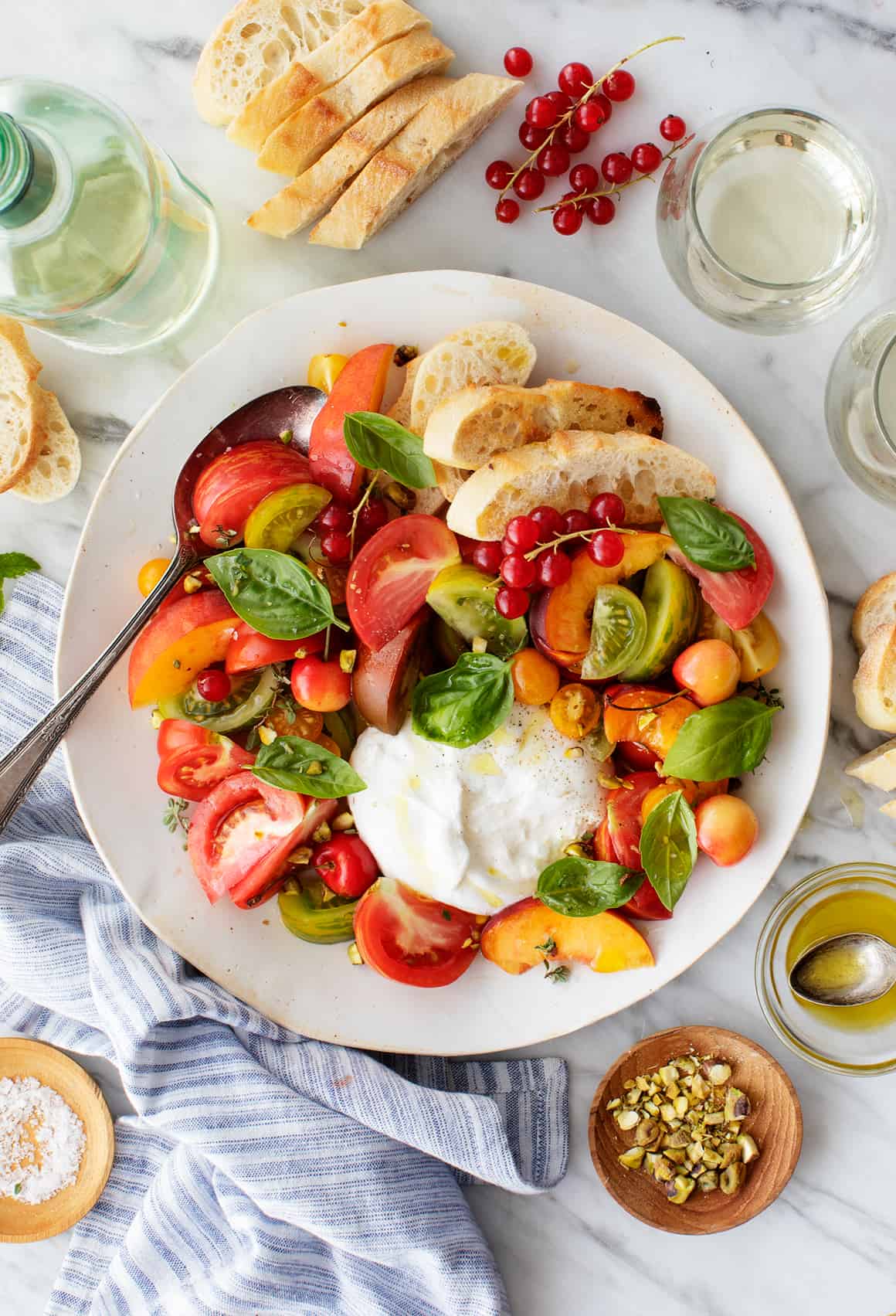 Over the years, I've written a lot about how the best summer recipes are simple ones (see here, here, or here). Because summer fruits, veggies, and herbs are such powerhouse ingredients, it only takes a little something extra – maybe a drizzle of olive oil and a sprinkle of salt – to make an insanely delicious dish. Lately, I've seen burrata popping up all over restaurant menus in Chicago. Because the creamy cheese is such a simple, rich accent for summer produce, I couldn't resist making a burrata recipe of my own.
The final result is one of our new favorites around here. It's sweet, herbaceous, and easy to make, with the perfect balance of fresh and rich components. It'll be my go-to appetizer for the rest of the summer, and I hope you love it too!
What is burrata?
If you've never heard of burrata, you're in for a treat. It's a fresh Italian cheese made from cow's milk. In the store, it looks a lot like fresh mozzarella, because it comes in balls. In fact, each ball is a pouch of fresh mozzarella filled with rich, fresh cream. You can find burrata in speciality cheese shops or most grocery stores with a good cheese section. It pairs well with both sweet and savory flavors, so I made this recipe with a jumble of stone fruit, tomatoes, and fresh herbs.
Burrata Salad Recipe Ingredients
Instead of whisking together a dressing, I make a simple infused oil for this recipe. It has a light, lemon-thyme flavor that lets the creamy burrata and fresh produce shine. It's easy to make – just combine 1/2 cup olive oil with a smashed garlic clove, 4 sprigs of thyme, and the rind of 1 lemon, peeled into strips. Warm it over your stove, and then let it steep while you prep the other recipe components. Strain out the thyme, garlic, and lemon before you drizzle it over the salad.
Along with the infused oil, I pair the burrata with a market haul of summer produce. This recipe is all about the fruits & veggies, so use the best ones you can find! Here's what you need:
Burrata, of course! I use one ball, but feel free to scale this recipe up if you're serving a crowd.
Fresh tomatoes – A mix of colors and sizes makes this burrata salad extra fun.
Peaches – Look for ripe, yet still firm fruits that will hold their shape when sliced.
Cherries and/or currants – These guys aren't totally necessary, but they're a pretty, tart contrast to the sweet peaches and tomatoes.
Fresh herbs – I garnished mine with basil and thyme, but mint or oregano would be nice additions too.
Toasted crushed pistachios – They add a delightful, nutty crunch.
Sea salt – Don't skimp on this! The saltiness will really highlight the herbal, sweet, and savory notes of this dish.
Pile everything onto a platter with the burrata in the center, and drizzle generously with the lemon-thyme oil. Serve with good crusty bread – I like baguette or sourdough. Then, dig in, scooping up a little of the cheese with every bite!
What to Serve with Burrata Salad
This burrata recipe is one of my favorite summer appetizers. Set it out with lots of crostini for guests to pile with cheese and fruit!
It would also be a fantastic addition to a late summer dinner with Italian flavors. Serve it alongside your favorite protein or any of these recipes:
If you love this burrata recipe…
Try my panzanella, Greek salad, watermelon salad, or couscous salad next!
Burrata
This burrata salad is one of my favorite summer appetizers! Use the best produce you can find here, and serve it with good crusty bread.
Ingredients
Lemon-Thyme Oil (makes extra)
For the burrata platter
4

heirloom tomatoes

1

ripe peach

,

sliced

1

(8-ounce) ball fresh burrata

½

cup

fresh basil and/or mint leaves

1

tablespoon

toasted pistachios

,

chopped

Flaky sea salt and freshly ground black pepper

A few cherries or fresh currants

,

optional

Toasted bread

,

for serving
Instructions
Combine the oil, garlic, lemon peel, and thyme in a small saucepan over low heat. Gently warm the mixture, then turn off the heat. Let steep for 20 minutes, then strain.

Assemble the tomatoes, peach slices, and burrata on a platter. Sprinkle with salt, then drizzle with lemon-thyme oil. Top with the basil and mint and sprinkle with pistachios. Top with cherries and currants, if desired. Season to taste with salt and pepper and serve with toasted bread.