The ultimate nutrient-packed vegan buddha bowl! Raw and steamed veggies pair with beans, sauerkraut, and a vibrant turmeric tahini sauce.
There's a macrobiotic restaurant in Austin called Casa de Luz that I love to go to when I'm in need a bit of a recharge… especially the kind of recharge where I don't feel like cooking anything myself. When you walk in, there's an Ayurvedic proverb painted above the door that says "When diet is wrong, medicine is of no use. When diet is correct, medicine is of no need." I love this.
It actually feels less like a restaurant and more like a yoga retreat or commune. There's no menu, just one meal served – it rotates daily but will always contain a grain, a legume, blanched greens, steamed vegetables, a pickled vegetable, and a delicious sauce. It may sound limiting, but I've honestly had some of the best sauce and vegetable pairings of my life here, so I used this basic template to build my own buddha bowl recipe.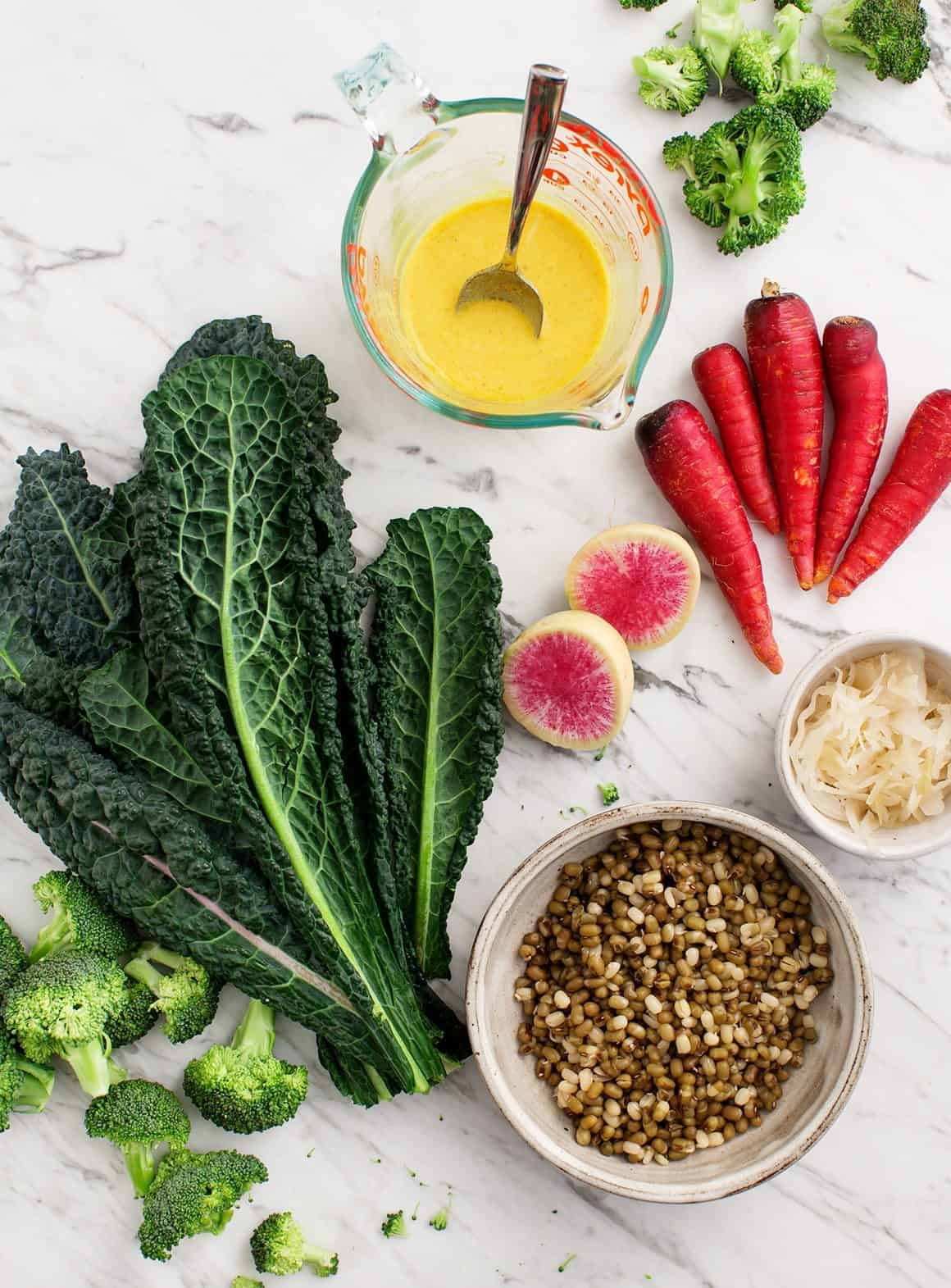 My buddha bowl components
A delicious sauce – For my at-home "casa bowl," I included this amazing turmeric tahini sauce that I've been putting on everything. It's my favorite type of creamy sauce in that it doesn't require a blender, so you can stir it together in no time.
Steamed vegetables – I steamed carrots, broccoli, and kale until they were just tender and far from mushy.
A legume – I went out of my comfort zone and gave mung beans a try. The nice thing about them is that they cook quickly. They have a bit of a funny taste (if you've never tried them before) but within this bowl they're perfection.
A grain – I used frozen brown rice from Whole Foods.
A pickled vegetable – Sauerkraut! I love Bubbies.

Buddha bowl variations
If you want to change up this buddha bowl recipe, try any of these variations:
Roast your veggies instead of steaming them. Or, you could use different veggies entirely!
Swap in a different legume. I recommend lentils or chickpeas, but baked tofu could work here, too.
Vary your grain. Quinoa would be great here, or for extra veggie power, you could try cauliflower rice.
These components all keep nicely in the fridge if you want to save the leftovers for lunch during the week. And an extra tip – be careful with the turmeric sauce in your kitchen! I love its bright color, but it can easily stain things yellow.

If you loved this bowl, you should totally try these Cauliflower Rice Kimchi Bowls and these Brown Rice Adzuki Bean Bowls – yum!
Buddha Bowl with Turmeric Tahini Sauce
Prep these simple components ahead of time to pack this healthy buddha bowl for lunch, or make it for an easy weeknight dinner!
Ingredients
1 watermelon radish
squeeze of lemon
1 uncooked cup sprouted mung beans
6 small or 3 medium carrots, steamed
1 small head broccoli florets, steamed
8 kale leaves, chopped
2 cups cooked brown rice*
¾ cup sauerkraut or other fermented veggie
2 tablespoons sesame seeds or hemp seeds
microgreens, optional
Sea salt and freshly cracked black pepper
Turmeric Tahini Sauce
¼ cup extra-virgin olive oil**
2 tablespoons tahini
4 tablespoons lemon juice
2 garlic cloves, minced
2 tablespoons water
1½ teaspoons dried turmeric
¼ teaspoon sea salt, more to taste
Freshly cracked black pepper
Instructions
Make the Turmeric Tahini Sauce: In a small bowl, combine the olive oil, tahini, lemon juice, garlic, water, turmeric, sea salt and several grinds of pepper. Set aside.
Thinly slice the watermelon radish (this is best done on a mandolin), and toss the slices with a squeeze of lemon. Set aside.
Cook the mung beans in boiling salted water according to package directions, or until tender. Drain.
In a steamer basket over a pot of simmering water, steam the carrots, covered, until just tender, 7 to 10 minutes. Remove and set aside. Next steam the broccoli until tender but still bright green, 4 to 5 minutes. Lastly, steam the kale until just tender, 30 seconds to 1 minute.
Assemble individual bowls with the brown rice, mung beans, carrots, broccoli, kale, sauerkraut, sesame seeds and microgreens, if using. Season with salt and pepper and serve with the Turmeric Tahini Sauce.
Notes
*I like to use a rice cooker to cook rice. Or if I'm in a real hurry, I get the frozen brown rice at Whole Foods, run it under lukewarm water until thawed, then drain.
** Water can be substituted, if oil free
If you can't find mung beans, sub in lentils, chickpeas, or any protein you like.