Roasted Brussels sprouts are the perfect fall side dish. Have fun playing around with these 4 fun & flavorful Brussels sprouts recipes!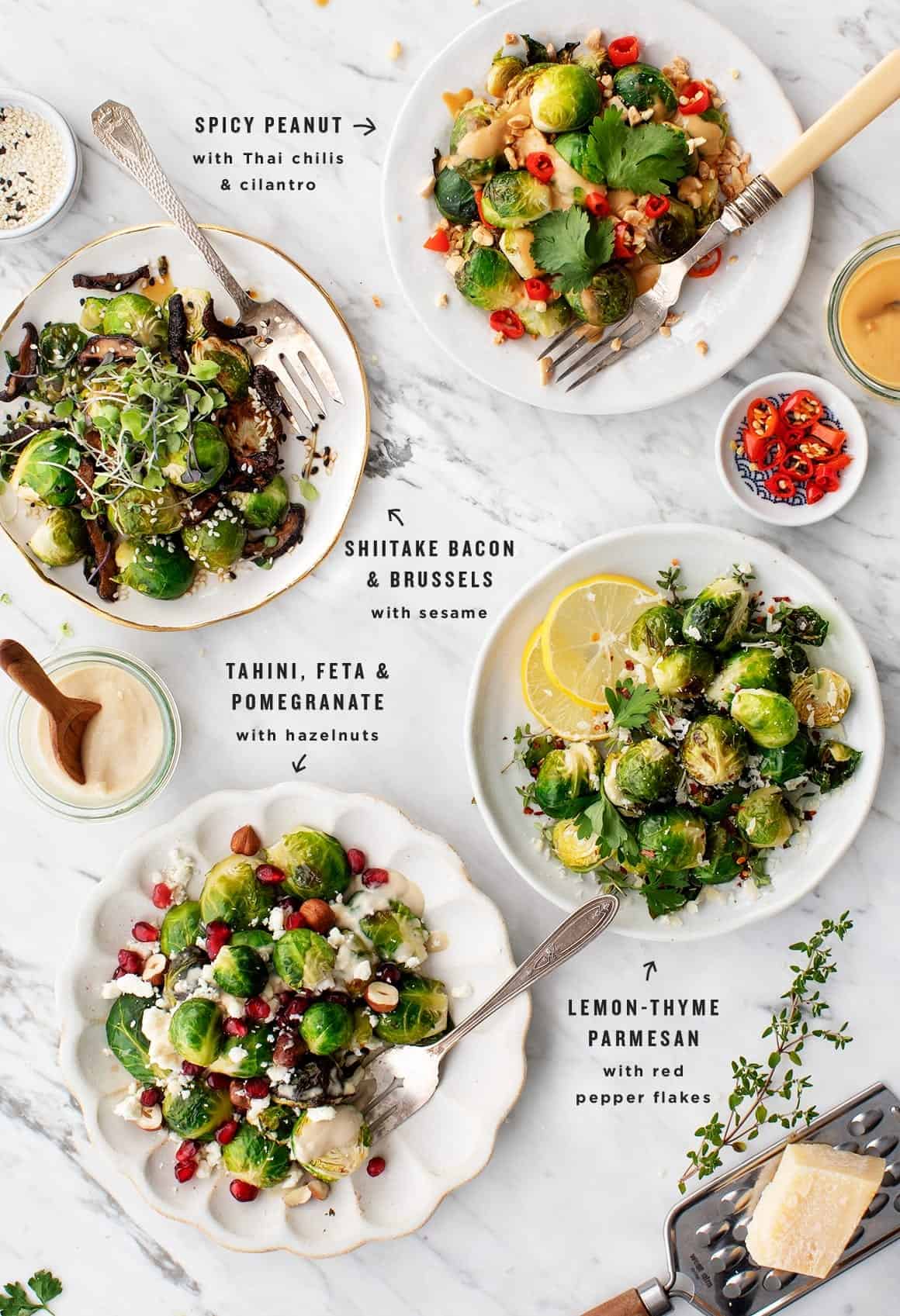 Earlier this fall, I started making a list of my potential Thanksgiving blog recipes. One of the items on that list was called "Roasted Brussels Sprouts Recipe TBD." As every other recipe got named, resolved, tested, and put in the works, "Roasted Brussels Sprouts Recipe TBD" remained on the list just like that. I love love love Brussels sprouts at this time of year, but I just couldn't settle on one idea or flavor combination. Then it hit me – just like I did with sweet potatoes and overnight oats, I'll post many ideas! And you can choose!
Any of these simple combinations would make for a delicious, last-minute holiday side dish (or a delicious any-night side dish). Each Brussels sprouts recipe starts with roasting the sprouts with olive oil, salt, and pepper, and then the fun flavor elements get added. Easy peasy. Here we go:
Spicy Peanut Roasted Brussels Sprouts Recipe
I love all of these variations, but these spicy sprouts are irresistible. Just like it sounds – the sprouts are roasted and then doused in a knockout tangy/spicy peanut sauce made of 5 simple ingredients:
Peanut butter, for creaminess
Lime juice, for tang
Tamari, for salty savoriness
Sriracha, for heat
Water, to thin
Sprinkle crushed peanuts over the top and add sliced Thai chilis to wake everyone up at the T-giving table!
Shiitake Bacon & Brussels Sprouts Recipe
People always like bacon with their Brussels sprouts, so I thought – shiitake bacon! Finish these with the following components for fun, unexpected sprouts:
A light, tangy sesame sauce
Sesame seeds
Microgreens
Delicious!
Tahini, Feta & Pomegranate Brussels Sprouts Recipe
I don't often pick favorites in these situations, but I'm going to this time. This one is my favorite! Drizzle the sprouts with lemon tahini sauce, top them with feta & hazelnuts, and finally, sprinkle on pomegranate seeds. Together, these elements make a perfect combination of creamy, tangy flavors with a pop of pom.
Lemon-Thyme Parmesan Roasted Brussels Sprouts Recipe
I'm finishing this list with a classic combination. It may be tried and true, but that doesn't make it any less special. Obviously, I love lemon on (just about) everything. In this recipe, salty Parmesan and herbaceous thyme leaves bring out the lemon's brightness on the sprouts. Yum, yum.
If you love this roasted Brussels sprouts recipe…
Try my shredded Brussels sprouts salad, roasted beets, or roasted cauliflower next!