Brainstorming for brunch? Here are our 50 best brunch recipes for spring. With plenty of sweet & savory options, we've got something for everyone.

Mother's Day is this Sunday, so I thought it would be a good time to post a whole slew of my favorite brunch recipes! If you're a mom and you want a day off from cooking, just forward this post on to your significant other! There are plenty of easy, doable, and delicious recipes on this list. The recipes are grouped by sweet brunch recipes, savory brunch recipes, and there's a small section of brunch-worthy beverage recipes at the end.
But first, you need a Mother's Day Gift…
Our new cookbook, Love & Lemons Every Day, is a fantastic, easy Mother's Day gift! Get it now so you'll have it on time for Sunday!
Sweet Brunch Recipes
Pancakes, waffles, french toast, quick breads, muffins & more!

1. Strawberry Baked French Toast from Love & Lemons Every Day (page 47)
I love to make French toast on the stove if I'm making breakfast for just the two of us, but if I'm cooking for a special occasion, this easy baked French toast is a must. Big cubes of challah soak up a warmly spiced custard that's delicious with bites of big, juicy berries.

2. Healthy Banana Bread
I can't imagine a better brunch than thick slices of banana bread alongside something savory (read on for ideas!). Made with almond flour, it's super moist & nutty. Add in the fact that it's easy to make & nicely spiced, and you have a loaf that checks all the banana bread boxes.

3. Lemon Cornmeal Pancakes from Love & Lemons Every Day (page 37)
It comes as no surprise that I'm crazy for these lemon pancakes, but try them, and I'm sure you will be too. The lemon juice goes perfectly with the cornmeal base, and it makes this an extra bright brunch for spring. Blueberries for serving are highly recommended. 🙂

4. Best Carrot Cake
I make a carrot cake for Jack's April birthday every year, so to me, it's one of the first signs of spring. Slices of this moist, nutty cake would be the perfect finish to a big spring brunch. And if you're vegan, check out this recipe.

5. Almond Flour Buckwheat Waffles from Love and Lemons Every Day (page 51)
If you or one of your guests is gluten-free, these waffles have to go on the menu. The almond and buckwheat flours give them a great nutty flavor, and they're perfectly crisp. Top with fresh fruit and maple for true waffle heaven.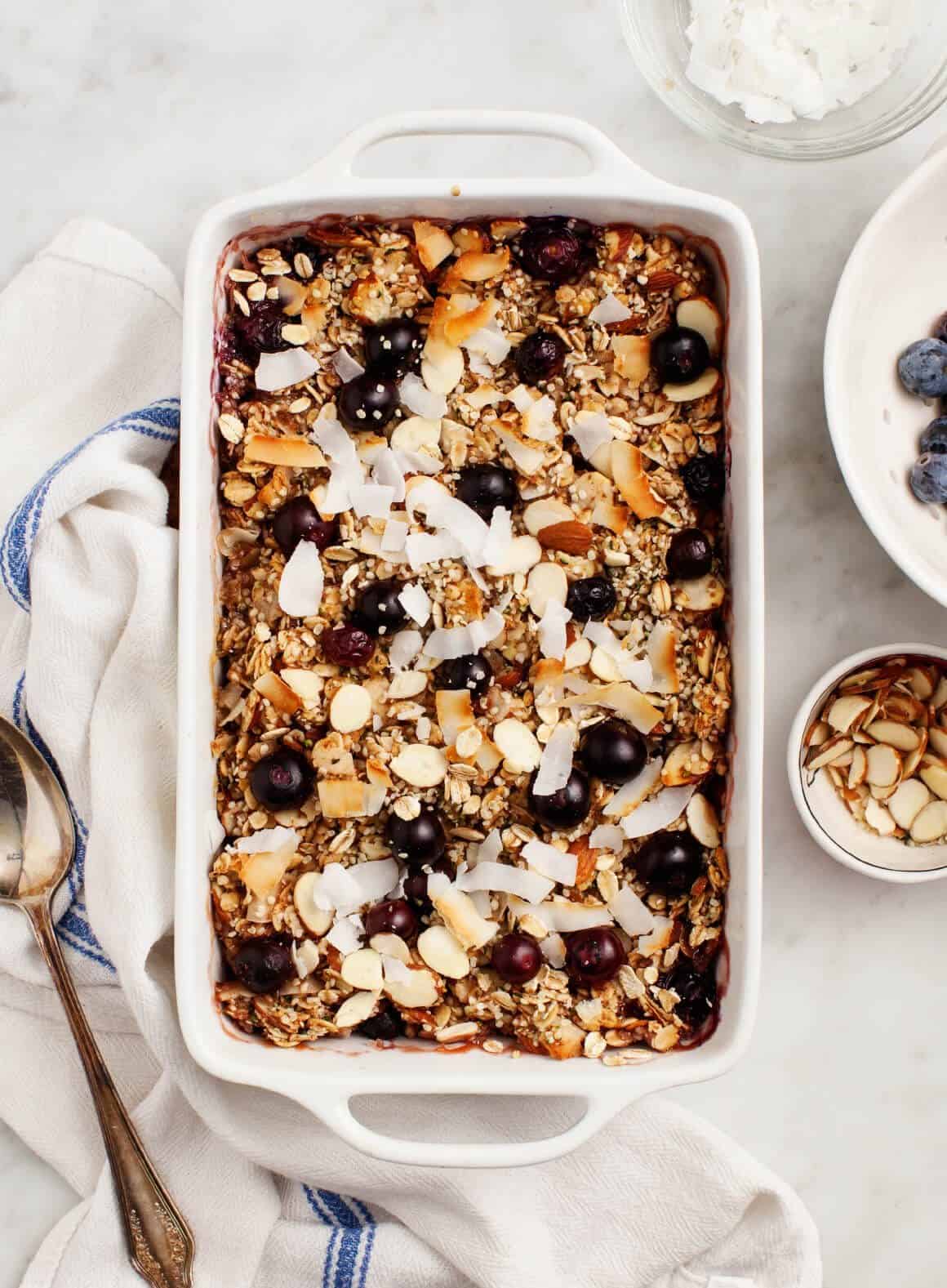 6. Baked Oatmeal with Blueberries
Nothing beats a crisp, oat-y, nutty topping over soft baked oats and fruit. This make-ahead recipe is one of my favorites for serving a crowd, and it's excellent with any seasonal fruit. Peaches, cherries, or another berry would all be good here.

7. My Favorite Banana Pancakes
These banana pancakes are soft, well-spiced, and full of delicious banana flavor. I use a blend of whole wheat pastry flour and oat flour to make them, so they're healthier than your average pancake, and they also happen to be vegan!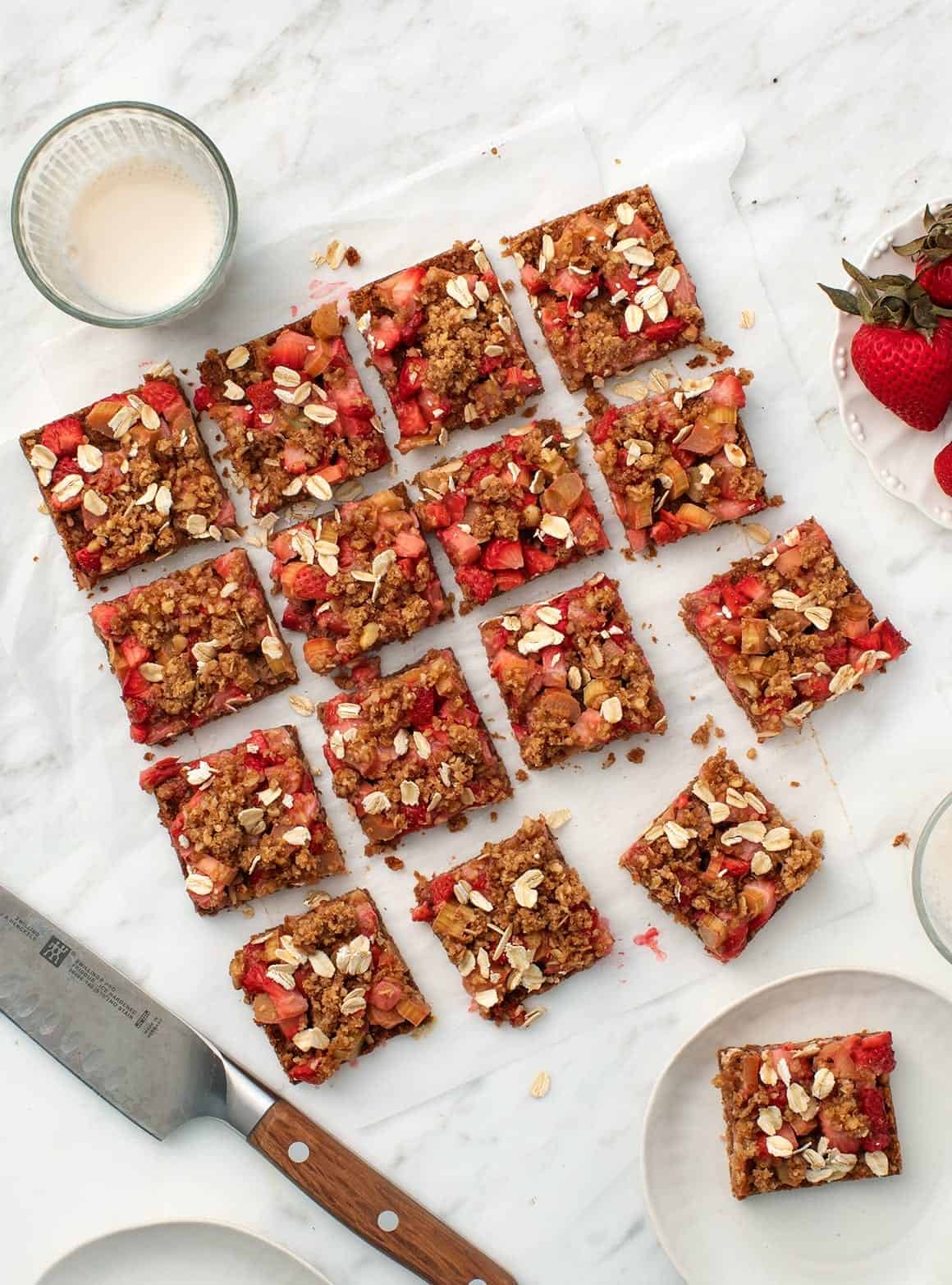 8. Strawberry Rhubarb Crumble Bars
Strawberries + rhubarb are surely another sign of spring. This classic sweet/tart combination is especially good between layers of crisp brown sugar crumble, and these little bite-sized bars would be an adorable, crowd-pleasing brunch treat!
9. Vegan French Toast or Classic French Toast
10. Matcha Baked Doughnuts
11. Vegan Lemon Muffins
12. Overnight Oats, 4 Ways (set up an overnight oat bar for a group!)
13. Banana Muffins
14. Cardamom Yogurt Tea Cake
15. Chocolate Chip Zucchini Bread
16. Coconut Mango Muffins
17. Carrot Waffles
18. Vegan Raspberry Coconut Scones
19. Carrot Quinoa Breakfast Cookies
20. Oatmeal Breakfast Cookies
21. Sunshine Citrus Chia Bowls
22. Pistachio Goji Berry Granola


Savory Brunch Recipes
eggs, non-egg skillet-things, flatbreads & springy salads

23. Caprese Eggs Benedict with Healthier Hollandaise
from Love & Lemons Every Day (page 41)
Until I developed this creamy vegan hollandaise sauce recipe, I never made eggs Benedict at home. The sauce always seemed too fussy to attempt in my own kitchen. But this healthier version comes together in a snap, and it's perfect over soft poached eggs, sliced tomato, and fresh basil.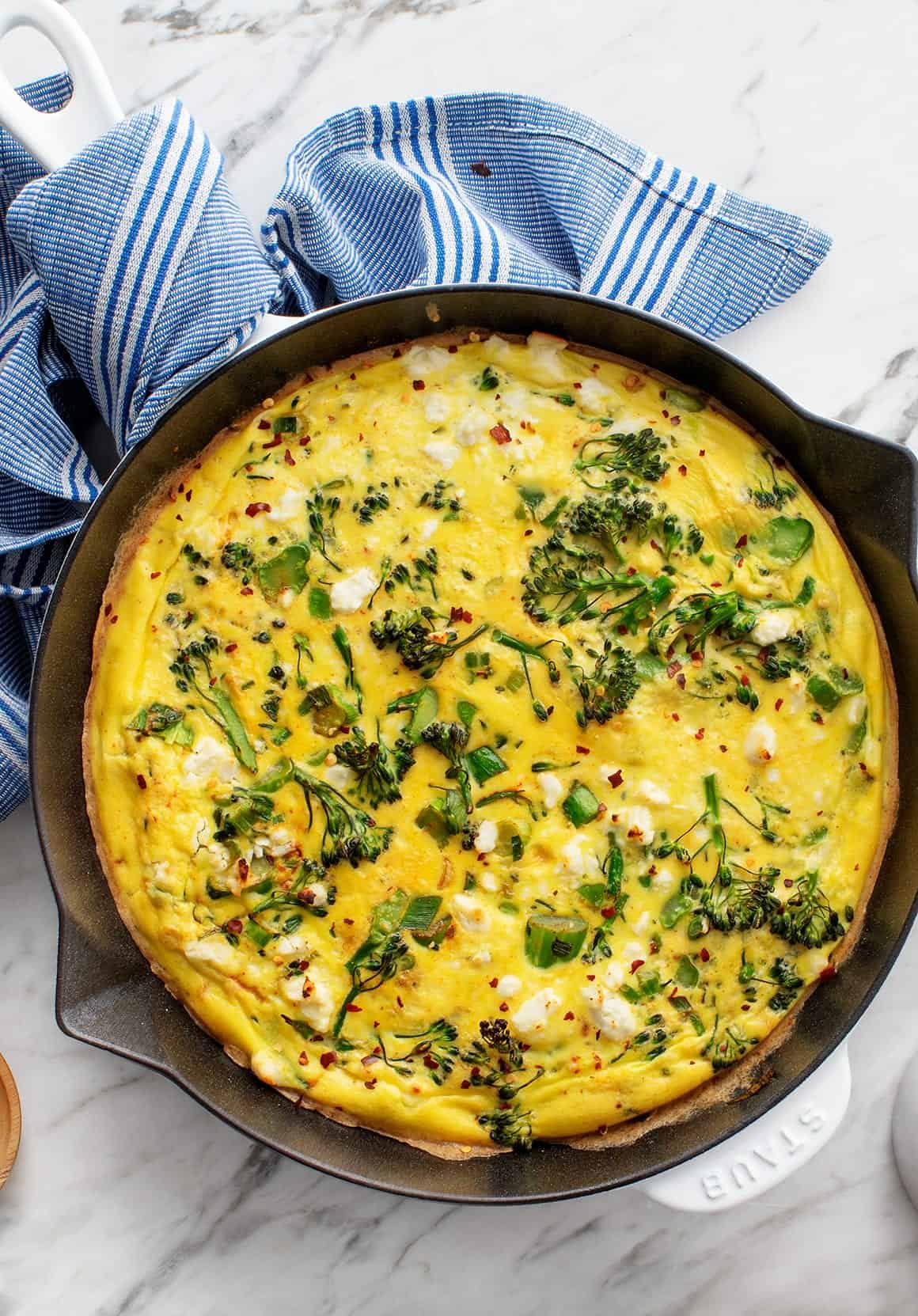 24. A Frittata!
I've said it before, and I'll say it again: frittatas are the best brunch recipes. They're super flexible and simple to throw together – great for serving a crowd. Use the best-looking veggies you can find or take inspiration from my favorite veggie, herb, and cheese combinations, which I list in the recipe!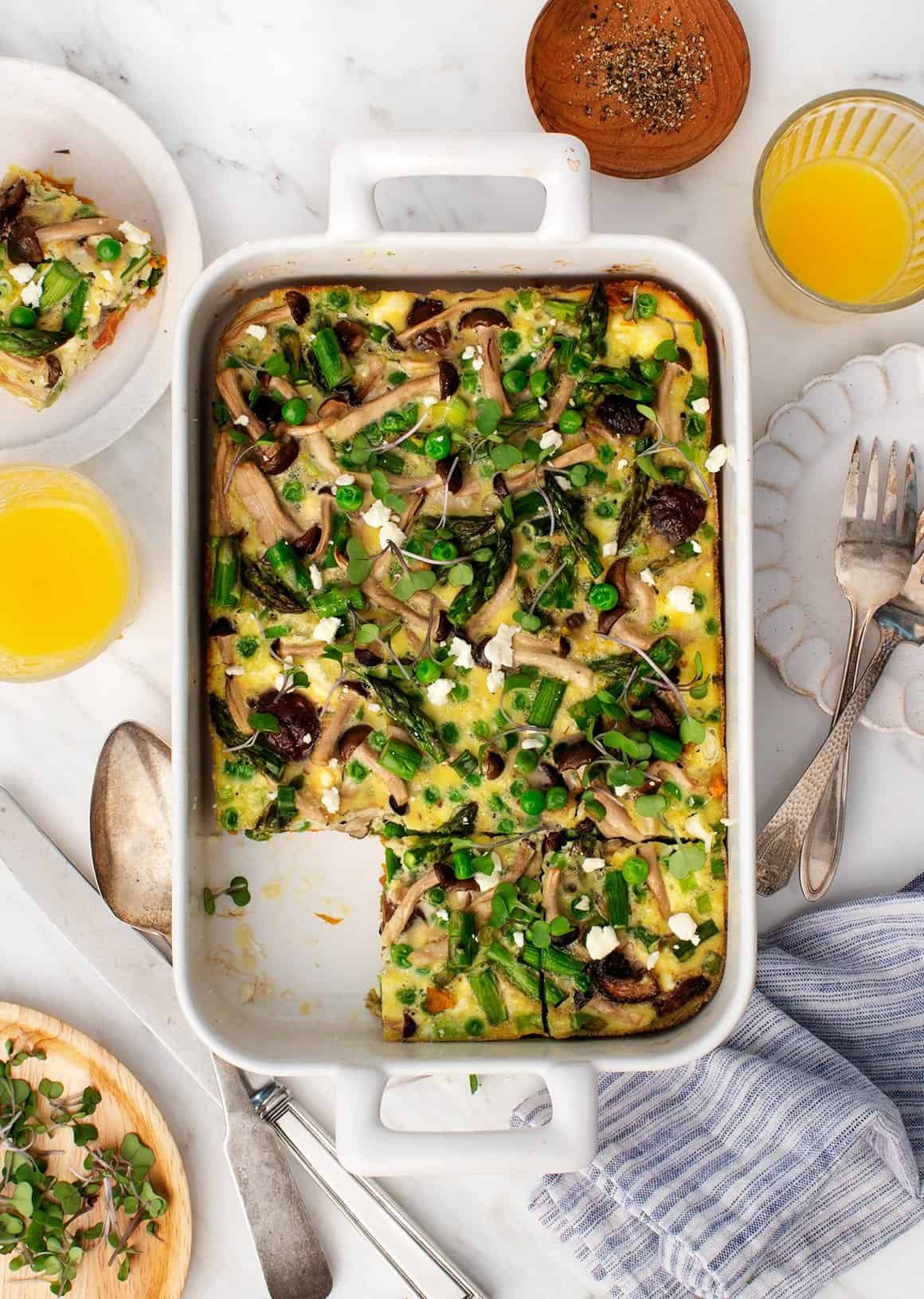 25. Healthy Breakfast Casserole
My mom's breakfast casserole recipe inspired this veggie-filled egg bake, so, of course, it's a staple on our Mother's Day brunch table. It's fresh and perfect for spring, but the best part is the secret layer of roasted sweet potatoes hiding at the bottom!

26. Shakshuka with Spinach and Harissa
Because runny eggs poached in spicy tomato sauce + good crusty bread = brunch paradise.

27. Spinach Artichoke Pizza
Move over spinach artichoke dip! This pizza is my new favorite appetizer. The creamy, briny white bean artichoke sauce and bold spinach pesto make a delicious savory topping for crisp crust.

28. Healthy Egg Salad
What could be cuter than little egg salad sandwiches (or egg salad crostini) in a spring brunch spread? Even if you've never liked egg salad, I encourage you to try this super bright, fresh recipe that also has a yummy vegan option.

29. Farro Salad with Grilled Asparagus
This asparagus salad is the quintessential spring dish: lemony grilled asparagus, lots of thyme, and pink pickled radishes make a lovely array of pastel colors that's just right for this time of year.

30. Rainbow Kale Salad with Carrot Ginger Dressing
A big green salad is always a welcome addition to a brunch table, and this one has it all: crisp spring radishes, crunchy roasted chickpeas, creamy avocado, toasty seeds, and dried cranberries for a little sweetness. A fresh carrot ginger dressing is the cherry on top.

31. Strawberry Salad with Basil and Avocado
The best brunches walk the line between sweet and savory, and this strawberry salad does just that. Sweet berries pair perfectly with creamy avocado & mozzarella, tart tomatoes, nutty pecans, and fresh basil, while a balsamic drizzle adds the tang that ties it all together.
32. Falafel Flatbread
33. Healthy Green Breakfast Tacos (a breakfast taco bar would be so fun!)
34. Shiitake Bacon & Egg Breakfast Tacos
35. Farmers Market Breakfast Bowls
36. Blueberry Feta Flatbread
37. Chickpea Salad Wraps with Avocado Dill Sauce
38. Tart Cherry Tabbouleh
39. Veggie Frittata Muffins
40. Breakfast Panzanella
41. Chilaquiles with Avocado
42. Chickpea Feta Shakshuka
43. Citrus Napa Cabbage Salad
Beverages
smoothies, coffee, tea & a few cocktails

44. Strawberry Banana Smoothie
45. Creamy Avocado Smoothie
46. Cinnamon Coffee Smoothie
47. Coconut Matcha Latte
48. Vanilla Hazelnut Milk Latte
49. Orange Peel Black Tea Sangria
50. Lemon Mint Juleps
If you loved these brunch recipes, check out our favorite Healthy Breakfast Ideas!
50 Best Brunch Recipes
My Favorite Banana Pancakes
Ingredients
1 tablespoon ground flaxseed
3 tablespoons water
½ cup mashed banana (about 1 large)
2 tablespoons extra-virgin olive oil, plus more for brushing
1 teaspoon vanilla
¾ cup + 2 tablespoons almond milk (more if needed)
1½ cup whole wheat pastry flour*
½ cup oat flour**
2 teaspoons baking powder
½ teaspoon baking soda
1 teaspoon cinnamon
½ teaspoon nutmeg
heaping ¼ teaspoon sea salt
Maple syrup, for serving
Instructions
In a large bowl, combine the flaxseed, water, and banana. Mash and stir until well combined. Let the mixture sit for 5 minutes to thicken. Add the olive oil, vanilla, and almond milk and whisk. Add the flour and sprinkle the baking powder, baking soda, cinnamon, nutmeg, and salt evenly over the top. Stir until all the ingredients are combined, but the batter is still a bit lumpy. The batter will be a bit thick but if it's too thick to scoop, stir in an additional 1 tablespoon almond milk.
Heat a nonstick skillet or griddle to medium heat. Brush the skillet with a little olive oil and use a ⅓-cup measuring cup to pour the batter onto the pan. Use the back of the cup to gently spread the batter a little more. Cook the pancakes until bubbles appear, about 1½ minutes per side, turning the heat to low as needed so that the middles cook without burning the outsides. I usually start with medium heat and move to low heat as my pan starts to hold residual heat after each batch.
Serve with maple syrup, sliced bananas, and pecans, if desired.
Notes
*I like Bob's Red Mill Whole Wheat Pastry Flour
*To make the oat flour, use a food processor or a blender to process a heaping ½ cup rolled oats into a fine flour and measure out one level ½ cup.