It's Friday – let's make pizza!
I'm so crazy about this vegan pizza recipe because it's packed with a TON of vegetables, but not in a boring "I'm trying to eat my vegetables" way. Because each one provides an interesting texture or flavor, it tastes amazing. The broccoli gets all roast-y toasty, the corn pops with sweetness, the sun-dried tomatoes bring that tangy umami flavor, and the jalapeño brings some spice to this Friday pizza party. The whole thing gets doused in a creamy/savory layer of cashew cream in lieu of any cheese or dairy. It's pizza you can feel good about! 🙂
While the ingredients in this vegan pizza recipe look like a lot, it actually all comes together pretty quickly.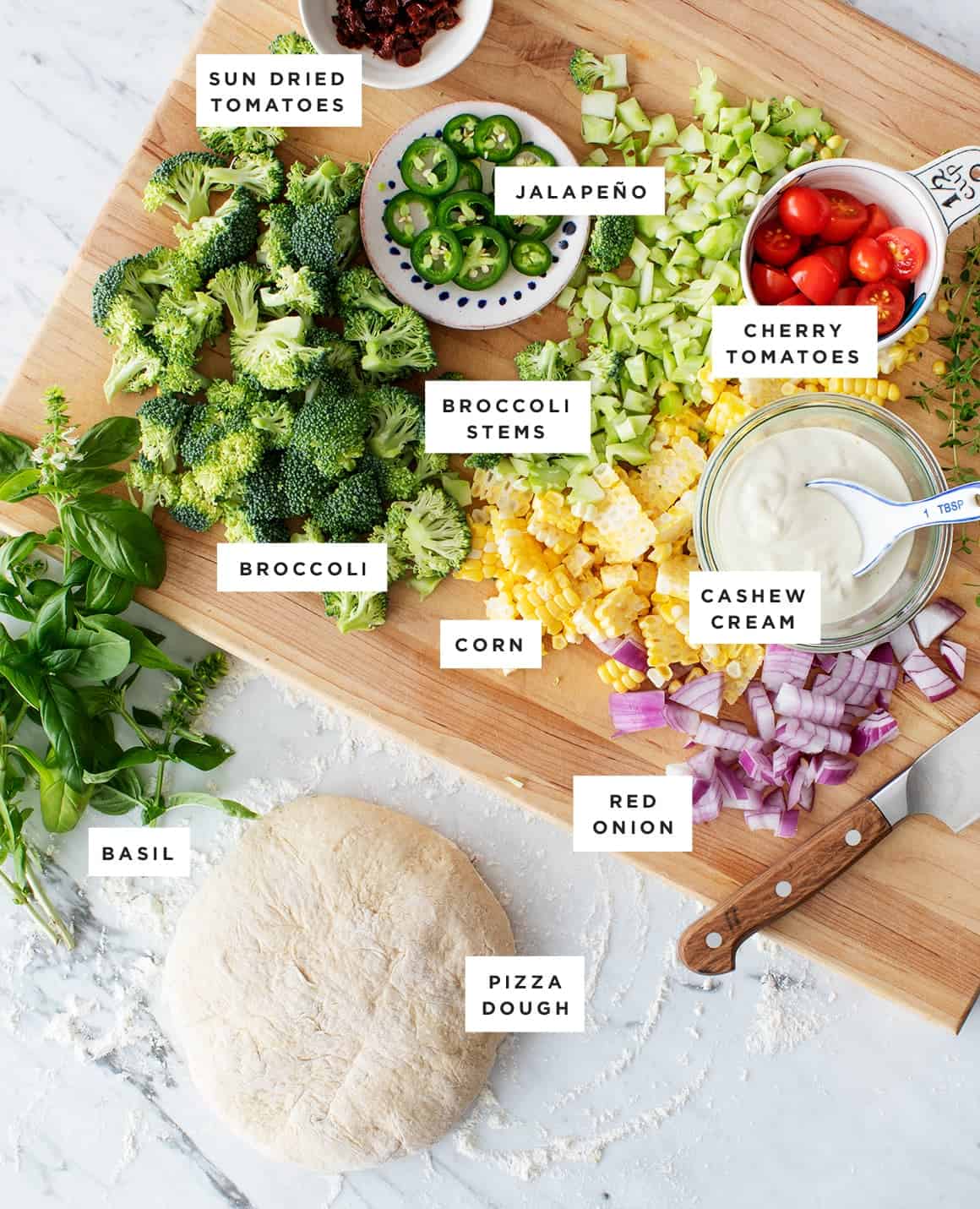 How to Make This Vegan Pizza Recipe!
Once you chop the veggies (even the stems of the broccoli!), toss them together in a bowl with olive oil, salt, and pepper until everything is well-seasoned and well-coated. While you do this, your partner could be stretching the pizza dough.
To make things easy, I like to use Whole Foods' Multigrain fresh pizza dough – it can be found in the refrigerated area near the pizza section of the store. If you don't see it, ask the people at the pizza counter. I've also heard that Trader Joe's fresh dough is delicious.
And just a side note: I've been really enjoying this hole-ey pizza pan lately – it gets the bottom edges of the crust nice and crisp.


Look at how many vegetables are on this broccoli pizza! I love it 🙂
To assemble your vegetarian pizza, spread just a thin layer of cashew cream onto the stretched dough. You want just enough so that the vegetables have something to stick to, but you don't want the middle to become too gooey.


The oozy cashew cream drizzle goes on at the very end. You don't want to bake this cashew cream in the oven – it loses a lot of its creaminess if you do.

So once the pizza comes out of the oven, drizzle the cashew cream very generously over the top. Finish with fresh basil and a sprinkle of red pepper flakes, if you like. Voila! Vegan pizza!
Slice and devour!

Love pizza? Try some of our other favorite recipes, like this spring farmers market pizza, this blackberry basil pizza, or this green summer pizza!
Broccoli White Vegan Pizza
We love all the flavors atop this vegan pizza - sun-dried tomatoes, jalapeño, basil, corn, and cashew cream make it a delicious, multi-colored meal!
Ingredients
1 small head broccoli, florets chopped into small pieces, top of stalk diced (½ cup)
⅓ cup halved cherry tomatoes
kernels from 1 ear fresh corn
¼ cup coarsely chopped red onion
½ jalapeño, thinly sliced
4 oil-packed sun-dried tomatoes, diced
extra-virgin olive oil, for drizzling and brushing
1 (16-ounce) ball of pre-made fresh pizza dough
½ cup fresh basil leaves
2 tablespoons fresh thyme leaves
pinches of red pepper flakes
sea salt and freshly ground black pepper
Cashew Cream (makes extra)
1 cup cashews
½ cup water, more as needed
2 tablespoons extra-virgin olive oil
2 tablespoons fresh lemon juice
1 garlic clove
½ teaspoon sea salt
Instructions
Preheat the oven to 450°F.
In a medium bowl, combine the broccoli, tomatoes, corn, onion, jalapeño, and sun-dried tomatoes and drizzle with olive oil and pinches of salt and pepper. Toss to coat and taste. The vegetables should be well-seasoned and well-coated with the olive oil so that the vegetables are flavorful throughout the pizza.
Meanwhile, make the cashew cream. Place the cashews, water, olive oil, lemon juice, garlic, and salt in a high-speed blender and blend until creamy. Add more water, if necessary, to blend into a smooth consistency.
Stretch the pizza dough onto a 14-inch pizza pan. Brush the outer edges of the dough lightly with olive oil and spoon a few scoops of cashew cream onto the center of the dough, just enough to spread it into a thin layer. Distribute the vegetables onto the dough. Bake 15 minutes, or until the crust is golden, cooked through, and the broccoli is tender and roasted. Remove from the oven and drizzle generously with the cashew cream. Top with the fresh basil, fresh thyme, and pinches of red pepper flakes.