Meet my new favorite broccoli salad recipe...aka the best cookout side dish! With a lightly creamy, tangy dressing, it's fresh, healthy, and delicious.
This broccoli salad recipe is one of my favorite side dishes. It's my lighter spin on classic Midwest broccoli salad, and though you won't find any cheese or bacon here, it's every bit as delicious. A creamy, tangy dressing coats crisp broccoli florets, chewy dried cranberries, sharp red onion, and smoky roasted nuts. Even salad skeptics will love it.
This broccoli salad recipe is easy to make, and even better, make ahead. A few hours or a day in the fridge gives the broccoli a chance to soften and soak up the dressing's punchy flavor. Pack it up for a potluck, a cookout, or a weekday lunch. It's guaranteed to be a hit!
A Broccoli Salad Recipe That's Good for You
Broccoli salad is a standard cookout side dish, but the typical classic broccoli salad recipe is loaded up with sugar, ample mayo, bacon, and sharp cheddar cheese. My version is a fresher, healthier twist—I nix the sugar, meat, and cheese altogether. The result is a crisp, refreshing salad that'll be the star of your cookouts all summer long!
How to Make Broccoli Salad
The first step in this broccoli salad recipe is chopping the broccoli. Make sure to cut the florets into bite-sized pieces and to finely dice the stems. The small pieces will soften more and soak up the dressing better than larger pieces will.
Next, you'll mix up the homemade broccoli salad dressing. Instead of using the typical 1 cup mayo: 2 tablespoons vinegar ratio for my broccoli salad dressing, I replace some of the mayo with olive oil and up the proportion of vinegar. I also add a few teaspoons of Dijon mustard and a little honey to the mix, making for a light, super tangy dressing with a delectable sweet/salty flavor.
Add the broccoli, red onion, and dried cranberries to the creamy dressing, and stir to coat.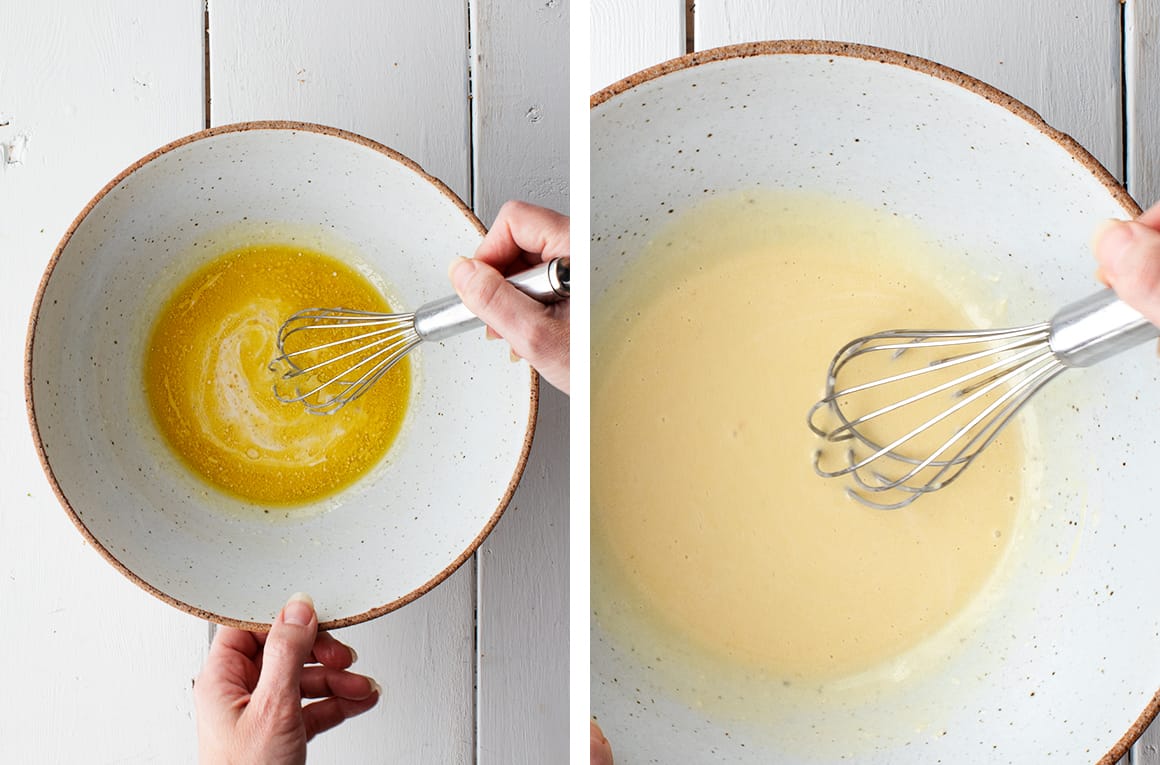 Now for the best part: the smoky tamari almonds and pepitas! They add wonderful crunch to the salad and bring richness and smoky flavor. They're the perfect nutritious substitute for bacon and cheese. They're easy to make—toss the almonds and pepitas with tamari, maple syrup, and smoked paprika, and toast in a 350°F oven for 10 to 14 minutes, until golden brown. Top the salad with the nuts.
Season to taste, and enjoy!
Tip: If you can't find pepitas, sunflower seeds work here too!
Find the complete recipe with measurements below.
Best Broccoli Salad Recipe Tips
Want to make the best broccoli salad around? Here are a few simple tips:
Cut your broccoli small. Because this salad features raw broccoli, you want to make sure the pieces are small enough to become fully coated and soften in the dressing. Also, when the broccoli pieces are a similar size to the other ingredients in the salad, you can get a little of everything in each bite.
Let it marinate. This salad is good right after it's made, but it's even better after a few hours (or even days) in the fridge. The broccoli softens and absorbs the flavors of the dressing—my family loved it on day three!
Save some nuts for the last minute. Sure, I like to make this salad ahead so that the flavors can develop, but the key to making it great is the crispy, smoky nuts and seeds on top. If you add them too early, they'll lose their crunch, so save some to sprinkle on right before serving!
Storage
If you're making this recipe ahead, wait to add the almonds and pepitas. Store them in an airtight container at room temperature. Store the rest of the salad in an airtight container in the refrigerator for up to 3 days. Add the almonds and pepitas right before you eat.
If you have leftover salad, store it in an airtight container in the fridge for up to 3 days.
What to Serve with Broccoli Salad
This broccoli salad recipe is a perfect side dish for potlucks and cookouts! Serve it alongside classic cookout recipes like these:
Round out the meal with other summer favorites like grilled zucchini and grilled corn on the cob. Don't forget the lemonade to drink!
More Salad Recipes You'll Love
If you love this summer salad, try one of these easy salad recipes next:
Broccoli Salad
This broccoli salad recipe is the perfect easy cookout side dish! Tangy, refreshing, and full of yummy sweet/salty flavor, it's a lighter version of the classic recipe, made with less mayo and no sugar, meat, or dairy.
Instructions
Chop the broccoli florets into ½-inch pieces and any remaining stems into ¼-inch dice. Peel any woody or course parts from the stem first.

In the bottom of a large bowl, whisk together the olive oil, mayo, apple cider vinegar, mustard, maple syrup, garlic, and salt. Add the broccoli, onions, and cranberries and toss to coat.

Place the almonds and pepitas on the baking sheet, toss with the tamari, maple syrup, and smoked paprika and spread into a thin layer. Bake 10 to 14 minutes or until golden brown. Remove from the oven and let cool for 5 minutes (they'll get crispier as they sit).

Toss the almonds and pepitas into the salad, reserving a few to sprinkle on top. Season to taste and serve.
Notes
*Note: Chop the florets into roughly ½-inch pieces. Dice the stem into smaller ¼-inch pieces.