This bright broccoli pasta salad recipe is chock full of fresh veggies and coated with a tangy no-mayo tahini dressing. Perfect for summer picnics!
This is not your regular pasta salad. In fact, Jack (who is not the biggest fan of traditional pasta salad) said "Omg, this is the best pasta salad!" It's healthy and packed with lots of veggies, and unlike a lot of pasta salads, it's light on the mayonnaise – in that it has none. With Memorial Day coming up, I figure you may need a packable potluck salad that won't spoil if it sits out for a little while. This one, made with a creamy tahini dressing, is just right for that.
How to Make Pasta Salad – the Healthy Way!
Bring on the veggies! This broccoli pasta salad has a high ratio of veggies to pasta, thanks to the spiralized (or thinly sliced) zucchini. With a pasta-like feel, the zucchini lowers the amount of noodles needed to make this salad satisfying. Plus, blanched broccoli and crunchy green beans add lots of texture, while sun-dried tomatoes and basil add pops of fresh and savory flavor.
Make a punchy dressing. Instead of a mayo-based dressing, which is traditional for pasta salad, I made a creamy tahini dressing with lemon, olive oil, garlic, and a touch of Dijon. As a result, this dressing is vegan, but it still has a bright, tangy flavor.
Make it dietary restriction-friendly. I find that everyone has some sort of dietary restriction these days (raising my hand just a little), so I used gluten-free fusilli. Consequently, this salad is entirely vegan and gluten free. I think it's nice to bring a delicious dish that everyone can enjoy to gatherings. Of course, you can use regular pasta if this isn't a concern for you.
Make a big batch! This salad keeps well for several days, so if you make extra ahead of time, you'll be set with healthy lunches for a week.
Broccoli Pasta Salad Recipe Ingredients
This salad is LOADED with good things, including:
Blanched broccoli and green beans – They pack this salad with green and add crispy, crunchy texture.
Noodles – Because you can't have pasta salad without pasta, I chose a fun fusilli.
Spiralized zucchini – Since I was going for a high veggie to pasta ratio, spiralized zucchini was an obvious choice to add more "noodles" to this salad!
Cherry tomatoes and sun-dried tomatoes – They have fresh, tangy, umami flavor, and I love their bright red color!
Basil – Who doesn't love basil in the summertime? It adds a nice fresh flavor here.
Pine nuts – For crunch!
A creamy tahini dressing – This bright, tangy vegan pasta salad dressing ties it all together.
I love all of the pretty, colorful veggies!
Broccoli Pasta Salad Serving Suggestions
As I wrote above, this pasta salad is meant for making ahead, so it's perfect for bringing to potlucks. If you're in need of a vegetarian main dish to go with it, try these BBQ Jackfruit Sandwiches, my favorite veggie burger, a black bean burger, portobello mushroom dogs, or grilled avocado for a twist!
You could also pack it up in individual portion-sized containers and take it as a main dish for healthy lunches! See this post for my best lunch-packing tips.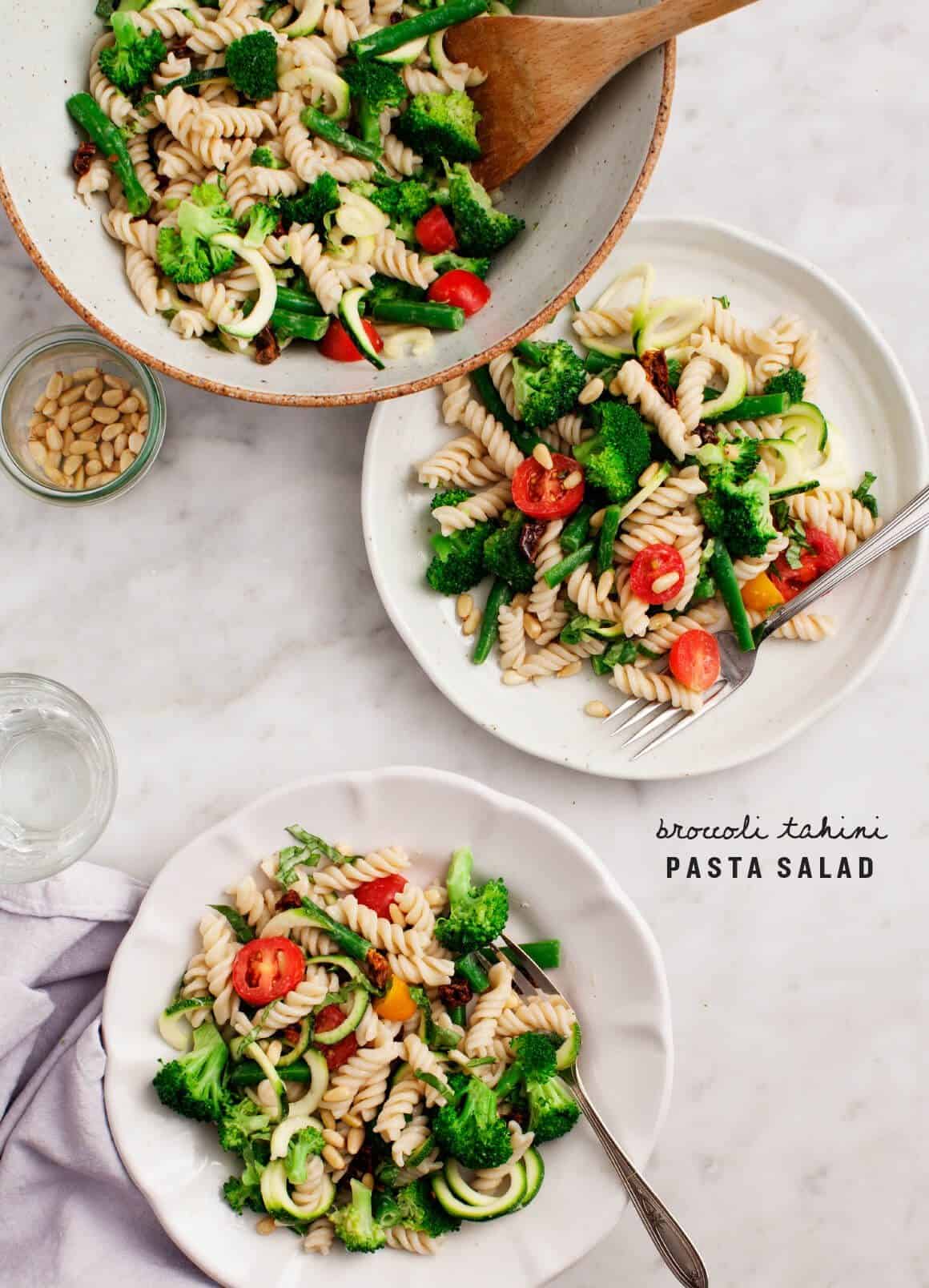 If you love this broccoli pasta salad…
Try this couscous salad, this broccoli salad, this pasta salad, or this potato salad next!
Broccoli Tahini Pasta Salad
This healthy broccoli pasta salad is made with a tangy, vegan no-mayo tahini dressing - perfect for summer picnics!
Ingredients
3 cups small broccoli florets
1 cup cut green beans
2 cups uncooked gluten free fusilli pasta
1 small zucchini, thinly sliced and cut into half moons (or spiralized)
1 cup sliced cherry tomatoes
4 oil-packed sun-dried tomatoes, chopped
8 fresh basil leaves, thinly sliced
¼ cup pine nuts
sea salt and freshly ground black pepper
Lemon Tahini dressing: (can be made ahead)
3 tablespoons extra-virgin olive oil
3 tablespoons tahini
3 tablespoons fresh lemon juice, more for squeezing at the end
2 tablespoon white wine vinegar
1 garlic clove, minced
½ teaspoon Dijon mustard
½ teaspoon maple syrup
½ teaspoon sea salt
3 tablespoons water
Instructions
In a small bowl, whisk together the olive oil, tahini, lemon juice, vinegar, garlic, mustard, maple syrup, salt and water. Set aside.
Prepare a large pot of salted boiling water and a large bowl of ice water. Drop the broccoli and green beans into the boiling water and blanch for 1-2 minutes, until tender but still bright green. Remove and immediately immerse in the ice water to stop the cooking processing. Keep in the ice water long enough to cool completely, about 15 seconds. Then, drain and and place on a kitchen towel to dry.
In a large pot of salted boiling water, prepare the pasta according to the instructions on the package, cooking until al dente. Drain and rinse with cold water.
In a large bowl, combine the broccoli, green beans, zucchini, tomatoes, basil and the pasta. Drizzle with the dressing and toss. Season to taste with salt, pepper, and squeezes of lemon, if desired. Sprinkle with the pine nuts and chill for 15 minutes. Can be stored in the refrigerator for up to 2 days.