You'd never guess that there's no dairy in this rich, creamy broccoli cheese soup! It's made of a savory, healthy blend of potatoes, veggies, and herbs.
A while back, I posted a photo of this gorgeous pile of broccoli on Instagram with a call out for broccoli recipe requests. Overwhelmingly, people asked for a healthy/vegan version of broccoli cheese soup. Jack loves cheesy broccoli soup (and most cheesy things, to be honest), so we were both excited to take on the challenge.
This recipe is not to be confused with cream of broccoli soup. I have a super delicious, very green, Creamy Broccoli Soup on page 55 of my first cookbook. It's made with leeks, coconut milk, broccoli, lemon, and spinach. It's light, healthy, and tastes similar to the version my mom made for me while I was growing up.
This version – broccoli cheese soup – is thicker, richer, and more cheese-like. I say cheese-like because there's no melted butter, grated cheese, evaporated milk, or heavy cream in this recipe. Rather, its thick, creamy base is made with potatoes and cashews, similar to the way I make vegan nacho cheese.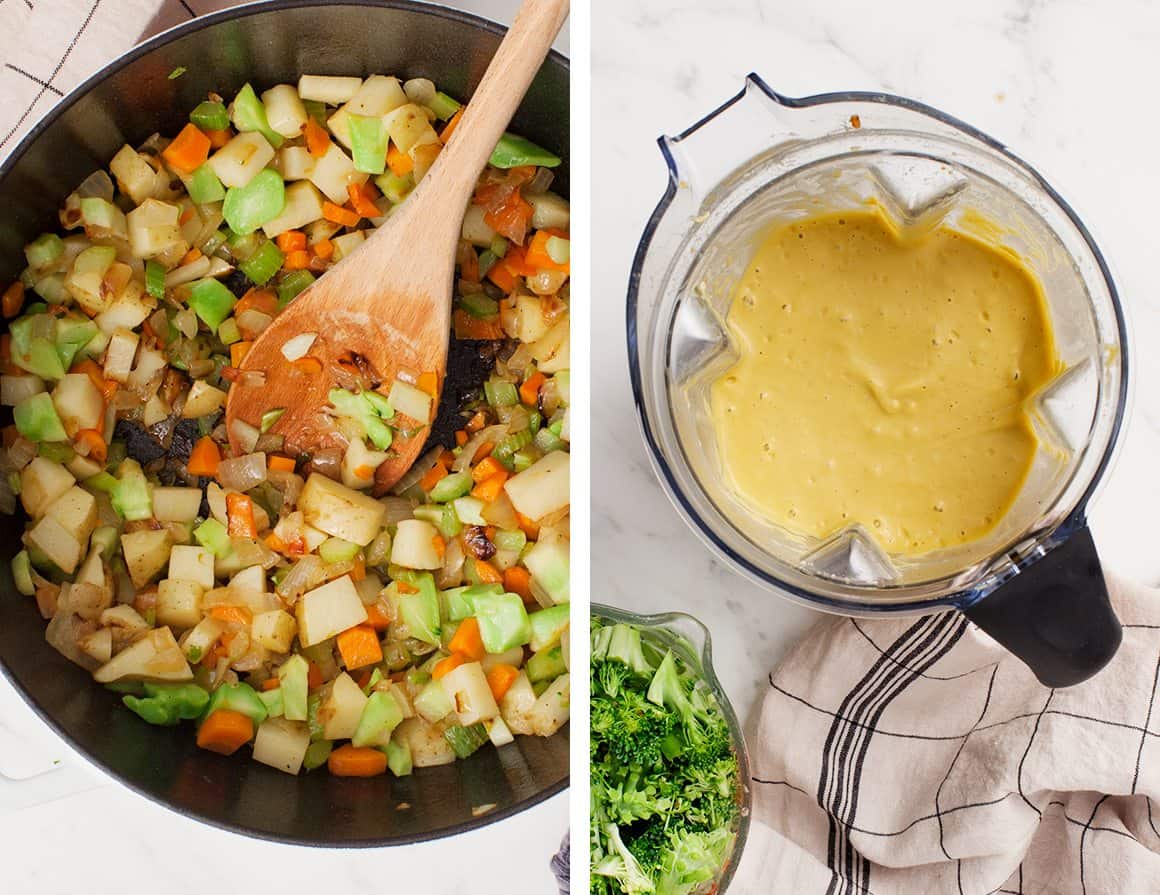 Broccoli Cheese Soup Recipe Ingredients
For the "cheese" factor here, I loosely based the ingredients on the ones I used in this Carrot Queso. Potato is the main thickener (along with some cashews), carrot gives it a cheesy color, apple cider vinegar gives it tang, and dill adds a savory flavor that pulls it all together.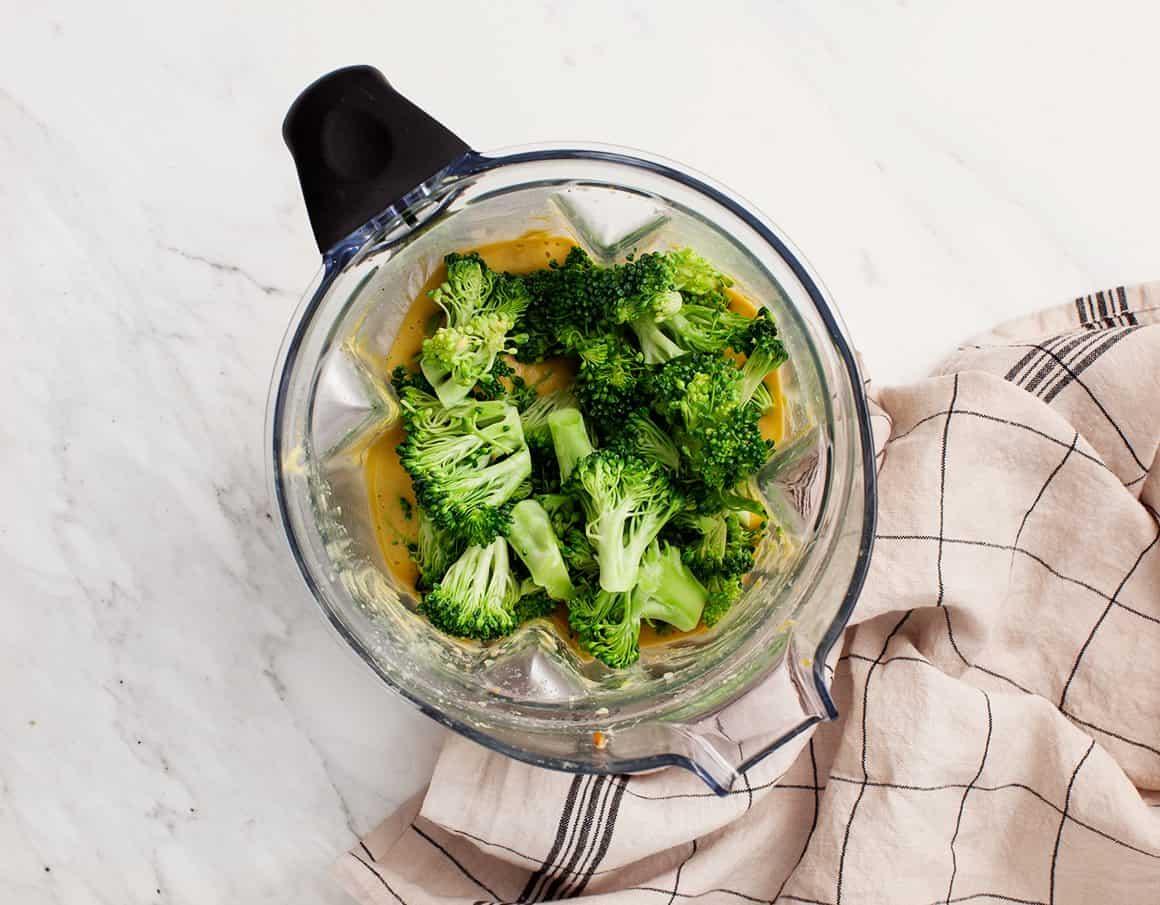 Then, because I get tons of requests to use the whole bunch of broccoli, I use a full pound of fresh broccoli in this recipe. I simmer the stems and blend them into the creamy base, and I steam and pulse in the broccoli florets for texture. If you're looking for more whole-vegetable recipes, try making this broccoli salad or cauliflower rice next. Waste not, want not!
Broccoli and Cheese Soup Recipe Tips
Top it with something crunchy. While the soup simmers, roast the last of the broccoli florets along with some cubed bread, because this creamy soup is best with some crispy garnishes.
Don't blend the broccoli too much. Unlike creamy broccoli soup, you don't want this soup to become a smooth puree. Blend the potatoes, celery, onions, the stems of the broccoli, and carrots until they're completely smooth, but just pulse in the steamed florets. They add lovely green color and texture to the soup.
Don't skip the dill! Even if dill isn't your thing, I urge you to try it in this recipe. It's essential for mimicking the rich, complex flavor of sharp cheddar cheese. If you want to skip it, I recommend blending in a few tablespoons of nutritional yeast to make the soup taste more cheesy.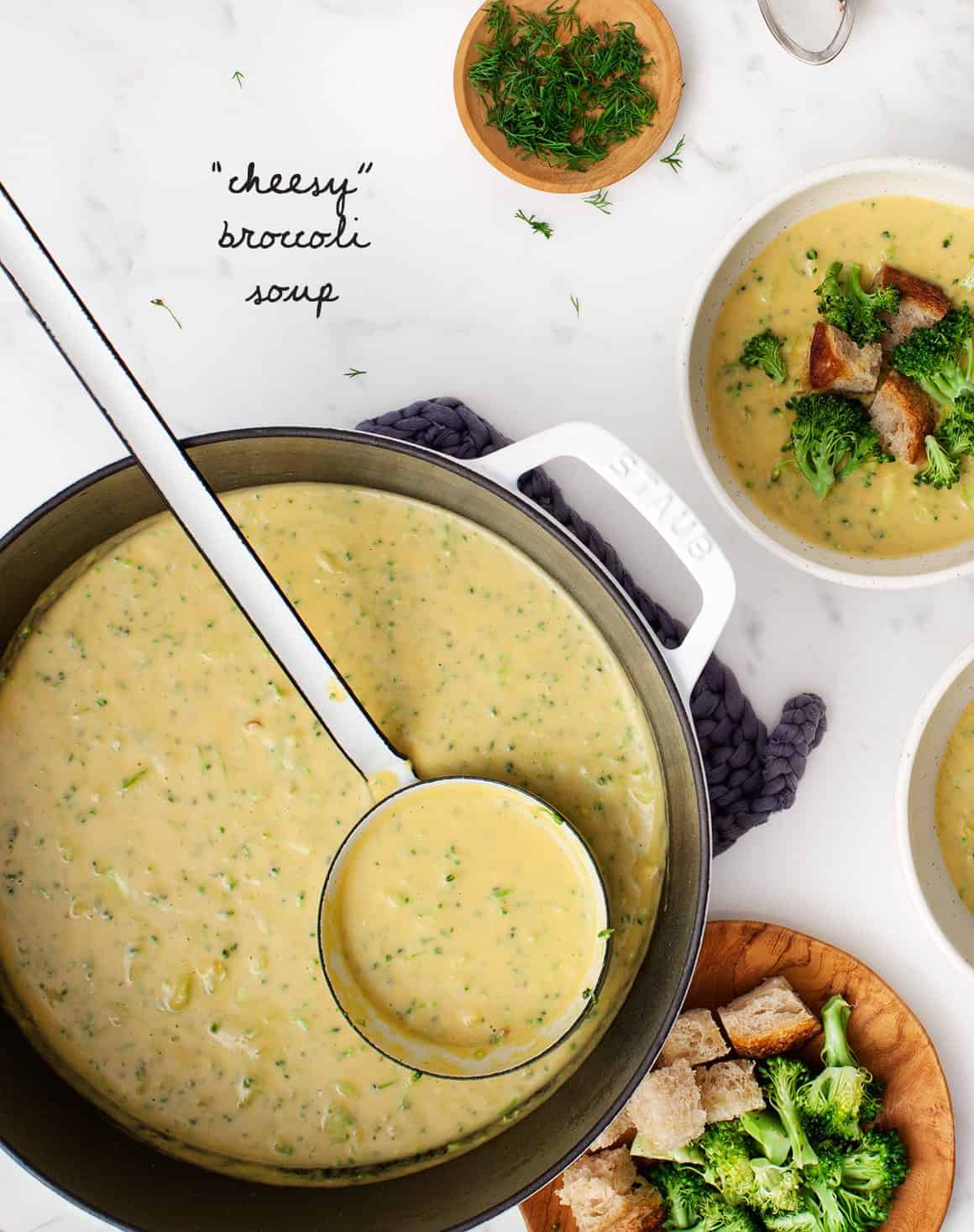 If you love this broccoli cheese soup recipe…
Try my cream of mushroom soup, butternut squash soup, or lentil soup next, or find more of my favorite soup recipes here!
For 85 more vegan recipes, check out this post!
Broccoli Cheese Soup
This creamy Broccoli Cheese Soup Recipe is our favorite healthy comfort food! Don't skip the dill - it's essential for rounding out this soup's savory, cheesy flavor.
Ingredients
2 tablespoons extra-virgin olive oil, more for drizzling
1 small yellow onion, diced
½ cup chopped celery
⅓ cup chopped carrots
1 lb. broccoli, stems diced, florets chopped
1 small yukon gold potato, diced (1 cup)
4 garlic cloves, minced
4 cups vegetable broth
3 cups cubed bread, for croutons
½ cup raw cashews
1½ teaspoons apple cider vinegar
½ teaspoon Dijon mustard
¼ cup fresh dill
1 tablespoon fresh lemon juice
¾ teaspoon sea salt
freshly ground black pepper
Instructions
Preheat the oven to 350°F and line 2 small baking sheets with parchment paper.
Heat the oil in a large pot or Dutch oven over medium heat. Add the onion, celery, carrots, broccoli stems, salt, and pepper and sauté until softened, about 10 minutes. Add the potatoes and garlic and stir, then add the broth and simmer for 20 minutes until the potatoes are soft. Let cool slightly.
Set aside 1 cup of the broccoli florets to roast as a topping for the soup. Place the remaining florets in a steamer basket, and set over a pot with 1-inch of water. Bring the water to a simmer, cover, and let steam 5 minutes, until the broccoli is tender.
Meanwhile, place the reserved broccoli florets and the bread cubes on the baking sheets. Toss with a drizzle of olive oil and a pinch of salt and roast until the bread is crispy and the broccoli is tender and browned around the edges, 10 to 15 minutes.
Transfer the soup to the blender and add the cashews, apple cider vinegar, and mustard, and blend until creamy. Work in batches, if necessary. Add the steamed broccoli florets, dill, and lemon juice, and pulse until the broccoli is incorporated but still chunky. The soup should be thick; if it's too thick, add ½ cup water to thin to your desired consistency.
Season to taste and serve the soup in bowls with the roasted broccoli and croutons on top.
Notes
Note: many readers have had enjoyed blending a few tablespoons of nutritional yeast into the soup for an extra "cheese-like" flavor. You can find it at Whole Foods or other health food stores. If you can't find it, no worries, it's delicious without it too!