This loaded breakfast burrito recipe is the best way to kickstart your morning. Filled with eggs & fresh veggies, it's healthy, fun & easy to make!
I'm typically a breakfast taco person, so this post is a little crazy for me – I'm making breakfast burritos! I know, I know… if you're from Austin and you know that I lived in Austin, you're probably saying "what is she doing?"… because Austin is the land of the taco. In fact, the city would probably kick you out if you made a breakfast burrito, but, well, I'm already out so today, I have this yummy breakfast burrito recipe that we just love.
The idea to make a breakfast burrito came to me because I had lots of leftover veggies from this meal prep post. With leftover veggies, I often turn them into an anything-goes frittata, but I thought I would change things up and make a super fun, super packed breakfast burrito instead. So let's get started!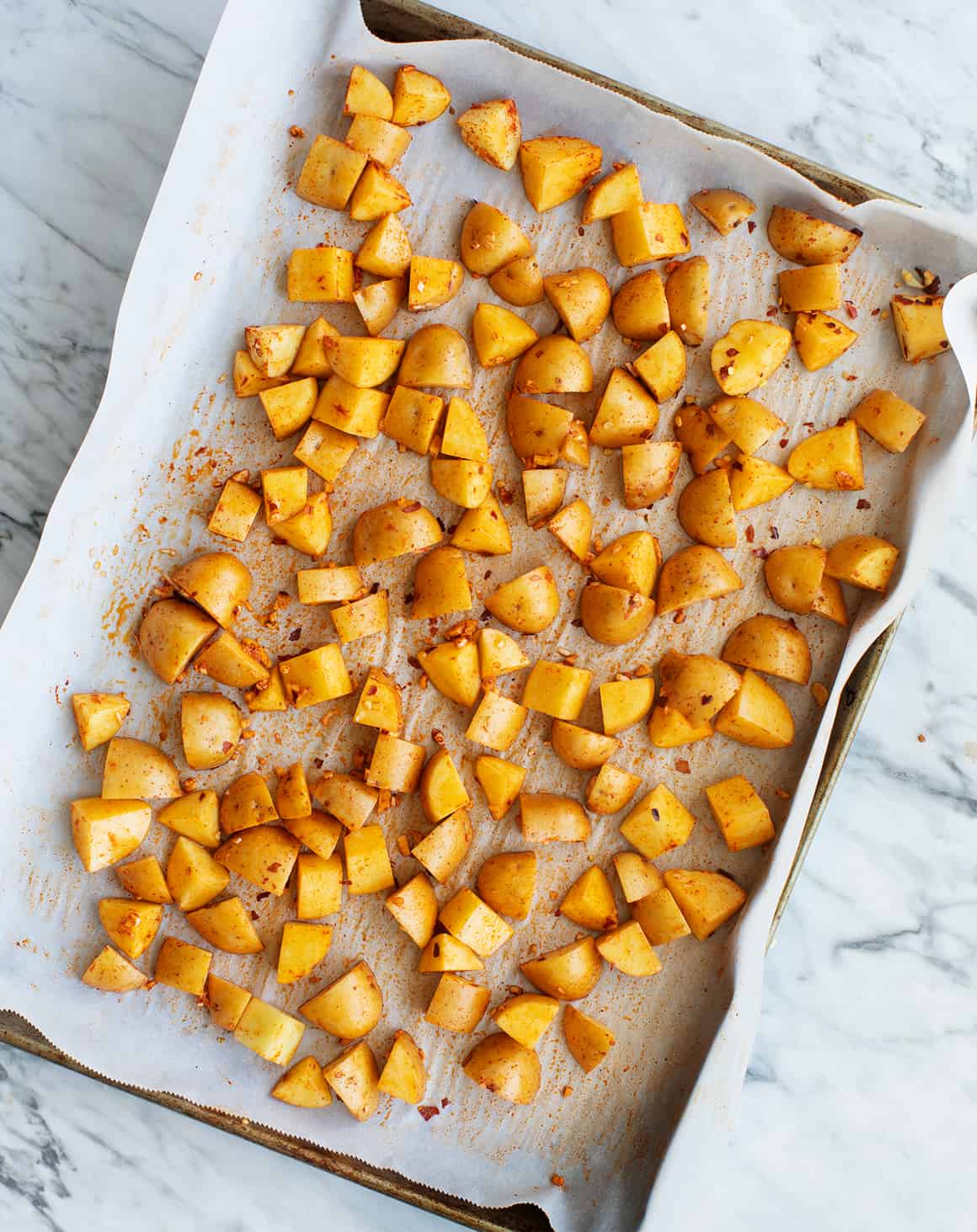 Healthy Breakfast Burrito Recipe Ingredients
When I was making this breakfast burrito, I had leftover components from this taco salad in the fridge. I stuffed in the crisp red cabbage, charred poblano and bell pepper, pico de gallo, cooked black beans, and cilantro I had on hand, as well as these other key components:
Scrambled eggs – A breakfast burrito essential. They add yummy creamy texture and lots of protein to help this burrito keep you full till lunchtime.
Spicy potatoes – Because breakfast burritos don't have rice, I added potatoes to fill mine out. Tossed with smoked paprika, they add great smoky flavor to the filling.
Spinach – I love the green color it adds here, and there's nothing wrong with sneaking more veggie power into your breakfast!
Avocado – Because there's nothing better than a bite of burrito filled with crisp, juicy veggies and creamy avocado.
I served my burritos with cilantro lime sauce for dipping!

How to Make a Breakfast Burrito – My Best Tips!
Once you have your ingredients assembled, you're ready to roll! This step isn't hard, but it's the trickiest part of the recipe, so here are my tips for rolling success:
Make sure you have big tortillas! In the store, look for 12-inch or larger tortillas. Oftentimes, they'll be labeled as "Burrito-Size." They're the easiest to tuck and roll around all the yummy fillings.
Lay your fillings in a (relatively) narrow strip on the tortilla. If you spread the ingredients out too much, you won't be able to get the tortilla over and around them. I start by making a thin layer of spinach on the bottom and then spread the other fillings in narrow rows on top (see below).

Tuck in the sides first, then fold the tortilla over the fillings and roll it closed. I've found this "tuck & roll" method to be the most effective in packing all the fillings tightly into the tortilla.
Have an extra pair of hands nearby. Before I roll the tortilla closed, I like to have Jack gently press the fillings toward my hands in order to pack them together tightly. That way, my burrito will turn out nice & compact, so it won't fall apart. He usually helps out during this step:

And that's it! Breakfast burrito success! 🙂

Breakfast Burrito Serving Suggestions
I would 100% recommend serving these burritos with cilantro lime dressing on the side for dipping. It adds a great zesty, fresh accent to the hearty ingredients inside. If you don't have any on hand, or you don't feel like making it, these would be just as good with drizzles of hot sauce, dollops of Greek yogurt or sour cream, or spoonfuls of tomatillo salsa on the side. Enjoy them for breakfast any day, or make them for a fun brunch with mimosas to drink!

Easy Breakfast Burrito Recipe Variations
I love this breakfast burrito recipe as written, but it's super flexible. Use what you have on hand, or play with it to make a breakfast burrito that you really love. Here are some suggestions:
Substitute guacamole for the avocado, because who doesn't love guac?
Use halved cherry tomatoes in place of the pico, or try mango salsa or pineapple salsa for a sweet & spicy touch.
Make this a vegan breakfast burrito by using a slather of refried black beans or scrambled tofu (there's a great recipe on page 42 of the new cookbook) in place of the eggs.
Add some veggie breakfast sausage for a heartier burrito.
Use spiced roasted sweet potatoes instead of yellow potatoes.
Fold in a handful of shiitake or tempeh vegan bacon.
Swap thinly sliced radishes for the red cabbage.
Add a sprinkle of crumbled Cotija, grated cheddar, or Monterey jack cheese.
Sneak in pickled onions or pickled jalapeños for an extra tangy pop!

More Favorite Breakfast Recipes
If you love this breakfast burrito recipe, try these breakfast tacos, these frittata muffins, or this smoothie bowl next. Then, find more healthy breakfast ideas here and more of our favorite brunch recipes here!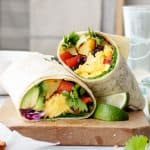 Best Breakfast Burrito
Serves
3
to 6 (makes 3 large burritos)
This hearty, healthy breakfast burrito recipe is sure to kickstart your morning. I love to serve it with Cilantro Lime Dressing for dipping, but hot sauce, sour cream, or your favorite salsa would be good too.
Ingredients
1

pound

small round yellow potatoes

,

cut into ½ inch pieces

Extra-virgin olive oil

,

for drizzling

½

teaspoon

smoked paprika

Pinches

of red pepper flakes

1

red bell pepper

9

large eggs

3

12-inch tortillas

1

cup

fresh spinach

½

cup

shredded red cabbage

,

optional, for color and crunch

¾

cup

cooked black beans,

drained and rinsed

½

cup

pico de gallo

1

ripe avocado

½

cup

cilantro leaves

Sea salt and freshly ground black pepper

1

lime

,

for squeezing

Cilantro Lime Dressing,

for dipping
Instructions
Preheat the oven to 425°F and line a large baking sheet with parchment paper. Place the potatoes onto the sheet, drizzle with olive oil, and sprinkle generously with salt and pepper, the smoked paprika, and pinches of red pepper flakes. Toss to coat, spread evenly on the pan, and bake for 30 minutes or until golden brown and crisp around the edges.

Heat a grill pan on the stove to medium heat. Place the red pepper on the pan and let it char for 4 to 5 minutes per side, or until the pepper is soft and each side has black grill marks. Alternatively, you can roast it in the oven until soft. Remove from the grill, remove the stem and ribbing, and slice the pepper into strips.

Scramble the eggs: brush a medium nonstick stick skillet lightly with olive oil and bring to medium heat. Add the eggs, let them cook for a few seconds, and then stir and scramble until the eggs until just set.

Assemble the burritos: Divide the spinach leaves and red cabbage, if using, among the tortillas. Top with the eggs, red pepper strips, black beans, pico de gallo, potatoes, avocado, and cilantro. Sprinkle with salt and pepper and a squeeze of lime. Fold the left and right sides of the tortilla over the filling. Fold the bottom flap of the burrito up and over the filling, tucking the sides and the filling as you roll the burrito. Wrap in foil, slice, and serve with Cilantro Lime Dressing for dipping.
Notes
To make these burritos in advance, I recommend wrapping them in foil and storing them in the fridge for 1 to 2 days. Or better yet, make the components in advance and wrap them as you're ready to eat. I personally don't enjoy frozen/thawed eggs, so I don't suggest freezing these.