These blueberry pancakes are soft, fluffy, and bursting with juicy blueberries. Top them with maple syrup for the perfect breakfast or brunch!
These blueberry pancakes are perfect for lazy Saturdays! They're fluffy, golden brown, and easy to make with basic pantry ingredients. But best of all, they're bursting with juicy berries. With 2 full cups of blueberries in the recipe, you get one in every bite.
Douse your stack with a quick blueberry compote for even more blueberry goodness, or stick to classic fixings like butter and maple syrup. No matter which toppings you pick, you'll love these blueberry pancakes.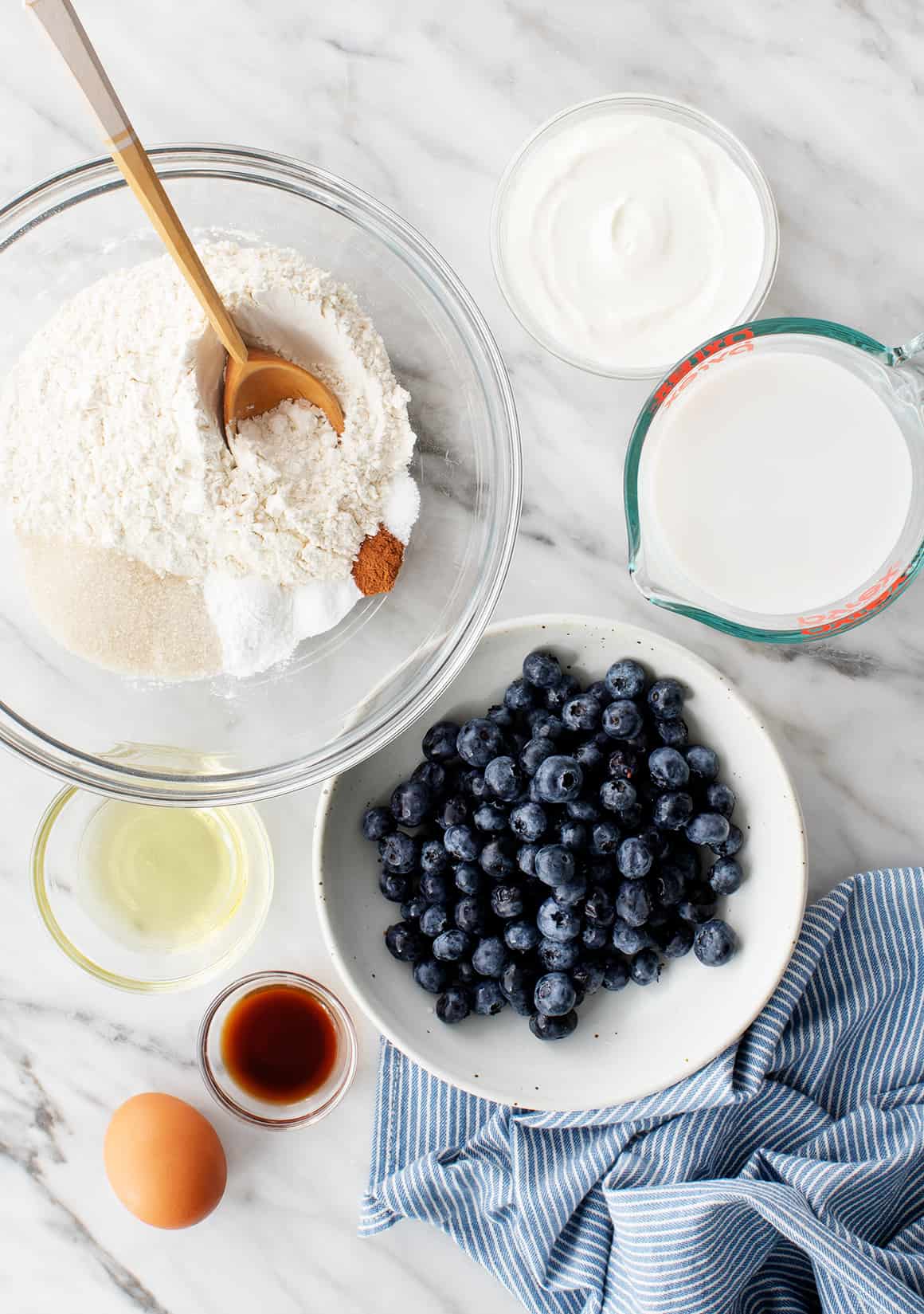 Blueberry Pancake Recipe Ingredients
Here's what you'll need to make this blueberry pancake recipe:
Blueberries, of course! Fresh and thawed frozen blueberries both work great.
All-purpose flour – It makes up the base of the batter.
Baking powder, baking soda, and an egg – They help the pancakes rise.
Cinnamon – It adds warm, spiced flavor.
Cane sugar – It makes the batter lightly sweet. I only use a little because I know I'll be topping the pancakes with maple syrup.
Almond milk – Or any milk you keep on hand. Oat, soy, or cow's milk would work here too.
Greek yogurt – It gives the pancakes extra lift and a slightly tangy flavor.
Avocado oil – Or whatever neutral oil you like.
Vanilla extract – For warm depth of flavor.
And sea salt – To make all the flavors pop!
Find the complete recipe with measurements (plus a vegan option!) below.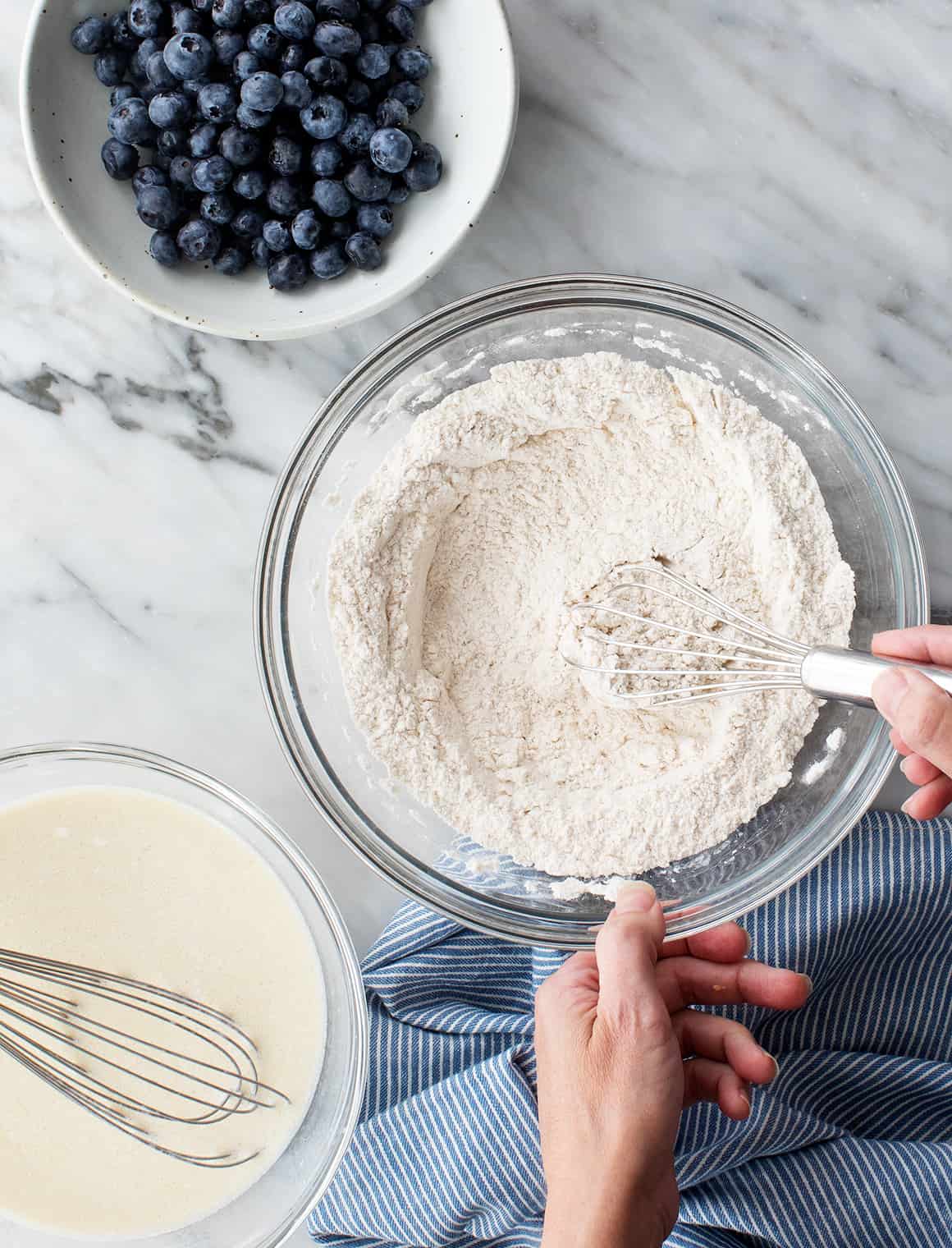 How to Make Blueberry Pancakes
These blueberry pancakes are super simple to make! Here's what you need to do:
First, prepare the batter. Mix together the wet ingredients in one bowl and the dry ingredients in another.
Pour the wet ingredients into the bowl of dry ingredients…
…and fold until just combined.
If you're using fresh blueberries, fold them in now.
Then, cook the pancakes. Brush a griddle or non-stick skillet with oil or melted butter, and heat it over medium-low heat.
Use a 1/3-cup scoop to portion the pancake batter into the pan. If you're using frozen blueberries, scatter them over each pancake immediately after you pour the batter. Cook for 1 to 2 minutes, or until bubbles form on the first side. Flip, and cook for another 1 to 2 minutes, or until puffed and golden brown.
That's it!
Tip
Depending on the size of your skillet or griddle, you'll likely need to cook these blueberry pancakes in batches.
To keep all the pancakes warm until you're ready to serve, place the early batches on a large plate or baking sheet. Cover them with foil, and warm them in a 200°F oven until you finish cooking the pancakes.
Serving Suggestions
Serve the homemade blueberry pancakes with butter, maple syrup, and extra fresh blueberries on the side. They're also fantastic with blueberry compote, jam, or homemade honey butter. For extra protein, top them with a dollop of Greek yogurt.
If you're in the mood for a larger breakfast or brunch, pair these light and fluffy pancakes with something savory. A frittata, breakfast casserole, or simple scrambled eggs would all be great choices. Enjoy!
Common Questions about Blueberry Pancakes
Do you add berries to pancake batter before or after pouring?
You can actually do it either way! I follow a rule I learned from the King Arthur Baking Company. If I'm using fresh berries, I fold them into the pancake batter. But if I'm using frozen berries, I dot them over the pancakes immediately after pouring the batter. (They'll tint the batter blue if you fold them in.)
What can I substitute for the Greek yogurt?
1/2 cup mashed banana works great!
How do I know when to flip the pancakes?
Bubbles will form across the surface of the pancake batter. When they start to pop, it's a good time to flip! You can also use a spatula to lift the edge of the pancakes and peek underneath. They're ready to flip when they're golden brown. If the pancakes are browning before bubbles form, turn down the heat.
More Favorite Breakfast and Brunch Recipes
If you love these fluffy blueberry pancakes, try one of these delicious breakfast recipes next:
You might also enjoy these 8 Healthy Pancake Recipes.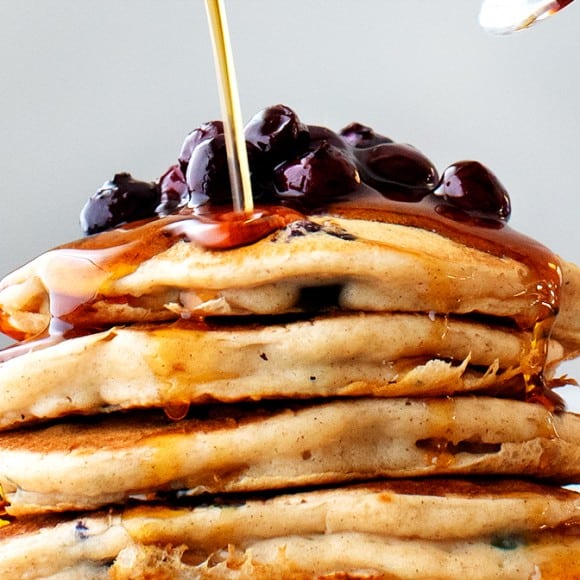 Blueberry Pancakes
Soft, fluffy, and filled with juicy blueberries, these blueberry pancakes are a perfect breakfast or brunch. Serve them with butter or yogurt, maple syrup, and extra blueberries on top.
Ingredients
1½

cups

all-purpose flour

2

tablespoons

cane sugar

2

teaspoons

baking powder

½

teaspoon

baking soda

1/2

teaspoon

cinnamon

Heaping ¼ teaspoon sea salt

1

large egg

1

cup

plus 3 tablespoons almond milk

½

cup

plain whole milk Greek yogurt

2

tablespoons

avocado oil

,

plus more for brushing

1½

teaspoons

vanilla extract

2

cups

blueberries

,

fresh or thawed frozen*

Maple syrup,

for serving
Instructions
In a large bowl, place the flour, sugar, baking powder, baking soda, cinnamon, and salt and stir to combine.

In a medium bowl, whisk together the egg, almond milk, yogurt, avocado oil, and vanilla. Add the wet ingredients to the dry ingredients and mix until just combined. If using fresh blueberries, fold them into the batter.

Heat a nonstick skillet to medium-low heat and brush lightly with oil. Use a ⅓-cup scoop to pour the batter into the skillet. If using frozen berries, evenly scatter them onto each pancake immediately after pouring the batter. Cook the pancakes for 1 to 2 minutes, or until bubbles form. Flip and cook for 1 to 2 additional minutes, or until the pancakes are puffed and golden brown. Serve with maple syrup.
Notes
*Fresh and frozen berries are both great here, but you'll add them to the batter at different times. Fold fresh blueberries into the batter before pouring. Scatter frozen berries over the pancakes immediately after pouring the batter. See the FAQ section above for more info!
To make these vegan:
Replace the egg with a flax egg: In a small bowl mix 1 tablespoon ground flaxseed with 3 tablespoons water. Set aside for 5 minutes to thicken before incorporating into the recipe.
Replace the yogurt with ½ cup mashed banana