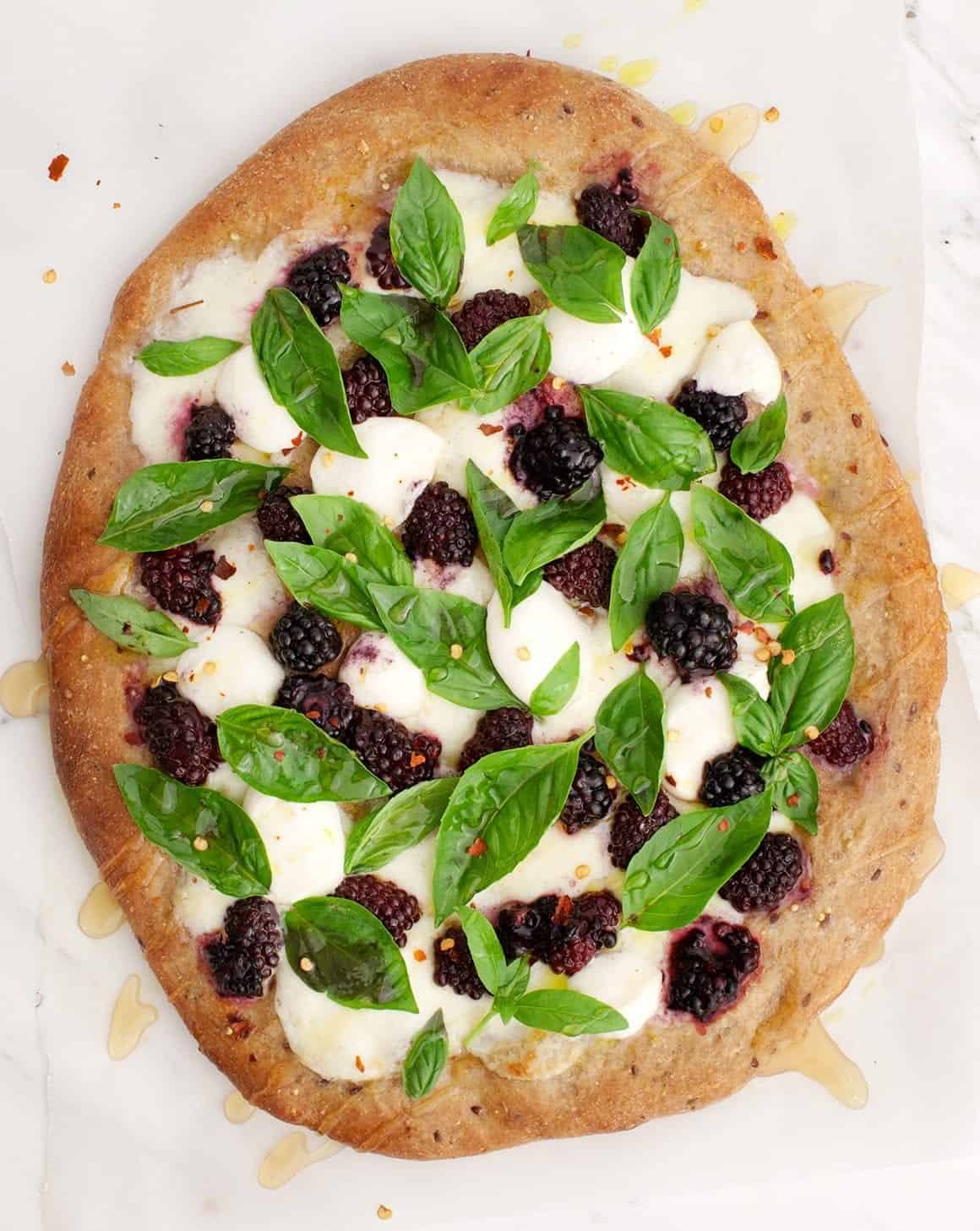 Hey, long time no blog! So sorry about that! Things have been a little crazy over here since we're moving in just a few days. I hope you've been able to enjoy a little time away from the computer this summer as well 🙂
Today's Blackberry Basil Pizza recipe is super simple. I know I've been saying this a lot lately, but it's summer, and I love a recipe that comes together without much fuss! The grocery list is short and the prep time is minimal, but the flavors are so fresh and delicious. If you haven't tried combining blackberries and basil yet, you'll love this sweet/tangy/savory combo.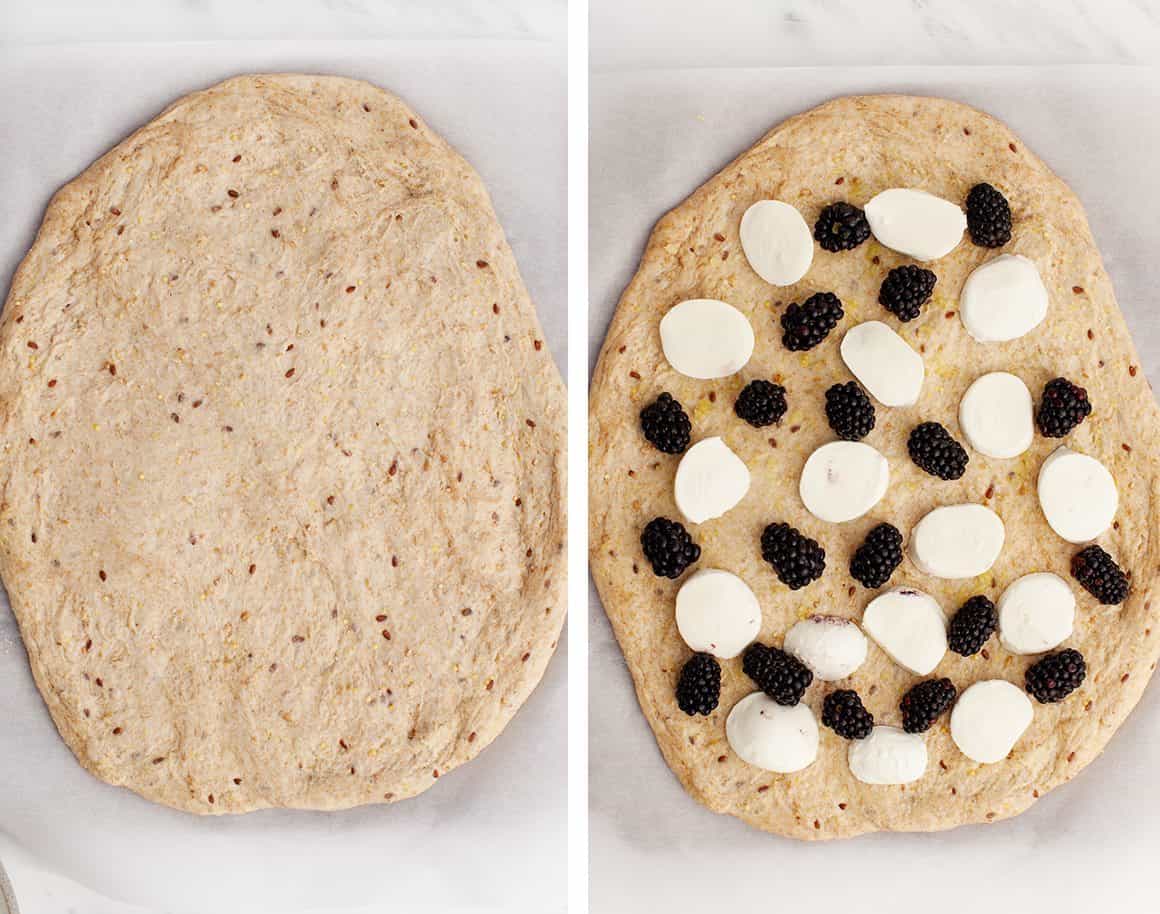 How to Make Basil Pizza
Step one: make (or buy) your dough! Every now and then we make our own pizza dough, but 95% of the time, we pick up dough from Whole Foods. I've especially been enjoying their multigrain pizza dough lately. It has a wonderful nutty flavor and, well, a multitude of grains. We loved its flavor for this sweet/fresh basil pizza.
Then, assemble! For the recipe, simply stretch the dough, brush it with some garlicky olive oil, assemble with the cheese and blackberries, and bake. The most important part comes last – pile the baked pizza with TONS of basil. These nice small basil leaves came from my mom's herb garden; if your leaves are larger, you can tear them into smaller pieces. The basil makes this pizza taste SO fresh and makes it look really pretty too.
Enjoy this pizza with friends, preferably on a patio, with a crisp glass of rose in hand!
Basil Pizza Recipe Variations
This pizza recipe is so simple to make, so it's a fun one to play with depending on what you have on hand. Here are a few suggestions to vary the toppings:
Make it a Margherita. If you can't resist the summer tomato/basil combination, just substitute halved cherry tomatoes for the blackberries.
Try another fruit. This may be my first blackberry & basil recipe on the blog, but Love & Lemons is no stranger to other fruit + basil combos (see here and here). Try using halved strawberries, blueberries, or diced peaches!
Switch the herb. I am all about basil in the summertime, but soft thyme sprigs or mint would be delicious here as well. Use whatever you have on hand!

Want more basil pizza recipes?
We love this one with broccoli and this one with pesto and summer squash!
Summer Blackberry Basil Pizza
This sweet & fresh Blackberry Basil Pizza makes a delicious, simple summer dinner!
Recipe type:
Main dish, appetizer
Ingredients
1 ball of Whole Foods Market multigrain pizza dough
1 teaspoon extra-virgin olive oil
1 minced garlic clove
8 ounces fresh mozzarella bocconcini, sliced, divided
1 pint organic blackberries, divided (slice large ones in half)
Lots and lots of fresh basil
Pinch of red pepper flakes
Drizzle of honey
Pinches of sea salt
Instructions
Preheat oven to 450F.
In a small bowl, combine the olive oil and minced garlic.
Stretch the pizza dough onto a pizza stone or baking sheet and brush the dough with the garlic oil. Top with ¾ of the fresh mozzarella and blackberries. Bake until the crust is golden brown, about 12 minutes.
Remove the pizza from the oven and top with remaining mozzarella, blackberries, and lots of basil. Sprinkle with red pepper flakes and sea salt. Drizzle with olive oil and honey. Slice and serve.
This recipe was created in partnership with Whole Foods Market.