As we close out 2019, here's a look back on some of our (and your) favorite recipes of the year! I hope they give you fresh inspiration heading into 2020.
Happy (almost) New Year! Does anyone else feel like 2019 has flown by? To me, it seems like it was just yesterday that we were at the farmers market buying veggies to turn into pasta salad and zucchini bread. This year may have raced past us, but we certainly had good moments along the way. In particular, we released our second cookbook. I can't tell you how much we love seeing readers try recipes from it and from the blog!
Before we take on 2020, I wanted to share a few top recipes from the last year. These are recipes you've all made and loved, and ones we can't resist making again and again. I hope they give you some fresh inspiration heading into the New Year. And if you have any 2020 recipe requests, let me know in the comments!
Our Top Recipes of 2019
1. Eggplant Parmesan (pictured above)
Layered with crispy baked eggplant slices and homemade marinara sauce, my eggplant Parmesan recipe is lighter than – but just as delicious as – the classic version.
We fell head over heels for this easy baked falafel! Loaded with herbs and spices, it's a flavor powerhouse on its own. But stuffed into a pita with hummus, pickled red onions, and fresh herbs and veggies, it becomes really extraordinary.
Top it onto a salad, drizzle it over a bowl, slather it into a sandwich, or serve it as a dip. There's no limit on the ways to use nutty, bright tahini sauce, especially when these 4 bold recipe variations come into play!
On cold nights, I love cozying up with a hot bowl of this easy butternut squash soup! Rosemary, sage, and ginger fill it with warm flavor, and the blended squash makes it lusciously creamy without any nuts or dairy.
So many of you have made and loved this soup, and for good reason! The rich, umami broth is swimming with velvety caramelized onions. It's delicious on its own, but, topped with a slice of cheesy toasted baguette, it becomes totally irresistible.
6. Mediterranean Chickpea Salad
There's so much to love about this easy chickpea salad! A cumin-spiced dressing fills it with aromatic flavor, chopped Medjool dates add a touch of sweetness, and cucumbers, tomatoes, herbs, and roasted red peppers make it super fresh. Topped with a few crunchy roasted chickpeas, it's a perfect dinner side dish or make-ahead lunch.
I've heard from so many readers saying they've loved this salad (and tbh, I'm a big fan of it too!). Smoky roasted nuts take the place of bacon in this lightened-up riff on classic broccoli salad, and a maple-sweetened, tangy dressing ties it all together. Whether you pass it at a potluck or pack it for lunch, this is a salad you're going to love.
I've had these simple soba noodles on repeat for lunch all year long! This recipe calls for snap peas and radishes, but the light ginger-sesame dressing will add a tangy pop of flavor to whatever seasonal veggies you have on hand.
We love to make this umami-loaded sushi recipe for a fun date night in. Jack rolls the sushi while I blend up the fresh carrot ginger dipping sauce!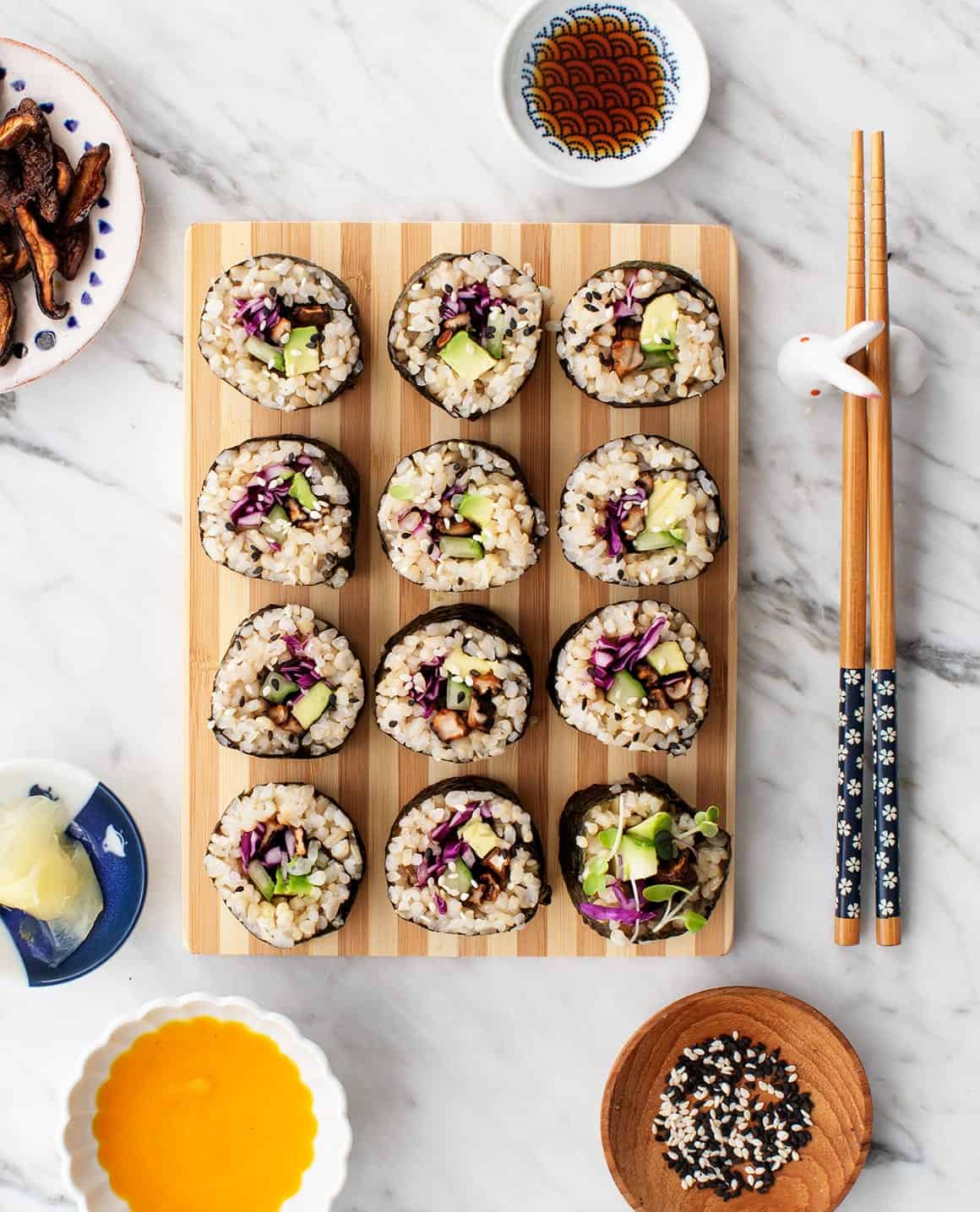 Nothing brightens up a gray winter day like this vibrant kale salad! It stars a rainbow of root veggies, creamy avocado, and an electric carrot ginger dressing. Topped with roasted chickpeas and toasted seeds, it's a fresh, nourishing meal on its own.
11. Linguine with Lemon & Tomatoes
When you have great seasonal ingredients, it doesn't take much to make a delicious meal. This 10-ingredient summer pasta is here to prove it. Roasted tomatoes and lemon, basil, and thyme make it a fantastic jumble of bright, fresh, and savory flavors.
This creamy pasta pomodoro is basically everything I want to eat for dinner any night of the week! Rigatoni noodles and a luscious creamy (vegan!) tomato sauce make it super comforting, but, with plenty of sautéed veggies, it's still healthy and fresh.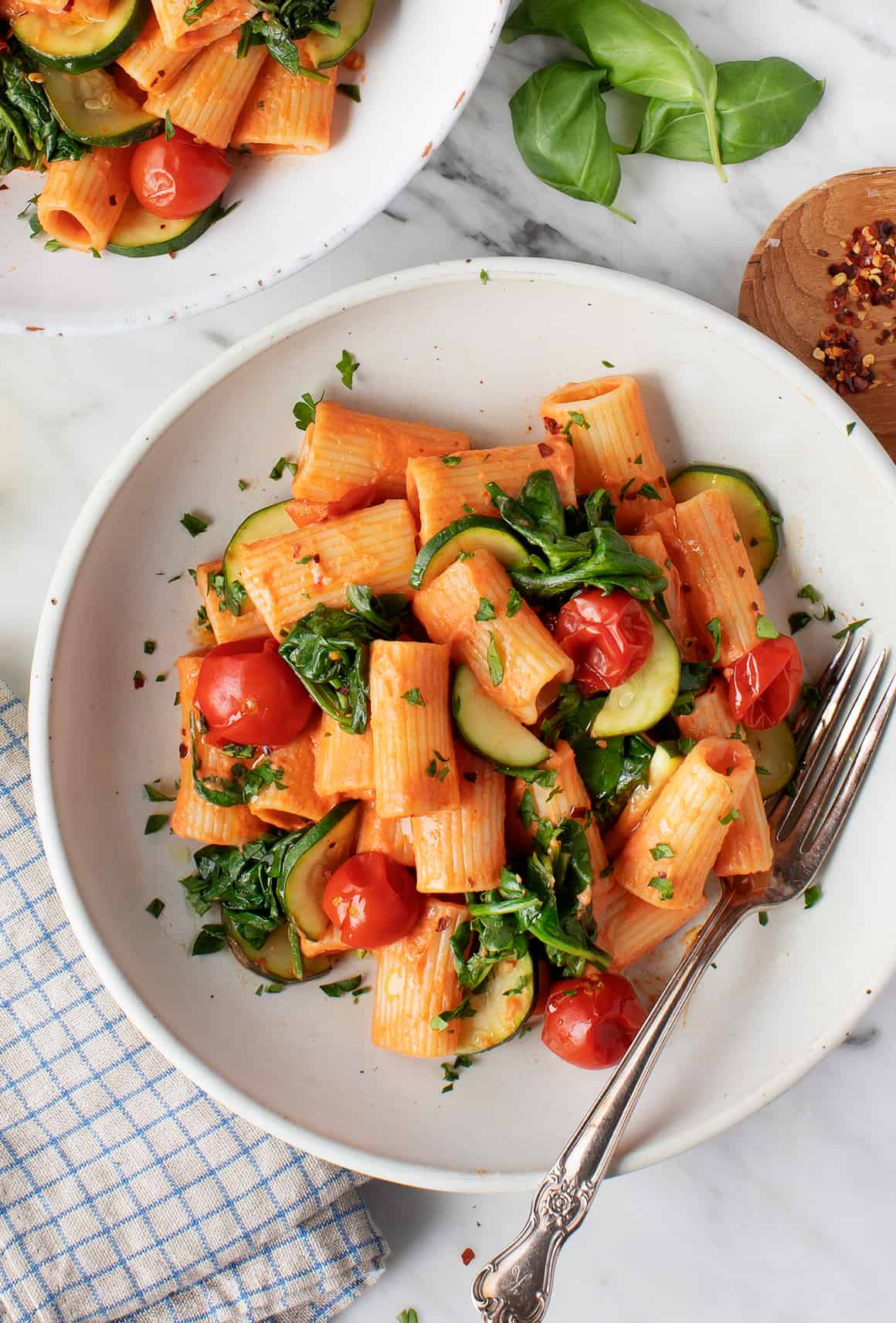 My favorite part of this chocolate cake isn't its moist texture or intense, chocolatey flavor. Nope! It's the chocolate frosting on top. It's so rich and luscious that you'd never guess that it's hiding a secret veggie ingredient: sweet potato!
I've always been team breakfast tacos, but this breakfast burrito was a game changer for me. Scrambled eggs, spicy potatoes, pico de gallo, avocado, and lots of fresh veggies make it hearty, fresh, and flavorful. Served with cilantro lime dressing for dipping, it's a breakfast that's hard to beat.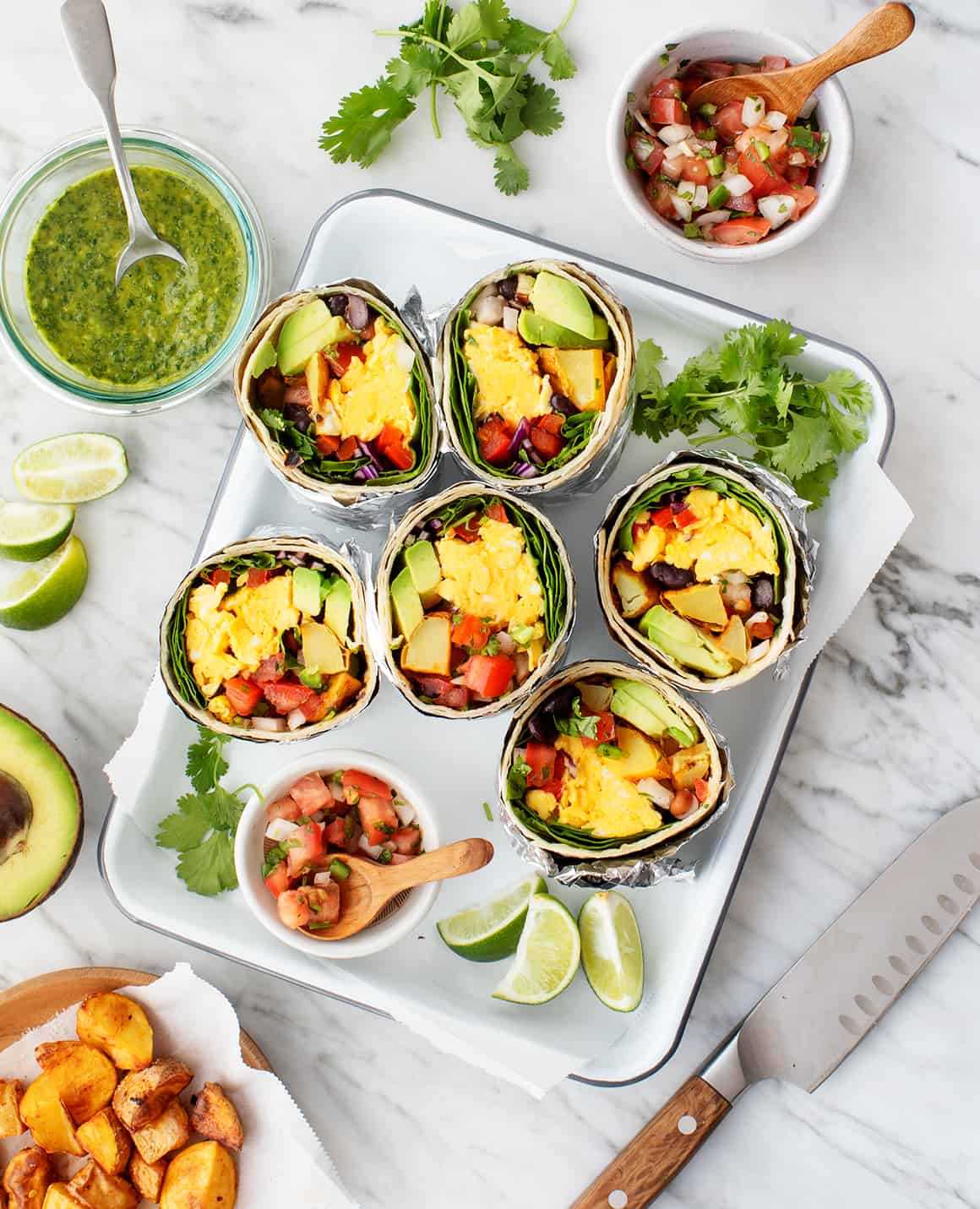 More favorite recipes