Whether you're craving something chewy or crunchy, salty or sweet, these easy healthy snacks are sure to please! Vegan & gluten-free ideas included.
If I don't have a stockpile of healthy snacks on hand, I will, without fail, reach for a cookie at 3pm. Now, there's nothing wrong with treating yourself to something sweet in the afternoon, but if I'm working on a new cookie recipe, there's a good chance that snacking on sweets will become less of a treat and more of a habit.
Over the years, I've learned that filling up on healthy snacks like veggies and dip, smoothies, or trail mix will only make those sweets more rewarding in the end. I'll be more energized and focused throughout the day, my mood will be better, and any treats I eat will really taste like, well, treats.
Below, you'll find 47 easy healthy snack ideas to satisfy any craving. Some are sweet and nutty, others are salty and crunchy, and still others are fresh and veggie-forward. They'll give you the fuel you need to take on any day, whether you're heading out the door or working from home, and best of all, they'll taste delicious.
Bar and Ball Healthy Snacks
You can buy a million different bars these days, but I still prefer to make my own. It's more cost-effective, and I know that I'm snacking on whole foods like oats, nuts, and seeds. Plus, these healthy snack recipes are easy to keep on hand – store them in the fridge for up to a week or in the freezer for up to 2 months!
Homemade Granola Bars
These homemade granola bars taste better than any you'd find at the store. Made with peanut butter, honey, oats, and dark chocolate, they have a delicious chewy texture and sweet, nutty flavor.
No Bake Energy Balls
These balls are like a healthy version of the best oatmeal cookies you can imagine. Maple syrup and dates make them naturally sweet, cinnamon and vanilla fill them with warm flavor, and mini chocolate chips take them over the top.
Pistachio Oat Squares
If you're craving a sweet, nutty snack, you're in luck! You only need 6 ingredients to make these oat squares, and they'll be ready in under 30 minutes. The recipe is from my friend Jessica Murnane's cookbook, One Part Plant.
Carrot Cake Bliss Balls
We're crazy for carrot cake, so naturally, these balls are one of our favorite healthy snacks! They're vegan, nut-free, and gluten-free, but you'd never know it from their rich, spiced carrot cake flavor.
Peanut Butter Chocolate Chip Cookie Bars
These bars taste like dessert, but superfood ingredients like maca, cacao, walnuts, and dates make them antioxidant-packed healthy snacks.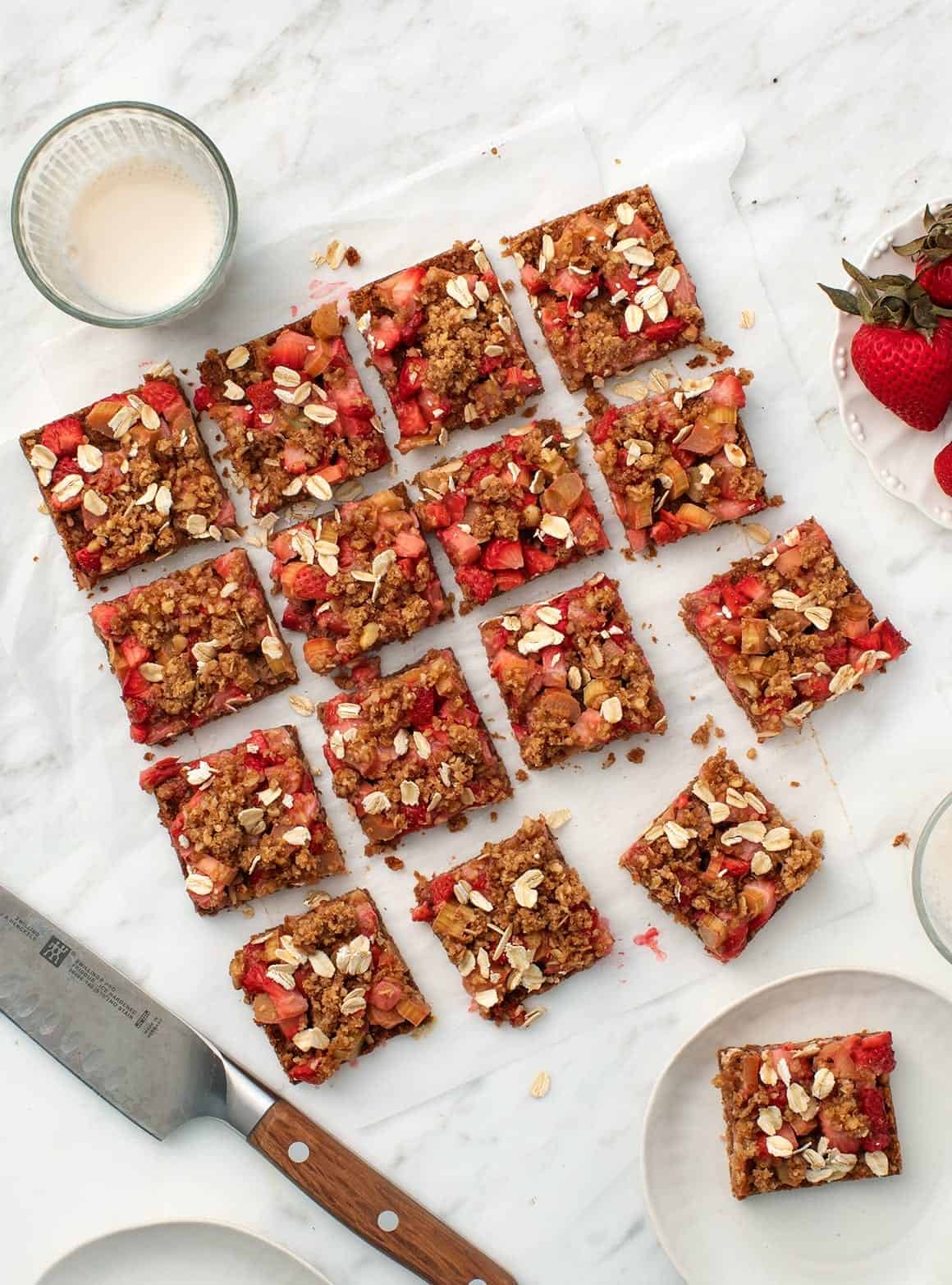 Strawberry Rhubarb Bars
The hardest part of making these bars is waiting for them to cool! The crust and crumble topping are one and the same, so they're super easy to put together.
No Bake Cookies
They're vegan, gluten-free, and packed with good-for-you ingredients like oats and peanut butter. I call them cookies, but in my book, these guys totally pass as healthy snacks.
Spreads and Dips
We all know that veggies are healthy snacks, but they're not always the first thing I reach for. My solution? Keeping a tasty dip in the fridge! It doesn't just make those veggies extra fun to eat – the dips themselves are often filled with protein, fiber, and/or healthy fats.
Hummus
This nutty, velvety dip is so delicious that I could eat it straight off a spoon! Of course, it's great with pita and veggies too.
Red Lentil Hummus
No chickpeas? No problem. Cooked red lentils blend into a protein-packed dip that's every bit as creamy, bright, and flavorful as traditional hummus.

Baba Ganoush
I can never resist eating this silky, smoky dip straight out of the food processor, but that's ok! Made with eggplant and tahini, it's full of fiber and healthy fats.

Tzatziki
Greek yogurt and grated cucumber make up the base of this protein-rich Middle Eastern dip. Slather it onto pita or scoop it up with veggies for a super refreshing summertime snack.
White Bean Dip
I love this bright, creamy white bean dip plain, but it's even better with a handful of fresh herbs like basil, rosemary, or tarragon blended in.
Homemade Peanut Butter
Slather it onto crusty bread, scoop it up with fruit, or enjoy it by the spoonful! If you don't have peanuts on hand, swap in whatever nut you do have – almonds or cashews would be fantastic.
Guacamole
Pile it onto a tortilla with a squeeze of lime and a pinch of salt for healthy snacking heaven.
Tomatillo Salsa
Living in Austin got me hooked on homemade salsa, and this recipe will do the same for you. Serve it with tortilla chips to make a spicy, zesty snack that you won't be able to get enough of!
Quick Breads and Baked Goods
These baked goods are great fresh out of the oven, but they also freeze well. I always keep a stash on hand for days when I need something quick, wholesome, and delicious to tide me over between meals.
Healthy Banana Bread
Almond flour doesn't just make this banana bread healthy – it gives it an amazing moist texture too. You'll be reaching for a second slice before you know it.
Chocolate Zucchini Bread
This chocolate zucchini bread is filled with good-for-you ingredients like whole wheat flour, coconut oil, and zucchini, but it's so moist and flavorful that it'll satisfy even the strongest chocolate cravings.
Pumpkin Bread
I especially love this pumpkin bread in the fall, but with its moist texture and spiced pumpkin flavor, I'd happily take a slice at any time of year.
Homemade Bagels
If you're someone who craves savory snacks, you'll love these homemade bagels! Devour them on their own or slather them with cream cheese or hummus for extra staying power.
Blueberry Scones
Crisp on the outside, soft in the middle, and studded with juicy berries, they're everything a good scone should be.
Vegan Scones with Raspberries
Made with oat flour and coconut flour, these tasty scones are totally gluten-free! Drizzle them in a bright lemon glaze if you're serving them for brunch, or skip it, and keep them on hand for easy healthy snacks.
Oatmeal Breakfast Cookies
Cookies for breakfast? Yes, please! Made with oat flour, almond flour, walnuts, and fresh blueberries, these hearty breakfast cookies are packed with protein, fiber, and healthy fat.
Quinoa Breakfast Cookies
I love to eat these carrot cake-inspired cookies for breakfast, but they're also a filling snack. Along with other wholesome ingredients like nuts, seeds, and oats, quinoa makes them a great source of protein and fiber.
Muffin Healthy Snack Ideas
Muffins are some of the best healthy snack recipes because they're naturally portioned into snack-sized servings. Like the baked goods above, they freeze well, so make a big batch to keep on hand. Let them thaw overnight in the fridge, or pop frozen muffins in the microwave for 30 seconds when you're ready to eat.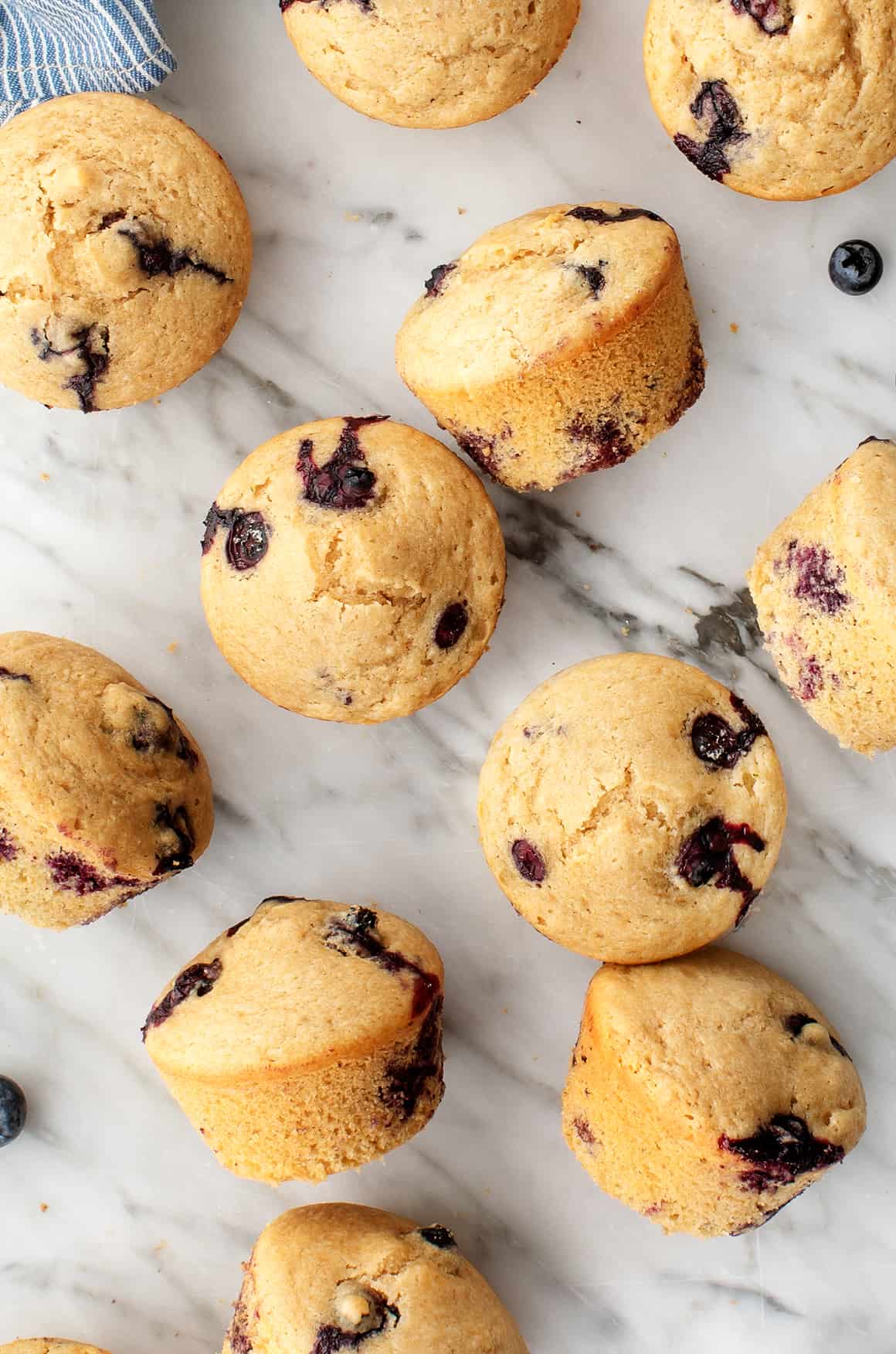 Blueberry Muffins
These blueberry muffins are a far cry from the jumbo, cake-y ones that you'd find in a bakery display case. Instead, they're moist, lightly sweet, and the perfect size for snacking.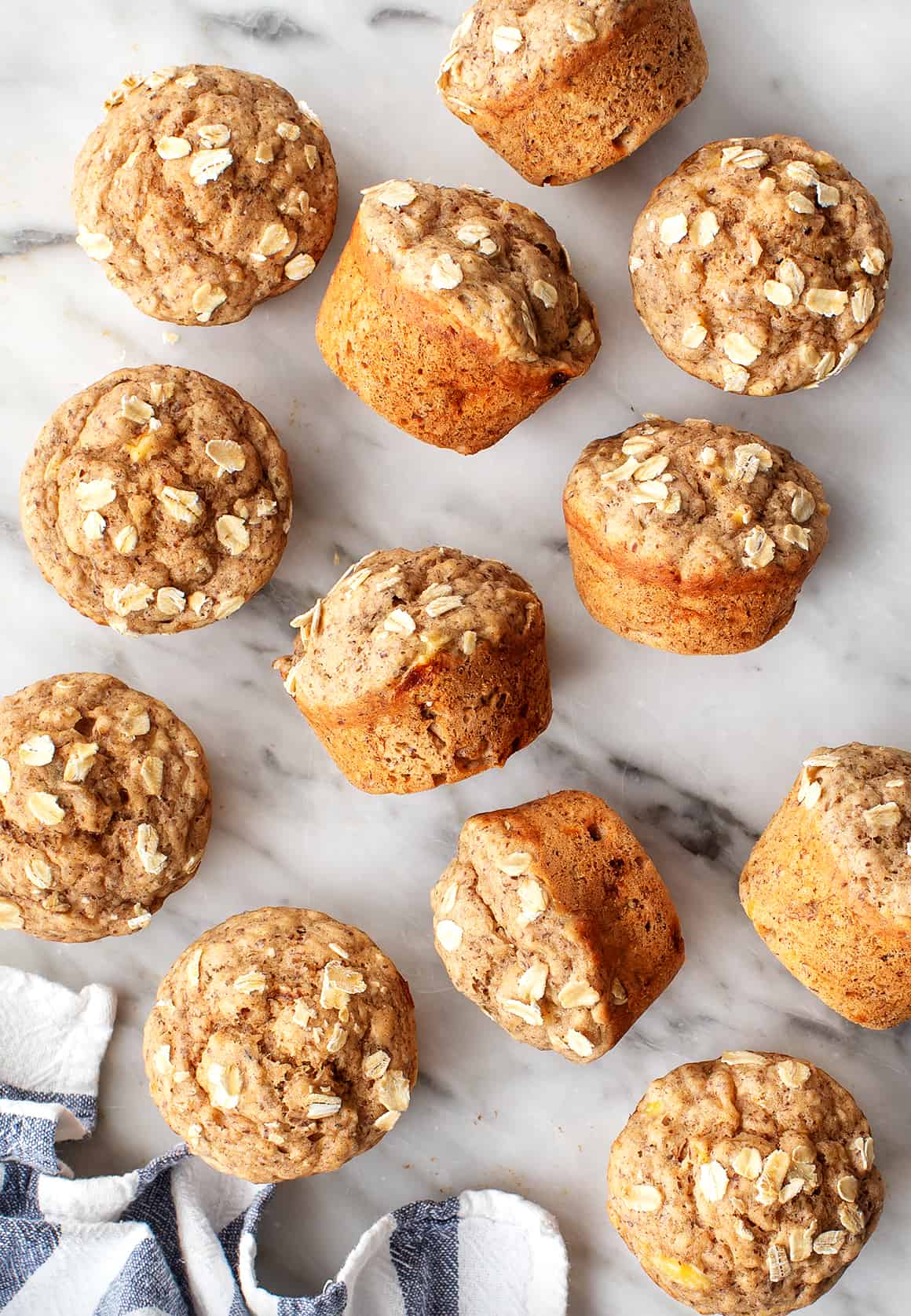 Healthy Banana Muffins
You won't find any butter or refined sugar hiding inside these healthy banana muffins. Instead, their rich, spiced banana flavor and perfect moist texture come from wholesome ingredients like whole wheat flour, ground flaxseed, and pure maple syrup.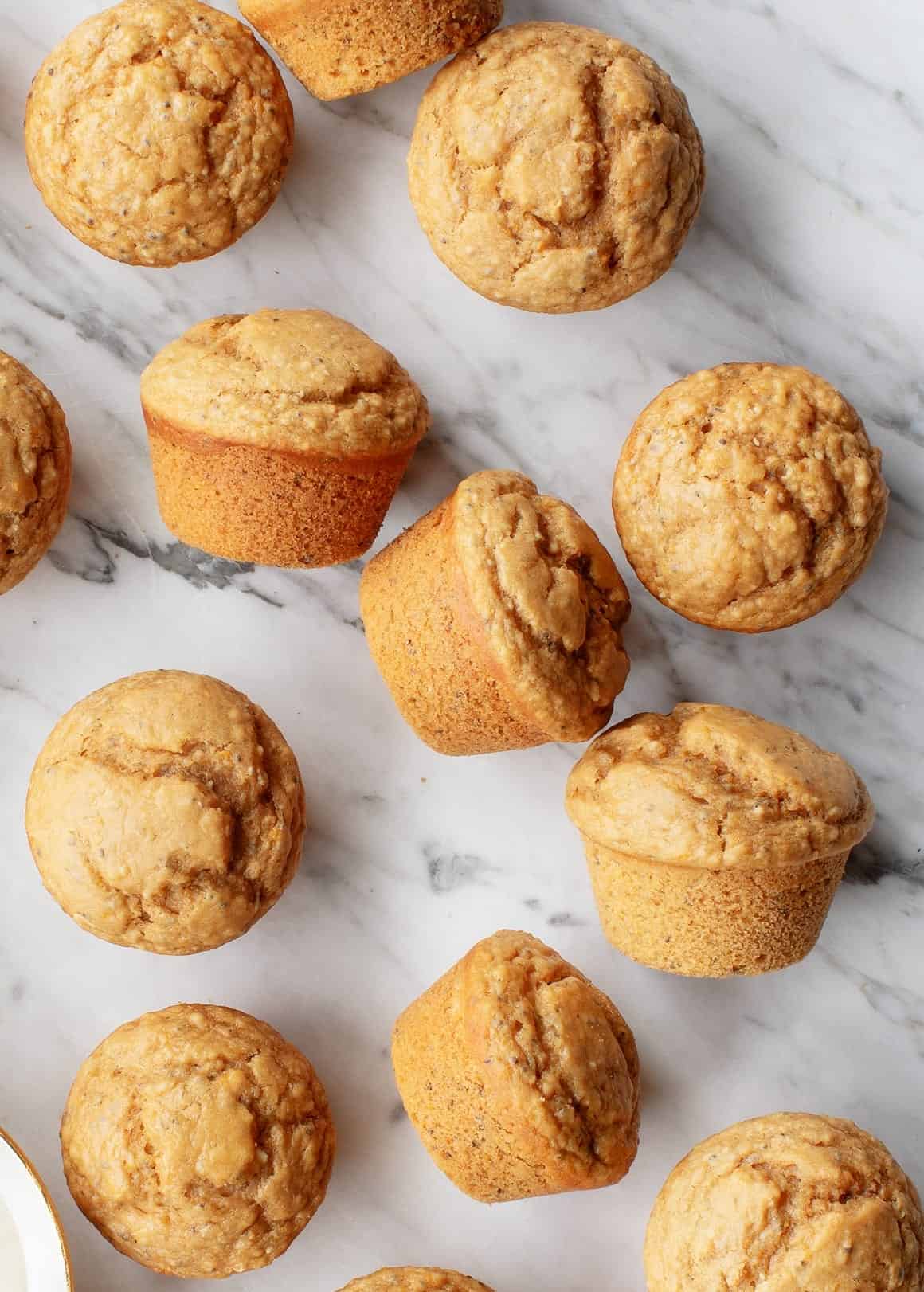 Vegan Lemon Muffins
I stir a spoonful of chia seeds into the batter of these lovely lemon muffins. It packs them with omega-3s, and it also adds a nice crunch!
Coconut Mango Muffins
You can make these muffins with or without an egg, depending on your preference. They'll be moist, tender, and packed with tropical flavor either way!
Smoothie Healthy Snack Recipes
If you want to sneak a big serving of fruits and veggies into your day, making a smoothie is a great way to do it! For an extra boost, blend in protein powder, nut butter, or superfoods too.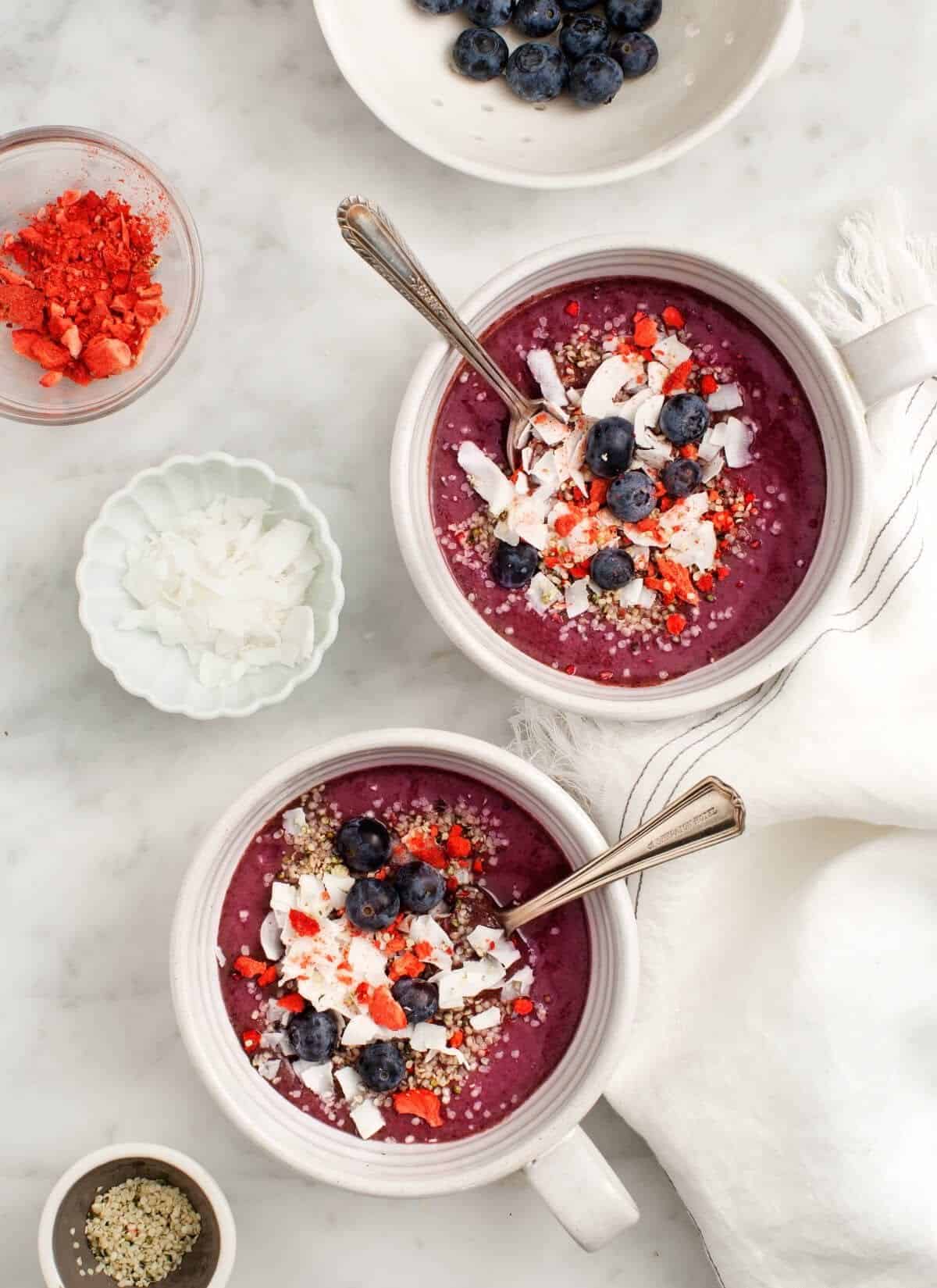 Berry Superfood Smoothie Bowl
Instead of adding banana to make this smoothie bowl creamy, I blend in a scoop of almond butter. It adds protein and healthy fats, and it creates a delicious PB&J flavor.
Strawberry Banana Smoothie
This smoothie is a humble blend of berries, bananas, and oat milk, but it's chock-full of nutrients, and it tastes amazing, too!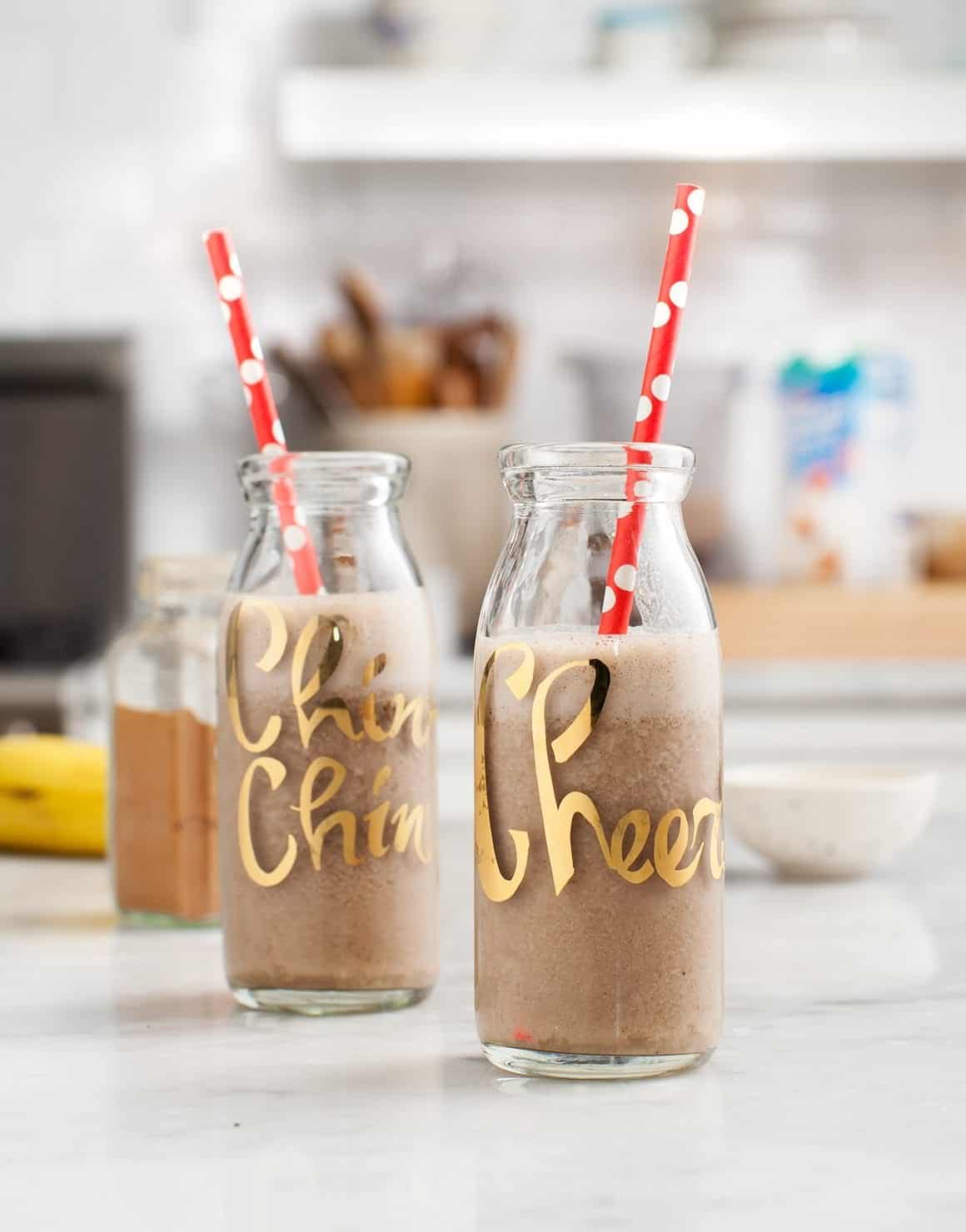 Cinnamon Coffee Smoothie
This cinnamon roll-inspired smoothie is one of the best healthy snacks for an afternoon energy boost! If you want to make it heartier, blend in a scoop of vanilla protein powder for a few extra grams of protein.
Creamy Avocado Smoothie
Thanks to frozen pineapple, banana, and lots of lime, this creamy, dreamy smoothie tastes like a refreshing sorbet. You'd never guess that there's a big handful of spinach hiding inside it!
Savory, Crunchy Healthy Snacks
If you're craving something crunchy and salty, your snack options extend way beyond processed crackers and chips!
Crispy Roasted Chickpeas
Skip the potato chips, and reach for these crispy roasted chickpeas instead! Enjoy them with olive oil and salt, or dress them up with shawarma spices or everything bagel seasoning for a fun, flavorful twist.
Sweet and Spicy Popcorn
Popcorn is great on its own, but jazzing it up with a simple seasoning makes it even more satisfying and fun to eat. This sweet and spicy mix of maple syrup, cayenne, and cinnamon is one of my favorites.
Vegan Bacon
I love to crumble these guys up to make plant-based "bacon" bits. Top them onto a dip or avocado toast for savory, smoky flavor and plenty of protein!
Homemade Crackers
These crispy, nutty crackers are so much better than store bought ones! I make them with almond flour, brown rice flour, and a whole bunch of seeds, so they're naturally gluten-free and packed with protein.
Healthy Snacks with Eggs
Chock-full of protein and omega-3s, eggs are perfect easy healthy snacks. If you're at home, you can simply scramble them or cook them sunny side up, but if you're not, these 3 recipes are great on-the-go options:
Veggie Frittata Muffins
This recipe calls for cherry tomatoes and dill, but honestly, anything goes here. Roasted asparagus, sautéed mushrooms, roasted butternut squash, or nearly any herb would be fantastic in these little frittatas. Use what's in season or what you have on hand!
Hard Boiled Eggs
Hard boiled eggs keep for up to 5 days in the fridge, so make a big batch over the weekend for healthy snacks all week!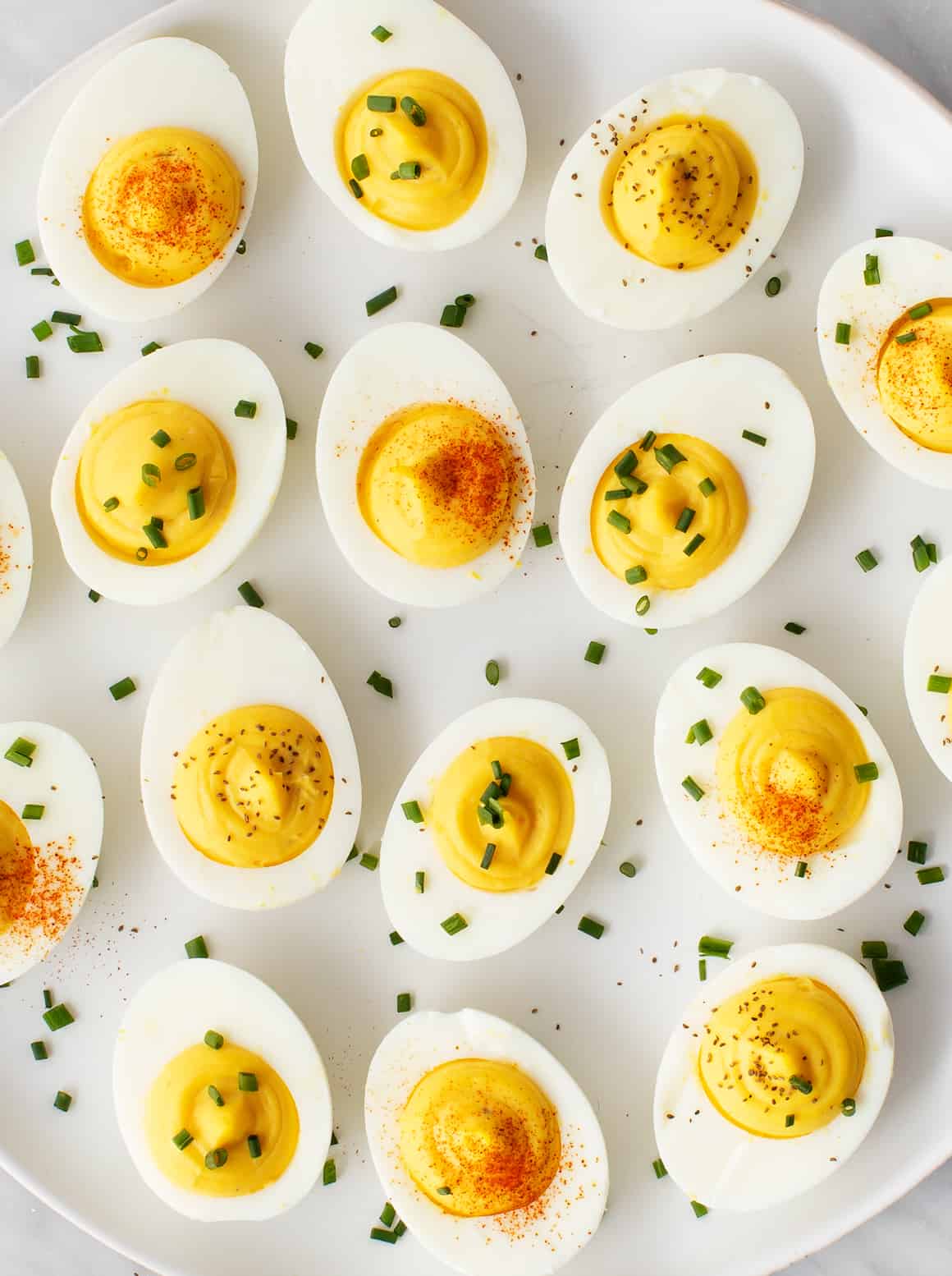 Best Deviled Eggs
Greek yogurt adds extra protein to the creamy, tangy filling of these deviled eggs. Enjoy them plain, or top them with smoked paprika, celery seeds, or fresh chives for a delicious bite-sized snack!
On-the-Go Oats and Puddings
Whether you pack them in a Mason jar or a regular old container, these nourishing puddings and oats are perfect for making ahead and taking on the go.
Overnight Oats
These guys are all about the toppings. Not only will they punch up the flavor and texture of your oats, but they'll also add nutrients like vitamins, antioxidants, protein, and healthy fats.
Easy Chia Pudding
I like to add a splash of lemon or orange juice to this creamy, nutritious pudding. Its sweet, bright flavor perfectly balances the rich chia seeds and (plant-based) milk – you won't be able to get enough!
Homemade Granola
Packaged granola is often full of added sugar, so I like to make my own. Of course, I love that it's healthier, but my favorite thing about making homemade granola is that I can customize it. Feel free to make this recipe with your favorite nuts, seeds, and/or dried fruit!
Toast, Wrap, and Roll Healthy Snack Ideas
If you're someone who loves healthy snack ideas that are super fresh and flavorful, this section is the one for you. Here, you'll find veggie-forward snack recipes that are great for enjoying at home or taking on the go.
Avocado Summer Rolls
Juicy summer peaches add a surprising sweet element to these tofu, herb, and veggie-filled rolls. If peaches aren't in season, mango is delicious here too.
Fresh Spring Rolls
Gooey peanut noodles, avocado, and sautéed veggies make these fresh rolls satisfying and flavorful. Serve them with extra peanut sauce on the side to take them over the top!
Homemade Taquitos
Whenever I make these taquitos, I double the recipe and freeze the extras. That way, I always have a supply of these crispy, zesty little guys around for snacking. If I'm lucky, I also have pico de gallo or cashew sour cream in the fridge to give them an extra pop of flavor.
Avocado Toast
Devour it plain, or try one of these 5 variations for a bold, fun, and flavorful snack!
Nori Wraps
If I'm thinking ahead, I make extra when I cook a pot of rice so that I can assemble these little nori wraps for easy healthy snacks throughout the week. They taste just like sushi, with no rolling required!
Shiitake Maki Sushi
Speaking of sushi, this brown rice roll is one of the best healthy snacks. A medley of veggies gives it a fun mix of textures, and roasted shiitakes pack it with umami flavor. Serve it with tamari on the side, or kick things up a notch with my tangy carrot-ginger dipping sauce.
Healthy Snacks: Pistachio Oat Bars
These bars are one of my favorite healthy snacks! They're from One Part Plant by Jessica Murnane.
Ingredients
1

cup

raw shelled pistachios

1

cup

whole rolled oats*

½

teaspoon

sea salt

¼

cup

maple syrup

,

more for drizzling on top

2

tablespoons

olive oil

⅓

cup

unsweetened coconut flakes

additional handful of chopped pistachios for the topping
Instructions
Preheat the oven to 350 degrees and line an 8-inch square pan with parchment paper. In a food processor with the S blade attached, process the pistachios, oats, and salt for about 30 seconds, until a meal starts to form. Drizzle in the maple syrup and olive oil while the motor is still running and the meal begins to come together into a crumbly, almost-wet dough.

Press the dough evenly into the pan and cover it with coconut flakes and remaining pistachios. Bake for 10 to 12 minutes until the coconut is nice and golden brown and the dough is cooked through. You want the squares to still be a little soft - don't overbake these.

Carefully lift the cooled dough out of the pan by holding two sides of the parchment paper. Cut it into squares. Drizzle a little maple syrup over the top for extra sweetness, if you like. Store the squares in a sealed container for up to a week.
Notes
*To make these gluten free be sure to use Certified Gluten Free Oats.