This roasted beet salad gets a pop from tangy feta and balsamic dressing. We love it as a fall starter or packed up for a weekday lunch!
Let's talk about beets, shall we? A hearty root vegetable, they're available pretty much all year round, but they're best June through October. I picked up some gorgeous ones at our farmers market last week and decided they would go perfectly with some ripening pears that were sitting on my countertop in this roasted beet salad recipe. To balance all of the sweetness, I added some tangy feta and toasty walnuts.
Beet Salad Recipe Tips
This sweet & savory fall salad is a delicious starter or meal, but if you've never worked with beets before, there are a few things you should know before diving in.
First, if you find a bunch of beets with their tops still on, save the beet greens! When you get home from the market or store, clip the greens immediately and store the roots separately from the tops so that the greens don't pull moisture from the roots. Sauté the greens as a simple side dish, or toss them into pasta with feta & walnuts.
Don't peel before you roast. Once cooked and cooled, beets are incredibly easy to peel – their skins will slide right off! I like to slip them off under running water.
Let them cool completely. There are some cases when you might want a hot roasted beet, but in the case of this salad, cold beets are best. If they're still warm when you assemble everything, they'll wilt the greens, and the salad won't keep well if you're saving leftovers for Day 2.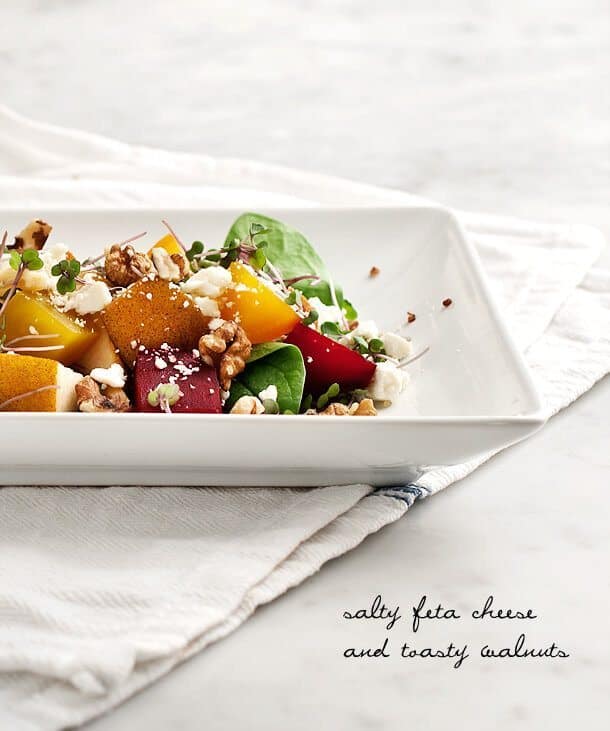 Roasted Beet Salad Serving Suggestions
This roasted beet salad would be great as a starter for a fall dinner party. I like it with stuffed squash, sweet potato lasagna, baked sweet potatoes, or pasta with greens or cauliflower.
I also make salads like this to have on hand for my weekday lunches (see this post for my best lunch-packing tips). This one will keep for a couple of days in the fridge, and it's one of those salads that actually tastes a little bit better the second day. If you want to make it a heartier meal on its own, try adding a half cup quinoa, farro, or roasted chickpeas.
If you love this beet salad recipe…
Check out this creamy polenta with roasted and raw beets or these simple roasted beets with citrus for more beet recipes! Or, make another hearty fall salad like this one with farro or this one with kale.
Roasted Beet Salad with Pear and Walnuts
This roasted beet salad is a great fall dinner side or appetizer, and it packs up well for weekday lunches! Add quinoa to make this beet salad a meal on its own.
Ingredients
3 medium sized beets, any variety (I used a mix of red and golden beets)
a small drizzle of olive oil, for roasting the beets
1 ripe pear, chopped into ½ inch pieces
¼ cup walnuts, toasted
¼ cup feta cheese, crumbled (or more)
A few handfuls of salad greens of your choice
¼-1/2 cup cooked quinoa (optional, for a heartier salad)
Micro sprouts, for garnish (also optional)
1-2 tablespoons walnut oil
A drizzle of balsamic vinegar
A drizzle of honey
Sea salt and fresh black pepper
Instructions
Preheat oven to 350 degrees fahrenheit. Roast the beets by drizzling them with a bit of olive oil, some salt and pepper, and wrapping them in foil. Depending on the size and freshness of your beets, they should take from 40 minutes to 1 hour to roast in the oven. Check occasionally, when they are fork-tender they are done. Set them aside to cool. As soon as they're cool enough to touch, run them under the faucet and slide off the skins with your hands. Chop into roughly ½ inch cubes and set them aside to cool completely. (To save time, I suggest doing this up to one day ahead of time and popping them in the fridge until you're ready to assemble the salad).
Assemble all salad ingredients on a platter. Drizzle with a liberal amount of walnut oil, a bit of balsamic vinegar, a little honey, and some salt and pepper.