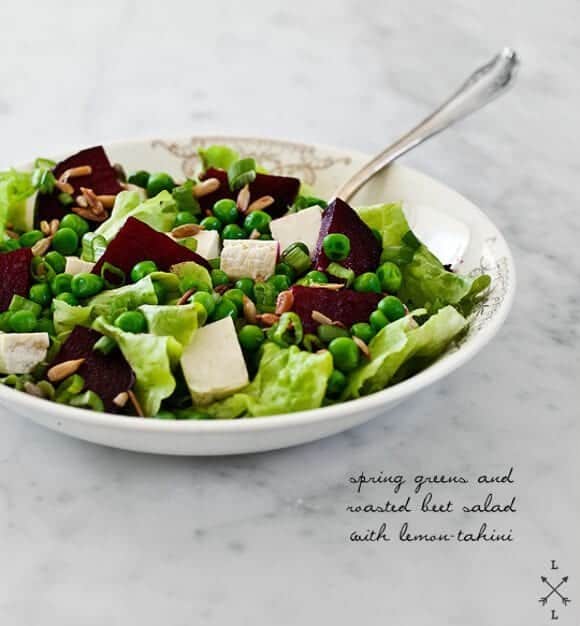 On a good day, this is what lunch looks like for me. Other days, it's a quick taco from the place down the street and an americano. But I love the (more leisurely) days where I have an extra few minutes to dig in the fridge and make something simple out of what I didn't know was there.
Beets are generally a lunchtime food for me because Jack hates them. He's come around on a lot of other foods, but thanks to an 80's fad diet he apparently experienced as a kid, beets are out of the question.
For me, there's not a salad I love more than a beet salad, and this juicy, sweet, salty, crunchy combo is no exception. I made this with tofu, but you could crumble on some goat or feta cheese instead to make this a bit more fancy. Or if plain tofu isn't your thing, you could roast it (at the same time as the beets), I just didn't think of it in advance.
dressing adapted from Deborah Madison's Vegetarian Cooking for Everyone.
Beet/tahini combo inspired by Sprouted Kitchen. 

Beet Salad with Lemon Tahini
Ingredients
For the Salad:
1-2 beets, roasted & sliced
A few handfuls lettuce
About ½ cup cubed firm tofu
About ½ cup peas
1-2 scallions, white and green parts, sliced thin
Handful toasted sunflower seeds or other nuts
Honey, for drizzling
Sugar, for sprinkling
For the Dressing:
¼ teaspoon minced garlic, or ground in mortar and pestle
2 tablespoons tahini
2 tablespoons lemon juice
1-2 teaspoons honey or sweetener of your choice
1-3 tablespoons water or extra-virgin olive oil (or a combination)
Sea salt and fresh black pepper
Instructions
Roast the beets in a 450 degree oven wrapped in foil with a drizzle of olive oil and a few pinches of salt. Roast for 40-60 minutes; they're done when a fork slides in easily.
Remove from the oven and set aside to cool. Once they're cool to the touch, slide the skin off the beets. It should come off pretty easily. Slice beets, drizzle with a bit of the honey, and sprinkle with a few pinches of sugar. Place in the refrigerator to chill.
Make the dressing: Use a mortar and pestle (if you have one, otherwise with a knife) to grind together the garlic and a pinch of salt to create a paste. Directly in your mortar bowl (or place garlic paste in a small bowl) add the tahini, lemon, and honey and mix together. Thin with a bit of water or olive oil until it's a drizzle-able consistency. Adjust lemon, honey, salt, and pepper to taste.
Assemble the salad with the lettuce, sliced beets, tofu, peas, and scallions. Drizzle the with dressing and top with the toasted seeds or nuts.