Not sure how to use that can of beans? You're in the right place. These easy bean recipes include something for everyone - chilis, tacos, and more!
If the grocery store shelves are any indication, we're all on the hunt for good bean recipes right now. I don't know what it's like where you are, but in Chicago, it's hard to find canned or dried beans anywhere. Jack and I may have had to visit a few extra grocery stores as a result, but at the same time, I've been happy to see that people are buying beans. They're a fantastic source of plant-based protein, fiber, and other nutrients, they keep for weeks, and they're delicious!
What's more, they're incredibly versatile. Heat them on the stove with salt and pepper and serve them as a side dish, puree them into a creamy dip or pasta sauce, stuff them into tacos, or bake them into a hearty vegetarian pot pie. Your options are endless, but these 25 easy bean recipes are a great place to start.
Bean Dip Recipes
White Bean Dip
If you have white beans, olive oil, and lemons, you can whizz together this zesty dip in no time! I like to add rosemary and basil to make it extra fresh, but if you don't have any on hand, swap in whatever herbs you do have, or skip them. It'll be creamy and bright either way.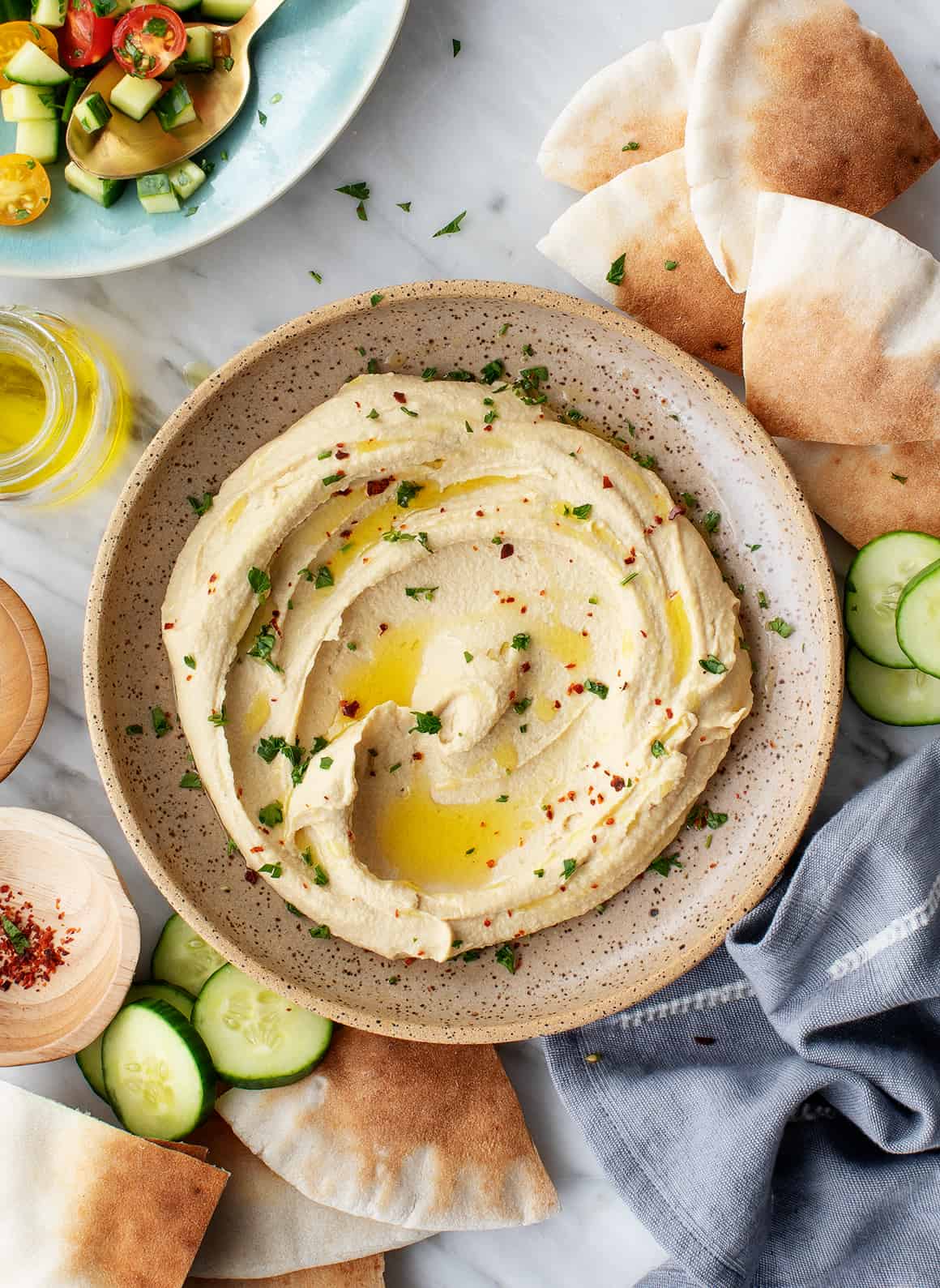 Hummus
7 ingredients. 5 minutes. 1 big bowl of smooth, creamy dip! In terms of taste, texture, and simplicity, hummus is hard to beat.
Bean Soups and Stews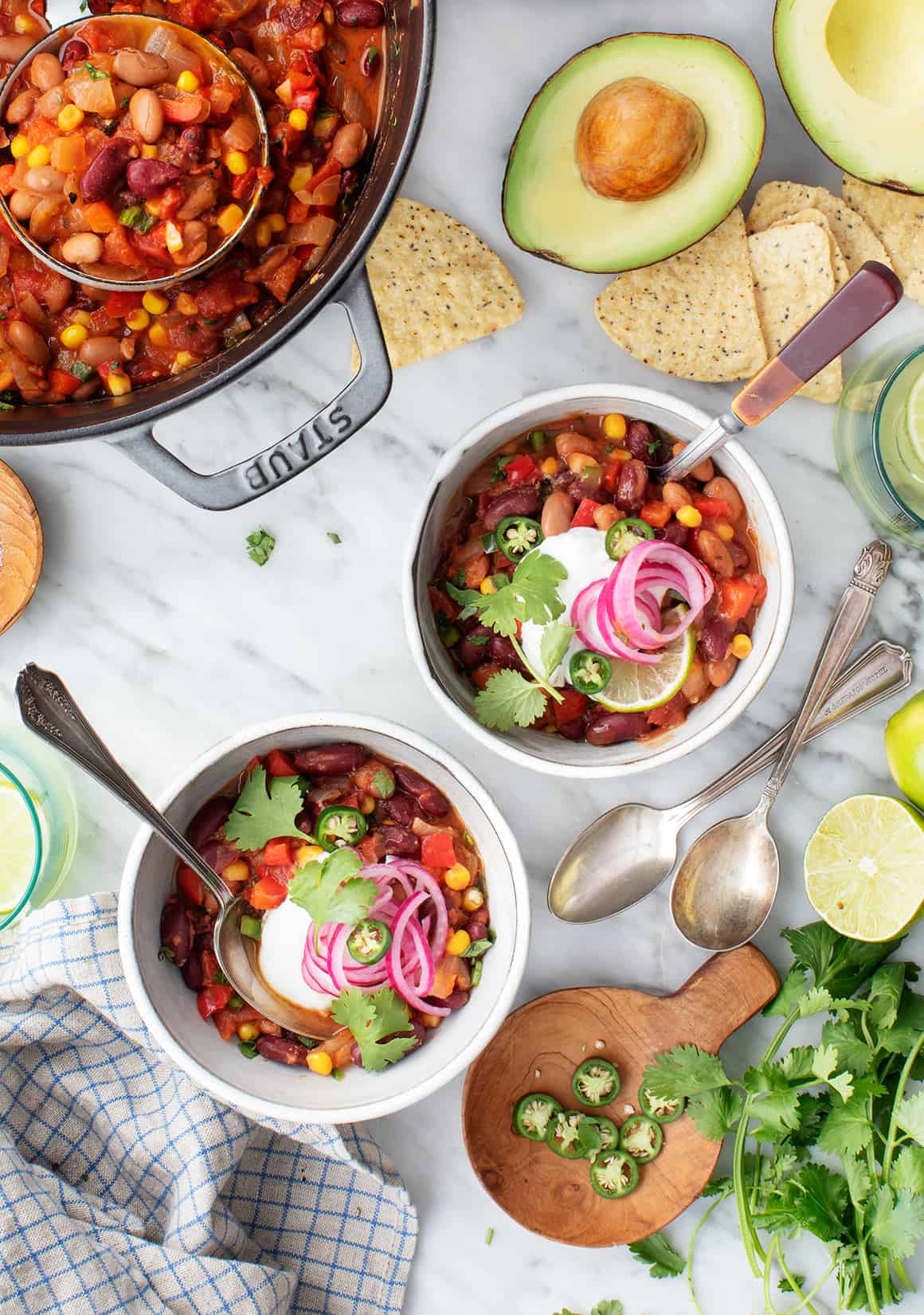 Easy Vegetarian Chili
No list of bean recipes is complete without a classic chili made with kidney beans and tomatoes. I spice mine up with adobo sauce from a can of chipotles in adobo. It's smoky, savory, and so. darn. good!
Creamy Potato Soup
There's no cream or dairy in this plant-based potato soup. Instead, it gets its comforting creamy texture from blended potatoes and white beans!
Roasted Red Pepper Soup
Roasted red bell peppers, carrots, and fennel give this vibrant soup its bold color and flavor, while a handful of blended white beans perfects its creamy texture. This recipe is also on page 203 of The Love & Lemons Cookbook.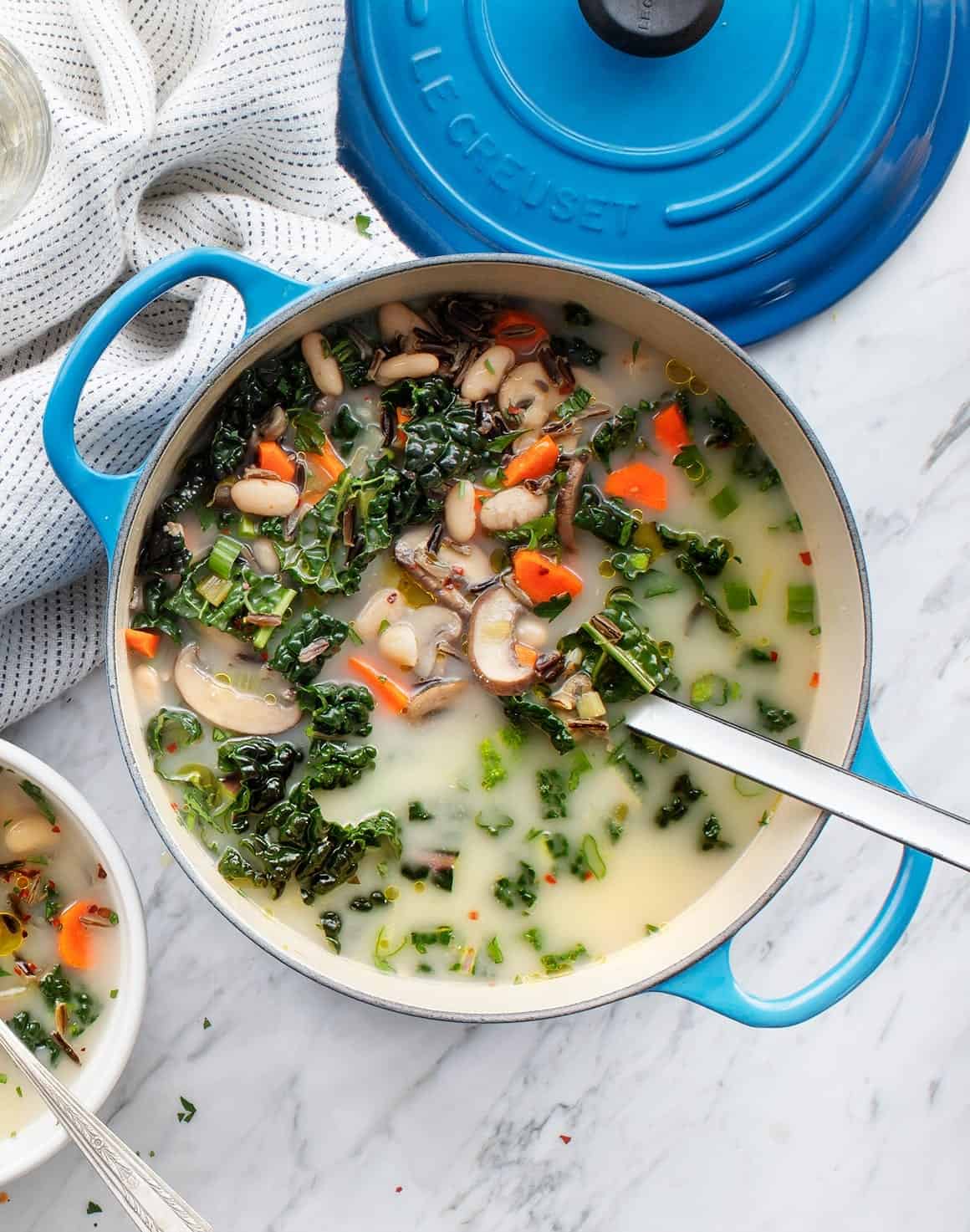 Creamy Wild Rice Soup
I use white beans 2 ways in this nourishing soup! I leave some whole for hearty texture and blend the rest with cashews, miso paste, and Dijon mustard to make the soup's lightly creamy, savory base.
Curried Parsnip & White Bean Soup, page 223 of The Love and Lemons Cookbook,
Can you guess how this soup gets its velvety texture? Blended white beans, of course! Curried spices and apples highlight the sweet, nutty flavor of the parsnips in this simple, comforting soup.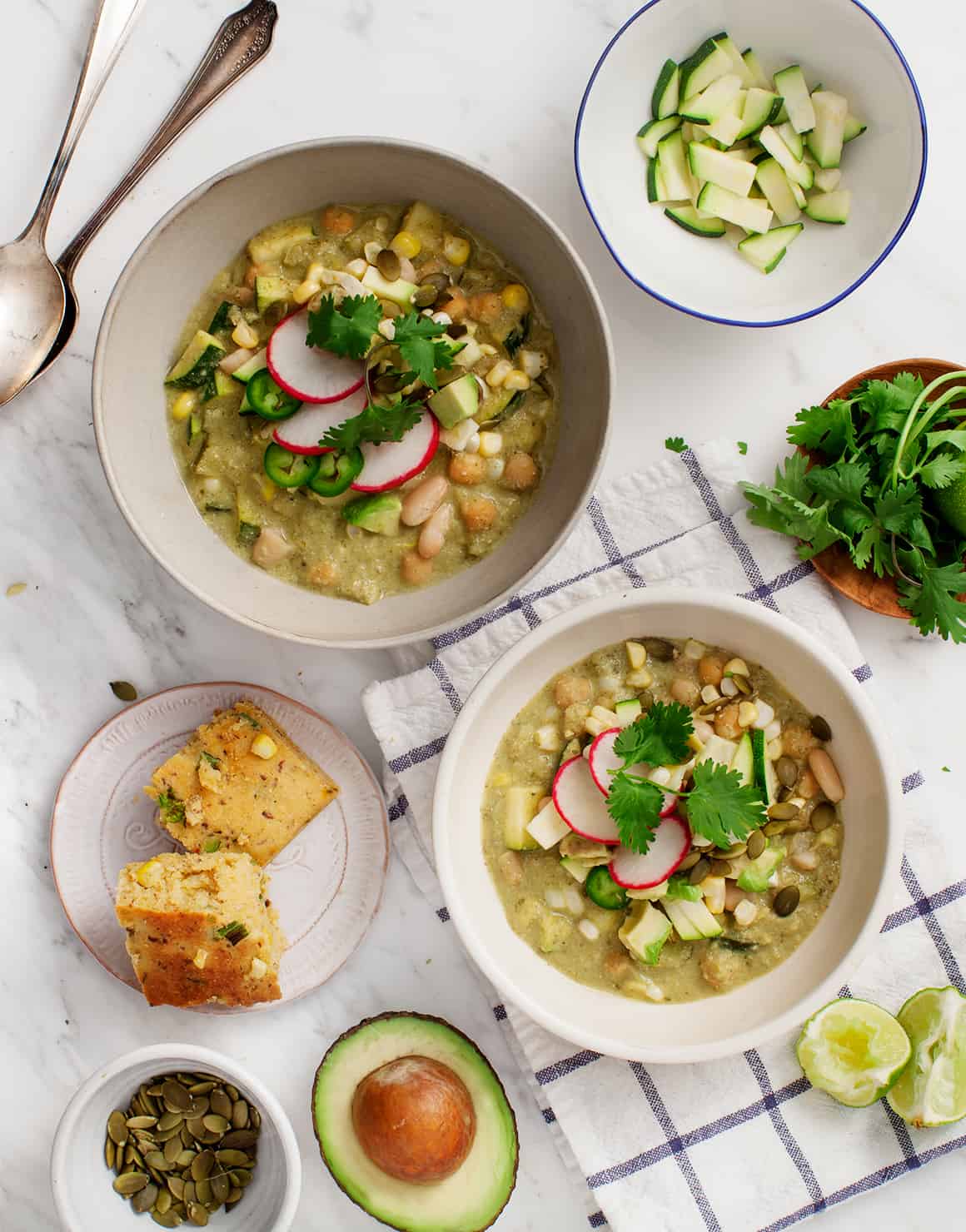 Tomatillo Zucchini White Bean Chili, page 99 of Love and Lemons Every Day
This tangy tomatillo chili is one of my all-time favorite bean recipes! It's the ultimate white bean chili, featuring a creamy, veggie-packed broth that's bright with lime juice.
Spiralized Vegetable Noodle Soup
I swap spiralized zucchini and sweet potatoes for pasta in this fun riff on classic minestrone soup. If you don't have a spiralizer, go ahead and dice the veggies. It'll still taste delicious!
Ribollita (Tuscan White Bean Soup)
Don't toss that hunk of stale bread on your counter! Instead, stir it into a pot of brothy white bean soup to make ribollita, a flexible, nourishing Italian classic.
Pasta & Bean Recipes
Creamy Vegan Pasta
Move over, mac and cheese! A can of white beans blends into a bright, nutty sauce that's every bit as luscious and creamy as one made with cheese, cream, or butter.
Vegan Pasta Salad
Little navy beans make this bright and briny pasta salad hearty enough to be a meal on its own!
Spaghetti and Meatballs
Sometimes, nothing but a homey bowl of spaghetti and meatballs will do. I make hearty, smoky veggie balls out of black beans and mushrooms and pile them onto pasta with a big scoop of homemade tomato sauce. Trust me, you won't miss the meat!
Tagliatelle with Tomatoes and Greens
This tagliatelle uses a handful of pantry ingredients – canned tomatoes, pasta, carrots, shallots, and cannellini beans – but it's tangy, rich, and satisfying all the same. It's also on page 95 of The Love & Lemons Cookbook.
Bowl Bean Recipes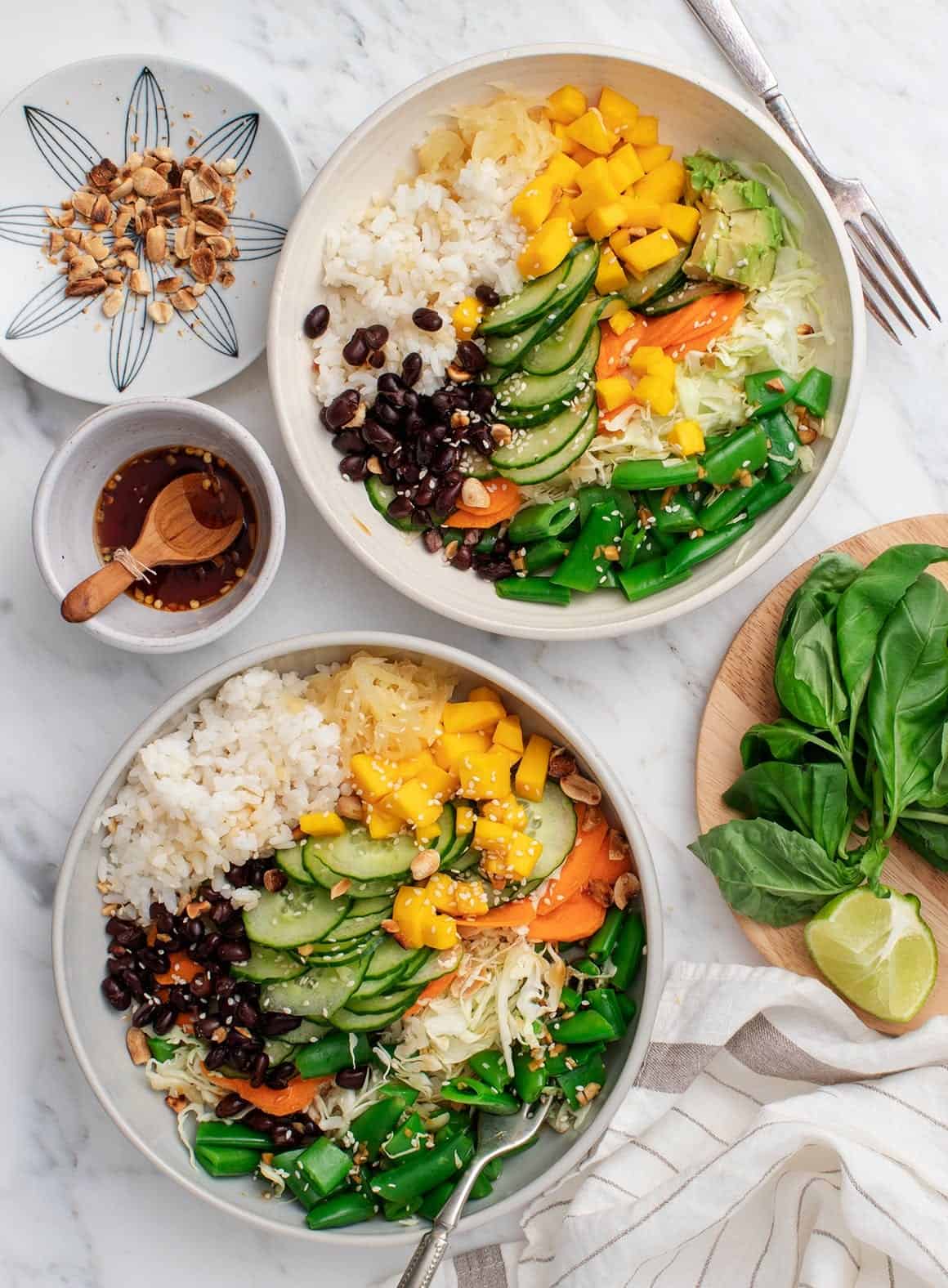 Mango Ginger Rice Bowl
In this recipe, I take the classic combination of beans and rice in a totally new direction. I dress them up with crisp veggies, creamy avocado, diced mango, and a tangy tamari-lime sauce. A scoop of pickled ginger takes it all over the top.
Buddha Bowl
I make this vibrant bowl with mung beans, but in a pinch, French green lentils work just as well. They add heft to this mix of veggies and brown rice, while a turmeric tahini sauce fills it all with bold flavor.
Brown Rice and Adzuki Bean Bowl
Adzuki beans are small red beans with a rich, nutty, and slightly sweet flavor. They make this nourishing combination of crisp veggies, red beans, and rice unique and delicious, but if you can't find them, feel free to use black beans instead.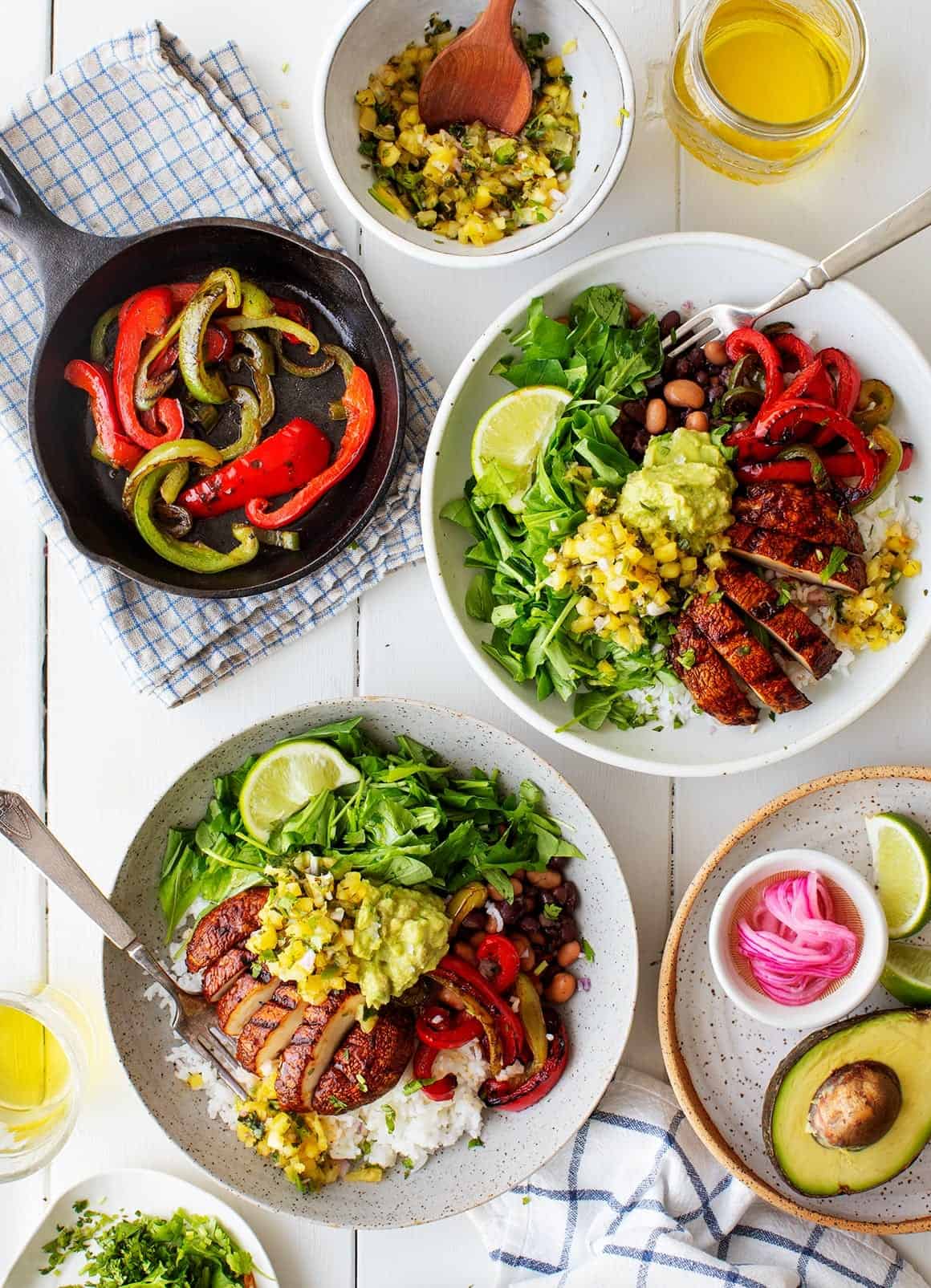 Portobello Burrito Bowl
Mix black or pinto beans with chopped chipotles from a can of chipotle peppers in adobo sauce, and you have the tastiest burrito bowl fixing around. I love to accent their smoky flavor with a scoop of sweet and spicy pineapple salsa.
Simple Sweet Potato Quinoa Bowl
As long as you have a grain, a veggie, and canned or dried beans in your pantry, a tasty grain bowl is never far away. Here, I combine quinoa, chickpeas, and roasted sweet potatoes to make a simple weeknight dinner, but almost any mix of grains, legumes, or vegetables would work here. Just add a big squeeze of lemon, and enjoy!
Main Dish Bean Recipes
Cozy Vegan Mushroom & White Bean Pot Pie, page 141 of Love and Lemons Every Day
Thyme, mushrooms, and cannellini beans are the star ingredients in this homey, savory pot pie filling. It's delicious under the crumbly, flaky crust, but I love this filling so much that I'd happily devour a bowl of it on its own!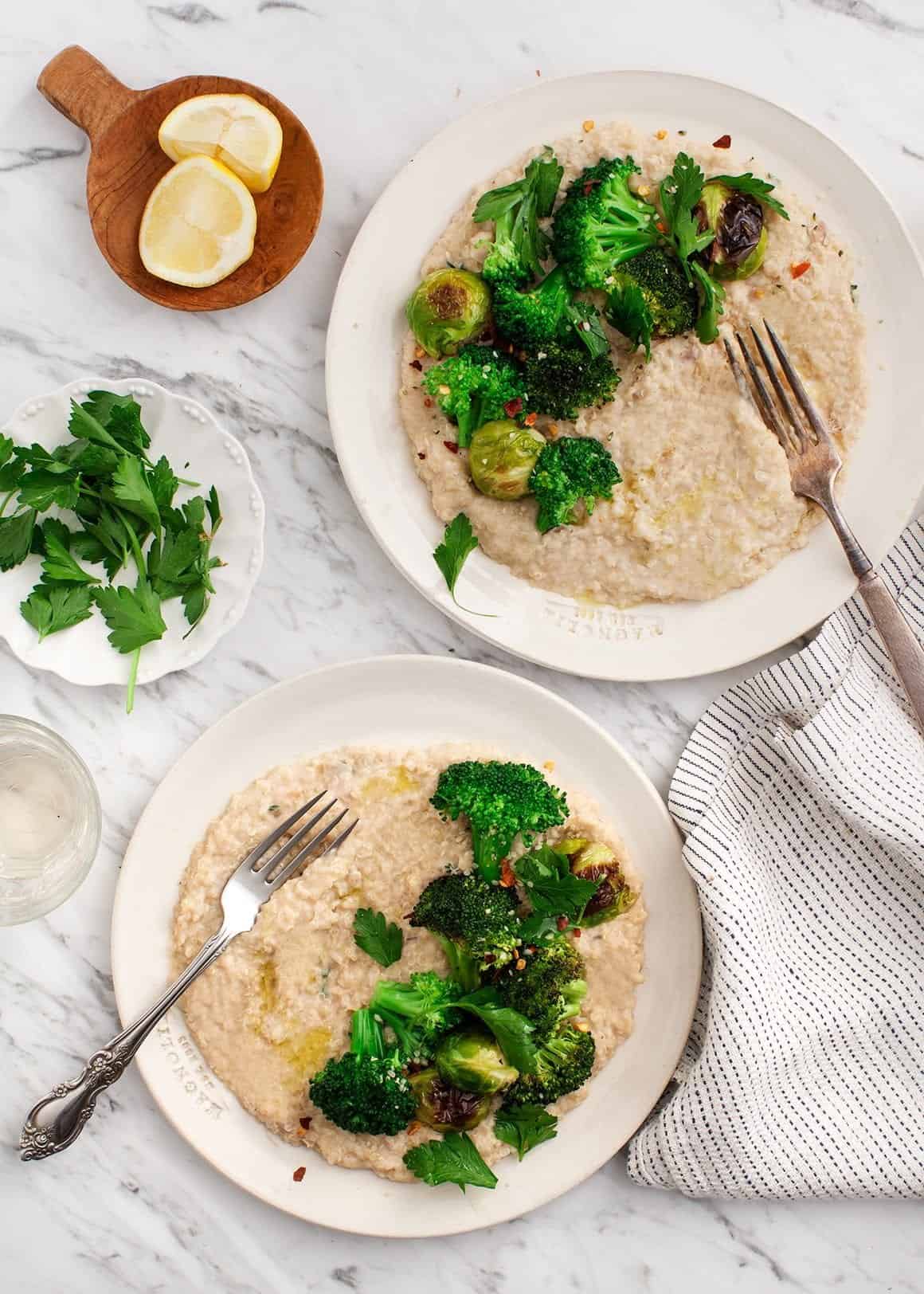 Quinoa White Bean Risotto
Who says you need cheese or cream to make a creamy, comforting risotto? This vegan version, from The First Mess Cookbook, swaps quinoa for the traditional rice and gets its rich, creamy texture from – you guessed it – blended white beans.
Spinach Artichoke Pizza
This spinach artichoke pizza embodies everything you love about the classic dip (creamy! delicious!), but it's so much lighter! Its creamy sauce is a zingy blend of artichokes, lemon, and white beans.
Vegetarian Tacos
Roast whatever veggies you have on hand, toss them with black beans, and stuff them into tortillas for an easy, healthy weeknight dinner. This recipe includes a tangy avocado sauce, but if you don't have any avocados on hand, my creamy chipotle sauce would be equally delicious.
Sweet Potato Chili Fries
What's more comforting than hot veggie chili? Hot veggie chili over sweet potato home fries! This is an A+ combination on its own, but tangy yogurt sauce, crisp cabbage slaw, and/or pickled red onions really take it to the next level.
Vegetarian Black Bean Enchiladas
Black beans, scallions, and roasted butternut squash are one of the simplest – and tastiest – enchilada fillings out there. Roll them in tortillas and top them in smoky enchilada sauce, and you won't be able to get enough! This recipe is also on page 259 of The Love & Lemons Cookbook.
More Pantry Basics
If you love these bean recipes, check out these pantry-friendly recipe roundups next:
Bean Recipes: Pinto Bean Chili
This easy chili recipe is one of our favorite bean recipes! It's quick to make and it freezes well.
Ingredients
2

tablespoons

extra-virgin olive oil

1

small yellow onion

,

chopped

2

garlic cloves,

minced

1

red bell pepper

,

diced

1

(14-ounce)

can diced fire-roasted tomatoes

1 1/2

cups

cooked pinto beans

,

drained and rinsed

1 1/2

cups

cooked kidney beans

,

drained and rinsed

1

cup

water or broth

3

chipotle peppers from canned chipotles in adobo

,

diced, plus 3 tablespoons sauce*

1

cup

corn kernels

,

fresh or frozen

½

teaspoon

sea salt

1

tablespoon

lime juice

,

plus wedges for serving
Instructions
Heat the oil in a large pot over medium heat. Add the onion, a few pinches of salt and pepper, and stir. Cook until the onion is translucent, 5 minutes, then add the garlic and red pepper. Stir and cook until soft, 5 to 8 minutes, turning the heat down as needed.

Add the tomatoes, beans, water, chipotles, adobo sauce, corn, salt, and a few grinds of pepper. Cover, reduce the heat to low, and simmer for 25 minutes, stirring occasionally, until the chili has thickened.

Stir in the lime juice and season to taste. Serve with desired toppings.
Notes
*Chipotle peppers vary in spice level, so if you're sensitive to spice, start with less. If you love spice, add more to taste. If your chili is too spicy, add more lime juice and a bit of olive oil to tone it down.