These BBQ sides will be the highlight of any summer cookout! They include easy, fresh, and delicious recipes for grilled veggies, salads, slaws, and more.
BBQ sides have always been my favorite part of a summer cookout. On the menu of the average backyard BBQ, they're the dishes that highlight what, in my opinion, are the best flavors of the season. Juicy sweet corn. Bursty cherry tomatoes. Berries, watermelon, and other fresh fruit. In short, I love BBQ side dishes because they celebrate peak-season produce.
With Memorial Day coming up next weekend, I thought it would be the perfect time to share some of my favorites. They range from classic creamy potato salad to summery slaws to herb-flecked pasta salads and smoky grilled watermelon. But even with this variety, they all have a few things in common. These BBQ side dishes are easy to prepare, they spotlight summer produce, and they're fresh and delicious. Make one for your next summer gathering, and I promise, it'll be a hit.
Grilled Veggies Are The Easiest BBQ Sides.
If you're already firing up the grill to make veggie burgers, black bean burgers, or another tasty entree, why not toss on some veggies, too? They'll cook right alongside the main dish, making for simple prep and easy cleanup.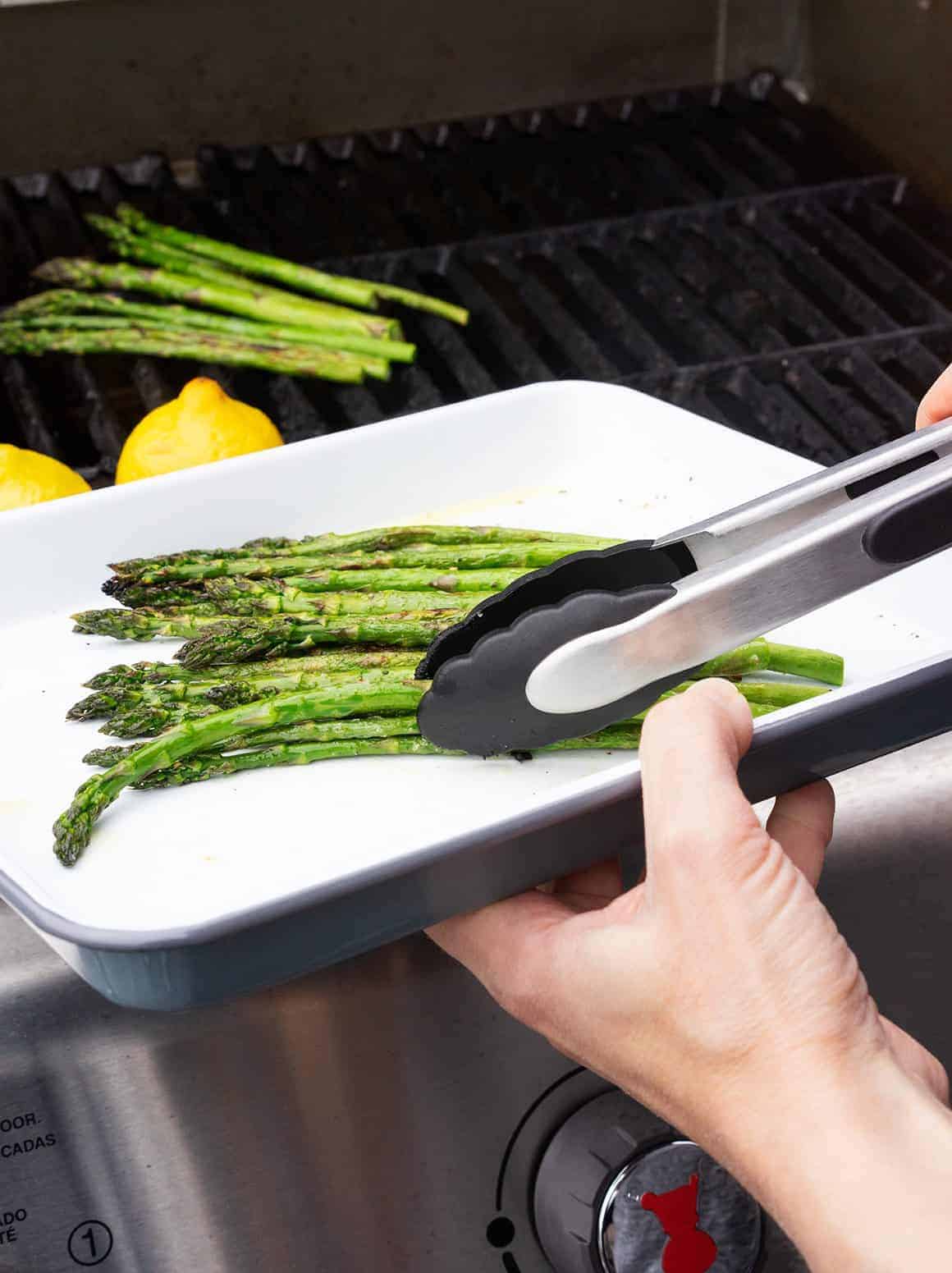 Grilled Asparagus
I like to grill lemon halves alongside the asparagus. Right before serving, I squeeze the grilled lemon juice over the lightly charred spears. It takes this easy BBQ side dish to a whole new level!
Grilled Vegetables
Jazz up these colorful kabobs with drizzles of Greek salad dressing, and serve them with creamy tzatziki sauce for dipping.
Grilled Zucchini
Grilled zucchini is one of the simplest BBQ sides. We love it on its own, but if you like, you can easily kick it up a notch by plating it over a bed of lemony yogurt and topping it with fresh herbs.
Grilled Eggplant
Nicely charred on the outside and silky smooth in the middle, smoky grilled eggplant is always a BBQ hit. Serve it plain, or dress it up with my quick couscous topping.
What's A Summer BBQ Without A Pasta Salad?
6 fun twists on this classic BBQ side dish!
Easy Pasta Salad
If I'm tasked with preparing a side dish for a picnic or cookout, this recipe is my go-to. Packed with pasta, chickpeas, and tangy feta cheese, it's hearty and satisfying, but a bright lemon dressing, tomatoes, cucumbers, and ALL the herbs make it feel light and fresh.
Pesto Pasta Salad
This recipe became one of our favorite BBQ sides last summer, and I can't wait to make it again this year! A lightly creamy basil pesto coats curly noodles, crunchy pine nuts, and thinly shaved zucchini.
BLT Pasta Salad
A plant-based riff on the cookout classic! Instead of using actual bacon, I toss my crispy, smoky tempeh bacon into this summer pasta salad. Sun-dried tomatoes amp up the savory flavor even more.
Orzo Salad
Last summer, this Greek-inspired orzo salad became a new reader favorite on Love & Lemons. Try it to see why!
Macaroni Salad
This recipe is my lightened-up riff on the macaroni salads I ate at cookouts and BBQs when I was a kid. It has a lightly creamy dressing and lots of crunchy veggies, and diced dill pickles (or capers!) give it a pop of salty, briny flavor.
Vegan Pasta Salad
Creamy pasta salad lovers, this one's for you! But heads up: you won't find any mayo or sour cream here. Instead, tahini gives this colorful BBQ side dish its delicious creamy texture.
…And You've Gotta Have A Slaw
They're light, refreshing, and perfect for making ahead.
Broccoli Salad
With over 200 5-star reviews, this recipe is one of the most popular BBQ sides on Love & Lemons. It's not hard to see why. A lightly creamy, sweet, and tangy dressing coats little broccoli florets, chewy dried cranberries, and smoky roasted almonds and pepitas. Trust me, you'll be back for seconds!
Creamy Coleslaw
The secret to epic coleslaw? Homemade dressing! Mine calls for 5 simple ingredients, and it's creamy, tangy, and just the right amount of sweet.
Vinegar Coleslaw
Creamy dressing not your thing? This slaw will become one of your back-pocket BBQ sides. Make it at least 20 minutes (and up to 2 days!) in advance so that the veggies have a chance to marinate in the punchy apple cider vinegar dressing.
c
Broccoli Slaw
Warning: this sweet and savory slaw is highly addictive. It packs up perfectly for a picnic or BBQ, but if you're anything like me, you'll want to devour it out of the bowl as soon as you toss it together.
Love sweet corn? These BBQ Sides Are for You.
If you ask me, fresh, juicy sweet corn is one of the best parts of summer. Show it off in these easy BBQ sides!
Grilled Corn on the Cob
Boiled works too! Keep things classic, and season the ears with butter, salt, and pepper, or slather them with one of these herb compound butters instead.
Mexican Street Corn Salad
This delicious salad is one of my all-time favorite BBQ sides! 10 simple ingredients pack it with bold, bright flavor.
Black Bean & Corn Salad
The beauty of this zesty summer side dish is that only gets better if you make it ahead! Just wait to add the avocado until right before you eat.
Jalapeño Cornbread
Ok, technically, this one isn't a fresh corn recipe, but I have a feeling that if you love sweet corn, you'll be obsessed with this spicy cornbread too. Serve the moist, tender squares on their own, or dress them up with homemade honey butter for a next-level side dish.
BBQ Side Dishes That Showcase Summer Fruit
If you're throwing a backyard BBQ, there's a good chance that summer fruits like berries, cherries, melon, and more are in season. Sweet, juicy, and refreshing, they deserve a spot on any cookout menu. Try showcasing them in one of these recipes:
Watermelon Salad with Feta
On a boiling hot summer day, nothing cools me off like a bite of this watermelon salad. The sweet, juicy melon contrasts perfectly with crisp cucumbers, creamy avocado, tangy feta, and aromatic herbs.
Strawberry Salad with Balsamic
We all know that tomatoes and basil are a knockout combination. But here's a tip: strawberries and basil are an amazing pairing too! I combine all three in this picnic-perfect riff on a classic Caprese salad.
Grilled Watermelon
Have you tried grilled watermelon yet? If not, you HAVE to make this recipe this summer! Grilling watermelon concentrates its sweetness and gives it a hint of smoky flavor. Top it off with a zesty corn and avocado salad to make it a crowd-pleasing BBQ side.
Summer Fruit Salad
When you're planning a menu of BBQ side dishes, you can never go wrong with a fresh fruit salad. I especially love this recipe, in which a zingy citrus-ginger dressing brightens up a medley of colorful summer fruits.
BBQ Sides for Potato Lovers
Mashed potatoes. Smashed potatoes. Baked potatoes. French fries. They're delicious, but they're not ideal for a backyard BBQ. If you need a picnic-friendly way to get your potato fix, try one of these BBQ side dishes instead:
Best Potato Salad
You can't talk about barbecue sides with mentioning classic potato salad. Made with a creamy Greek yogurt dressing and crunchy veggies, my version is lighter than most, but it's just as tasty.
Vegan Potato Salad
Green beans and fresh corn add plenty of texture to this dairy-free potato salad. For a creamy finishing touch, drizzle it with my vegan sour cream before serving.
Grilled Potatoes
They're crispy on the outside, creamy in the middle, and packed with smoky flavor! Enjoy them on their own or in this salad with blueberries, pickled onions, and a grilled scallion vinaigrette.
Grilled Sweet Potatoes
I love crispy baked sweet potato fries as much as the next person, but on a hot summer day, I don't want to turn on the oven in order to make them. Instead, I throw a couple sweet potatoes on the grill. They come out beautifully charred on the outside and creamy in the middle. Best served with ketchup, mayo, or – my personal favorite – chipotle sauce for dipping.
No Utensils Necessary! These Finger Foods Are Perfect BBQ Sides.
Pair them with veggie burgers or hot dogs for a fun, fork-free meal!
Ultimate Crudité Platter
This crave-worthy board has something for everyone! Your guests (and you!) will love sampling marinated feta, tart cherry compound butter, and a creamy, lemony white bean dip.
Summer Fruit Platter
If you love BBQ side dishes that maximize flavor while minimizing prep, this fruit and cheese platter is for you. It's filled with three cheeses – a soft goat's cheese, a funky blue cheese, and sharp white cheddar – as well as vibrant fruits, olives, nuts, and a summery jam. It looks and tastes impressive, all with no cooking required!
Homemade Salsa
A fantastic showcase for summer tomatoes, this homemade salsa is zesty, fresh, and ready in just 10 minutes. More of a green salsa person? This tomatillo salsa verde makes a great BBQ side dish too!
Guacamole
Pass the tortilla chips!
Caprese Skewers
Caprese salad, but make it bite-sized.
Dill Pickles
These refrigerator pickles are salty, tangy, and SO refreshing! Cut them into spears for snacking, or slice them into rounds to pile onto sandwiches and veggie burgers.
Cowboy Caviar
Speckled with crisp bell peppers, juicy cherry tomatoes, and creamy avocado, this fresh bean and corn dip is completely irresistible. The entire bowl will disappear in minutes!
33 Best BBQ Sides
This grilled corn is one of our favorite BBQ Sides!
Ingredients
Topping options:
Butter

,

sea salt, lemon or lime wedges, red pepper flakes

Cilantro Lime Butter

,

recipe below
Instructions
Husk-on method
Pull back the husks of the corn leaving them attached at the base. Remove the silks (as much as you can) and close the husks back over the corn cob. Soak the corn in a large pot of cold water for 10 minutes. This will prevent the husks from burning too much on the grill. Drain and pat dry.

Heat a grill to medium-high heat. Place the corn on the grill and cook, turning every 3 to 5 minutes, until all sides of the corn are cooked, about 15 minutes. Remove from the grill, tie back the husks and use them as a handle. Serve with desired toppings.
Husked method
Remove the corn husk and silks and preheat the grill to medium-high heat. Place the corn on the grill and cook, turning every 3 to 5 minutes, until all sides of the corn are cooked and light char marks form, about 15 minutes. Remove from the grill and serve with desired toppings.
Notes
Cilantro Lime Butter: In a small bowl, mix 2 tablespoons finely chopped cilantro with ¼ teaspoon lime zest, and 1/2 teaspoon sea salt. Mash in 1/4 cup softened unsalted butter until well combined. Roll into a log, wrap in parchment paper, and chill until firm.