These BBQ Jackfruit Sandwiches are the ultimate party food. They're easy to make ahead and have wonderful meaty texture and spicy/smoky flavor.
I've gotten SO many requests for BBQ Jackfruit recipes. It took me a little time to get this one just right, but here we are! These guys are meaty, juicy, smoky, a little spicy… and a total mess to eat, but isn't that what saucy sandwiches are all about?
What is Jackfruit?
If you haven't been asking for a jackfruit recipe, you're probably now asking – what the heck is jackfruit?
Well, it's a funny-looking fruit that most commonly grows in Africa, Asia, and South America. Though I've never had it ripe, it's said to have a sweet flavor akin to other tropical fruits like pineapple and mango.
Around here, jackfruit is becoming easier to find in the canned section of grocery stores (I got mine at Trader Joe's). The canned fruit is green, or unripe, so it doesn't really have much flavor (it's certainly not sweet and fruity). When you pull apart the pieces, it has the texture of shredded meat – perfect for making a vegan BBQ sandwich!
BBQ Jackfruit Recipe
Like I said, canned jackfruit's texture certainly feels meaty, but it's low on flavor. That means the sauce you put with it really has to count. I've had so many jackfruit recipes at restaurants where the sauce was way too sweet, so my sauce here is on the smoky/spicy side, packed with flavor from chipotle peppers, adobo sauce, smoked paprika, and cumin.
I sauté the jackfruit with an almost-caramelized onion to deepen the flavor even more.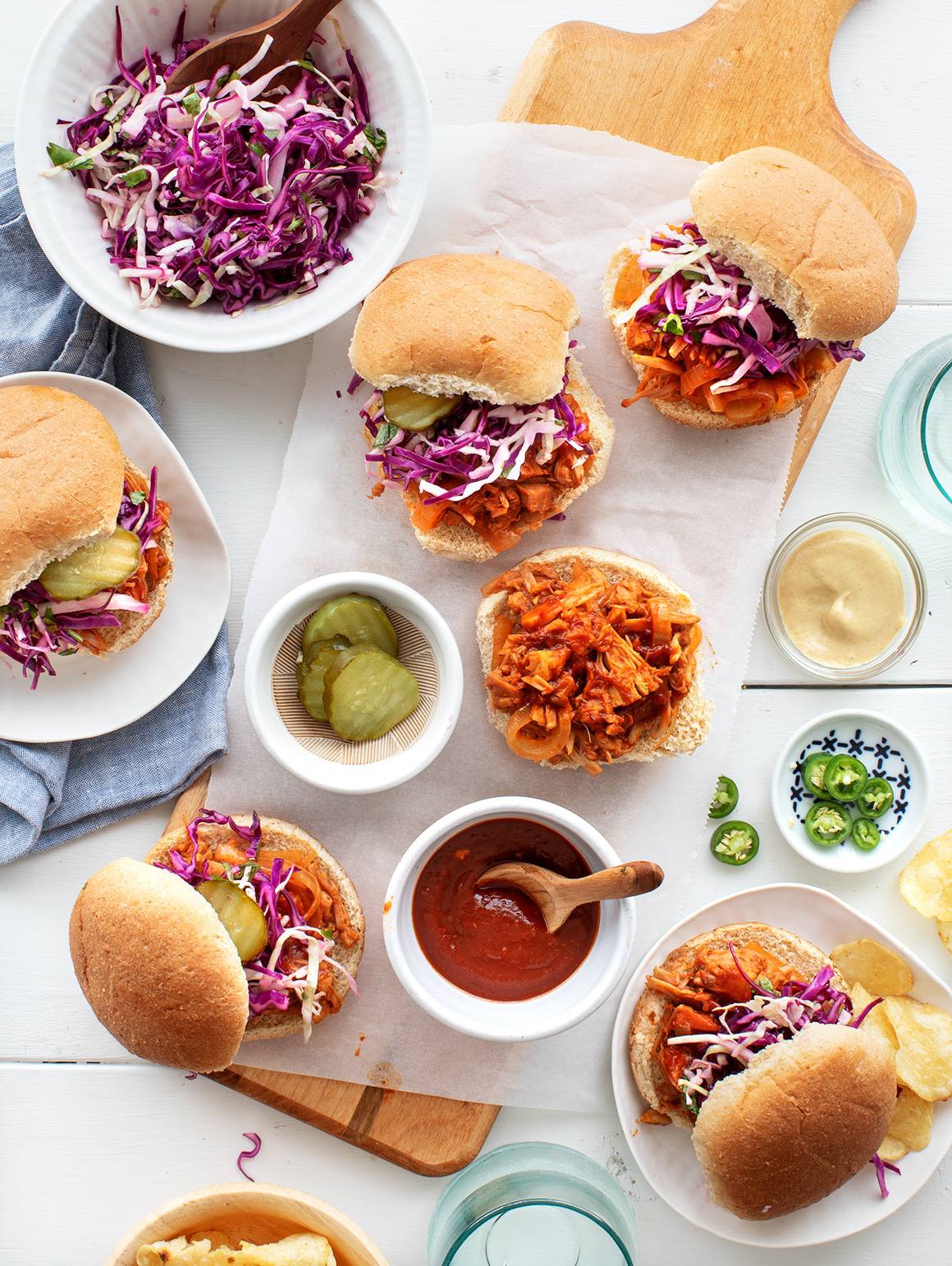 These BBQ Jackfruit Sandwiches are Perfect for Parties
This is a great make-ahead party meal. The BBQ sauce and the jackfruit can both be made in advance and reheated. When you're ready to serve, make the quick cabbage slaw to go on top for crunch. It's simply made with thinly shredded cabbage, cilantro, lime juice, olive oil, and a pinch of salt. Serve these with bread & butter pickles or pickled red onions, and whatever other fixings you like! We love them on our homemade hamburger buns.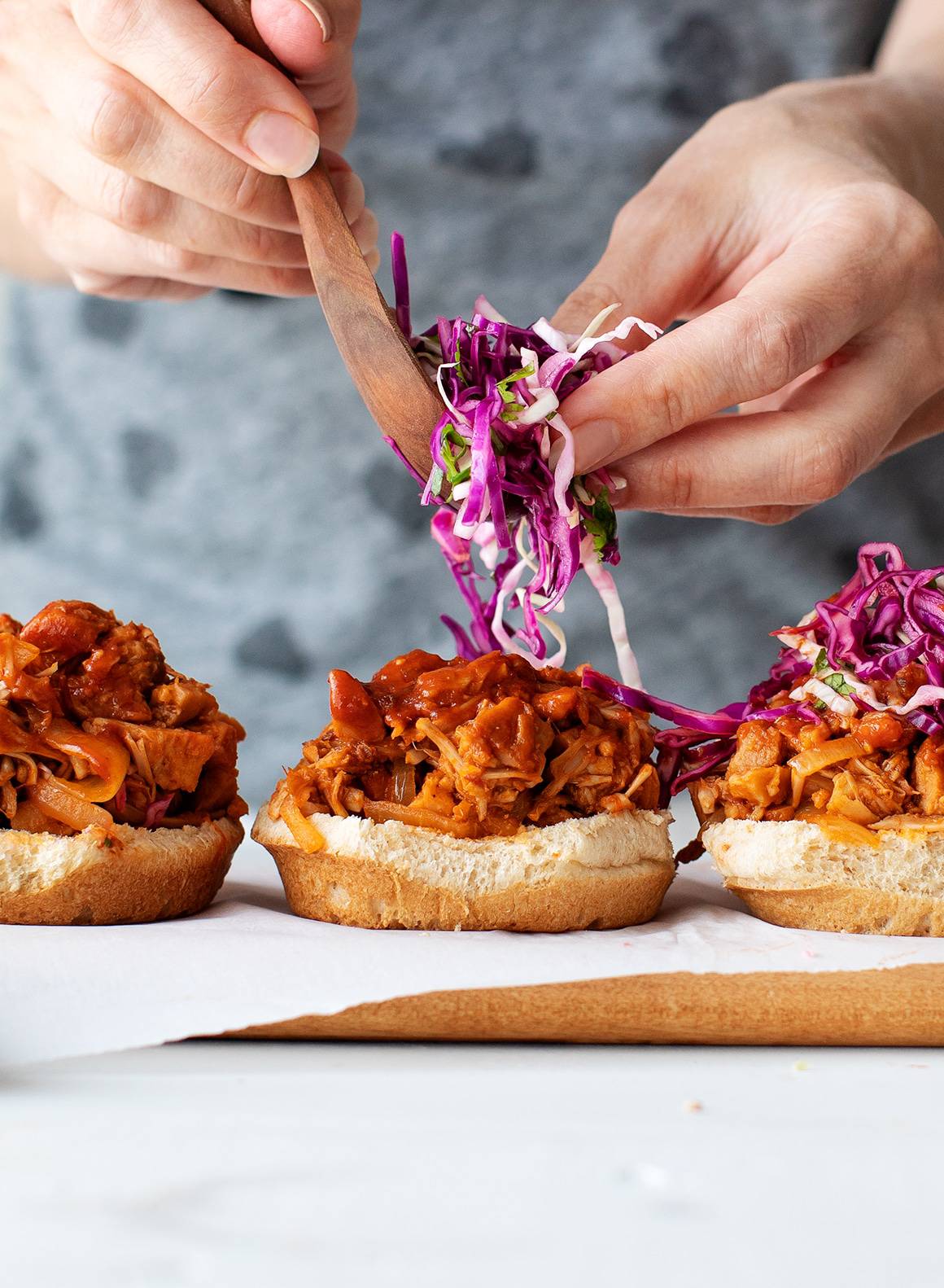 Oh, and don't forget extra BBQ sauce on the side for serving – so juicy! We love these sandwiches with sweet potato fries.
More Favorite Jackfruit Recipes
If you love these bbq jackfruit sandwiches, try one of these fun jackfruit recipes next:
Then, for more vegan recipes, check out this post!
BBQ Jackfruit Sandwich
These BBQ jackfruit sandwiches are the ultimate party dish. Prep the components ahead of time, and heat the jackfruit and assemble the sandwiches right before serving!
Ingredients
BBQ Sauce
2

chipotle peppers + 2 tablespoons of sauce from a can of chipotles in adobo sauce

½

cup

ketchup

¼

cup

apple cider vinegar

2

garlic cloves

1

teaspoon

Dijon mustard

½

teaspoon

smoked paprika

½

teaspoon

cumin

Freshly ground black pepper
Jackfruit
1

tablespoon

extra-virgin olive oil

1

small yellow onion

,

thinly sliced

¼

teaspoon

sea salt

1

(20-ounce) can un-ripe jackfruit, drained

½

cup

water
Quick Slaw
2

cups

shredded cabbage

1/4

cup

chopped cilantro

½

tablespoon

lime juice

½

teaspoon

olive oil

Sea salt and freshly ground black pepper
For serving
Desired fixings: pickles

,

mustard, serrano peppers, etc.
Instructions
Make the BBQ sauce: In a food processor, blend the chipotle peppers, adobo sauce, ketchup, vinegar, garlic, mustard, paprika, cumin, and a few grinds of pepper until smooth. Set aside.

Prepare the jackfruit by pulling shredding the pieces with your hands (see photo), discarding any harder pieces of the core. In a large skillet, heat 1 tablespoon of olive oil to medium heat. Add the sliced onion and salt and cook, stirring occasionally, until soft, 8 to 10 minutes, turning down the heat as necessary. Next, add the shredded jackfruit and cook 5 minutes, stirring occasionally. If necessary, add a splash of water to keep it from sticking to the pan. Stir in the 1/2 cup water and half of the BBQ sauce. Turn the heat to low, cover, and let simmer for 20 minutes. Remove the cover and stir in half of the remaining BBQ sauce, reserving the rest for serving.

Make the slaw: In a medium-large bowl, combine the cabbage, cilantro, lime juice, olive oil, and pinches of salt and pepper.

Serve the sliders with the jackfruit, the remaining BBQ sauce, the slaw, and desired fixings.