These steamed bao buns are one of our favorite recipes to make on a date night in. I prep the filling while Jack mixes up the dough. Then, we eat!
Making these steamed bao buns is our idea of the perfect Valentine's date. See, Jack and I enjoy going out to eat, but never on Valentine's Day. The restaurants are more crowded, the food is more expensive, and we always end up having more fun at home. So we skip the crowds and celebrate simply, spending time together making something we both love. In years past, we've learned to make pasta (I make a delicious sauce while he cranks the pasta maker), homemade pizza (Jack does the crust while I do the the toppings), or sushi (I prep the fillings, and he rolls it up), but lately, we've been hooked on these cute little bao buns!
If you ask me, they're the perfect couples cooking project. One person (Jack) can make the dough while the other (me) can whip up a fun, fresh filling. Then, combine the two to make a delicious date night meal!
But if you already have Valentine's Day plans, don't worry! Making these bao buns would be a fun project any night, with friends, a partner, or even solo. The buns themselves are soft and puffy. Stuffed with zesty marinated tempeh, avocado, and lots of fresh fixings, they become mini explosions of texture and flavor. Trust me, this recipe's one you don't want to miss!
How to Make Steamed Bao Buns
Ready to cook? Here's what you need to do:
First, make the dough. Stir together dried yeast, sugar, and warm water, and set them aside for 5 minutes, until the yeast becomes foamy. Then, combine the dry ingredients in a large mixing bowl, and add the yeast mixture and avocado oil. Mix to form a rough ball. Turn it out onto a lightly floured surface and knead vigorously until the dough is smooth and elastic, about 5 minutes. Set it aside to rise for 45 minutes.
When the dough has risen, cut out the bao buns. Use a rolling pin to roll out the dough until it's 1/4-inch thick. Then, use a drinking glass to cut out 3-inch circles of dough and place each one on a square of parchment paper. Brush the tops with oil and fold each piece of dough in half, pressing it down just lightly. Cover the buns with plastic wrap and let them rise for another hour. They won't have quite doubled in size, but they will have puffed up slightly, before you move on to the next step.
Finally, cook! Transfer each bun, still on its parchment square, to a bamboo steamer set over an inch of water. Cover and steam until puffed, 9 to 11 minutes. That's it!
Bao Buns Filling
Traditional bao buns are filled with seasoned pork belly, but of course, I opt for a plant-based alternative. I make a sweet & savory hoisin tempeh using my favorite tempeh cooking method: steam, marinate, and bake. Marinated, baked tofu would be a delicious option in here as well.
As the tempeh bakes, I wash and slice the fresh veggie toppings. We always serve these buns with thinly sliced carrot and/or cucumber, fresh cilantro or mint, avocado, chiles, and sesame seeds. A few pickled jalapeños or the banh mi pickles from this recipe would also be excellent here.
Stuff the buns with the filling as soon as they come out of the steamer, as they're best when they're warm and soft. Top them with extra tempeh marinade, or soy sauce or tamari, and a big squeeze of lime juice, and enjoy!
Bao Bun Recipe Tips
Use a neutral oil. I almost always call for extra-virgin olive oil in my recipes, but I prefer avocado oil here. Its neutral taste allows the flavorful fillings in this recipe to shine. If you can't find avocado oil, use another neutral oil, like grapeseed oil, in its place.
Add water, a tablespoon at a time, if the dough is too dry. This bao bun recipe makes a stiff dough, so if it takes a bit of mixing to form it into a ball, don't worry. However, if the dough is too dry, add water, a tablespoon at a time, until it comes together.
Let the dough rise somewhere warm. Because yeast responds to warmth, letting your dough rise in a warm place will yield the best results. We like to put ours on a sunny windowsill!
Serve the bao buns warm from the steamer. The steamed buns are best as soon as they come off the heat, when they're still soft and pliable. If you have extra buns, they freeze well.
More Favorite Date Night Recipes
If you love to cook with your partner, try one of these fun cooking projects next:
Or, check out my 25 Best Pasta Recipes or Favorite Vegan Desserts for more Valentine's Day inspiration!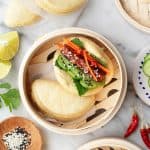 Steamed Bao Buns
These steamed bao buns are so delicious and fun to make! I fill the soft, puffy buns with flavorful marinated tempeh and lots of fresh fixings.
Ingredients
Bao Buns
2

teaspoons

active dry yeast

2

tablespoons

sugar

½

cup

+ 2 tablespoons warm water

,

110°

2½

cups

all-purpose flour

½

teaspoon

baking powder

½

teaspoon

baking soda

2

teaspoons

sea salt

¼

cup

avocado oil

,

more for brushing
Instructions
Make the Bao Buns. In a small bowl, combine the yeast, sugar, and water and stir. Set aside for 5 minutes, or until the yeast is foamy.

In a large bowl, combine the flour, baking powder, baking soda, and salt. Add the avocado oil and the yeast mixture and mix to form a rough ball, adding 1 to 2 tablespoons more water if the dough is too dry. Transfer to a lightly floured surface, shape into a ball, and vigorously knead it until it's smooth and elastic, about 5 minutes.

Brush the inside of a bowl with a little oil and place the dough inside. Cover and set it aside in a warm place for 45 minutes. (Note: it won't rise as much as other traditional yeasted doughs.)

Make the tempeh filling. Preheat the oven to 425°F and line a baking sheet with parchment paper. In a small bowl, whisk together the hoisin sauce, sriracha, ginger, and lime zest. Reserve half of the sauce for serving and toss the remaining half with the tempeh slices and set aside for 20 minutes to marinate. Place the tempeh on the baking sheet and bake for 10 to 12 minutes or until browned around the edges.

Finish the buns. Cut twelve 4-inch squares of parchment paper and place them on a large baking sheet. Transfer the dough to a clean work surface and roll out evenly to ¼ inch thickness. Use a 3-inch glass to cut out circles of dough and place them on the paper squares. Brush the tops with a little oil, then fold each circle in half and gently press down, flattening just a bit so that the halves stick together but you still have a puffy bun shape. Cover with plastic wrap and let rest for 1 hour, until puffed. Transfer to a bamboo steamer set over a pan with 1-inch water. Bring the water to a simmer, cover, and steam until puffed, 9 to 11 minutes. Work in batches.

Assemble. Squeeze a little lime juice over the avocado, cucumber, and carrot. Assemble each  bun with the tempeh, spooning a little sauce over each tempeh piece, the avocado, veggies, herbs, and chiles. Serve with remaining sauce on the side and lime slices for squeezing.
Bun recipe adapted from The Elizabeth Street Cafe Cookbook