This simple baked zucchini is the best summer side dish! The zucchini is layered with pesto & tomato sauce and baked with a crispy panko topping.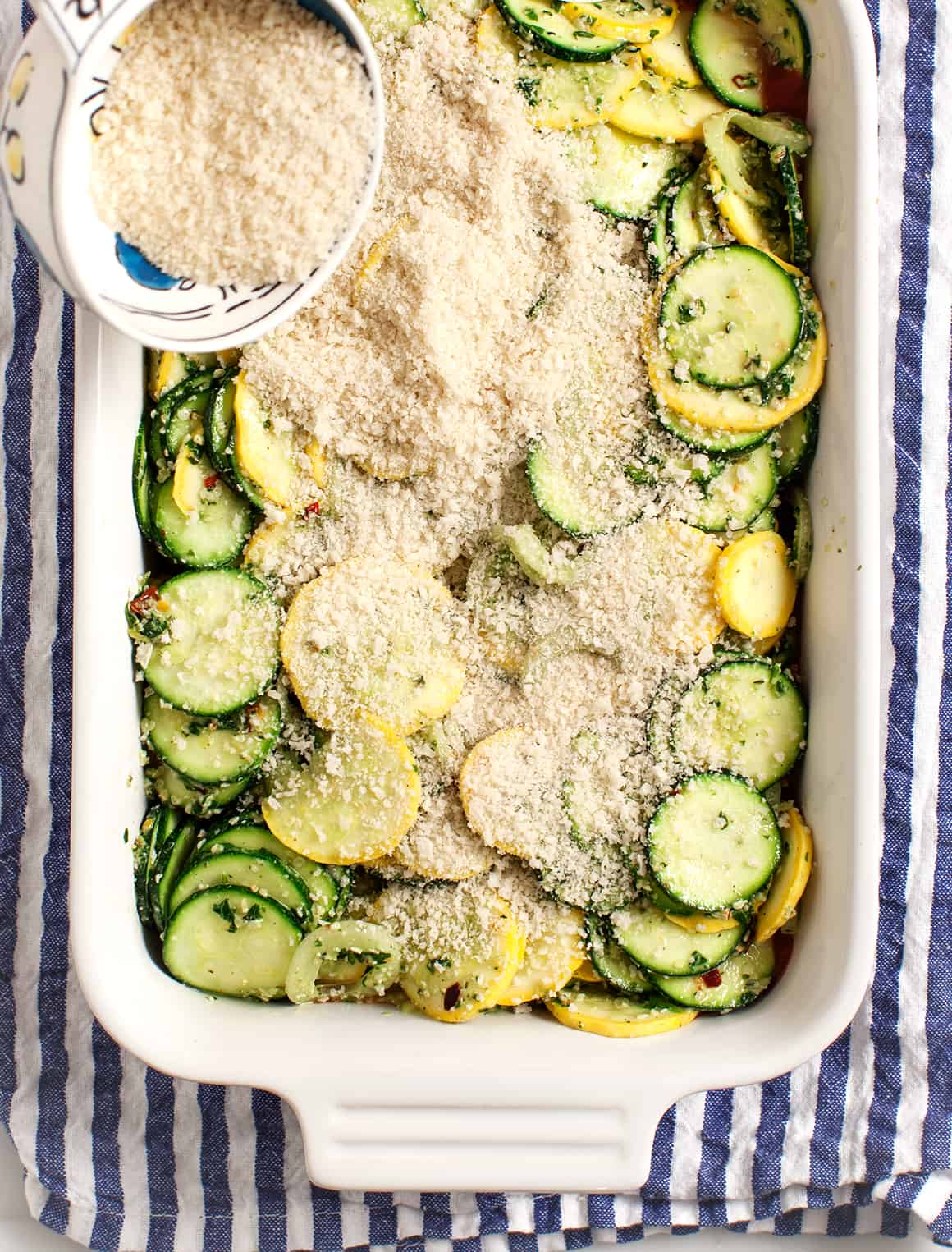 And the summer squash blogging continues…
If you have lots and lots of zucchini and/or yellow summer squash to use up, this is your recipe! Alternatively, if you're just looking for ideas to use zucchini because it's healthy and delicious, this is also your recipe.
How to make this simple baked zucchini:
Toss thinly sliced zucchini and yellow squash coins with sliced onion and pesto.
Layer the mixture into a baking dish with tomato sauce.
Top with panko bread crumbs and Parmesan cheese, and bake!
The trick is to slice your squash evenly so that it bakes evenly. A mandoline is great for this.
As it bakes, the center gets saucy and bubbly while the top gets crispy. It's a delicious, healthy summer side dish that's simple to put together.
Serving Suggestions
As a side dish, this serves 3 to 4. I suggest serving any of these main courses with it:
Crispy Baked Zucchini
This simple baked zucchini is the best summer side dish!
Ingredients
4 cups zucchini/yellow squash, thinly sliced
½ cup sliced yellow onion
½ cup pesto
½ cup tomato sauce
⅓ cup panko bread crumbs
¼ cup grated parmesan cheese
Pinch of red pepper flakes
Extra virgin olive oil, for brushing and drizzling
pesto:
½ cup toasted pine nuts or hemp seeds
1 small garlic clove
2 cups fresh basil
2 tablespoons lemon juice
¼ cup extra-virgin olive oil, more if desired
¼ teaspoon sea salt
Instructions
Preheat oven to 375°F and brush the bottom of a 9x12-baking dish with olive oil.
Set the sliced squash on a kitchen towel to drain some of the excess moisture while you prep everything else.
Make the pesto by pulsing the nuts, garlic, and salt in a food processor. Add the basil and lemon juice, and pulse again. Drizzle in the olive oil and pulse again (you want a chunky pesto for this dish).
In a large bowl, toss together the zucchini, onions with ½ cup of the pesto.
Layer the baking dish with ½ cup tomato sauce, then the squash/onion mixture and spread it into one even layer.
Sprinkle the top with panko, parmesan, a drizzle of olive oil, and pinches of red pepper flakes. Bake until the zucchini is tender (but not mushy) and the top is crispy and lightly browned - about 25 minutes. I like to turn my broiler on for the last few minutes to help the topping become browned and crisp.
Remove from oven and let it cool 20 minutes before slicing.