These baked jalapeño poppers are the ultimate game day snack! They're crispy on top, creamy in the middle, and packed with delicious savory flavor.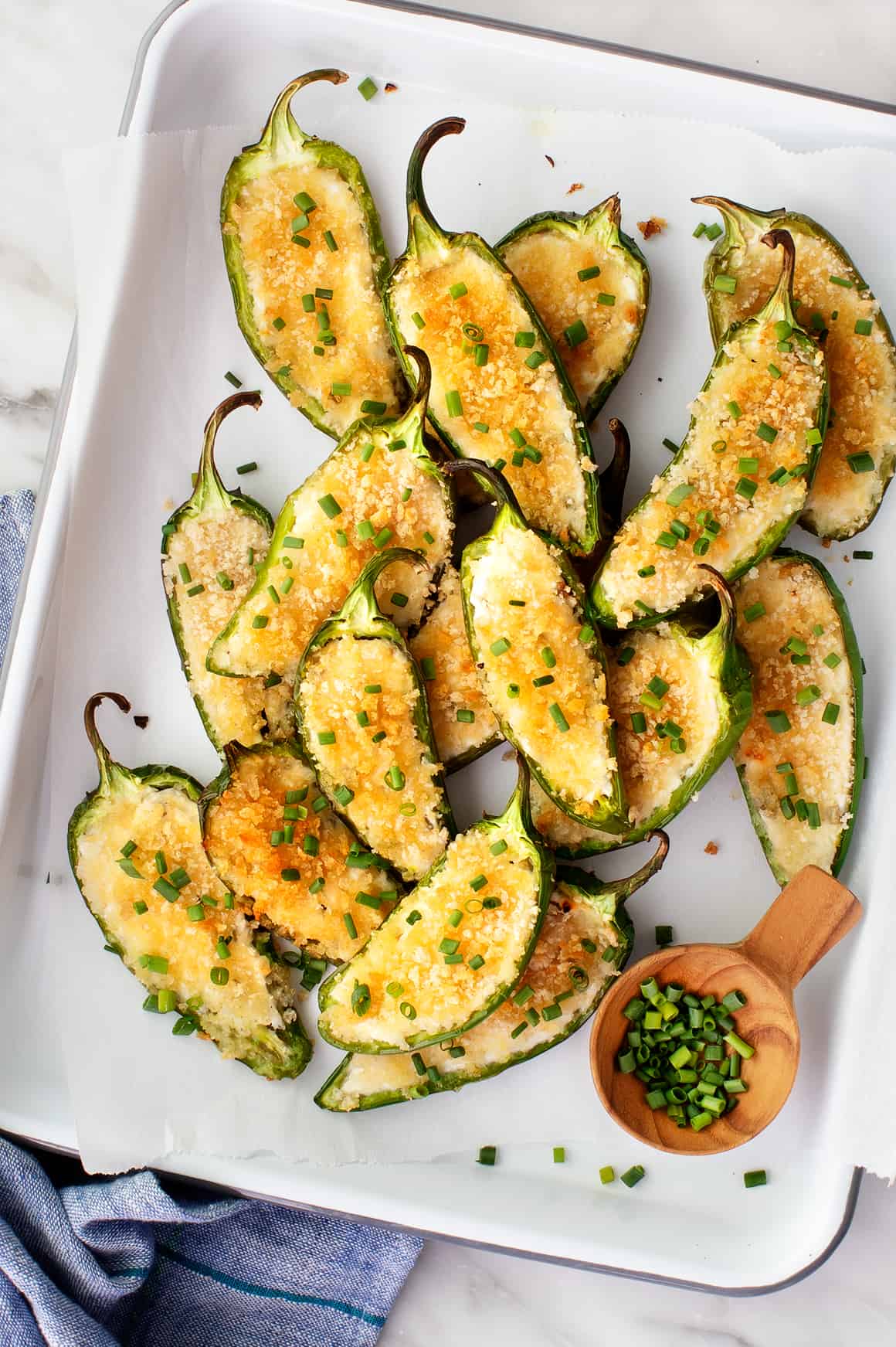 If anything could turn me into a sports fan, it'd be these baked jalapeño poppers! Like all the best game day snacks (looking at you, salsa and guac), they're simple, tasty, and really darn fun. The day I took these photos, I planned to eat just one or two jalapeño poppers straight from the oven, to check that the flavors were right. Before I knew it, I'd had 3, 4… I think it's safe to say that the flavors were a-ok. 🙂
Of course, I couldn't write a jalapeño poppers recipe without adding a fresh twist. These jalapeño poppers are lighter than most, and not just because they're baked instead of fried. I also replace the classic cream cheese filling with a creamy, tangy mix of Greek yogurt, cheddar cheese, garlic, and chives. It's not traditional, but it tastes fantastic, especially with a layer of crispy panko bread crumbs on top.
Easy Jalapeño Poppers Recipe Ingredients
You only need a few simple ingredients to make this easy jalapeño poppers recipe:
Jalapeños, of course! Look for medium-large peppers so that you can fit a good amount of filling in each of the jalapeño poppers.
Greek yogurt – It steps in for the traditional cream cheese. I love its tangy flavor inside the spicy peppers!
Cheddar cheese – Along with the yogurt, it makes the filling rich and creamy. It adds nutty, salty flavor, too!
Garlic, chives, and onion powder – They pack the filling with sharp, savory flavor that'll keep you reaching for one jalapeño popper after another.
Smoked paprika – It gives the poppers a slight smoky kick. No need for bacon here!
Panko bread crumbs – For crunch! I drizzle them with a little olive oil before baking so that they get nice and brown in the oven.
And sea salt – To make all the flavors pop!
Find the complete recipe with measurements below.
How to Make Jalapeño Poppers
My method for how to make jalapeño poppers is super simple! Here's how it goes:
First, slice the peppers. Cut each jalapeño in half vertically, and remove the seeds and membranes. I recommend wearing gloves for this step. Otherwise, the spicy peppers might hurt your hands!
Next, make the filling. Place the Greek yogurt, cheese, garlic, onion powder, chives, smoked paprika, and salt in a small bowl, and stir to combine.
Then, fill the peppers! Scoop the creamy cheese mixture into the jalapeño halves, leveling it off near the rim of each sliced pepper.
Once you've filled the peppers, add the crispy topping. Sprinkle each pepper with a layer of panko bread crumbs, and drizzle it with olive oil.
Finally, bake! Transfer the jalapeño poppers to a 400° oven, and bake for 15-20 minutes, until the panko is golden brown and the peppers are tender. Enjoy!
Baked Jalapeño Poppers Tips
Wear gloves. Ever heard of jalapeño hands? If you haven't, you're lucky! Slicing jalapeños with bare skin can sometimes create a burning sensation in your fingers or hands. It is…not fun. Because you'll be slicing and seeding so many jalapeños in this recipe, I recommend wearing gloves until you put the jalapeño poppers in the oven. You'll thank me later!
Use thick yogurt. Remember, the Greek yogurt in this recipe is acting as a cream cheese substitute, so it needs to be nice and thick. Yogurt brands vary in consistency, and some will be too thin for this recipe. I recommend using FAGE, Chobani, or Trader Joe's Greek yogurt.
Grate the cheese finely. The filling comes out best when the cheese fully incorporates with the other ingredients. Grate it on the small holes of a box grater (NOT the large ones!), so that it melds with the yogurt, chives, and other seasonings.
Drizzle them with olive oil. Don't forget to drizzle the jalapeño poppers with oil before you stick them in the oven! It's essential for helping the panko topping become brown and crisp as it bakes. Even with the oil, these baked jalapeño poppers are far lighter than deep fried ones.
More Fun Appetizers and Snacks
If you love these baked jalapeño poppers, try one of these fun appetizers next:
For more appetizer ideas, check out this post!
Jalapeño Poppers
These easy baked jalapeño poppers are a delicious appetizer or game day snack! Instead of a traditional cream cheese filling, they're stuffed with a creamy, tangy mix of Greek yogurt, cheddar cheese, garlic, and chives.
Instructions
Preheat the oven to 400°F and line a baking sheet with parchment paper.

Slice the jalapeños in half and remove the seeds and ribbing. Note: You might want to use rubber or disposable plastic gloves when working with these spicy peppers.

In a small bowl, combine the yogurt, cheese, 2 tablespoons of the chives, garlic, onion powder, salt, and smoked paprika, if using. Fill the jalapeño halves with the yogurt mixture, sprinkle with panko, drizzle with olive oil and bake for 15 to 20 minutes or until the peppers are tender and the topping is golden brown. Remove from the oven and garnish with the remaining chives.
Notes
*Note: Some brands of yogurt are thicker than others. For this recipe (since we're trying to replicate cream cheese) use thick yogurt such as FAGE, Chobani, or the Trader Joe's brand.
**Note: Grate the cheese using the small holes on a box grater.