This 8-ingredient baked feta recipe is simple, delicious & healthy. Cooked in a cumin-spiced tomato sauce, it's a fantastic appetizer or meal on its own.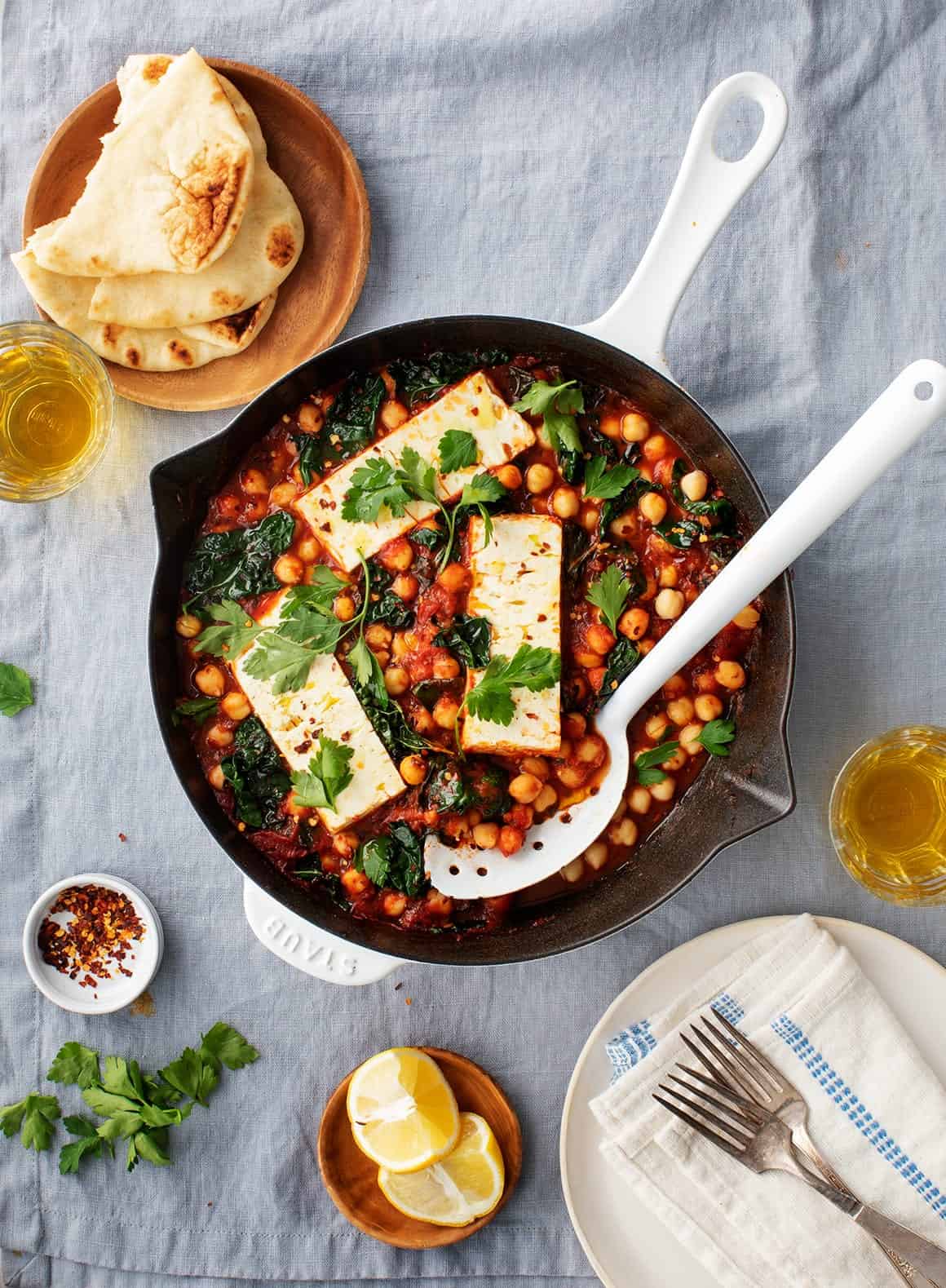 It's Saturday…if you have friends coming over for dinner but you don't feel like spending all day in the kitchen, I've got just the thing for you: this super delicious baked feta recipe. It comes together in no time, you can serve it as an easy appetizer or the main meal, and it's saucy, comforting, and flavorful. What's not to love?
This recipe is inspired by a baked feta recipe from the book Cook90 by David Tamarkin, the editor and digital director of Epicurious. It's a great book that's full of accessible, easy-to-prepare dishes. I was drawn to this recipe because I am a huge fan of feta cheese. I also love chickpeas and kale, so I couldn't resist trying it out. This recipe has only a handful of ingredients, and we all loved it – even Jack, who said, "what are those weird rectangles" before digging in and devouring his plate. (And then going back for more.)
Baked Feta Recipe Ingredients
The ingredient list to this baked feta recipe is short and sweet! Here's what you'll need:
Feta, of course! When you're at the grocery store, look for a big block of feta cheese, one that you can slice into 3-4 1/2-inch planks. Cow and sheep milk feta are both excellent here!
Tomato sauce –Make your own, or buy pre-made sauce to make this recipe extra quick and easy!
Cumin seeds – If you can't find cumin seeds, feel free to substitute 1/2 teaspoon ground cumin. However, cumin seeds are really worth seeking out for this recipe. They infuse the sauce with delicious aromatic flavor.
Chickpeas – They make this dish hearty enough to be a meal on its own! I love their flaky texture in the warm sauce.
Kale – For extra veggie power!
Lemon juice – It gives the whole dish a robust, bright finish.
How to Make Baked Feta
You won't believe how easy it is to make this recipe! First, heat the oil in an oven-safe skillet over medium heat. Add the cumin seeds and toast them until they become fragrant. Then, stir in the kale, working in batches as necessary, and cook until it wilts.
Pour in the tomato sauce, the chickpeas, the lemon juice, and a bit of water. Bring it all to a simmer, add the feta, and transfer the skillet to a 350-degree oven. Bake until the feta softens, about 15 minutes. Garnish with red pepper flakes, freshly cracked black pepper, and a big drizzle of olive oil.
Serve it as a main course or an appetizer, along with good crusty bread for scooping up the crumbly feta cheese and sauce. Pita bread, homemade focaccia, or no-knead bread would all be great choices. Enjoy!
More Favorite Dinner Recipes
If you love this baked feta recipe, try one of these hearty vegetarian dinners next:
Then, find more delicious dinner ideas here and more favorite appetizer recipes here!
Baked Feta
This easy baked feta recipe is a delicious appetizer or meal on its own! Serve it with good crusty bread or pita for scooping up the cheese and sauce.
Instructions
Preheat the oven to 350°F.

Heat a 10 or 12-inch oven-safe skillet over medium heat and add the oil. Add the cumin seeds and let them sizzle gently for a minute or two. Add the kale in batches, letting each handful shrink and wilt before adding the next.

When the last of the kale has wilted, add the tomato sauce, chickpeas, lemon juice, and 1/2 cup water. Stir and let it come to a simmer.

Nestle the feta slices into the sauce and sprinkle with freshly ground black pepper. Slide the skillet into the oven and bake until the feta has softened, about 15 minutes. Drizzle with olive oil and a pinch of red pepper flakes and serve with warm pita and lemon wedges.
Adapted from Cook90 by David Tamarkin