These oven baked eggs are an easy, delicious breakfast or brunch. Serve them with garnishes like fresh herbs and veggies to take them over the top!
How cute are these baked eggs?! Lately, Jack and I have been making them for breakfast and the occasional dinner, and with Easter coming up this weekend, I thought it would be the perfect time to share the recipe with all of you.
These baked eggs have runny yolks and just-set whites, and they're SO simple to make in the oven. Sprinkled with toppings like fresh herbs, peas, and sautéed asparagus, they look elegant and inviting, and they taste delicious. They'd be a lovely main course for a holiday brunch, but you could easily pull them off for a regular weekend (heck, even weekday!) breakfast too.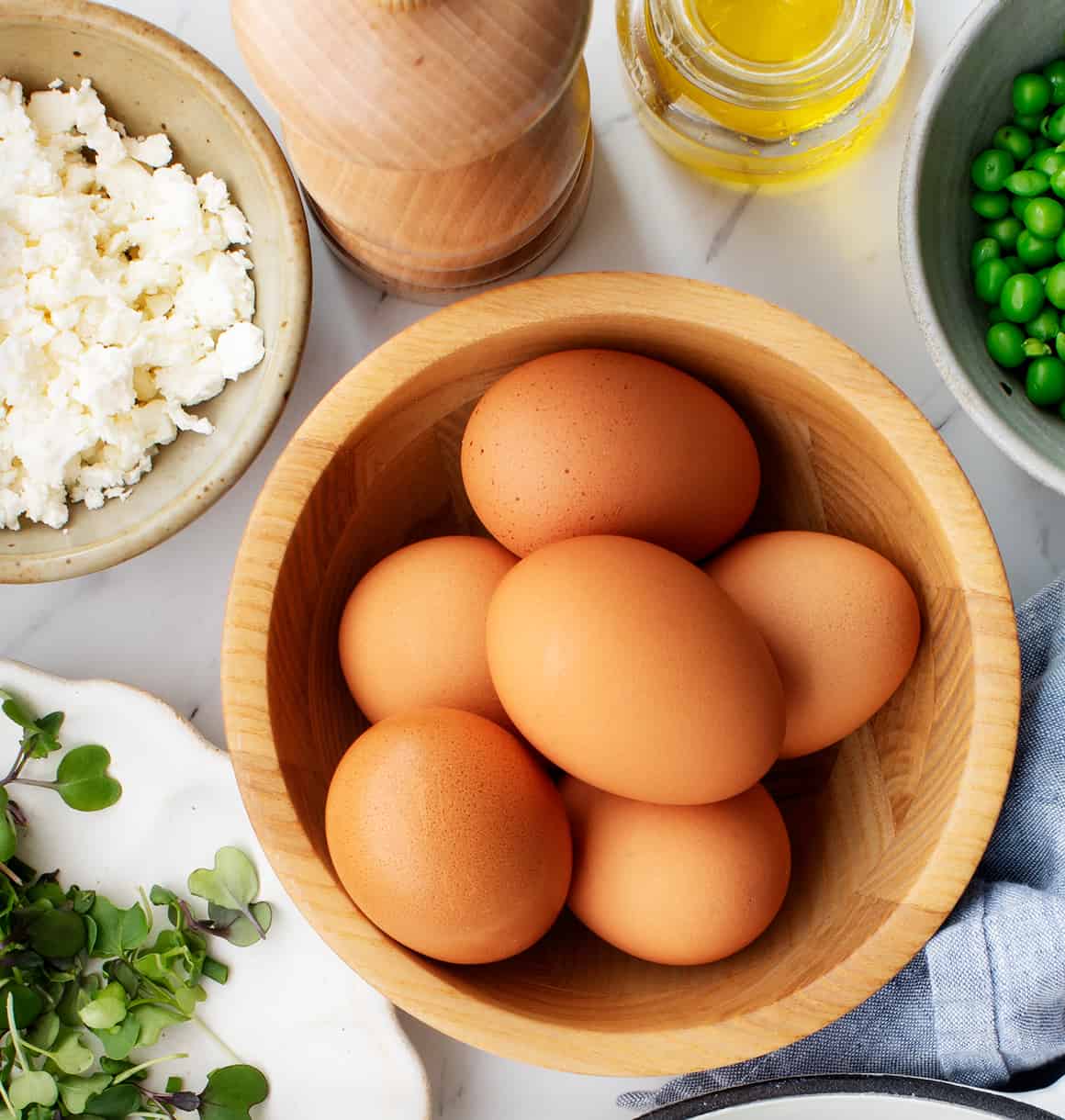 In the recipe below, you'll find instructions for making one serving of baked eggs. If you're serving a crowd, don't worry – you can easily scale the quantities up or down to match the size of your group. You'll just need one ramekin per person. No ramekins? A muffin tin or small oven-safe skillets would be fine baking dishes too.
Baked Eggs Recipe Ingredients
Here's what you'll need to make this baked eggs recipe:
Eggs, of course! I typically make two per person.
Extra-virgin olive oil – For greasing the ramekins.
Sea salt and fresh black pepper – To season the eggs.
And your desired toppings – In the spring, I love serving these baked eggs with feta cheese, fresh herbs, microgreens, peas, and sautéed asparagus. Swap out the veggies for cherry tomatoes and basil (or even pesto!) in the summer, roasted butternut squash and parsley in the fall, and sautéed mushrooms and tarragon in the winter. Feel free to vary the cheese too, or skip it to make this recipe dairy-free.
Find the complete recipe with measurements below.
How to Make Baked Eggs
This baked eggs recipe couldn't be easier to make! Here's how it goes:
Start by greasing your ramekins. You want them to be fairly oily. I use 1/2 teaspoon olive oil per 4.5-inch ramekin.
Then, crack in the eggs. I usually do 2 per 4.5-inch ramekin or 3 to 4 in a 6-inch oven-safe skillet. If you're using smaller ramekins or a muffin pan, cook 1 egg in each ramekin or muffin cup.
Next, bake. Place the ramekins on a baking sheet, and transfer them to a 375°F oven. Bake for 7 to 15 minutes, or until the whites are just set. Tip: it's easy to overcook the eggs! I usually pull them out of the oven when they still look a little underdone. They set up more as they cool, and I want the yolk to still be runny when I serve them.
Finally, serve. Sprinkle the eggs with your desired toppings, and season with salt and pepper. Enjoy!
That's it!
Baked Eggs Serving Suggestions
These baked eggs would be a fantastic main course for a special occasion brunch. Pair them with toast or breakfast potatoes and a big fruit salad, or serve them with something sweet like scones, muffins, or homemade cinnamon rolls. Round out the meal with mimosas to drink. Find more of our favorite brunch recipes here!
Just making an everyday breakfast? Serve the eggs with a bagel or avocado toast and a hot cup of coffee or tea. 🙂
More Favorite Egg Recipes
If you love these oven baked eggs, try one of these favorite egg recipes next: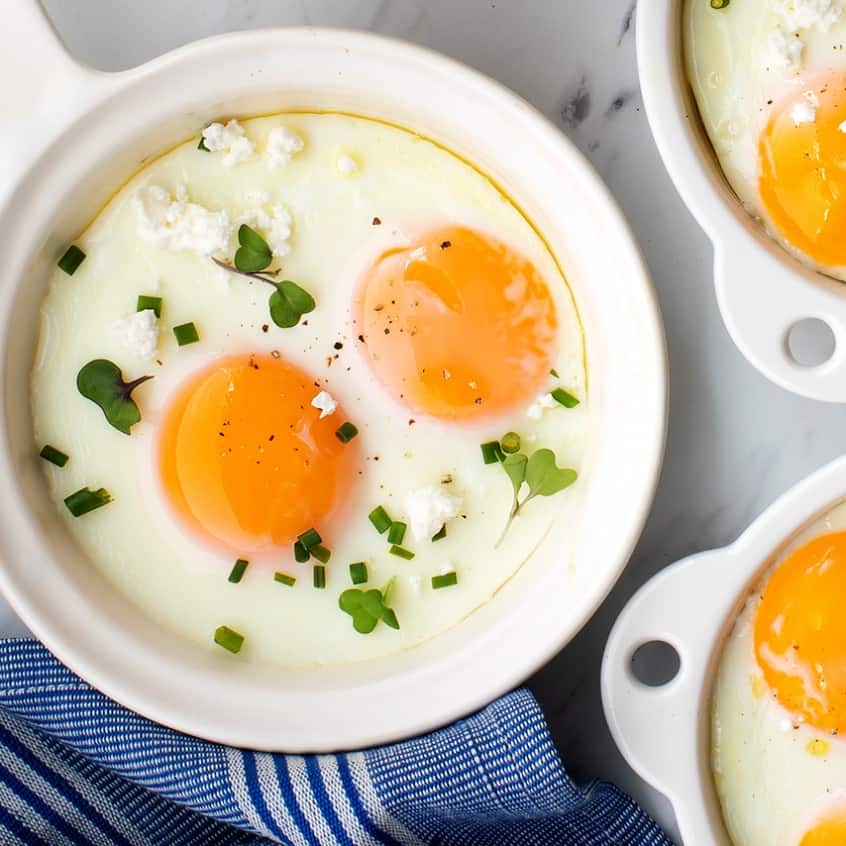 Baked Eggs
This oven baked eggs recipe is such a quick and easy way to cook eggs! The recipe here serves 1, though you can easily scale it up to feed more. I cook 2 eggs per 4.5-inch ramekin. If you don't have ramekins, 3 to 4 eggs will bake nicely in a 6-inch oven-safe skillet. You can also use a muffin pan, baking 1 egg in each of the muffin cups.
Ingredients
Topping options
Chopped chives

Dill

Sautéed asparagus

Frozen peas

,

thawed

Microgreens
Instructions
Preheat the oven to 375°F and grease a 4.5-inch ramekin with the olive oil. Place it on a baking sheet (the baking sheet makes it easier to move the ramekin in and out of the oven).

Crack 2 eggs into the ramekin and bake for 10 to 15 minutes (we do about 12), or until the egg whites are just set and the yolk is still runny. If using a muffin tin, bake 9 to 12 minutes. Be careful not to overcook, the baked eggs should look a little underdone as you take them out. They'll set a bit more as they cool out of the oven.

Top the baked eggs with feta, chives, dill, asparagus, peas, and/or microgreens, if desired, or see the blog post above for additional topping ideas.