These baked apples are a simple, delicious fall dessert. The soft, juicy apples contrast beautifully with a crisp brown sugar and cinnamon topping.
This baked apple recipe might be my ideal fall dessert. It's simpler to make than apple pie, apple cake, or even apple crisp, but it checks all the same apple-y, cinnamon-y boxes. It also shows off the natural shape and color of the apples, which I really love. When I nestle a couple of these baked apples into a bowl with a scoop of vanilla ice cream, they look so fresh and festive…and they taste amazing, too.
I've made this baked apple recipe a few times this season already, and I'm still excited to make it a few more. If you're looking for a cozy fall treat to enjoy in the next few weeks, I can't recommend it enough. Happy baking, friends!
Baked Apple Recipe Ingredients
I mentioned these baked apples were simple, right? To make them, you only need 8 ingredients:
Apples, of course! I recommend using crisp, firm apples for this recipe. Honeycrisp work really well, as do Pink Lady and Gala.
Whole rolled oats – The toasty oats are one of my favorite parts of my apple crisp (and peach crisp!), so I knew I wanted to use them in the topping for my baked apples too.
Almond flour and crushed walnuts – They add richness and nutty flavor to the topping. If you don't have walnuts on hand, chopped pecans would be a lovely swap.
Brown sugar – It sweetens the topping.
Apple Pie Spice – For warm, spiced autumn flavor. I use a homemade blend of cinnamon, nutmeg, ginger, and cardamom, but a store-bought blend or plain cinnamon would also do the trick.
Coconut oil – Some firm, some melted. The firm coconut oil helps the topping clump together, and the melted coconut oil helps the apples become moist and tender as they bake.
And sea salt – To make all the flavors pop!
Find the complete recipe with measurements below.
How to Make Baked Apples
Once you assemble your ingredients, this recipe is super easy to put together.
First, make the topping. Combine the oats, almond flour, walnuts, brown sugar, apple pie spice, and salt in a small bowl. Use your hands to work in the firm coconut oil.
Next, prepare the apples. Cut them in half lengthwise and use a small spoon to scoop the seeds out of each half. Carve out the center of the halves a little more to form a small cavity in each one.
Then, pre-bake the apples. Rub the halves all over with melted coconut oil and place them in a baking dish. Cover the dish with foil and bake at 375°F for 10 minutes so that the apples start to soften.
Finally, bake again! Uncover the apples and pile them with the topping. Drizzle the topping with a little more melted coconut oil and bake for another 20 minutes or so, until the apples are tender and the topping is crisp.
Serve with vanilla ice cream, and enjoy!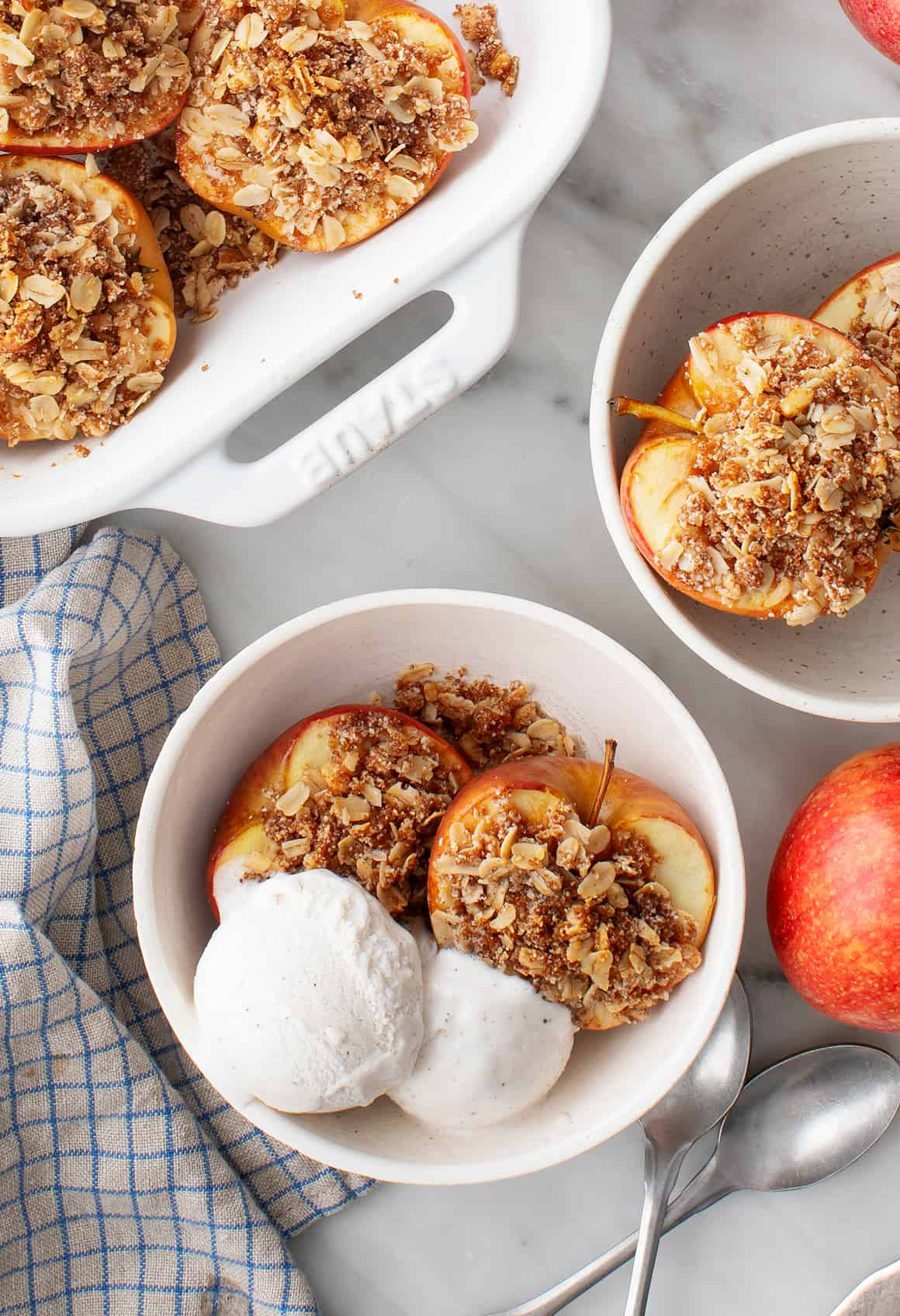 Best Baked Apples Tips
The more topping, the better. As the apples bake, they become tender and juicy in the oven. To make them into a satisfying dessert, you need a good amount of crispy topping to balance out the soft fruit. When you're adding the topping to the apples, don't be afraid to heap it on. The more, the better, if you ask me.
Be generous with the coconut oil when you're coating the apples. It ensures that the apples become soft and juicy in the oven (not dry!), so make sure to get it on all sides of the fruit.
The timing will depend on the apples that you use. There are two bake times in this recipe: the initial 10-minute bake without the topping, and the 20-minute bake with the topping. Always cover and bake the apples for a full 10 minutes without the topping, but once you add it, the time will vary. If you have small apples, start checking them 15 minutes into the second bake. If you have larger apples, expect them to take a little longer. You'll know they're ready when the apples are soft and the topping is crisp.
More Favorite Fall Desserts
If you love this baked apple recipe, try one of these seasonal treats next:
Baked Apples
These cinnamon baked apples are a delicious fall dessert! They're fantastic with a scoop of vanilla ice cream. Substitute dairy-free ice cream if you're vegan, or top them with a dollop of my coconut whipped cream instead.
Ingredients
½

cup + 2 tablespoons

whole rolled oats

½

cup

almond flour

⅓

cup

brown sugar

¼

cup

crushed walnuts

½

teaspoon

Apple Pie Spice,

or cinnamon

¼

teaspoon

sea salt

¼

cup

firm coconut oil

4

apples

,

cored and halved

Melted coconut oil

,

for drizzling

Vanilla ice cream

,

for serving
Instructions
Preheat the oven to 375°F.

Make the topping: In a small bowl, combine the oats, almond flour, brown sugar, walnuts, apple pie spice, and salt. Use your hands to work in the firm coconut oil until the mixture crumbles. If the mixture is too dry, add a few drizzles of water until the mixture starts to stick together when pinched.

Use a spoon to scoop out a bit of the center of each apple half. Place in an un-greased baking dish large enough to hold the apples. Drizzle with melted coconut oil and rub it all over the apples. Cover with foil and bake for 10 minutes. Uncover and top each half with generous spoonfuls of the topping. Drizzle a little more coconut oil on top and bake for 20 minutes, or until the apples have softened and the topping is crisp.

Let cool slightly and serve with vanilla ice cream.
Notes
Note: if you have extra topping left over, store it in the fridge for up to 1 week or in the freezer after that.