This smooth and creamy avocado dip is a crowd-pleasing spring or summer appetizer. Serve it with crackers and lots of fresh veggies for dipping!
This creamy avocado dip is one of my favorite appetizers to make in the spring and early summer. To be clear, it's not at all like guacamole, the other avocado dip we all know and love. Instead of fresh cilantro and lime juice, dill and lemon create its bright, refreshing flavor. Dijon mustard gives it a tangy kick, and Greek yogurt makes it extra-rich and creamy.
Instead of scooping it up with tortilla chips, I recommend pairing it with lots of fresh veg. At this time of year, so many dip-able vegetables are coming into season (radishes, snap peas, etc.). This smooth and silky avocado dip is the perfect way to jazz them up!
Avocado Dip Recipe Ingredients
To make this avocado dip recipe, you'll need 7 basic ingredients:
Avocados, of course! You'll need 2 ripe ones to make this recipe.
Whole milk Greek yogurt – It makes this avocado dip creamy, rich, and tangy.
Dijon mustard – For extra tang.
Lemon juice – It adds bright, fresh flavor.
Garlic – It gives the dip a garlicky bite.
Fresh dill – It adds savory depth of flavor and fresh green flecks. Not a dill person? Swap in fresh basil.
And sea salt – To make all the flavors pop!
Find the complete recipe with measurements below.
How to Make Avocado Dip
This avocado dip recipe is SO simple to make!
Place the peeled and pitted avocados in a food processor, and add the yogurt, garlic, lemon juice, mustard, and salt.
Process until smooth…
…and then pulse in the dill.
The dip is ready when it's smooth, creamy, and flecked with green.
Just season to taste, and serve!
Avocado Dip Serving Suggestions
Creamy, tangy, and fresh, this avocado dip is a lovely spring or summer appetizer or snack! We often enjoy it on its own, with crackers or fresh veggies for dipping, but it's also a fantastic addition to a colorful crudité platter. Try adding it to a board with a mix of these components:
Lots of fresh veg. I love this dip with radishes, endive, cucumbers, and blanched broccolini and snap peas. Use all of these veggies, or choose just one or two.
Crackers or baguette. Something starchy for scooping up the dip.
Roasted chickpeas, almonds, or pecans. Something crunchy to munch by the handful.
Pickled radishes, asparagus, or olives. Something tangy or briny to accent the fresh flavors on the board.
If you like, you could add another rich and creamy component to the board, like an herbed compound butter or a wedge of cheese. But if you want to keep your crudité on the simpler side, feel free to skip it! You already have the creamy avocado dip, after all.
Leftover dip will keep in an airtight container in the fridge for up to 2 days. The top of the dip will oxidize, or turn brown, with time. That's totally normal! Give the dip a good stir, and it should still taste great. If you want to prevent the dip from turning brown, gently press a sheet of plastic wrap over its surface before you seal it in a container.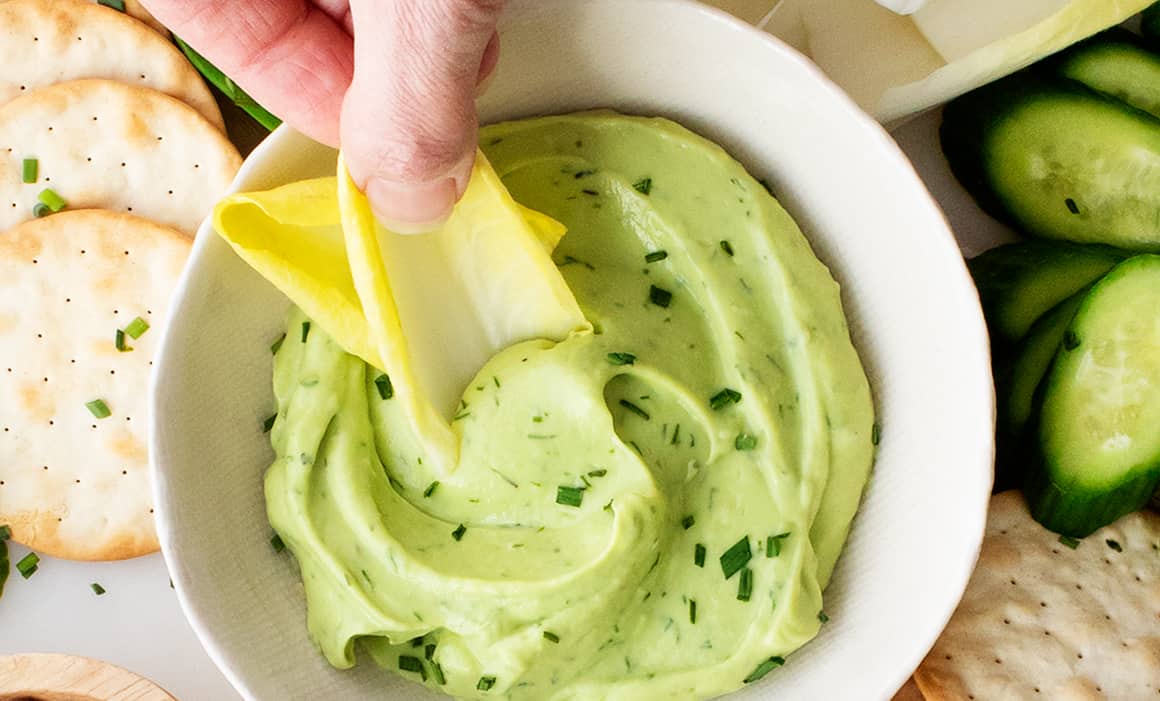 More Favorite Dips and Appetizers
If you love this recipe, try one of these fresh dips or appetizers next:
Creamy Avocado Dip
This creamy avocado dip is a delicious spring or summer appetizer! Serve it with crackers and lots of fresh veggies.
Instructions
In a food processor, combine the yogurt, avocados, lemon juice, mustard, garlic, and salt. Pulse until smooth. Add the dill and pulse until combined.

Season to taste and serve with fresh veggies.