Since I know some of you are heading to Austin this week for SXSW, I thought I'd share an updated list of favorite places to eat and drink in my town. I've written a few of these posts in the past, but things change so quickly!
Here are some of our newest favorites as well as some old stand-by's. I've also included some of my favorite shops and other activities in case you would like to see some sights in between meals 🙂
LUNCH:
(although many of these are great for a casual dinner)
Saigon le vendeur (pictured below)
This truck is our newest obsession so I'm putting it up first. They have a permanent location on east 7th street, but we first discovered it at the Saturday farmer's market. Their vermicelli bowls are the best in town! I love how lemongrass-y the lemongrass tofu is and their sauce is two emoji thumbs up.
Piknik
Their brick and mortar restaurant is new this year – if you're paleo, gluten free, or have any diet restriction, this is your spot. The food is made of the highest quality ingredients and is very health conscious. If you're vegan, get the eggplant involtini. If you're not vegan, get the hash. And don't miss the matcha drinks.
Elizabeth (pictured above)
My most instagrammed restaurant (I can't help it!) as well as a place Jack and I go to far too often. I like the tofu mushroom banh mi, the mushroom pho, the breakfast banh mi, and the tofu avocado steamed buns (not on the menu but just ask).
Taco Deli
If you visit one restaurant in Austin, go here. Get the sweet potato taco – if you're pescatarian, don't miss the mojo fish taco. Jack eats meat, and his favorite is the Happy Taco. Don't miss the Doña sauce if you like spicy things.
Casa de Luz
When you've had too many margaritas, go here for some wholesome vegan macrobiotic food. Note that this is in no way fancy – there's no alcohol and you pay up front. But what it has some the most flavorful macrobiotic cooking I've ever had, and the sauces they make are amazing. Check out their website for the meal of the day. If "suncheeze" is on the menu – go.
Flower Child
This is one of those restaurants that makes it hard to decide what to order because I want to try one of everything. There are TONS of vegan and gluten free options, but there are sustainable meat options as well. I especially love their green curry soup (if it's a special that day), the Indian Cauliflower, and the Thai Cashew Quinoa. The gluten free brownies are delectable.
Poké Poké (pictured below)
If you like poke, don't miss this one. They also have vegan poke with tofu and kale.
Koriente (pictured below)
I used to work across the street from Koriente and ate here literally every day. We love the shiitake tofu, but everything is great. The food is healthy and delicious and the staff is incredibly nice.
Fresas (pictured below)
Ok, yes, it's the place with the big, very cute, chicken sign, but you can go here even if you don't eat chicken. I especially love the Jerez Salad with chickpeas and carrot escabeche. Their patio is big and beautiful, so go here on a sunny day.
Thai Fresh (pictured below)
A neighborhood favorite. I like their green curry, the papaya salad, and their coconut soup. They also have a big selection of vegan and gluten free desserts – the chocolate peanut butter pie is to die for.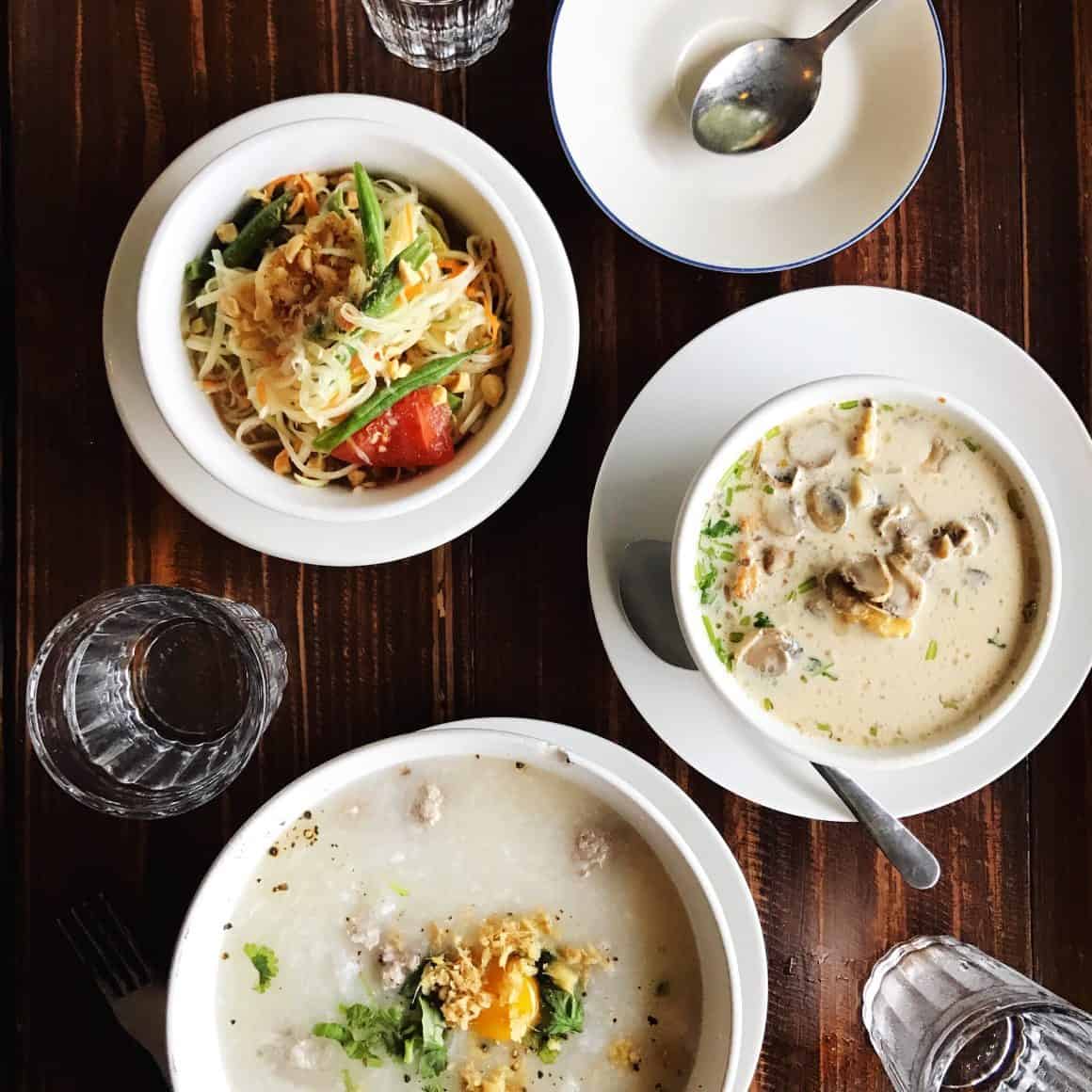 Chi'lantro (pictured below)
As seen on Shark Tank, ha! It's build-your-own Korean BBQ – you can choose your meat (or tofu), sauce, and whether you'd like tacos, a rice bowl, a salad, or a burrito. I get the tofu salad with black beans, avocado, and kimchi with the carrot-ginger sauce.
BRUNCH:
True Food Kitchen (pictured below)
It's not a local Austin chain but this restaurant, based on recipes by Dr. Andrew Weil, is on our regular rotation for brunch, lunch, and dinner. Favorites are: the tofu scramble burrito, the shiitake dumplings, the brussels sprout mushroom pizza (Jack's favorite), and the vegan butternut squash pizza.
The Steeping Room
When we lived a little closer to this place, we were regulars. Jack and I had a Sunday Steeping Room ritual which means that it's basically our church. I love all of their soups (they rotate daily), the curries, the chocolate crunch tea, and their vegan double chocolate cupcakes. A great spot for vegan and gluten free options.
Cafe No Sé
I'm putting this in the brunch section because it's widely popular for brunch, even though Jack and I usually go for lunch or dinner (I hate crowds!). I love their gem lettuce salad and the kale salad. Don't skip the hummus with their homemade flatbread.
DINNER:
Epicerie (also great for lunch and breakfast)
The cutest little french cafe – great wine, delicious cheese and the BEST cauliflower gnocchi you've ever tasted.
Chicon
This is my favorite dinner restaurant right now. It's owned by the same folks that own Contigo (another favorite), what I love about the menu at Chicon is that the food is incredibly local and seasonal. Its style is Texas farm to table and while there are a lot of meaty dishes, they don't ignore their vegetable offerings. The menu changes often but some of the best things I've had were a vegan sunflower seed risotto, a pho made with spaghetti squash instead of noodles, and a salad made of smoked and raw mushrooms (it's hard to describe why the salad was so good but it was killer). I can go on and on but I'm going to stop here because I'm going on and on.
Lenoir
This one is a twofer, as they have both an excellent wine garden as well as a phenomenal restaurant. The wine garden not only has a lovely selection of wine, but they also serve yummy light snacks. The restaurant is a tiny cozy place that serves a highly seasonal prix fix menu using local ingredients, and you can choose the dishes you want from 4 categories: land (meat), sea (fish), earth (vegetarian), and dream (dessert).
Other note-worry dinner places: Vox Table, Olamaie, Emmer & Rye, Juniper
BEVERAGES: Coffee/Juice
Juice Society
Love this new juice spot! 
Seventh Flag
I love their homemade almond milk chai
Patika (Wed-Sun for breakfast)
We've been loving the breakfast here lately – their avocado toast with jalapeños, breakfast sandwiches, bowls, and their pastries are pretty darn good too. They occasionally have gluten free pastries.
Sa-Ten (they also have food)
A cute Japanese-ish coffee shop with neat squirrel wallpaper. We love the coffee here as well as the simple lunch plates.
other great coffee places: Joe's, Houndstooth & Cafe Medici
BEVERAGES: Wine
June's
A new wine bar in our neighborhood. It's a little pricey but the wines are very very good. Depending on the seasonality of the menu, I also love the whole roasted artichoke appetizer.
Hotel San Jose
Still one of our favorite patios to get a drink and people watch. If you come in the summer, get the Frozé (a frozen rosé slushie).
House Wine
On Sundays, they offer half-price by the glass for opened bottles. Great patio too. Did I mention half-price wine?
SWEETS:
Sugar Mamas
Yummy cupcakes with vegan and gluten free options.
Cap City Bakery
An all vegan bakery – their peanut butter chocolate cupcake is super yummy.
Skull & Cakeboxes
You can find their baked goods at whole foods and other places around town – but they also just opened a new brick and mortar bakery. don't miss their Bing Bong Cupcakes.
STORES:
Kettle & Brine
Hands down, my favorite shop for home goods. I'm obsessed with their ceramic selection.
Wildflower
My second favorite place for home goods, furniture and organic bedding.
Spartan
Another great shop for ceramics and unique gifts.
THINGS TO DO:
Springdale Farm
Visit their market stand on Saturday mornings. Walk around the farm grounds and have breakfast at Eden East (although it's not vegetarian friendly – I suggest going to nearby Sa-ten before or afterward if your'e not carnivorous).
Saturday Downtown Farmers Market
It's at 4th and Guadalupe, and it's where I get most of my farmer's market produce for my recipes. While you're there go to the Saigon Le Vender truck.
Town Lake Trail
Hike, bike, or kayak if it's a nice day.
Mt Bonnel
A scenic view over Lake Austin, plus get a little exercise hiking up the stairs. Afterward, brunch at Epicerie.
Barton Springs
It's too cold for me (the water is 67°F year-round!), but I'm putting it on the list because it's a fun Austin thing to do on a hot hot day.
Stroll down Soco
Visit the eclectic shops and have brunch at Cafe no Se.
DAY TRIP:
Magnolia Silos
If you're a fan of Chip and Joanna Gaines' show Fixer Upper, you might want to take the drive to check this spot out. It's 1.5 hours from Austin – once you get there, you can shop, have lunch on the picnic tables (the Milo food truck is our favorite, the crepe truck is really good too). Get a sweet treat and an instagram photo of at the super cute bakery before you leave.