Celebrate spring with our best asparagus recipes! Fresh, bright, and easy to make, they include pastas, risottos, salads, side dishes, and more.
I start daydreaming about asparagus recipes as soon as I notice the first signs of spring. If I see daffodils shooting up in front of a neighbor's house, I crave an asparagus frittata. If I glimpse green buds forming on a tree, I want a bowl of asparagus soup. And if the temperature rises above 60°F, I'm already at the grocery store getting the ingredients for pasta primavera. What can I say? After a long winter filled with root veggies and squash, asparagus recipes are an exciting change. They're fresh, bright, and often quick to prepare—the beginning of the easy, breezy cooking I love to do throughout the spring and summer.
In case you're not sure where to start with this green spring veggie, I've rounded up my best asparagus recipes below. They range from basics like grilled asparagus and roasted asparagus to salads, pastas, pizza, and more. Choose a few to try this season! If you ask me, there's no better way to celebrate spring.
Essential Asparagus Recipes
Think of these easy asparagus recipes as asparagus 101! They'll teach you how to prepare it simply, letting its fresh flavor and crisp-tender texture shine.
How to Cook Asparagus
If it's your first time cooking asparagus recipes, this post is a great place to start! It breaks down my go-to methods for roasting, grilling, and blanching asparagus.
Sautéed Asparagus
Simply prepared with olive oil and lemon juice, this sautéed asparagus is quick, tasty, and versatile! Serve it as a side dish, pile it onto polenta, or tuck it into an omelette.
Roasted Asparagus
Devour the crisp-tender spears straight off the baking sheet, or drizzle them with creamy dill sauce for a stunning spring side dish.
Air Fryer Asparagus
If you have an air fryer, don't sleep on this dish! It's one of my favorite asparagus recipes because the tips get deliciously browned and crisp. Plus, it calls for 5 ingredients and cooks in 10 minutes!
Grilled Asparagus
Snap off the asparagus's woody ends, toss it with some olive oil, salt, and pepper, and get it on the grill! In less than 15 minutes, it'll be juicy and lightly charred—the perfect easy side dish for a spring cookout.
Pickled Asparagus
When I have a jar of this pickled asparagus in the fridge, I can never resist pulling out a few stalks for an afternoon snack. They're crunchy, tangy, and refreshing. If I'm not eating them straight from the jar, I love tossing them into salads and adding them to spring crudité platters.
Spring Pasta Recipes with Asparagus
When I want to make a bunch of asparagus into a full meal, I often turn to pasta. It's a great canvas for bright, fresh spring flavors, and I love how its chewy, al dente texture plays off the snappy spears.
Creamy Orzo with Asparagus and Peas, page 115 of Simple Feel Good Food
You might recognize this recipe from the cover of my new cookbook, Simple Feel Good Food! To me, it's spring on a plate. Lemon zest, fresh herbs, and blanched green veggies rest on a bed of orzo pasta. The orzo has definite risotto vibes here (so creamy!), but it cooks in a fraction of the time, making this dish a great option for a spring weeknight.
Pasta Primavera
This dish is one of my go-to meals in June, when asparagus is still in season but summer tomatoes and zucchini have started popping up too. Packed with colorful veggies and garnished with basil, it's insanely fresh and flavorful. And best of all, you can have it on the table in 30 minutes flat!
Tagliatelle with Asparagus and Peas
A light cashew cream sauce coats this pea, herb, and asparagus pasta. Serve it with your favorite white wine for an elegant date night dinner.
More Asparagus Recipes for Dinner
Not feeling pasta? Make one of these asparagus recipes for dinner instead!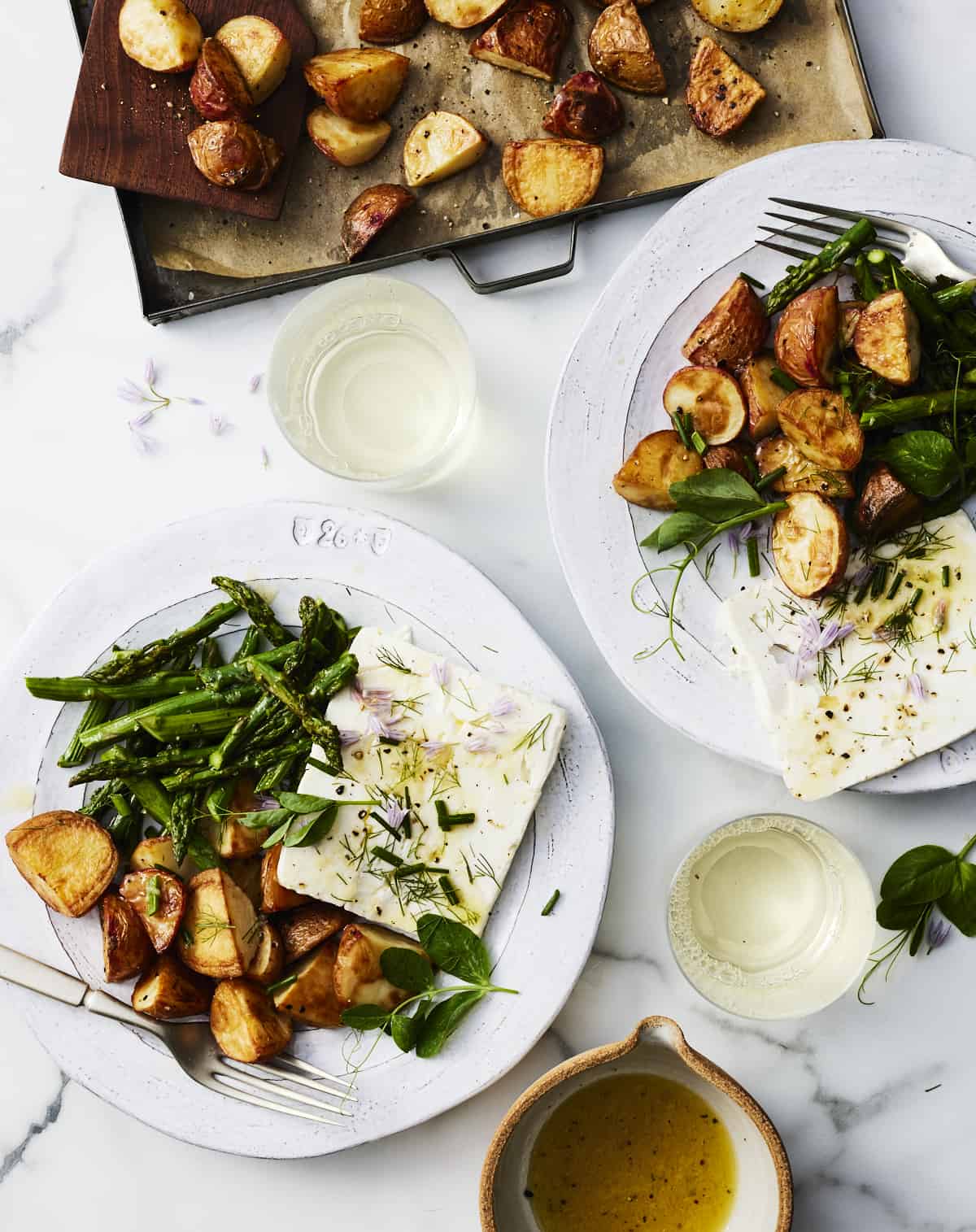 Spring Sheet Pan with Baked Feta, page 135 of Simple Feel Good Food
Who doesn't love a sheet pan dinner?! This recipe, from my new cookbook Simple Feel Good Food, is everything I want on a spring weeknight. I roast rich, tangy feta cheese alongside asparagus and potatoes. Then, I serve it all with a bright lemon dressing and a sprinkle of fresh herbs. It's so easy and so delicious!
Farmers Market Potato and Asparagus Pizza
When I have thicker asparagus spears, I often use a vegetable peeler to slice them into ribbons. They're great in salads or on toast, but I especially love them on this spring pizza. Instead of baking them on the pizza, I dress them with lemon juice and add them as a raw garnish once it's out of the oven. They offer the perfect fresh contrast to the melty cheese and hearty crust!
Asparagus Risotto
It's creamy, comforting, lemony, and bright. The more fresh herbs you pile on top, the better. I wouldn't say no to some Parmesan cheese either!
Creamy Asparagus Soup
This spring soup is deliciously creamy without any cream. Instead, the blended asparagus, potatoes, and peas create its luscious texture.
Asparagus Goes Great with Eggs
When asparagus is at its best, I want to eat it for every meal of the day, breakfast included! These egg recipes with asparagus make it easy.
How to Make A Frittata
If I'm hosting Easter or Mother's Day brunch, there's a good chance that an asparagus frittata will be on the menu. It's SO easy to make (we're talking one pan and 30 minutes), and it's always a hit!
Baked Eggs
Sautéed asparagus, peas, fresh herbs, and feta cheese elevate these delicate baked eggs.
Healthy Breakfast Casserole
This veggie-packed breakfast casserole is based on my mom's signature brunch dish. It's an easy, delicious way to serve a crowd. Bonus: leftovers keep great for breakfast or lunch (heck, even dinner!) the next day.
How to Make An Omelette
My ideal spring breakfast! Tender, fluffy eggs surround creamy avocado, goat cheese, pea shoots, and sautéed asparagus. Season to taste with salt and fresh black pepper.
Add Asparagus to Your Spring Salads
Snappy, green, and fresh, it will make any salad taste like spring.
Bright Spring Salad
There's SO much to love about this bright spring salad—tender asparagus, crispy chickpeas, creamy avocado, delicate lettuce… But my favorite part might be the pesto vinaigrette. Made with olive oil, garlic, basil, and lemon, it adds an herbaceous zing to this refreshing recipe.
Asparagus Salad
Who says you need lettuce to make a spring salad?! Here, blanched asparagus forms the salad's base, no leaves required! I top it off with radishes, feta, toasted pine nuts, and big drizzles of my creamy avocado dressing.
Farro Salad with Grilled Asparagus
Nutty farro plays off smoky grilled asparagus, briny capers, and tangy pickled radishes. A fragrant lemon-thyme dressing ties it all together.
Spring Quinoa with Asparagus, Peas, and Pickled Onions
Three fun facts about this hearty spring salad:
1) It has TWO dressings (aka tons of flavor).
2) Grated hard boiled eggs load it with protein.
3) It packs up perfectly for lunch! Weekly meal prep=solved.
Roasted Asparagus
Ingredients
1

bunch asparagus

,

woody ends trimmed

Extra-virgin olive oil,

for drizzling

Sea salt and freshly ground black pepper

Lemon wedges

,

for squeezing
Instructions
Preheat the oven to 425°F and line a baking sheet with parchment paper. Toss the spears with olive oil, season with salt and pepper, and spread them on to the baking sheet.

Bake for 12 minutes, or until the spears are lightly crisp and tender. Squeeze with lemon and serve.