This Asian slaw recipe is filled with my favorite summer ingredients - fresh herbs & peaches - and tossed in a tangy miso dressing. Perfect for picnics!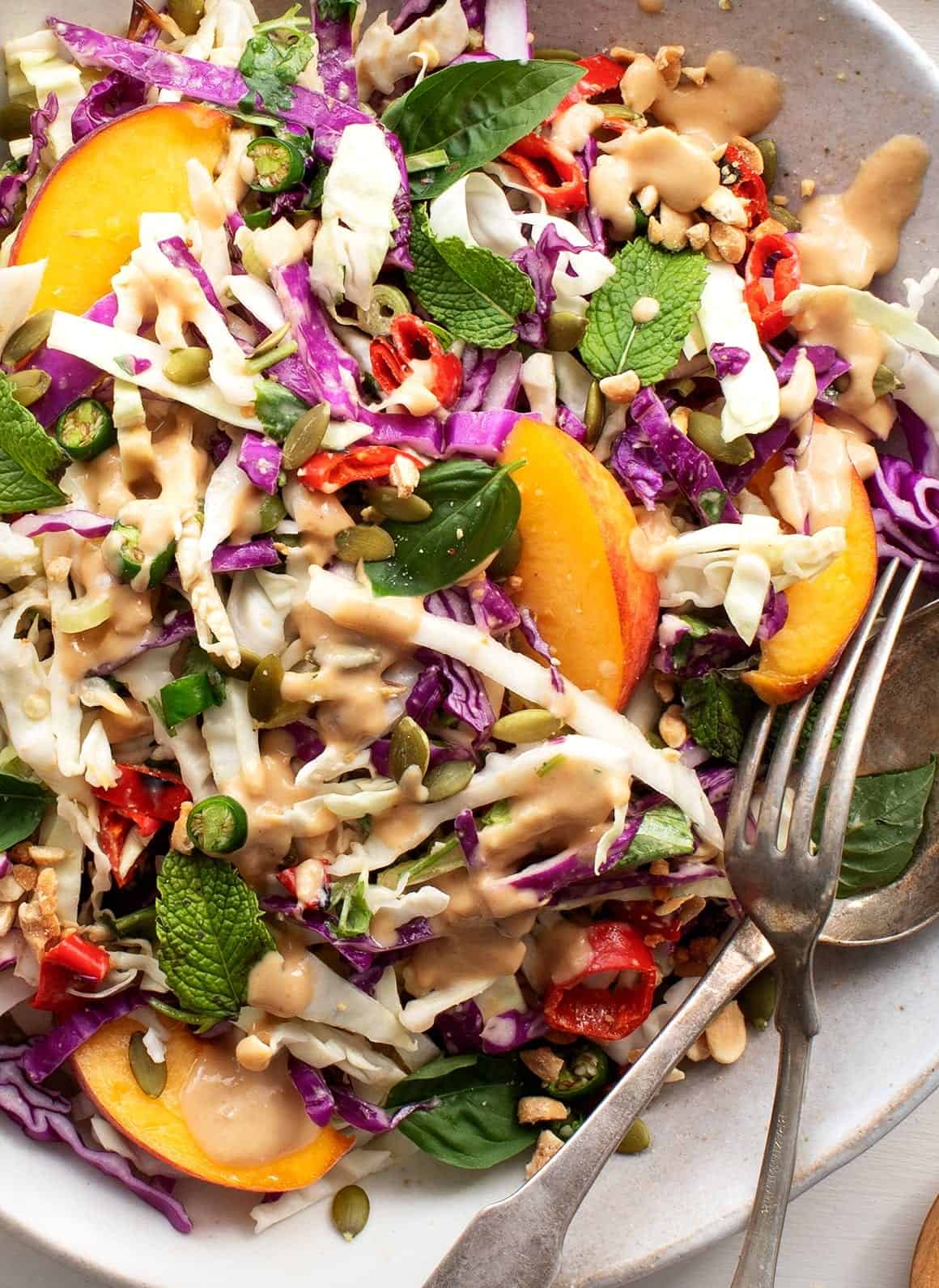 This Asian slaw recipe falls into my favorite category of food: summer salads! Colorful, juicy, crunchy, sweet, bitter, herby, spicy… there are so many flavors and textures to put together with all of the great fruits and vegetables that are in season right now. I love a good salad all year round, but the summer salad will always have my heart.
This Asian slaw recipe is a fantastic example of the summer salad's potential. It takes under 30 minutes to make, and it's jam-packed with contrasting textures and flavors. It'd be a perfect side dish for a cookout, but it's also good enough to enjoy as a meal on its own!
Asian Slaw Ingredients
This Asian slaw recipe is chock-full of fresh ingredients! Here's what you'll need to make it:
Crunchy green and red cabbage – Instead of buying a packaged coleslaw mix, I shred my own cabbage for this recipe. Using a mix of red and green cabbage makes it extra pretty, but it tastes delicious with just one variety too.
Charred peppers – I used a mix of Anaheim and banana peppers, but red bell pepper and poblano would also be nice. They add heat, extra color, and yummy charred flavor.
Green onions, cilantro, mint & basil – If you ask me, no summer salad is complete without herbs. This mix fills the slaw with fresh, surprising flavor, but if you don't have all these herbs, that's ok! Feel free to use what you have on hand. Along with the green onions, just one or two herbs would add plenty of flavor.
Peaches – They add a juicy, sweet contrast to the other savory, crisp elements.
Seeds or nuts – For crunch and toasty flavor!
A yummy ginger miso sauce ties it all together! The dressing ingredients include cashew butter, lime juice, sesame oil, miso, and fresh ginger, so it's creamy, tangy, nutty, and umami. It's so delicious that you might want to make extra sauce to have on hand for salads and grain bowls throughout the week!
Find the complete recipe with measurements below.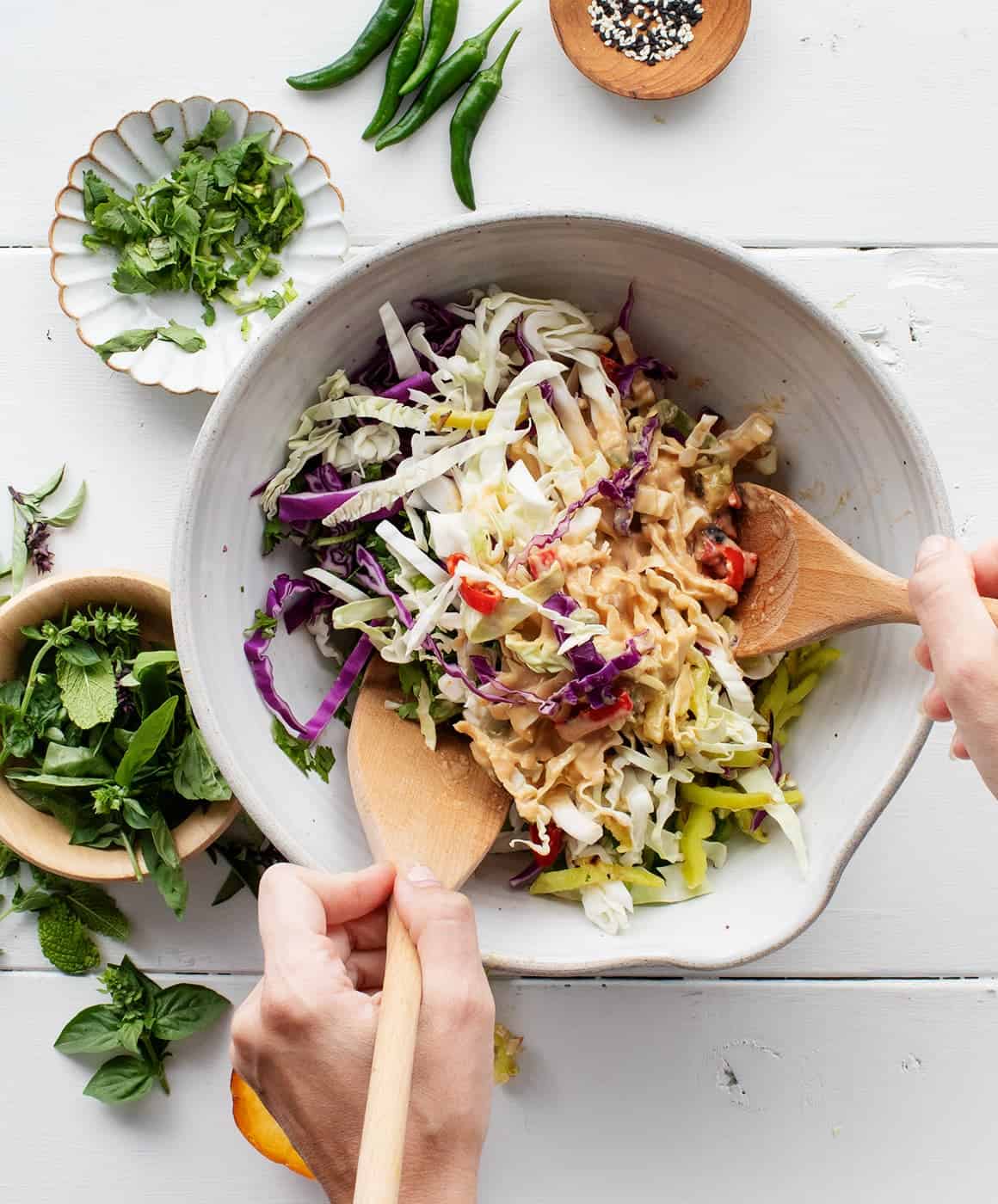 Asian Slaw Recipe Serving Suggestions
This Asian slaw keeps well if you make it ahead of time, so it's a great recipe to prep for lunch. Pair it with avocado summer rolls or peanut spring rolls, or enjoy it on its own! I often top it with baked tofu or tempeh for extra protein. See this post for more healthy lunch ideas!
With its fresh, tangy, umami flavor, this Asian slaw also makes a show-stopping cookout side dish. Serve it with whatever you're grilling, or with one of these fun cookout recipes:
Enjoy!
More Favorite Salad Recipes
If you love this Asian slaw recipe, try one of these summer salads next:
Asian Slaw
You'll love taking this Asian slaw to summer picnics or BBQs! It's easy to make ahead, so it's also one of my favorite choices for a quick weekday lunch. Vegan and gluten-free.
Ingredients
Dressing
¼ cup cashew or peanut butter
2 tablespoons white miso paste
2 tablespoons lime juice
1 teaspoon sesame oil
1 teaspoon grated ginger
2 to 5 tablespoons water, or as needed
For the slaw:
6 to 7 cups shredded red and/or green cabbage
Mix of peppers: I used 3 Anaheim and 3 banana peppers; or use 1 red bell and 1 poblano.
2 scallions, chopped
½ cup chopped cilantro, including stems
½ cup fresh basil, Thai basil, and/or mint
2 Thai chiles or 1 serrano pepper, diced
Sea salt
¼ cup toasted peanuts, pepitas, and/or sesame seeds
1 ripe peach, thinly sliced
Instructions
Make the dressing: In a small bowl, whisk together the cashew butter, miso paste, lime juice, sesame oil, and ginger. Whisk in enough water to create a drizzable consistency. Set aside.
In a dry cast-iron skillet over medium heat, char the peppers whole, rotating until the edges have a little char, about 2 minutes per side. Remove. When cool to the touch, slice in half lengthwise, remove the stem, ribbing, and seeds and slice horizontally into thin strips.
In a large bowl, combine the cabbage, peppers, scallions, cilantro, basil, chiles, and ¾ of the dressing. Toss until combined. Add the remaining dressing, if desired, and season to taste with a few pinches of sea salt. Serve topped with the toasted nuts, seeds, and sliced peaches.