This yummy Asian slaw is filled with my favorite summer ingredients - fresh herbs & peaches - and tossed in a yummy miso dressing. Perfect for picnics!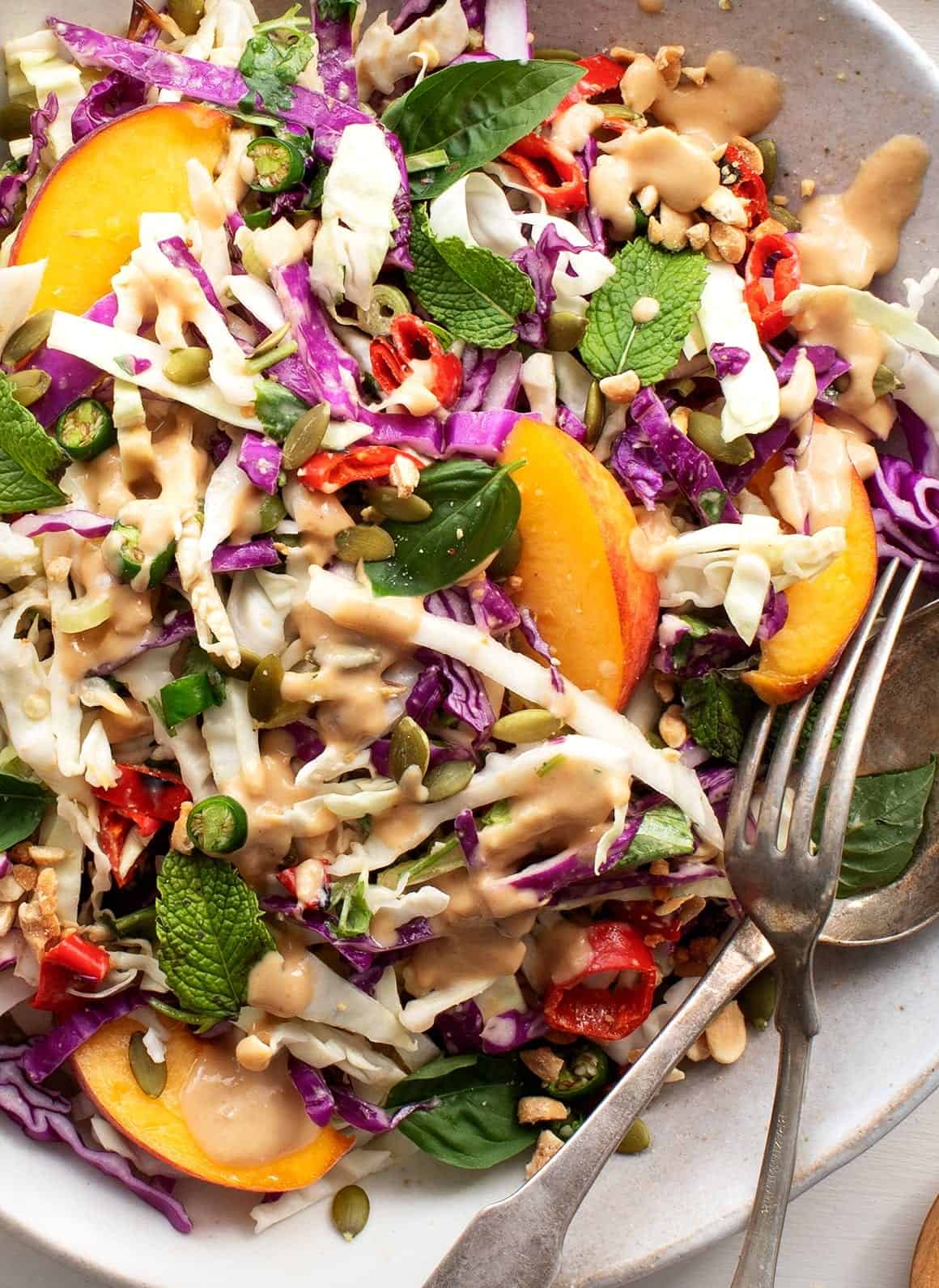 My favorite category of food is definitely…. summer salads!
Colorful, juicy, crunchy, sweet, bitter, herby, spicy… there are so many flavors and textures to put together with all of the great fruits and vegetables that are in season right now. I love a good salad all year round, but the summer salad will always have my heart.
This one is a nice easygoing Asian slaw – pack it up for lunch, take it to a picnic, bring it to a BBQ… it tastes just as great on the second day as it does the day it was made. So flexible.
Asian Slaw Recipe Ingredients
Here's what's in this yummy slaw recipe:
Crunchy green and red cabbage – I use two colors to make this cabbage slaw extra pretty!
Charred peppers add heat, extra color, and yummy charred flavor.
Scallions, cilantro, mint & basil make it nice & fresh.
Peaches add juicy sweetness.
Seeds or nuts make for pops of toasty flavor and crunch.
And a yummy ginger miso sauce ties everything together with delicious umami flavor.
The Asian slaw dressing is a nutty/tangy ginger miso sauce that's made with cashew butter, lime juice, and a little sesame oil. Use it to douse the crunchy vegetables, and toss!
It's so delicious that you might want to make extra sauce to have on hand for salads and grain bowls throughout the week.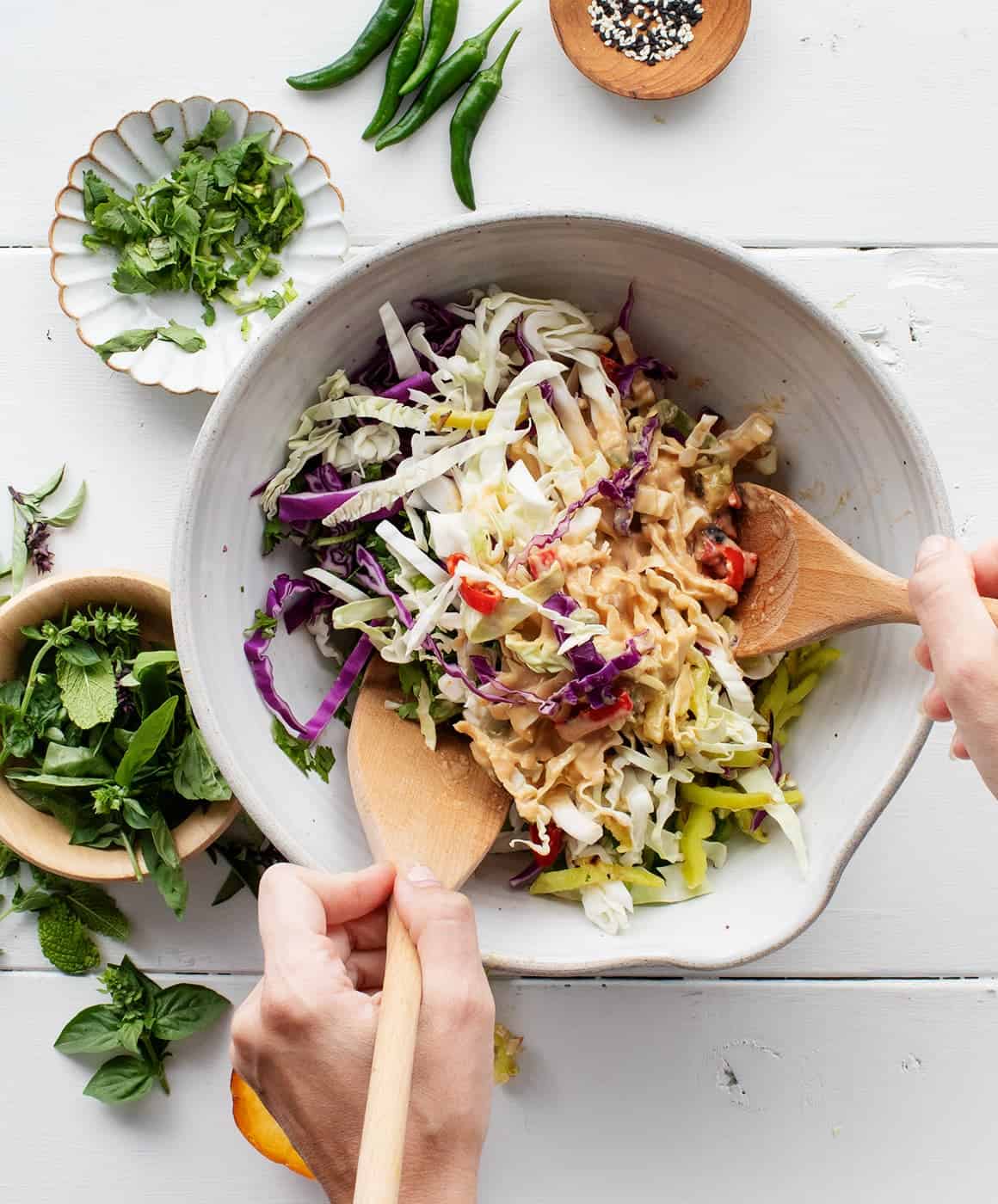 We have a TON of basil and mint growing on our patio, so I added a very liberal amount of herbs here, which makes this salad taste really fresh. We also have a flourishing little Thai chili plant, so I added those for spice. And for a pop of sweetness – peaches!
I hope you make this over the weekend! Let me know!
If you love this Asian slaw recipe…
Make this vegan pasta salad, this watermelon salad, or this couscous salad next!
Summer Asian Slaw
You'll love taking this Asian slaw to summer picnics or BBQs! It's easy to make ahead, so it's also one of my favorite choices for a quick weekday lunch.
Ingredients
Dressing
¼ cup cashew or peanut butter
2 tablespoons white miso paste
2 tablespoons lime juice
1 teaspoon sesame oil
1 teaspoon grated ginger
2 to 5 tablespoons water, or as needed
For the slaw:
6 to 7 cups shredded red and/or green cabbage
Mix of peppers: I used 3 Anaheim and 3 banana peppers; or use 1 red bell and 1 poblano.
2 scallions, chopped
½ cup chopped cilantro, including stems
½ cup fresh basil, Thai basil, and/or mint
2 Thai chiles or 1 serrano pepper, diced
Sea salt
¼ cup toasted peanuts, pepitas, and/or sesame seeds
1 ripe peach, thinly sliced
Instructions
Make the dressing: In a small bowl, whisk together the cashew butter, miso paste, lime juice, sesame oil, and ginger. Whisk in enough water to create a drizzable consistency. Set aside.
In a dry cast-iron skillet over medium heat, char the peppers whole, rotating until the edges have a little char, about 2 minutes per side. Remove. When cool to the touch, slice in half lengthwise, remove the stem, ribbing, and seeds and slice horizontally into thin strips.
In a large bowl, combine the cabbage, peppers, scallions, cilantro, basil, chiles, and ¾ of the dressing. Toss until combined. Add the remaining dressing, if desired, and season to taste with a few pinches of sea salt. Serve topped with the toasted nuts, seeds, and sliced peaches.