This thick, custardy baked apple pancake takes me straight back to my childhood. Dust it with powdered sugar for a sweet finishing touch & dig in!
My sister and I used to beg my mom for things like Fruity Pebbles and Frosted Flakes. She didn't cave often, but I remember the few times she did… she'd sigh and say, "If I buy this, are you really going to eat it this time?" We'd smile and nod, excited to be taking home the same colorful boxes our friends had.
We'd each eat maybe one bowl full. Then up in the pantry it would go… to collect dust and then ultimately get tossed in the next pantry clean-out. The smiling kids on Saturday morning commercials would convince us to beg again… and we'd try SO hard to like the stuff. But sugary soggy flakes and blue milk were not for us.
Especially when homemade muffins, pancakes, eggs, doughnuts, and this German(ish) apple pancake were all part of our regular breakfast rotation.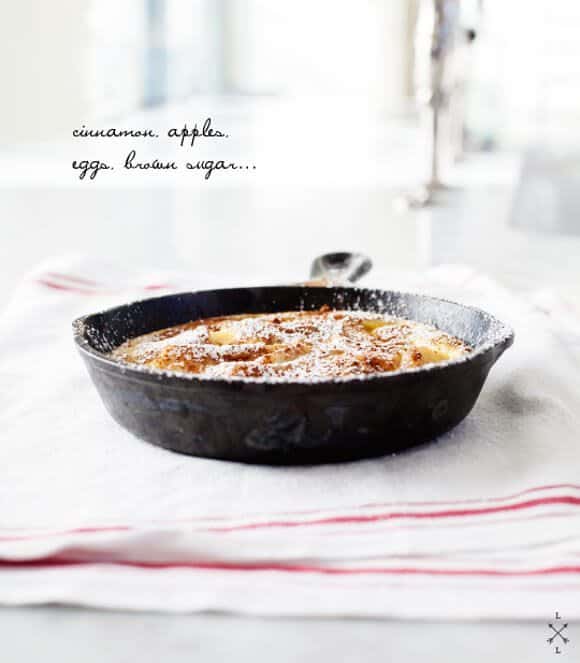 This was a staple of our childhood, and my mom still makes it every time she visits.
Apples, brown sugar, and cinnamon get softened in a pan with butter, and an egg mixture gets poured on top. The thin egg layer and pillowy apples create more of a custard-like texture than a traditional doughy pancake.
Bake until it puffs up and serve hot slices right out of the pan.
For more brunch ideas, try these vegan banana pancakes, this shakshuka, or this frittata!
(The photo above is of a 5-inch mini skillet, but the recipe makes enough to fill approx a 12 or 13-inch skillet. Use either a seasoned cast iron skillet, or a non-stick pan).

Apple Pancake
This heavenly apple pancake is perfect for a weekend brunch. Unlike a typical pancake, it has a rich, custardy texture that's delicious with powdered sugar on top.
Recipe type:
Breakfast, brunch
Ingredients
2 tablespoons butter (or vegan earth balance)
3 apples, peeled, cored and sliced
¼ cup brown sugar
½ teaspoon cinnamon
3 large eggs
½ cup almond milk (or regular milk)
2 tablespoons flour (any kind: white, wheat, spelt*, or a gluten-free blend)
¼ teaspoon baking powder
Powdered sugar, for dusting (optional)
Instructions
Preheat oven to 375.
Combine brown sugar and cinnamon.
Whisk together eggs and milk.
Mix together flour and baking powder and stir it into the egg/milk mixture.
In a skillet, heat butter, add the apple slices and 1 tablespoon of the brown sugar mixture and cook, stirring, until soft. About 5 minutes.
Pour the batter over the apples and sprinkle the remaining brown sugar on top.
Bake until it puffs up, about 18-20 minutes.
Dust with a little powdered sugar.
Notes
*note: Spelt flour is not gluten-free.