These apple cookies are perfect for fall! Packed with apples, oats, walnuts, cinnamon, and raisins, they're a healthy, cozy autumn treat.
Now that we've moved back to Chicago and are experiencing fall to its fullest, I have all sorts of fall activities I want to do. #1 was fall baking, so this weekend I made these cozy apple cookies. Packed with oats, raisins, apples, and walnuts, they're basically fall in a cookie 🙂
Another thing that's at the top of my fall bucket list: apple picking. As I made these apple oatmeal cookies, I thought back to my apple picking trips as a kid.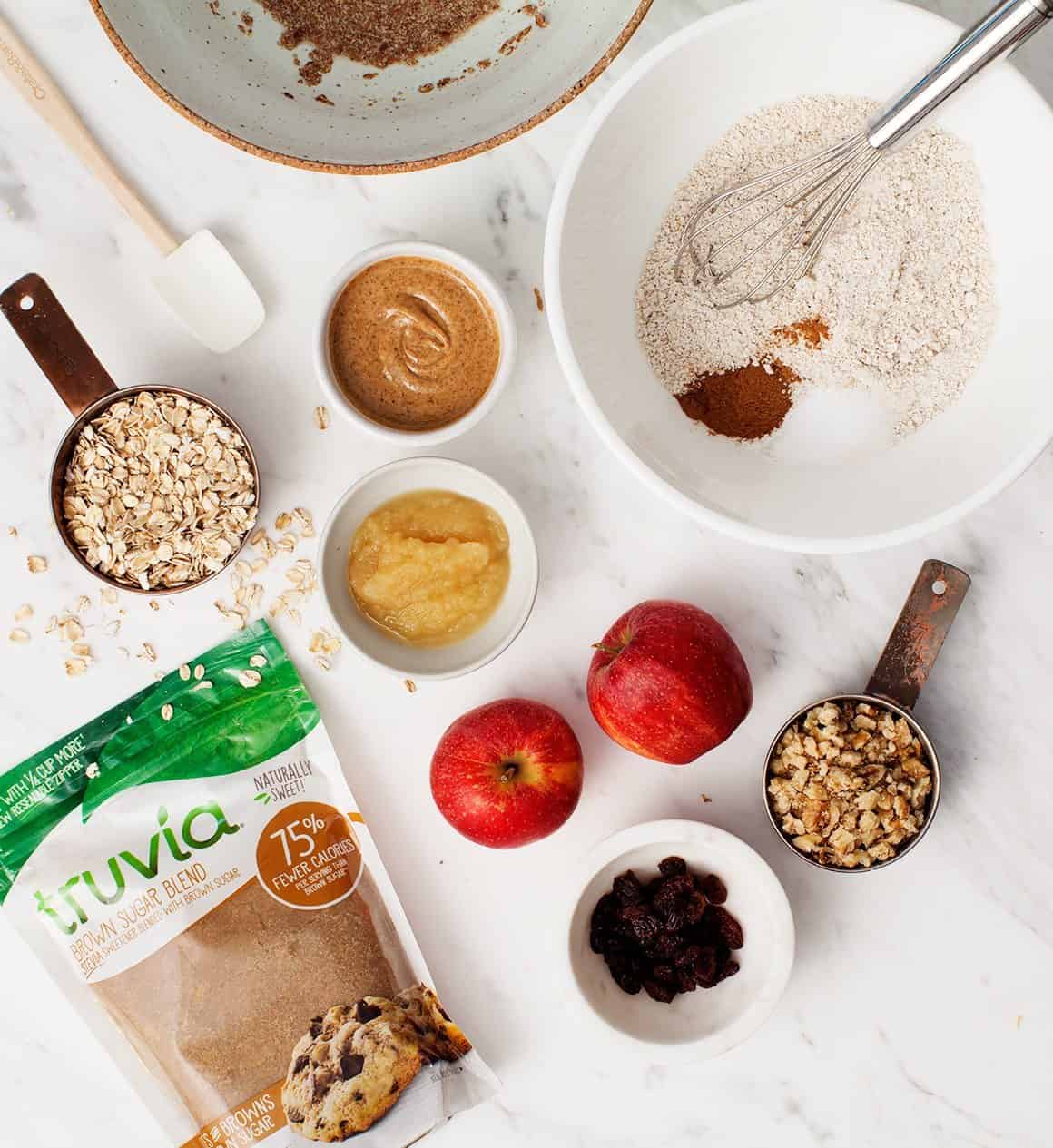 Growing up, one of my absolute favorite fall activities was our family's annual apple picking trip. We'd all pile into station wagons and drive to a nearby orchard for the day. Joining us were grandparents, cousins, aunts, uncles… the whole family! Afterward, we'd go back to someone's house and order pizzas (this is Chicago, after all) while the moms made apple pies. After that, we'd have bushels of apples (and pies!) for weeks.
I realize that this story should end with apple pie, but it ends with the next best thing – apple cookies! These cookies are on the healthy side. Made with oat flour & flax, they're both vegan and gluten-free. They're also low in sugar, thanks to Truvia's Brown Sugar Blend. I get SO MANY requests for lower sugar stevia-based recipes, so I'm happy to share this recipe for apple cookies in partnership with Truvia.
Healthy Apple Oatmeal Cookies Ingredients
To make these healthy apple oatmeal cookies, I use a mix of unprocessed, whole foods ingredients. Here's what makes them so good (and good for you):
Flax adds fiber & omega-3s, and it acts as a binder, so these cookies are egg-free.
Oat flour makes them delightfully soft and puffy – no gluten necessary!
Creamy almond butter adds moisture and richness, so only 1/4 cup coconut oil is required here!
Whole oats fill these with fiber, nutty flavor, and chewy oatmeal cookie texture.
Cinnamon adds cozy, spiced fall flavor.
Brown sugar gives them a lovely, caramelized sweetness. You'll only need 1/2 cup!
Applesauce acts as a healthy substitute for some oil and sugar. And you can't go wrong with applesauce in apple cookies!
Raisins dot them with little pockets of sweetness.
Walnuts give these some crunch and make them rich & nutty.
And diced apple adds crisp, juicy notes.
Stir together the dry ingredients, mix together the wet ingredients, combine the two, and fold in your mix-ins. Then, you're ready to bake!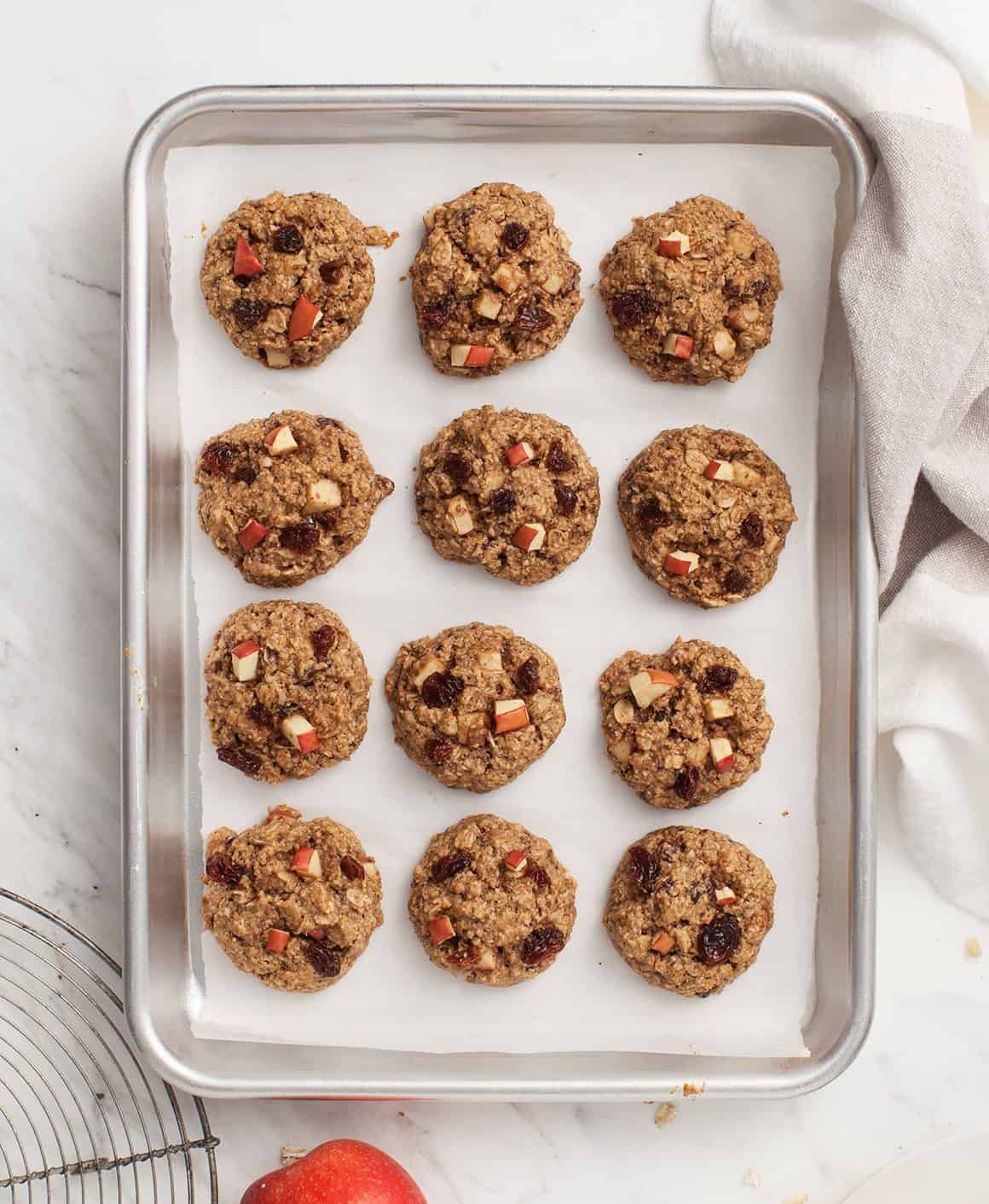 Customize Your Apple Cookies!
As written, this recipe is wonderful – the perfect hybrid between an apple cinnamon muffin and an oatmeal raisin cookie. If you feel like putting your personal twist on them, though, don't hold back! Here are some ideas to change them up:
Skip the raisins. Use dried tart cherries or cranberries instead!
Spice it up! In addition to the cinnamon, add a dash of nutmeg, cardamom, ginger, or pumpkin or apple pie spice to your dough.
Try another nut. Chopped pecans or almonds would be equally at home here.
Go full-on oatmeal raisin. Nix the apple, and up the raisin measurement to 1/2 cup.
Or oatmeal chocolate chip 🙂 Instead of diced apples, stir in 1/2 cup chocolate chips.
Happy baking!
If you love these apple cookies…
Try these Pumpkin Oatmeal Chocolate Chip Cookies or these Carrot Quinoa Oatmeal Breakfast Cookies next!
Apple Oatmeal Cookies
These apple cookies are soft - they're more similar to these
Carrot Breakfast Cookies
or a yummy muffin top than to a classic flat & crisp/chewy cookie. Great for an afternoon snack, dessert, or lunch box treat!
Ingredients
2 tablespoons ground flaxseed + 4 tablespoons warm water
1½ cups oat flour, blended from 2 cups whole rolled oats*
1 teaspoon baking soda
1 teaspoon cinnamon
½ teaspoon sea salt
½ cup very creamy almond butter
¼ cup melted coconut oil
¼ cup applesauce
1 teaspoon vanilla extract
½ cup Truvia Brown Sugar Blend or regular brown sugar
1 cup whole rolled oats
¾ cup finely chopped apple
½ cup chopped walnuts
¼ cup raisins
Instructions
Preheat the oven to 350°F and line a large baking sheet with parchment paper.
In a small bowl, combine the flaxseed and water. Stir and set aside to thicken for about 5 minutes.
In a large bowl, stir together the oat flour, baking soda, cinnamon, and salt.
In a medium bowl, combine the almond butter, coconut oil, applesauce, vanilla, and brown sugar. Add the thickened flaxseed mixture and stir well.
Stir the whole rolled oats, apples, walnuts, and raisins into the bowl of dry ingredients. Add the wet ingredients to the dry ingredients and stir well to combine. The batter will be thick and sticky.
Drop rounded tablespoons onto the baking sheet and press down slightly. Bake for 12 to 15 minutes, until the bottoms are nicely browned. (Note: do not under-bake or your cookies will be more likely to fall apart). Remove from the oven and let the cookies cool on the baking sheet for 5 minutes before cooling completely on a wire rack.
Notes
Note:
*Make your own oat flour by blending (in a food processor) whole rolled oats into a fine flour.
This post is in partnership with
Truvia
, thank you for supporting the sponsors that keep us cooking!