This apple crumble recipe is easier than pie, but it's just as delicious. An oat-y, nutty topping covers a thick layer of warmly spiced fall apples.
Fall might technically begin on September 22, but in our house, it never really arrives until I make this apple crumble recipe. Of all the apple desserts out there, it's the one I come back to every year. An oat-y, nutty crumble topping covers a thick layer of warmly spiced fall apples. It's eons easier than pie, and for my money, it's just as good.
So if you have a surplus of apples from a trip to an orchard, a farmers market, or the store, I hope you try this apple crumble recipe! It takes just over 30 minutes to make, it calls for basic ingredients that you likely have on hand already, and it tastes amazing. The crumbly topping offers a delicious crisp contrast to the tender, juicy apples, and warm flavor from spices like cinnamon, nutmeg, and ginger fills every bite. Finished with a big scoop of vanilla ice cream, it's the perfect fall dessert.
Apple Crumble Recipe Ingredients
This apple crumble recipe has the all sweet, decadent flavor you want in a fall dessert, but it's actually fairly healthy. For starters, I go light on the sugar, letting the flavorful apples supply much of the sweetness on their own. And instead of relying on butter and flour to create the crumble topping, I use this combination of wholesome ingredients:
All-purpose flour and almond flour – The almond flour adds extra richness to the topping, while the all-purpose flour keeps it light and crisp.
Whole rolled oats – Because to me, nothing says fall like oats, nuts, and apples.
Walnuts – For crunch! I also love their rich, nutty flavor after they toast in the oven.
Brown sugar – For sweetness.
Cinnamon – It gives the topping a warm, spiced flavor.
Melted coconut oil – It adds richness and moisture to the topping, and it makes this recipe totally vegan and dairy-free!
And sea salt – To make all the flavors pop!
Find the complete recipe with measurements below.
So you know what's in the crumble topping…let's talk about the apple filling! Here's what you'll need to make it:
Apples! Make sure you peel them before you start to cook. Though I'm usually all for leaving fruits and veggies un-peeled, I find that this apple crumble recipe has the best texture when it's made with peeled apples.
Cinnamon, nutmeg, and ginger – They fill the tender apples with warm, spiced flavor.
Apple cider vinegar – For pop! It offsets the sweetness of the apples and topping, giving this apple crumble a delicious balance of sweet and tart flavors.
And sea salt – Don't skip it! It highlights the rich, nutty, sweet, and spiced flavors in this recipe.
Again, see below for the complete recipe.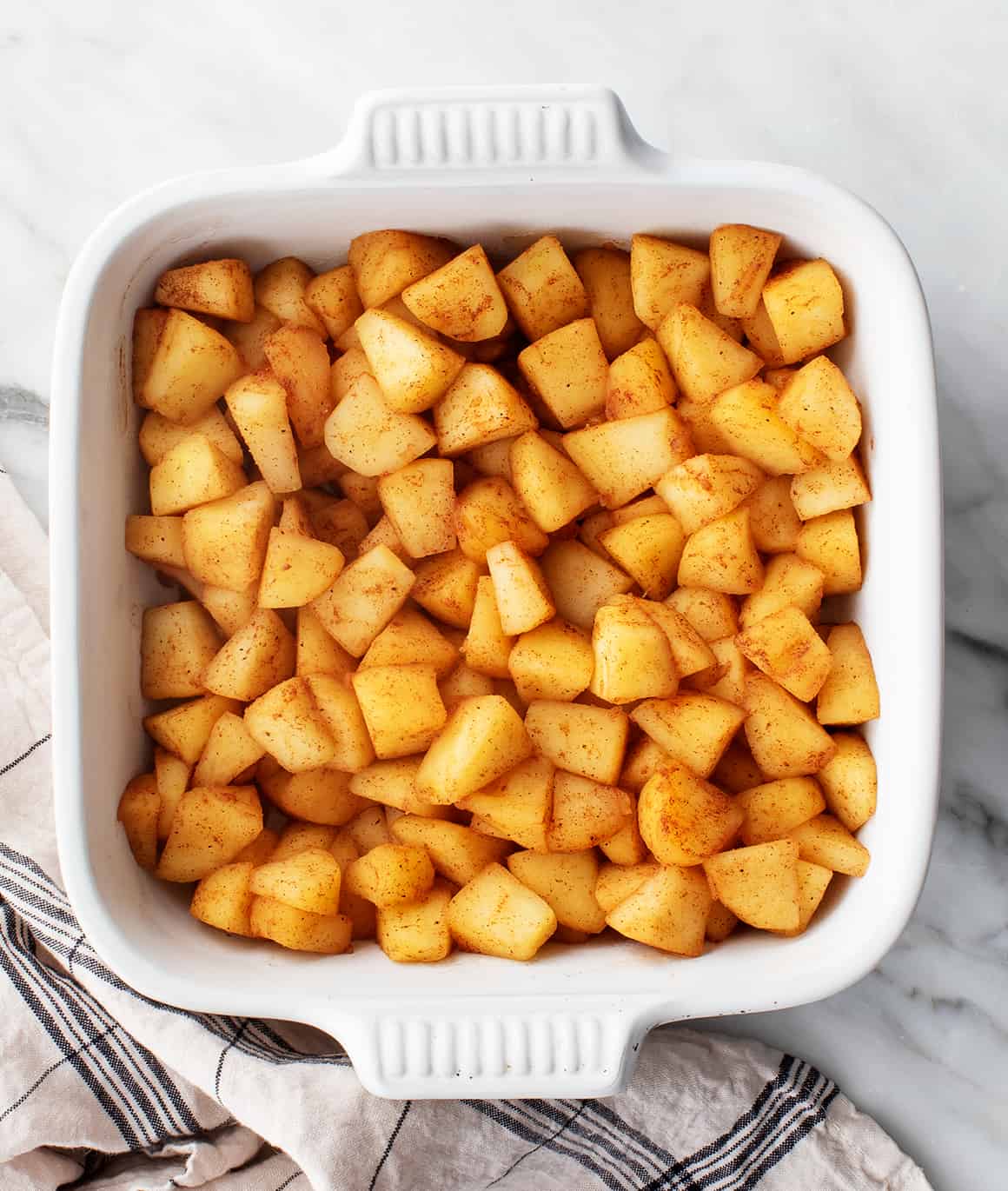 How to Make Apple Crumble
Ready to bake? Here's what you need to do:
First, cook the apples. In this recipe, I cook the apples on the stove before they bake. That way, they become completely tender in the time it takes for the topping to turn golden brown in the oven. Add the diced, peeled apples, vinegar, and 2 tablespoons water to a medium saucepan over low heat, and cook, covered, for about 15 minutes, or until the apples are tender. Stir them fairly often – you don't want them to burn! Then, mix in the spices, and turn off the heat.
Meanwhile, make the topping. In a food processor, pulse together the flours, oats, brown sugar, cinnamon, walnuts, coconut oil, and salt. If needed, add up to a teaspoon of water to help the mixture start to crumble and form clumps.
Finally, assemble and bake! Scoop the apple filling into a greased 8×8 baking dish, and sprinkle it with the crumble. Bake at 400° for 18-22 minutes, or until the topping is golden brown and crisp. Enjoy!
Best Apple Crumble Recipe Tips
Choose good baking apples. Different apple varieties are good for different things – snacking, salads, turning into sauce. For this recipe, you'll need excellent baking apples. They should have a firm texture and hold their shape when cooked. Some of my favorite types of apples for baking include Honeycrisp, Gala, Pink Lady, and Granny Smith apples. Choose just one, or use a mix!
If the topping's not coming together, add a little water at a time until it does. The crumble topping here is, well, crumbly, but it should still clump together when pinched. If it's too powdery after you pulse it together, add water, 1/2 teaspoon at a time, until it's slightly moist and small clumps begin to form. Careful, though. Don't add too much water, or the crumble will quickly form a wet, sticky paste.
Don't forget the vanilla ice cream. You could easily enjoy a bowl (or two) of this easy apple crumble on its own, but it's even better with vanilla ice cream on top! I love the way the rich ice cream contrasts with the sweet, nutty crumble and juicy fruit. If ice cream's not your thing, you can still pair this apple crumble recipe with a creamy topping. Regular whipped cream or coconut whipped cream would both be fantastic.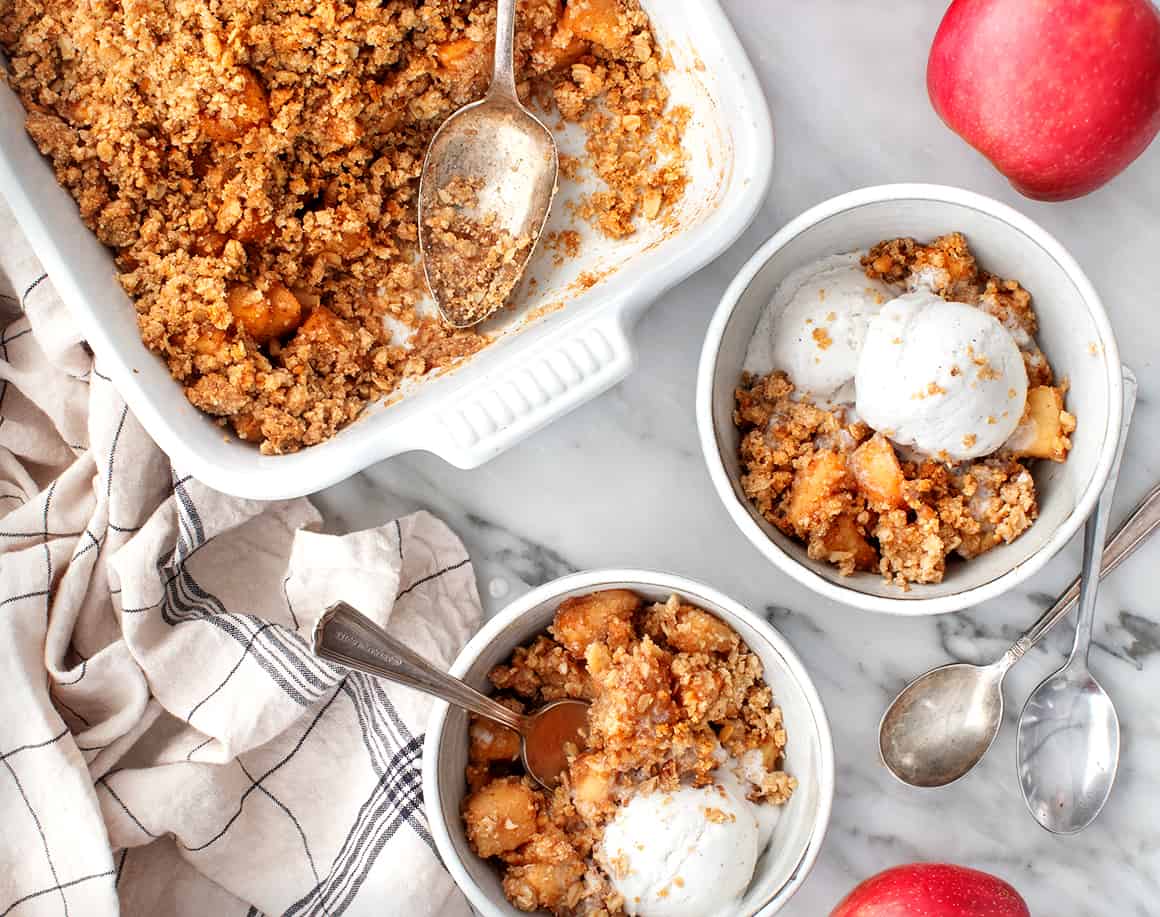 More Favorite Fall Desserts
If you love this easy apple crumble recipe, try one of these delicious fall desserts next:
For even more fun baking recipes, check out this post!
Apple Crumble
This apple crumble recipe is easier than pie, and it's just as delicious. Made with an oat-y, nutty crumble topping and tender spiced apples, it's the ultimate fall dessert!
Ingredients
Spiced apple filling
5

apples

,

peeled and cut into 1-inch pieces

1

tablespoon

apple cider vinegar

2

tablespoons

water

1

teaspoon

cinnamon

¼

teaspoon

ground ginger

¼

teaspoon

nutmeg

Pinch

of sea salt
Topping
½

cup

almond flour

⅓

cup

all-purpose flour

⅓

cup

whole rolled oats

⅓

cup

crushed walnuts

⅓

cup

brown sugar or coconut sugar

⅓

cup

melted coconut oil

½

teaspoon

cinnamon

Heaping ¼ teaspoon sea salt

1

teaspoon

water

,

if needed
Instructions
Preheat the oven to 400°F and grease an 8x8-inch baking dish.

Make the filling: Combine the apples, apple cider vinegar, and water in a saucepan and simmer over very low heat, covered, stirring occasionally (making sure the apples don't burn on the bottom of the pan) for 15 minutes. Uncover, stir, and add the cinnamon, ginger, nutmeg, and salt and stir again. The apples should be tender, and the juices should be thick.

Make the topping: In a food processor, place the flours, oats, walnuts, sugar, coconut oil, cinnamon, and salt and pulse until crumbly. Add the water if needed.

Scoop the apple filling into the baking dish and sprinkle with the topping. Bake for 18 to 22 minutes or until lightly crisp on top.