A simple make-ahead breakfast. Overnight oats are so healthy and energizing - I love this fall/winter version with apples and granola! Vegan
It's December! How did that happen already? With the holidays quickly approaching, you're busy (and I'm busy!)… all the more reason to have a super quick energizing breakfast ready to go in the morning. This recipe takes less than 5 minutes to put together at night and it's ready in the morning.
Admittedly, I was late to the overnight oat craze, but I'm pretty obsessed now. What I love is that they're creamy without being gummy and the flavor combos are endless! I love this version with blueberry jam that I made in the summertime – this fall/winter apple version is just as delicious but totally different. It's just oats, almond milk, diced apples with a little lemon, and your favorite granola. It's amazing how something so simple can be so satisfying.
I've been keeping these stocked in my fridge (they last up to about 3 days) for both myself and Jack. This recipe was inspired by one from the Quaker Oats website where there are lots of fun ideas for overnight oat combinations. And for even more ideas for using oats, check out this post with overnight oats, many ways, my favorite steel-cut oatmeal, or savory porridge!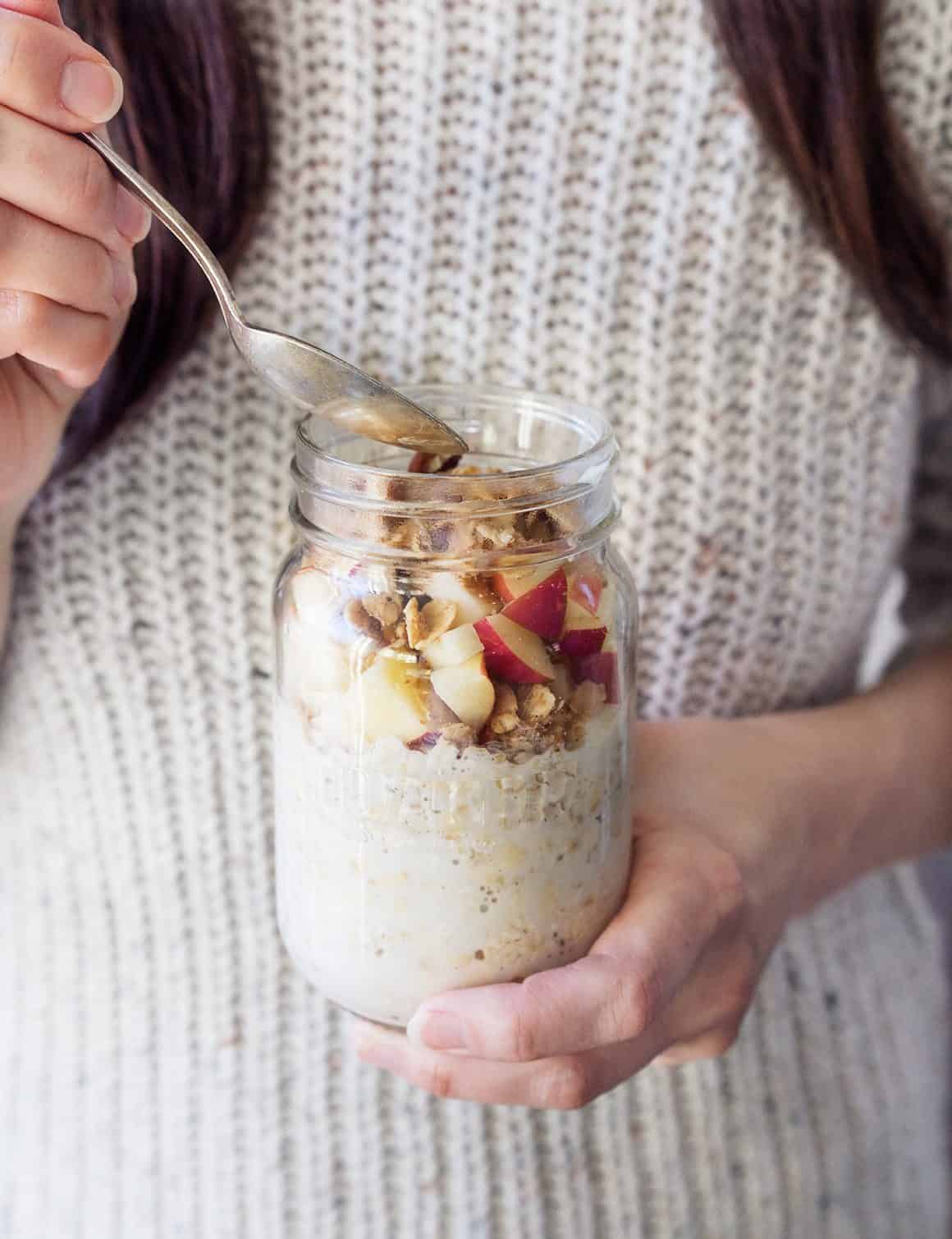 Speaking of holiday craziness, this weekend we got the chance to get a head start on our holiday shopping at the Renegade Craft Fair in Chicago at the Bridgeport Arts Center. Since moving back here, we've been enjoying exploring everything that Chicago has to offer, but we especially loved this event because it had a very art-y Austin-y vibe :). There was sunshine, beautiful goods, creative craftspeople, and even a few food trucks.
Our friends at Quaker Oats had a booth at the event and asked us to stop by. The place was PACKED, so it was a nice place to take a break (and get some more overnight oats…)
The booth was great – for starters, you can get your name etched on your very own overnight oat jar. Since this is a craft fair, they also have an area for kids to decorate their jar. There are stickers and glue sticks, and, well, I have to admit I spent quite awhile decorating my own jar  – if I'm gonna do something, I'm gonna do it right! It's fun, free, crafty, and like I said, a great snack stop! (Pictured above: me rolling oats)
Of course, I nabbed some pretty ceramic plates before we left. Such a great day!
Apple Cinnamon Crunch Overnight Oats
I love this Apple Cinnamon Crunch Overnight Oat recipe for a simple breakfast in fall. Feel free to use your favorite seasonal fruit in place of the apples for a healthy breakfast all year round.
Ingredients
½ cup almond milk
½ cup diced apple
a small squeeze of lemon (to keep the apples fresh overnight)
⅛ teaspoon cinnamon
1 tablespoon granola (I made one similar to this recipe)
1 teaspoon honey (sub maple syrup if vegan)
Instructions
Combine the oats and almond milk in a jar. Toss the apple with a little bit of lemon juice and add it to the jar with a sprinkle of cinnamon. Chill overnight.
In the morning, top with granola and a drizzle of honey or maple syrup.
This post is in partnership with Quaker – all opinions are our own – we love oats and we had an especially fun time at the Renegade Craft Fair!