These easy appetizers will be a hit at your next party! They include delicious dips, fun finger foods, and other crowd-pleasing snacks that guests will love.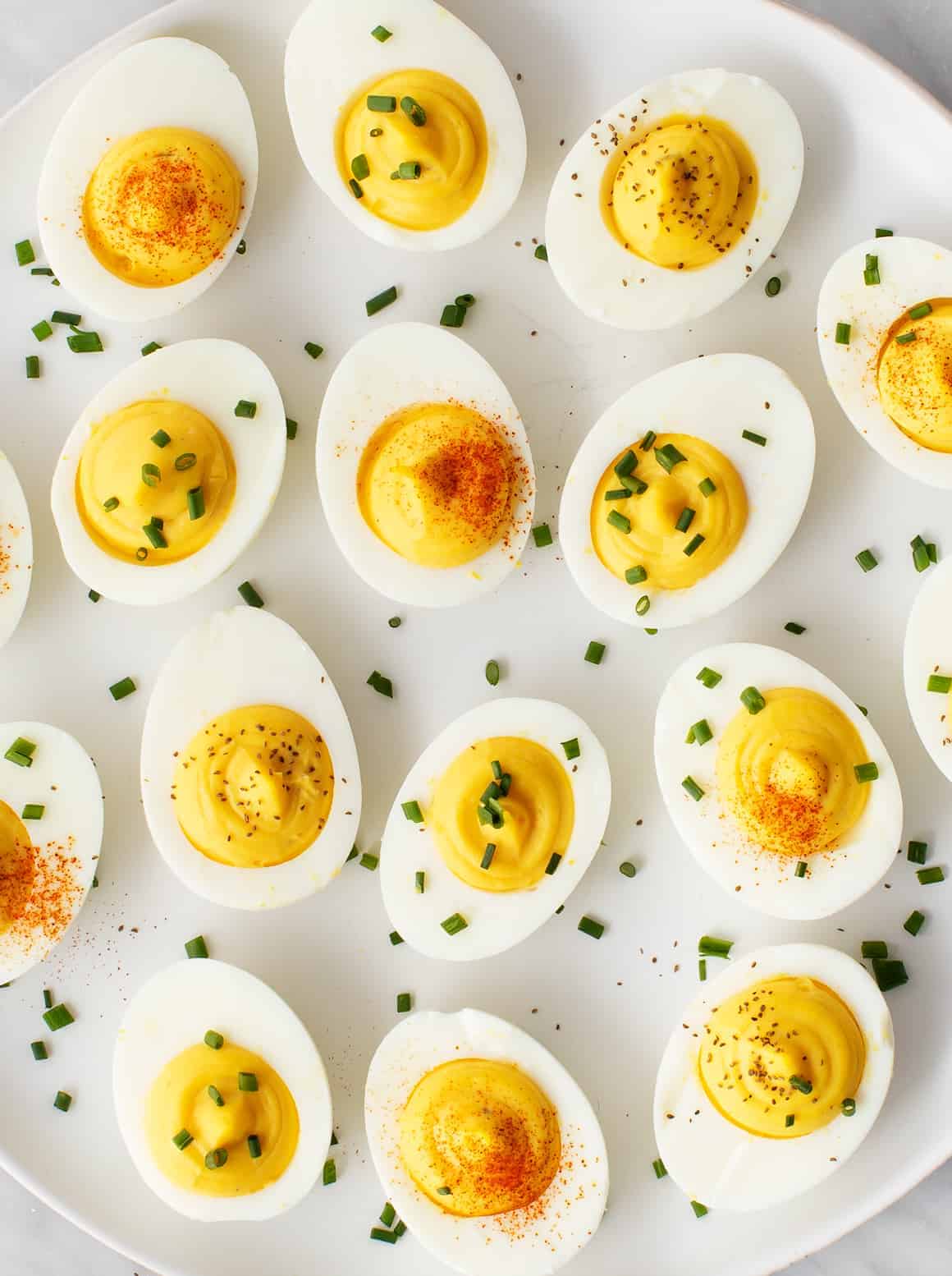 All our best appetizers, all in one place! If you're hosting a party this week or looking for a dish to bring to one, I promise—these easy appetizer recipes will not disappoint. They range from indulgent dips to bite-sized finger foods, gorgeous snack boards, and baked treats. These appetizers are the nibbles and bites that I love to serve whenever I'm entertaining because they're simple to make (and often make ahead) and easy to serve (bonus points if you don't need utensils!). But most importantly, they're fun and delicious. They keep the prep straightforward for you while delivering big, bold flavors for guests. We love them, and I hope you will too!
Easy Bite-Sized Appetizers
These finger foods pack bold flavor into a few small bites.
This veggie riff on buffalo chicken wings is super easy to make in the oven. Doused in homemade buffalo sauce, these cauliflower bites are tangy, spicy, and crisp around the edges. We love them with vegan ranch for dipping.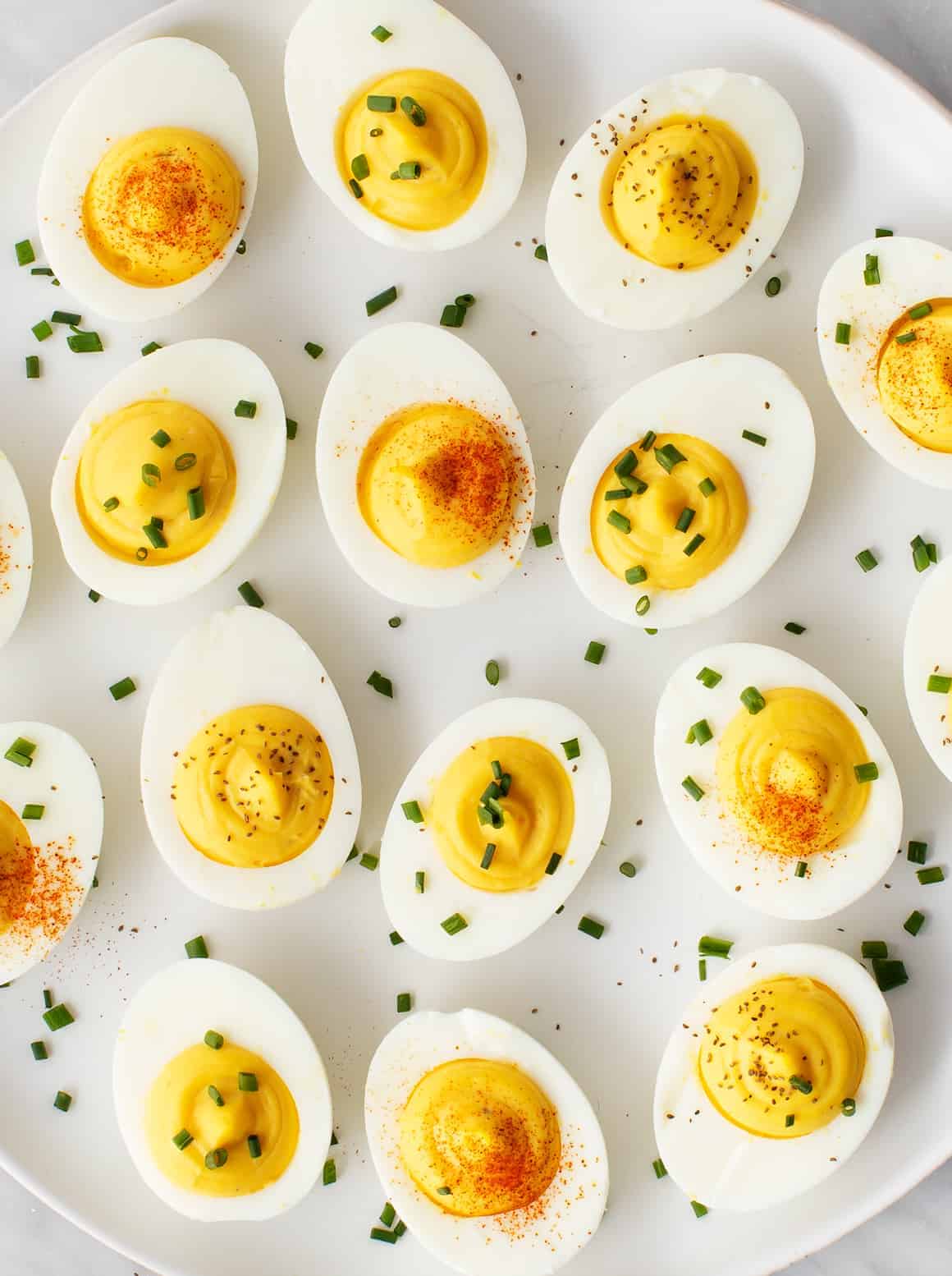 Garnish them with chopped chives, pinches of celery seed, and/or a dusting of smoked paprika for an extra-fun and festive look.
Jack and I love these bite-sized party appetizers so much that we could polish off a whole batch on our own! The flavorful filling is a simple combination of panko bread crumbs, pine nuts, parsley, sun-dried tomatoes, and cheese.
This recipe calls for a Greek yogurt filling instead of a traditional cream cheese one. While it's lighter than most, it's every bit as delicious!
A finger-friendly version of a classic Caprese salad. Drizzle them with this easy balsamic reduction for a pop of sweet and tangy flavor.
More Finger Food Party Appetizers
These unique appetizer ideas range from crispy taquitos to Italian bruschetta.
Your guests will flip for these baked taquitos! The crispy tortilla shells surround a gooey, melty filling of meaty jackfruit, cheese, and refried beans.
Pair these shiitake and kimchi dumplings with a simple tamari dipping sauce, and they'll disappear in no time.
Stuffed with noodles, herbs, and veggies, these fresh appetizers are always a hit. Serve with peanut sauce for dipping!
Set out the tangy tomato topping in a bowl with slices of grilled bread alongside it, and let guests assemble their own toasts.
Platters and Boards that Feed A Crowd
If you like appetizers that deliver on both appearance and flavor, then this category is for you. These platters and boards look stunning, and they're piled high with tasty snacks!
A cheese board is one of my favorite appetizer ideas because it's SO simple to put together, but guests always love it. Making a great one is easy. Just set out a few cheeses with seasonal fruit, honey or jam, and little bites like olives and nuts.
I load up this epic Mediterranean board with tabbouleh, a couple of dips, and cheese, olives, and fresh veggies. Serve with pita!
There's no actual cheese on this epic nacho platter, but you won't miss it one bit. Instead, these nachos are doused in a creamy vegan cheese sauce that's every bit as irresistible as the real thing. Fixings like pickled onions, avocado, and pico de gallo take this crowd-pleasing appetizer over the top.
If you're looking for easy appetizers to serve at a party, you can never go wrong with veggies and dip. This recipe takes that simple combo to the next level. In addition to a creamy white bean dip and lots of veg, it features marinated feta, compound butter, and baguette.
This baked brie feels elevated, but it's dead simple to make. Pop a cold wheel of brie in the oven for less than 10 minutes, top it with pretty garnishes, and…that's it! Scoop up the luscious cheese with crostini, crackers, or baguette.
Almond Cheese with Herbes de Provence, page 73 of Love & Lemons Every Day
A plant-based alternative to a classic cheese ball! Just 7 ingredients perfect its rich and creamy texture and tangy, "cheesy" taste. Serve with crackers and fresh vegetables.
Warm and Cheesy Dips
Party food at its best.
Is it really a party without this cheesy spinach dip?
Everything you love about a jalapeño popper (crispy breadcrumbs! creamy filling! chile heat!), but in dip form. It's totally addictive. You've been warned.
Yes! Butternut squash gives this vegan dip its vibrant, cheesy color. If you're skeptical, don't be. Take one bite of this gooey, tangy, creamy appetizer, and you'll be completely hooked.
Bright and Zesty Dips
We're talking guac, salsa, and more. Tortilla chips for serving are highly recommended.
When it comes to quick and easy appetizers, guac is tough to beat. This recipe calls for 6 ingredients, comes together in 5 minutes, and is always a party hit.
Green chiles and lime juice give this smooth and creamy dip a kick of zingy flavor.
Try it once, and you'll never get the store-bought kind again!
This 7-ingredient recipe has a delicious balance of sweet and spicy flavors.
This dip is one of my go-to party appetizers because it actually tastes better if you make it ahead! I like to prep it a few hours, or even a day, in advance and pop it in the fridge to give the flavors a chance to mingle.
If you're lucky enough to have leftovers, save them to spoon over tacos or a burrito bowl the next day.
Can't pick between mango salsa and guac? Make this recipe instead! A perfect mashup of the two, it's creamy, sweet, spicy, and bright. You won't be able to get enough!
More Delicious Dip Appetizer Recipes
Find everything from whipped feta to 5-star homemade hummus.
If I spotted French onion dip at a party when I was a kid, I'd spend the rest of the evening next to it, scooping up bite after bite on ridged potato chips. I'd like to say that I've developed some restraint around it over the years, but…I haven't. Pass me a bowl of this dip, its creamy cashew base streaked with savory caramelized onions, and there's a good chance you won't get it back.
Basil adds a welcome freshness to this salty, briny olive and caper spread.
You can take this creamy dip in a savory or sweet direction, topping it with olive oil, fresh herbs, and Aleppo pepper or a generous drizzle of honey.
This striking red pepper dip's spicy, sweet, and sour flavor is guaranteed to wow guests. Make it up to a day in advance—it keeps perfectly in the fridge.
Cucumber, dill, and mint make this creamy yogurt dip cooling and refreshing.
The store-bought stuff can't compare! This homemade hummus is insanely creamy, nutty, and bright with lemon. AND it comes together in the blender in 5 minutes.
I love this silky, smoky eggplant dip so much that I can't resist eating it out of the food processor with a spoon. If your guests are anything like me, it'll vanish from the snack table in minutes!
Dijon mustard, lemon, and dill give ranch-y vibes to this fresh, 5-minute avocado dip.
Appetizer Ideas for Bakers
Jack is the baker in our house, and the tasty appetizer ideas below are his specialties. They always impress guests, but he has a secret: none of them is tricky to make! Even if you're new to baking, you'll be able to pull off these recipes without a hitch.
They're rich, chewy, and dripping with savory garlic flavor. If you think you're going to have just one…well, good luck.
They're fantastic on their own or with mustard or cheese sauce for dipping.
Studded with rosemary and roasted garlic, this gorgeous bread would be at home at any dinner party or holiday get-together.
This easy flatbread is made with chickpea flour and olive oil, which give it crisp edges, a moist interior, and a rich, nutty flavor. Serve slices plain, or dress them up with toppings. I love my socca with a slather of labneh and a sprinkle of za'atar.
Adding Greek yogurt to the dough creates the fluffiest, pillowiest pita you've ever tasted! It's divine with dips like hummus, tzatziki, or muhammara.
Crispy, Crunchy Appetizers to Make in the Air Fryer
If crispy, crunchy appetizers like French fries and onion rings are your speed, get yourself an air fryer! You'll be able to make fantastic versions of these classic appetizers at home.
Like regular fries, but with a fraction of the oil. Serve with your favorite dipping sauce!
Crisp on the outside and tender in the middle, they rival any onion rings you'd get out to eat.
I developed this recipe by popular request, and I am SO glad I did! These crispy pickle chips are a ridiculously delicious snack. We love them with remoulade sauce for dipping.
Zucchini has never been so snack-able! A crispy, nutty Parmesan breading coats the tender slices. They're irresistible on their own, but I wouldn't say no to a side of marinara either.
Party Appetizers for Potato Lovers
How many ways can you turn a potato into an appetizer? Let me count…
They're crisp on the outside, creamy in the middle, and filled with savory garlic flavor! Serve them hot off the baking sheet, topped with Parmesan or drizzles of chipotle sauce.
If you couldn't tell, I love making plant-based spins on classic dishes. Take these chili cheese fries. I douse them in a vegan cheese sauce and meatless chili and shower them with fresh veggies for good measure. They'll still satisfy any comfort food craving!
A yummy blend of spices—garlic powder, onion powder, and smoked paprika—turns these simple potato wedges into a next-level snack. I love ketchup for dipping, but tartar sauce is great too!
If the potatoes you love are sweet, then this appetizer recipe is for you! I top tender roasted sweet potato rounds with crisp radishes and a creamy, lemony avocado "tartare."
These are not your average potato skins! I load them with a zesty black bean and sweet corn salad, top them with dollops of sunflower sour cream, and add coconut bacon for crunch. Yep, they're vegan, but everyone will love them.
Simple Party Snacks
These easy appetizer recipes yield simple snacks that guests can munch by the handful.
I have two options for you here—a savory rosemary one and a sweet cinnamon sugar one. Choose just one, or try both! Either way, your guests will be happy (and your kitchen will smell amazing).
Toss it with a little melted butter and nutritional yeast for appetizer perfection.
If you're cooking with a kabocha or butternut squash sometime soon, save the seeds! Roasted low and slow, they become a crunchy, nutty, and delicious salty snack.
Easy Appetizer Recipes: Deviled Eggs
Ingredients
¼

cup

mayo

⅓

cup

thick Greek yogurt

,

(Fage or Chobani recommended)

1½

teaspoons

sweet pickle relish

½

teaspoon

Dijon mustard
Toppings
Chopped chives

Celery seed
Instructions
Slice the eggs in half lengthwise and remove the yolks.

In a small food processor, combine the egg yolks, mayo, yogurt, relish, and mustard and pulse until smooth. Season to taste with salt.

Scoop the mixture into the egg white halves (or use a piping bag, if you prefer). Sprinkle with desired toppings.
Notes
A fun spicy option: this filling is delicious with a few jalapeño or pickled jalapeño slices blended into the mixture.