If you put fruit on cake, it's ok to eat it for breakfast, right? It is with this dairy-free vegan almond peach cakes! So perfect with ripe, summer peaches.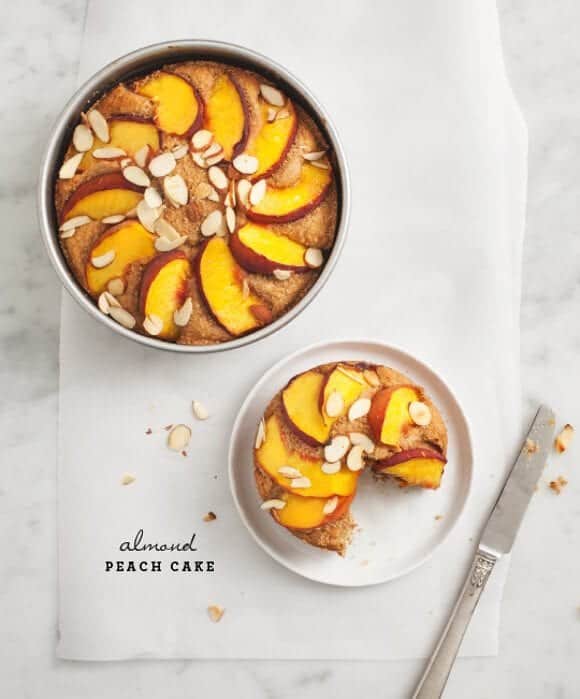 If you put fruit on cake, it's ok to eat it for breakfast. That's the rule, right?
Of course, the cakes I make aren't super decadent. This one, for example, is whole-grain enough that it could just as easily be baked in a muffin tin or mini loaf pans… the shape alone would make you feel differently about what time of day is cake-appropriate.
Aside from the sprinkle of brown sugar on top, there's no refined sugar. It's moist on the inside thanks to a combo of coconut oil, almond milk and applesauce. And then, the best part – the peaches. Ripe, summery, juicy peaches.
This cake has one issue and that is that the peaches don't last much longer than a day after they're baked in. In our house, that doesn't seem to be a problem…
almond peach cake
Ingredients
2 ripe peaches
1 cup whole grain spelt flour
½ all-purpose flour
¼ cup masa harina corn flour
¼ cup stone ground polenta
1 teaspoon baking powder
½ teaspoon baking soda
¼ teaspoon salt
½ teaspoon cinnamon
¾ cup original Almond Breeze Almond Milk
½ cup maple syrup
¼ cup applesauce
½ cup coconut oil
½ teaspoon almond extract (optional)
sprinkle of brown sugar, on top (optional)
¼ raw sliced almonds, on top
Instructions
Preheat oven to 350 & prepare a 12-inch round cake pan (or equivalent)
Thinly slice your peaches and set aside.
Combine the dry ingredients.
In a separate bowl whisk together the wet ingredients.
Stir the dry into the wet, don't over mix.
Pour batter into prepared pan(s) and place peaches, brown sugar, and sliced almonds on top.
Bake for 30-40 minutes or until a toothpick comes out clean.
Notes
pictured is one 8-inch, and one 4-inch cake pan.

a note to simplify flours:

- sub spelt & all-purpose: with 1.5 cups all-purpose or white/wheat mix. (or a gluten free mix you like).

- sub corn flour & polenta: with ½ cup cornmeal.