These almond flour pancakes are light, fluffy, and filled with delicious nutty flavor. They're an easy, satisfying gluten-free breakfast or brunch!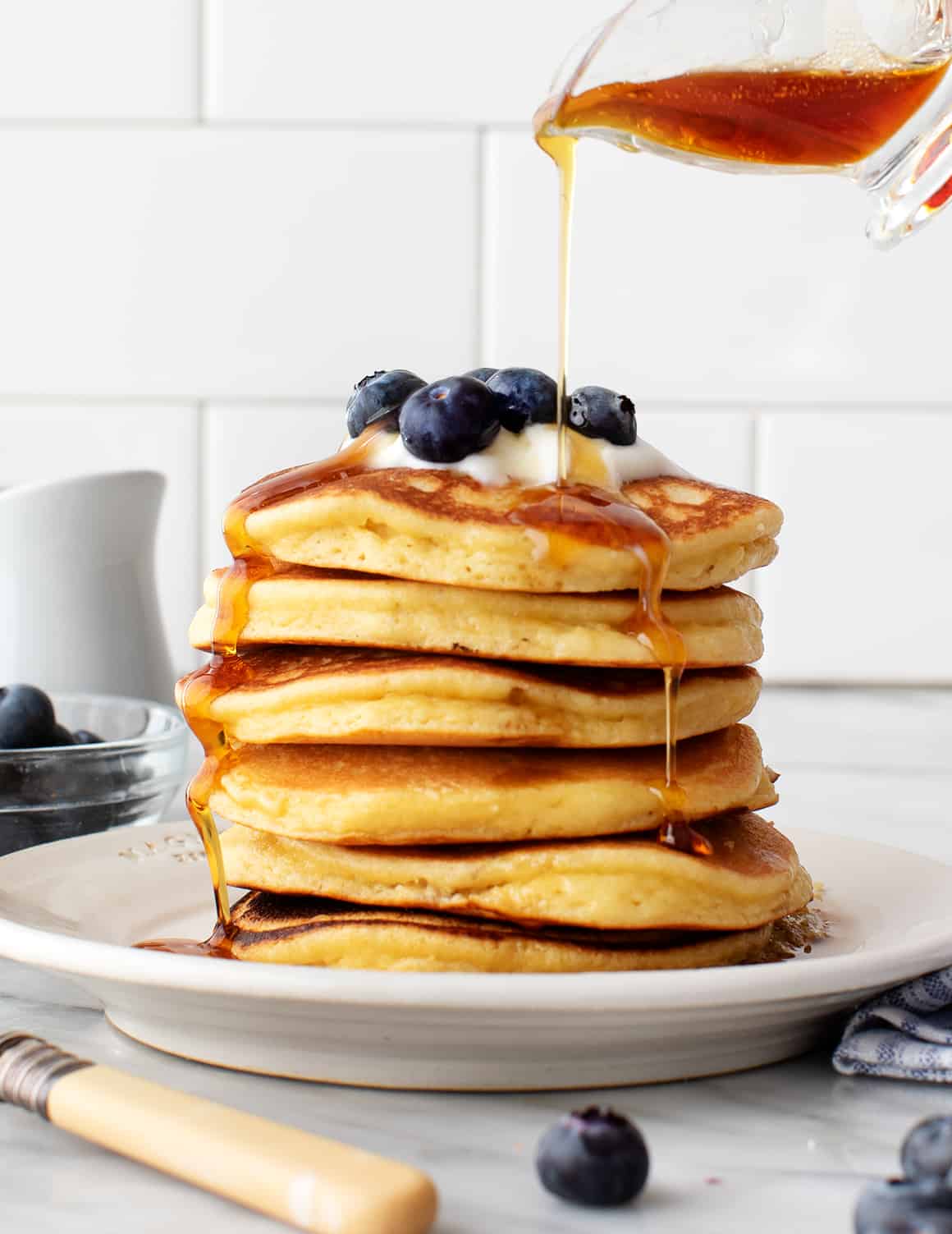 If you like pancakes that are light, fluffy, moist, and flavorful (who doesn't?!), you're going to LOVE these almond flour pancakes! I had the idea to make them last spring, when Jack and I were saving our limited supply of regular flour for baking projects like pita, bagels, and no-knead bread. All-purpose flour is easier to come by now, but in our house, these almond flour pancakes are sticking around for good.
This almond flour pancake recipe is totally grain and gluten-free, but it's just as good as any traditional pancake recipe I've tried. The pancakes are soft and tender, with a delicious sweet and nutty flavor. As an added bonus, they're more substantial than the average pancake (thanks, almond flour!), so they'll easily keep you full till lunchtime.
Whip them up on a weekday, or save them for relaxed weekend brunch. But before you start cooking, heads up: Jack and I can easily devour these almond flour pancakes on our own, so if you're serving a crowd, you're going to want to make a double batch.
Almond Flour Pancake Recipe Ingredients
You only need 7 basic ingredients to make these easy almond flour pancakes:
Almond flour, of course! For the best results, use blanched almond flour, or homemade almond flour made from blanched slivered almonds, in this recipe. It gives these pancakes a fine crumb and delicious fluffy texture. Steer clear of almond meal, as it will make them, well, mealy.
Eggs – The binder! They add also moisture and richness and help make these pancakes super fluffy.
Baking powder – So that the almond flour pancakes puff up as they cook.
Almond milk – It adds moisture to this almond flour pancake recipe. If you don't keep almond milk on hand, cow's milk or my homemade oat milk would work here too.
Vanilla extract – It fills the pancakes with delicious warm flavor.
Maple syrup – We'll mix some into the pancake batter, and when the pancakes are ready, we'll (of course!) drizzle more on top.
And sea salt – To make the sweet, warm, and nutty flavors pop!
Find the complete recipe with measurements below.
How to Make Almond Flour Pancakes
This almond flour pancake recipe is super simple to make, so it's a great recipe for quick weekday breakfasts as well as lazy weekend brunches. Here's how it goes:
First, whisk together the wet ingredients in one bowl and the dry ingredients in another.
Then, pour the wet ingredients into the bowl of dry ingredients, and mix until just combined.
Finally, cook! Heat a nonstick skillet over medium-low heat, and brush it with a little olive oil (coconut oil would work here too!). Use a 1/4-cup measuring cup to scoop the batter into the pan, and cook each pancake for 1-2 minutes per side. Almond flour pancakes darken more quickly than regular pancakes do, so watch them closely. Reduce the heat as needed so that the outsides don't burn before the middles have a chance to cook through. Repeat the cooking process with the remaining batter, and enjoy!
Almond Flour Pancakes Serving Suggestions
The almond flour and eggs make these pancakes nice and hearty, so they're a delicious breakfast on their own. Serve them simply, with a drizzle of maple syrup, or dress them up more with Greek yogurt or coconut cream and your favorite fresh fruit.
They're also a fantastic addition to a weekend or special occasion brunch menu. I like to pair them with something savory, like sunny-side-up eggs, my healthy breakfast casserole, or a veggie frittata. Round out the meal with a smoothie or mimosas to drink! For more delicious brunch recipes, check out this post.
More Sweet Breakfast and Brunch Recipes
If you love this recipe, try one of these breakfast treats next:
For more healthy breakfast ideas, check out this post!
Almond Flour Pancakes
These fluffy almond flour pancakes are a hearty, delicious breakfast or brunch! This recipe makes 6 small pancakes. If you're serving more than two people, you may want to double it.
Instructions
In a medium bowl, whisk together the spooned and leveled almond flour, baking powder, and salt.

In a small bowl, whisk together the almond milk, eggs, maple syrup, and vanilla.

Pour the wet ingredients into the bowl with the dry ingredients and stir. If your batter is very thick, stir in more almond milk until it resembles the photos above. If it's too thin, sprinkle in a touch more almond flour. (See photo in the blog post for batter consistency).

Heat a non-stick skillet over medium-low heat. Brush the pan with a little olive oil and use a ¼-cup measuring cup to pour the batter onto the pan. (Note: these are more delicate than regular flour pancakes so it's important to make them small). Cook the pancakes for 1 to 2 minutes per side, turning the heat to low as needed so that the middles cook without burning the outsides. I usually turn my heat lower after each batch as my pan starts to hold residual heat. Almond flour pancakes darken a little quicker than pancakes that use regular flour.
This post contains affiliate links.