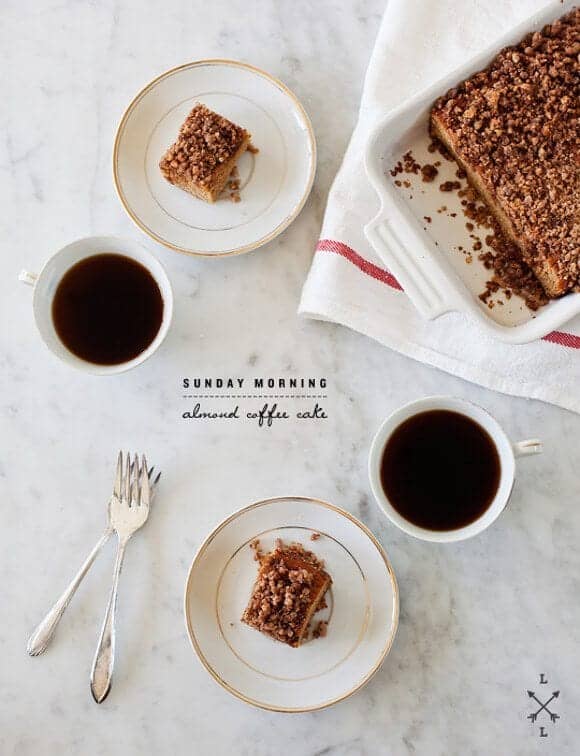 Happy Sunday! I hope everyone is having as good of a weekend as we are. Jack finished a major work deadline on Friday so this is the first time in months we've been able to spend a lazy weekend together. And what better way to spend one than with cake for breakfast?
INGREDIENTS:
cake:
2 tablespoons earth balance butter (or regular butter)
1 cup almond flour
1 cup oat flour
1/3 cup cane sugar (or sugar of your choice)
1/2 tablespoon ground flax seeds
3 teaspoons baking powder
3 teaspoons cinnamon
1/2 teaspoon salt
1 1/4 cup almond milk (or milk of your choice)
1 teaspoon vanilla extract
crumbly topping:
3 tablespoons earth balance (or butter)
1/2 cup cane or brown sugar
1/3 cup oat flour (or flour of your choice)
1 teaspoon cinnamon
1/4 chopped nuts (optional)
METHOD: 
Preheat oven to 375 degrees.
Combine sugar, butter, almond milk, flax, and vanilla and set aside.
Sift together flours, baking powder, cinnamon and salt into another bowl.
Gradually combine wet and dry ingredients along with milk and gently stir together. Fill an 8×8 or 7×9, baking pan (or 12 muffin cups) with the batter.
In a small bowl combine crumble ingredients with a fork or with your hands. Mix until just crumbly. Add more flour if the mixture is too wet.
Sprinkle 1/2 of the crumble mixture over muffins and bake for 25-30 minutes.
Sprinkle the last half of the crumble mixture over the muffins after they come out of the oven.