This post is sponsored by Blue Diamond Almond Breeze Almondmilk.
Six years of blogging and there is not ONE zucchini bread recipe on this site! I'm not sure how that happened, but we're changing that today :). I flipping love zucchini bread. I made about 6 loaves while testing this recipe and I'm still just as much in love with zucchini bread as I was when I started 🙂
I hope you have gardens full of zucchini (or at least 2 medium zucchini), and enjoy this recipe as much as Jack and I do!
This recipe makes 2 loaves (you can freeze one!) and uses 2 cups of grated zucchini. Which means that you can enjoy this as a snack or for breakfast, or both and know that you're (sort of) getting in a serving of green vegetables.
For the batter, I use a mix of regular flour and almond flour (a bit of protein!). To make this dairy-free, I sub in olive oil for butter and I use my go-to Almond Breeze Almondmilk.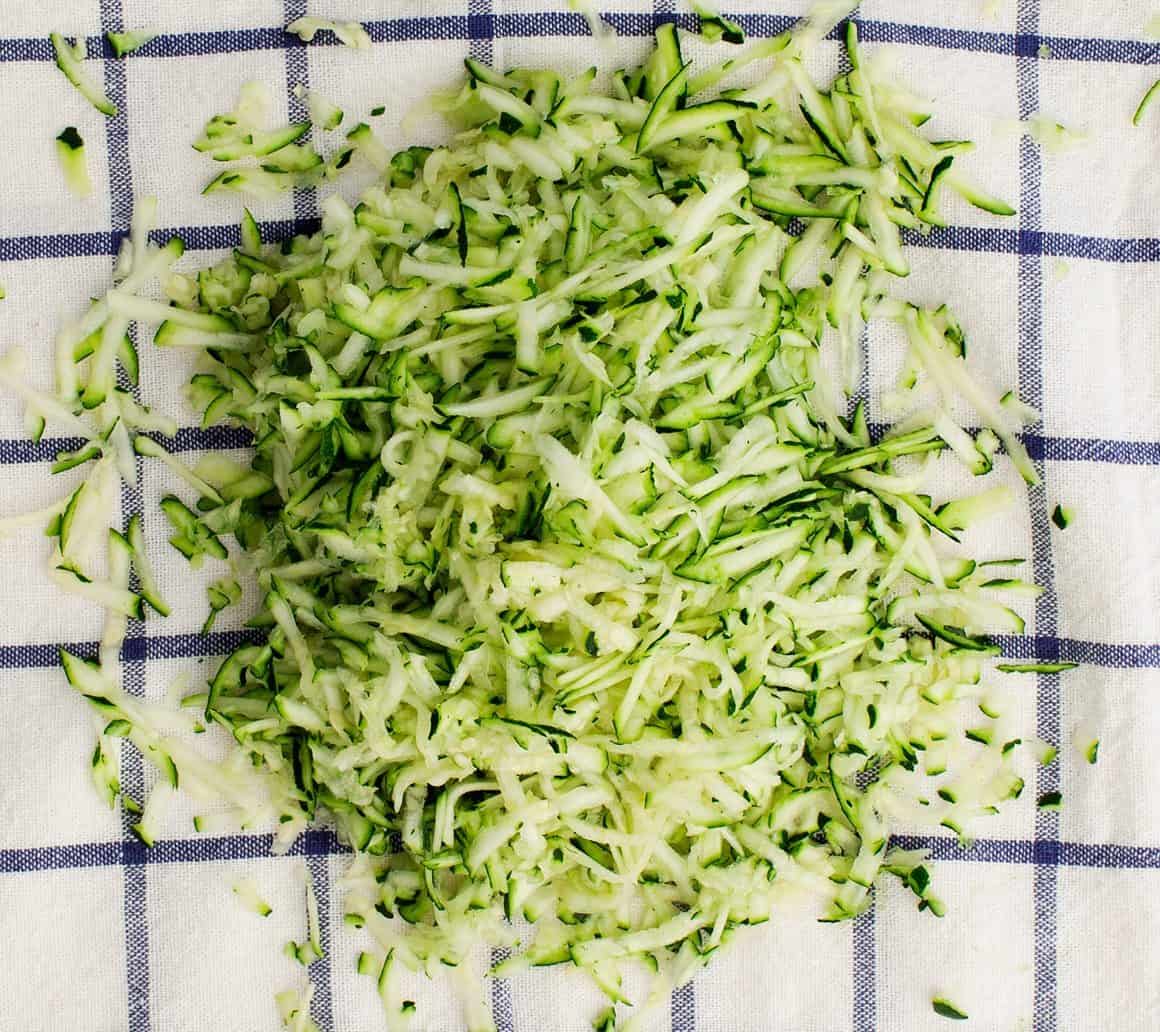 The recipe pictured here uses eggs. I prefer this version because the loaf rises better and it just makes for a light, cake-y texture. Don't worry, there's a vegan option below as well – the only difference is that the sans-egg recipe does not rise as much, making its texture more moist. I love both versions for different reasons and all of the loaves got polished off just the same here in my family household.

I almost forgot… perhaps the best part – chocolate chips! If you're a zucchini purist, you can leave them off, but in my opinion zucchini and chocolate work together like peanut butter and jelly.


Bake until the tops of the loaves are golden brown. Share or freeze the extra loaf!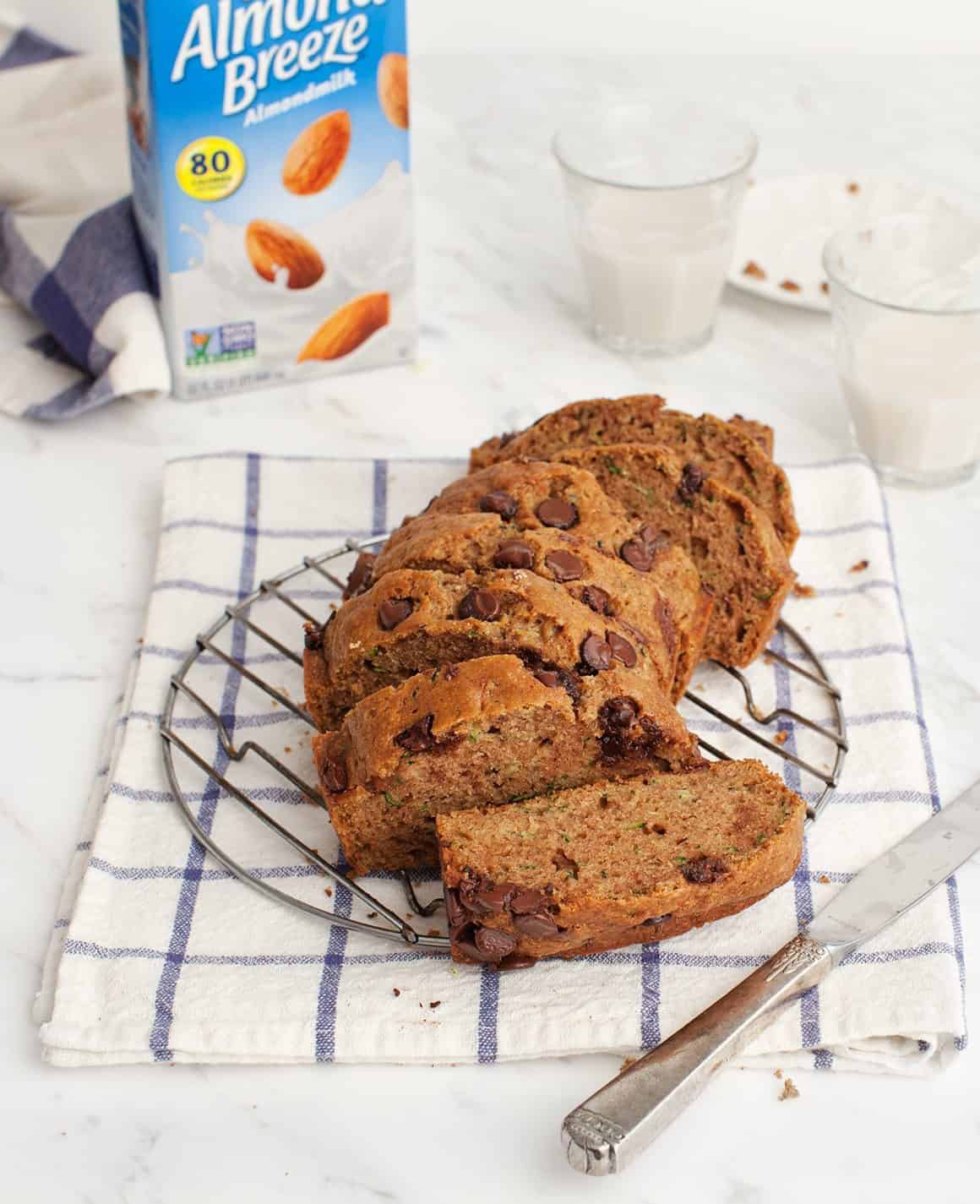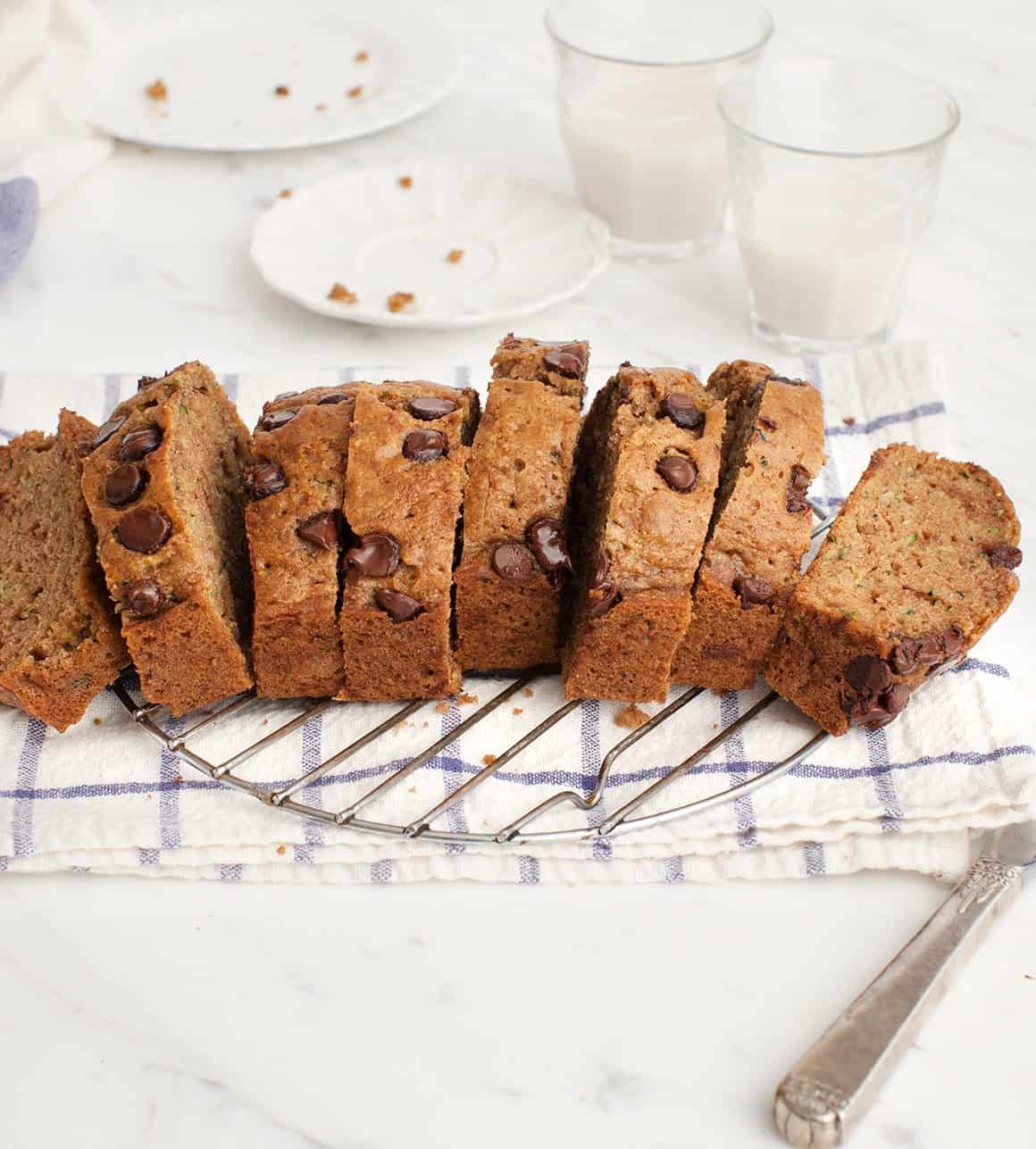 But before you run off to start baking – would you mind filling out this super quick survey? (Click Here) As a thank you, we're giving away a $100 Visa gift card to 1 lucky winner! To enter the giveaway, just leave a comment below after you fill out the survey. Thank you!!
The giveaway is now closed – thank you for entering!
Almond Chocolate Chip Zucchini Bread
Serves:
2 loaves, about 16 servings
Ingredients
2 cups packed shredded zucchini (2 medium)
2 cups all-purpose flour
1 cup almond flour
4 teaspoons cinnamon
2 teaspoons baking powder
1 teaspoon baking soda
1 teaspoon sea salt
4 large eggs (see note below for vegan option)
1 cup cane sugar
½ cup extra-virgin olive oil
2 teaspoons vanilla extract
½ cup chocolate chips, optional
Instructions
Preheat the oven to 350°F and grease or lightly spray two 8x4" loaf pans.
Place the shredded zucchini on paper towels to drain. Set aside.
In a medium bowl, combine the flours, cinnamon, baking powder, baking soda, and salt.
In a large bowl, whisk together the eggs, sugar, olive oil, almond milk, and vanilla. Gently squeeze any excess moisture from the zucchini then stir into the egg mixture. Add the dry ingredients to the bowl and stir until just combined. Do not overmix.
Pour the batter into the prepared loaf pans and bake for 45 to 50 minutes or until a toothpick comes out clean. Let cool.
Notes
To make this recipe vegan, follow these 2 steps:

1. In a small bowl whisk together ¼ cup ground flaxseeds with ½ cup water. Set aside for 10 minutes to thicken. Add it to the wet ingredients in place of the eggs.

2. Add 2 teaspoons of apple cider vinegar to the wet ingredients and 1 additional teaspoon of baking powder to the dry ingredients. This will help the vegan loaves rise a bit. This version is very moist, do not under-bake.
This post is sponsored by Blue Diamond Almond Breeze Almondmilk. Thank you for supporting the sponsors that keep us cooking!