This Alfredo sauce recipe is creamy, nutty, and silky smooth! But, thanks to a superstar veggie ingredient, it's so much lighter than the classic version.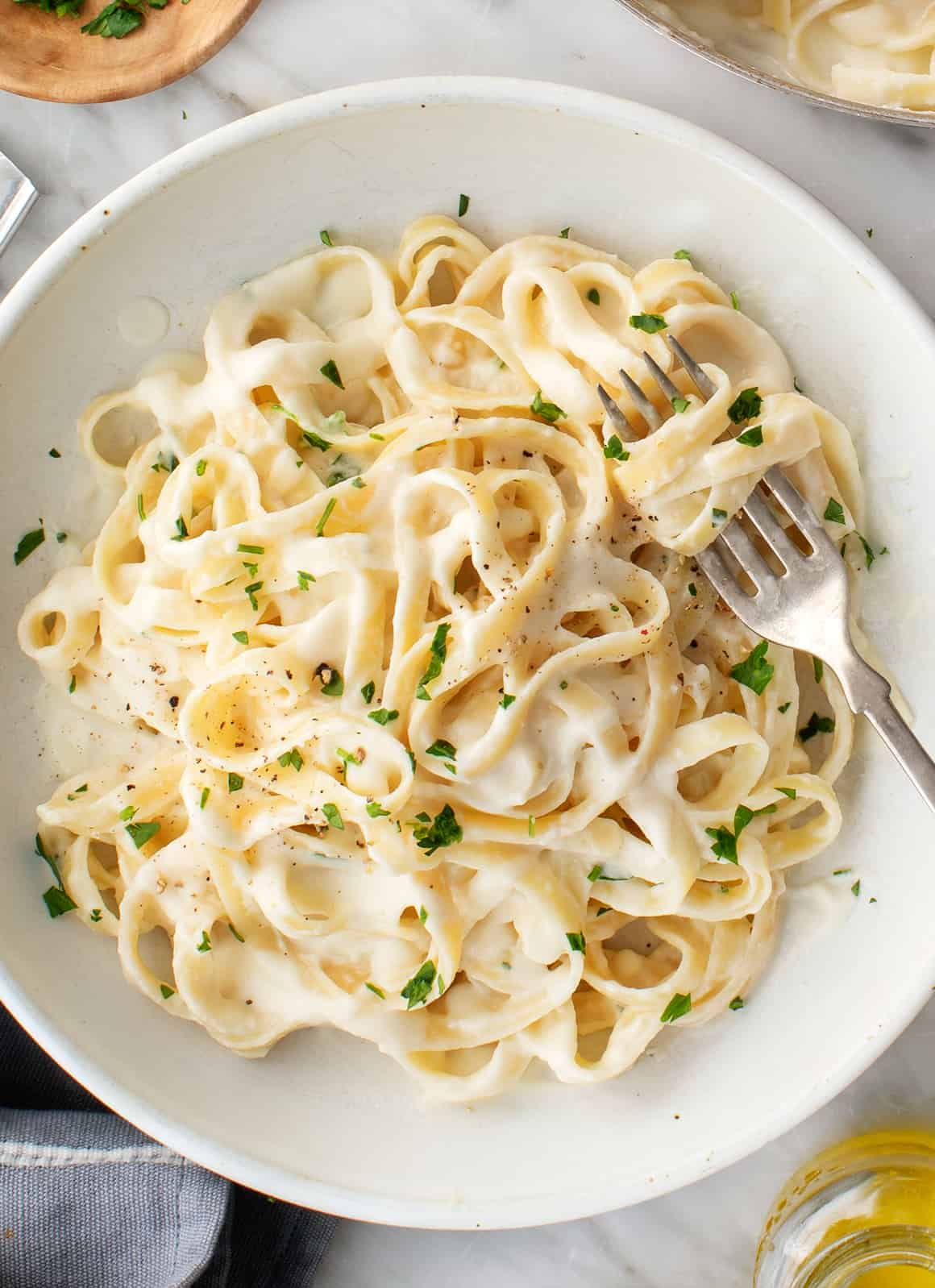 If you're wondering what to make for dinner tonight, this homemade Alfredo sauce recipe is undoubtedly the answer. It's rich and nutty, with an irresistible velvety texture. It can transform the humblest pasta into an elevated meal, but it takes just minutes to make. As a result, it's perfect for any occasion, from a busy weeknight to a romantic dinner at home.
Alfredo Sauce Recipe Ingredients
Traditional Alfredo sauce contains four basic ingredients: butter, grated Parmesan cheese, salt, and pepper. Many homemade Alfredo sauce recipes take things a step further, adding heavy cream, cream cheese, and even Italian seasoning to make an extra-rich version of this favorite pasta sauce.
My recipe draws inspiration from both of these camps. I start with the basic butter and Parmesan template. Then, I add these ingredients to create a silky smooth Alfredo sauce that's bursting with rich flavor:
Cauliflower – When cauliflower is boiled and blended, it creates a creamy puree. As a result, there's no need to add cream to this Alfredo sauce recipe! Thanks to the cauliflower, it's still thick and velvety, but it's so much lighter than versions made with lots of butter and cream.
Extra-virgin olive oil – Because I use just a small amount of butter in this recipe, I add olive oil for extra richness. I love its robust flavor here!
Dijon mustard, lemon juice, and garlic – I add garlic, Dijon, and lemon to give this sauce bright, tangy depth of flavor.
Pasta water – In traditional Alfredo sauce, hot, starchy pasta water is what emulsifies the cheese and butter. It's a key ingredient in my recipe too, helping the cauliflower blend into a luscious puree. If you're not planning to serve the sauce over pasta, use the cauliflower cooking water in its place.
How to Make Alfredo Sauce
This homemade Alfredo sauce recipe is quick and easy to make, but how you make it depends on how you plan to serve it. If you're tossing this sauce with pasta to make fettuccine Alfredo, here's what you need to do:
First, cook the cauliflower. Bring a large pot of salted water to a boil and add the cauliflower. Cook until it's tender, 8 to 10 minutes. Then, drain it and transfer it to a blender along with the Parmesan cheese, garlic, Dijon mustard, lemon juice, olive oil, butter, salt, and freshly ground black pepper.
Next, cook the pasta until al dente in a large pot of salted water. Before you drain it, set aside 1 1/2 cups of the starchy pasta water.
Then, make the sauce. Add 1 cup of the pasta water to the blender, and blend to form a smooth puree.
Finally, toss it all together! Add the pasta to a large skillet or bowl and toss it with the sauce. If the sauce is too thick, add more pasta water, as needed, to reach your desired consistency. Season with salt and pepper to taste, and enjoy!
This Alfredo sauce is also delicious over spaghetti squash, sweet potato noodles, and zucchini noodles. If you plan to serve it with these veggie "pastas," you won't have the starchy pasta water on hand to add to the sauce. In its place, use an equal amount of the salted water you used to cook the cauliflower, and proceed with the recipe as written.
More Favorite Sauce Recipes
If you love this recipe, try one of these favorite sauces next:
Alfredo Sauce
Learn how to make Alfredo sauce at home! The rich, creamy sauce is delicious over pasta, roasted vegetables, and more.
Instructions
Bring a large pot of salted water to a boil. Add the cauliflower and boil until the cauliflower is fork tender, 8 to 10 minutes. Drain and place the cauliflower in a blender. Add the Parmesan cheese, olive oil, garlic, mustard, butter, lemon juice, salt, and several grinds of pepper.

Add 1 cup of the pasta water to the blender and blend the sauce until creamy.

As you toss your alfredo sauce with pasta, you may want to add the additional 1/2 cup pasta cooking water to loosen the sauce.