This air fryer tofu recipe is the easiest way to make crispy, flavorful tofu at home! Toss it into a grain bowl or stir fry for a boost of plant-based protein.
After my first bite of this air fryer tofu, I immediately thought, "What took me so long?" It's crispier than any tofu I've baked in the oven, and it's SO much easier to make than deep-fried or pan-fried tofu. No sticking to the pan, no splashing oil… If you want to make really crispy, crunchy tofu at home without a lot of fuss, you have to try this air fryer tofu recipe.
Air Fryer Tofu Recipe Ingredients
Here's what you'll need to make this air fryer tofu recipe:
Tofu, of course! Nothing less than extra-firm here! Softer types of tofu will fall apart when tossed with seasonings, and they won't get as crispy when they cook.
Tamari and sriracha – They infuse the tofu with savory, spicy flavor. If you're not gluten-free, feel free to substitute soy sauce for the tamari.
Avocado oil – It adds richness to the tofu and helps it crisp up in the air fryer.
And cornstarch – For crunch! It creates a delicious crispy coating around the outside of the tofu.
Find the complete recipe with measurements below.
Do I Need A Tofu Press?
If you want to make the crispiest, crunchiest air fryer tofu possible, I recommend pressing your tofu before you cook it. This step adds some extra time to this recipe, but it's totally worth it. Pressing the excess water out of the tofu helps it cook up extra-firm and crisp.
Though you can press tofu with a cast-iron skillet or a stack of books, I highly recommend getting a tofu press if you cook tofu often. I love the Tofuture Tofu Press, which is super easy to use and gives tofu an amazing chewy texture. Another feature I love about this press is that it captures the excess water from the tofu, making cleanup a breeze.
You can get the Tofuture Tofu Press on Amazon for $25.95. Or, if you want to check out a few other presses, read my guide to the best tofu presses here!
If you don't want to press your tofu, try one of these alternatives:
Instead of using extra-firm tofu, choose a "Super-Firm" or "High-Protein" kind. This tofu is even denser than extra-firm tofu, and it crisps up fairly well without pressing.
Or plan ahead! Freeze extra-firm tofu a few days (or up to a few months) in advance. Defrost it in the microwave, or transfer it to the fridge to thaw overnight. As it thaws, it will release a TON of moisture, almost as if it had been pressed. Just pat it dry and proceed with the recipe!
How to Make Air Fryer Tofu
Once you press your tofu, this recipe is so simple to make!
First, season the tofu. Cut the tofu into cubes, and toss it with the avocado oil, tamari, and sriracha. Sprinkle on the cornstarch and toss again.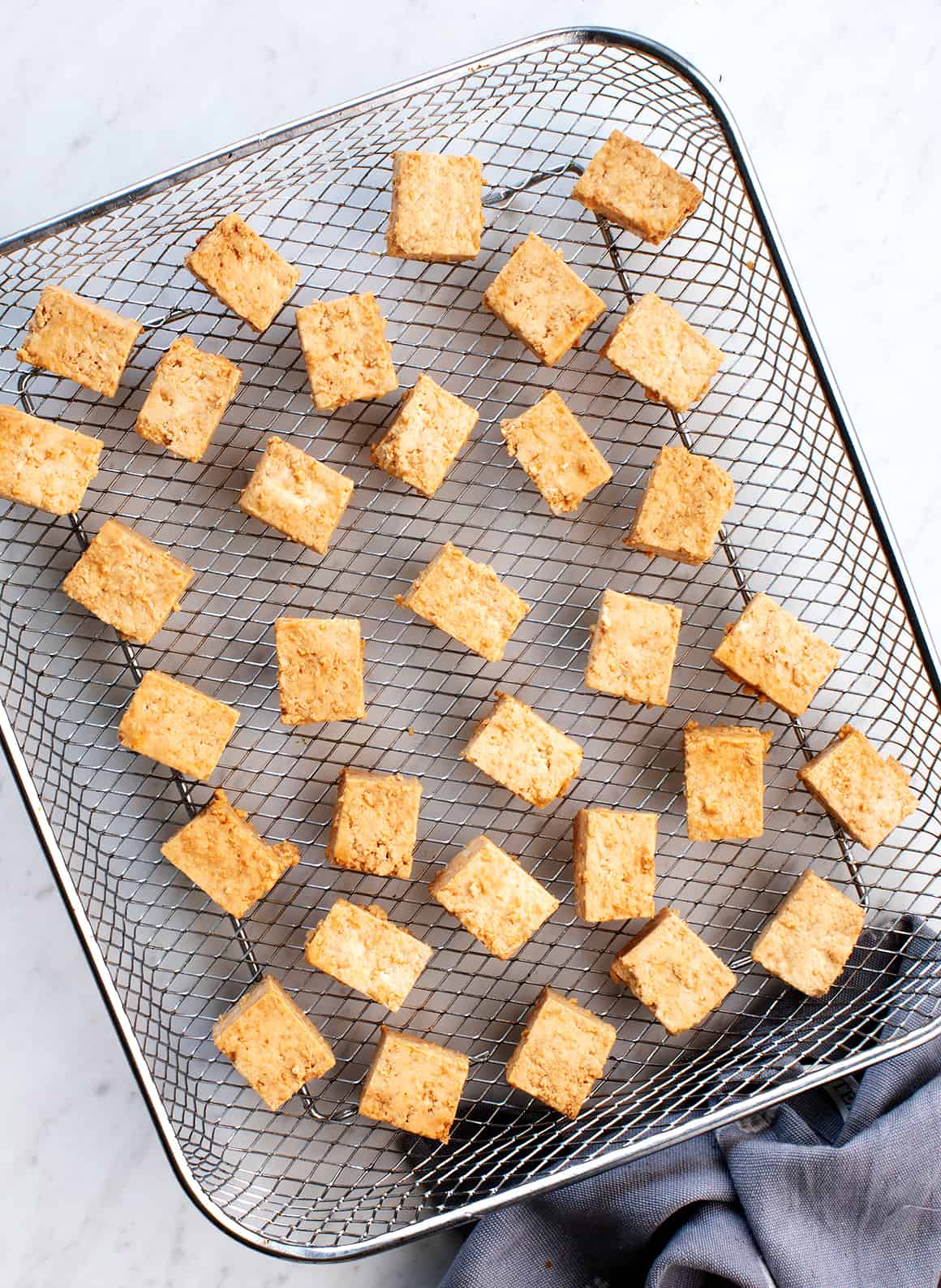 Then, cook! Arrange the tofu cubes in a single layer in the air fryer basket, making sure to leave a little space around each one. If the cubes are too crowded in the basket, they won't crisp up as they cook. Feel free to work in batches if necessary!
Air fry at 400°F for 11-15 minutes, tossing halfway so that the tofu cooks evenly on all sides. The tofu is ready when it's crisp and browned around the edges. Keep an eye on it during the last few minutes of cooking, as the exact cooking time will depend on your specific air fryer. That's it!
Serving Suggestions
Crispy and flavorful, this air fryer tofu is one of my favorite plant-based proteins to add to a stir fry or grain bowl. Try making your own bowl with the tofu, cooked brown or white rice, roasted veggies like broccoli or Brussels sprouts, and a tasty sauce like my gochujang sauce, peanut sauce, or sesame ginger dressing.
It would also be fantastic in any of these recipes:
How do you like to serve air fryer tofu? Let me know in the comments!
More Favorite Air Fryer Recipes
If you love this air fryer tofu recipe, try one of these tasty air fryer recipes next:
Air Fryer Tofu
This air fryer tofu is crispy on the outside, chewy in the middle, and packed with delicious savory flavor. The recipe is simple and foolproof - my favorite way to cook tofu at home!
Instructions
Press the tofu (optional step). Wrap the block of tofu with a kitchen towel or paper towels. Place a heavy cast iron skillet on top and let it sit for 30 minutes. This will help squeeze excess water out of the tofu, which will make it more crisp as it cooks.

Preheat the air fryer to 400°F.

In a large bowl, combine the oil, tamari, and sriracha. Cut the tofu into cubes, add it to the bowl, and gently toss to coat. Sprinkle the cornstarch over the tofu and toss again.

Place the tofu cubes into the air fryer basket in a single layer with a little space between each piece. Don't overcrowd the basket. Work in batches if necessary. Air fry for 11 to 15 minutes, flipping halfway, until golden brown and crisp around the edges. The exact timing will depend on your air fryer. Repeat with any remaining tofu.

See the blog post above for ideas to use your air fryer tofu.