A veggie- & protein-packed Quinoa Fried Rice from Keys to the Kitchen by Aida Mollenkamp! A healthy, easy vegetarian weeknight dinner. Gluten free.
Time to get excited – I have another giveaway!
Aida Mollenkamp's new book, Keys to the Kitchen, is a new food bible. I planned to post this yesterday, but the book has so much that summing it up in a post is a nearly impossible task. In fact, it took me about 20 minutes to explain why I love this book to Jack (and I talk fast, so you don't want to know how long a post that would be). Simply put, the book is beautiful, informative, helpful, and will make anyone, at any skill level, a better cook for having the tools it provides at their disposal. If you cook at home, you want this book.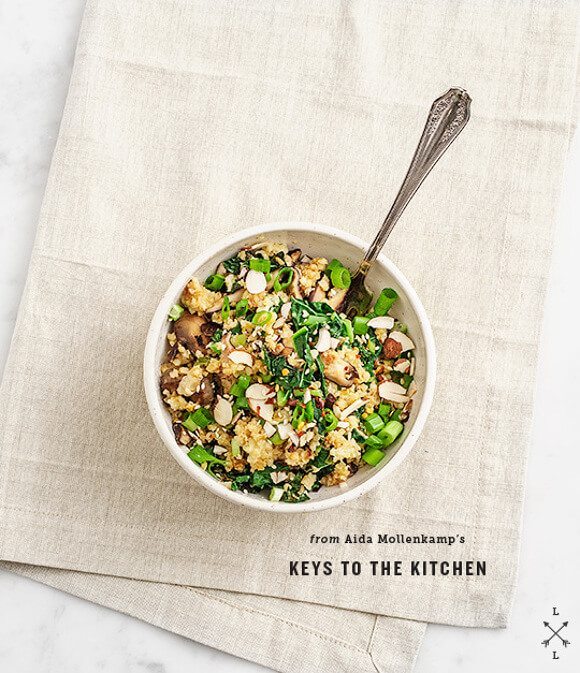 One of my favorite things about the book is how each recipe has a "takeaway" and some suggested "riffs." Aida takes you through the basics of a recipe and then shows you how to get creative… which is the part of cooking that I love the most. I was immediately drawn to the quinoa fried rice – I always have some quinoa in the fridge, Jack will never say no to having "eggs" and "fried" in his dinner, and fried rice is one of the most "riffable" dishes you can make. This turned out delicious, and I'm sure I'll be riffing on this one pretty often.

this giveaway is now closed, a winner has been notified.
special thanks to Chronicle Books for hosting this giveaway.
Mushroom & Edamame Quinoa Fried "Rice"
Ingredients
½ tablespoon grapeseed or olive oil
3 garlic cloves, minced
2 green onions, thinly sliced
4 oz shiitake mushrooms, stemmed & sliced
1 tablespoon freshly grated ginger
A few handfuls chopped kale
1½ cups cooked quinoa
½ cup frozen edamame
¼ cup thinly sliced basil or cilantro
2 (or 3) large eggs, beaten
3-4 teaspoons soy sauce or tamari
Sriracha or red pepper flakes
Sliced almonds & sesame seeds
Toasted sesame oil, for drizzling
Sea salt and fresh black pepper
Seared tofu or other protein (optional)
Instructions
Heat the oil in a large nonstick frying pan over medium-high heat, and swirl to coat the pan. When the oil shimmers, add the garlic and green onions and cook until aromatic, about 30 seconds. Add the mushrooms and ginger, season with salt, and cook, stirring occasionally, until browned, about 5 minutes.
Add the kale, quinoa, edamame, and basil, toss to coat with oil and heat through. Cook until the grain is golden brown, about 3 minutes.
Make a well in the center of the mixture, exposing the pan bottom. Put the egg and soy sauce in the well and stir until just cooked through. Break up the egg mixture and stir into the grain-vegetable mixture, stir-frying until the edges are golden, about 3 minutes. Taste and adjust seasoning with sriracha or red pepper flakes and additional soy sauce.
Top with sliced almonds, sesame seeds, and a drizzle of toasted sesame oil & serve.
Notes
Add any veggies you like - red peppers, broccoli, or snap peas would all be delicious. Add them halfway through the step where you cook the mushrooms.