My strategy for easy & healthy make-ahead meals.
Here's a little guide to how I like to plan for meals throughout the week. I don't do a bunch of heavy weekend batch cooking, but I DO like to prep just a few basics that can be worked into versatile meals throughout the week. If I spend just a little time, I find that I can set myself up for a healthy week ahead.
And because chopping vegetables in silence is no fun, I'm partnering with Audible to share a few of my favorite foodie "reads" that I like to listen to while I work. I love how easy their app is to use – check it out for yourself and download a free book as part of their free 1-month trial offer.
This plan changes by season, but this is what my basic summertime prep looks like. Store everything in air-tight containers in the fridge:
1. Clean & massage a big bunch of kale. I like to eat kale salads for lunch, but I hate to stop in the middle of my work day to make one. Having the kale prepped ahead of time makes these salads easy to throw together.
Wash and dry a big bunch of kale. Remove the leaves by holding the stem with one hand and stripping the leaf with your other hand. Place the kale in a large bowl with a drizzle of olive oil, salt, and a good squeeze of lemon. Use your hands to massage the leaves together until they're soft and wilted. Store in an airtight container in the fridge. (Tip: save the kale stems for pesto or soup – I also like to chop them and feed them to my dogs).
2. Pre-chop some seasonal produce. This changes by season (for example, in the fall, I'll pre-roast sweet potatoes), but current selection is corn, cherry tomatoes, chopped cucumbers, red peppers and scallions. These veggies are great on my lunch salad (especially with avocado, chopped peaches and hemp seeds). Work them into dinners by tossing them with pasta or serving next to grilled fish with generous scoops of a good sauce…which brings me to item #3:
3. Make a good sauce. Put it on everything all week: your salads, sandwiches, grain bowls, etc. Toss with pasta or scoop onto whatever you're grilling. This one is a creamy (vegan) basil jalapeño sauce made with hemp seeds. (Scroll down for the recipe!).
3. Pre-cook a grain. I like to have cooked quinoa on hand for grain bowls. If you have extra at the end of the week make these cookies.
4. Make a soup that'll last the week. I love soup-prep because soups always taste better on the second day and they keep well all week. This time I went with this Watermelon Gazpacho because it's so refreshing on hot summer days. I also strategically used many of the ingredients that I chopped up there in item #2 and I cut up extra watermelon to have on hand for mid-day snacks.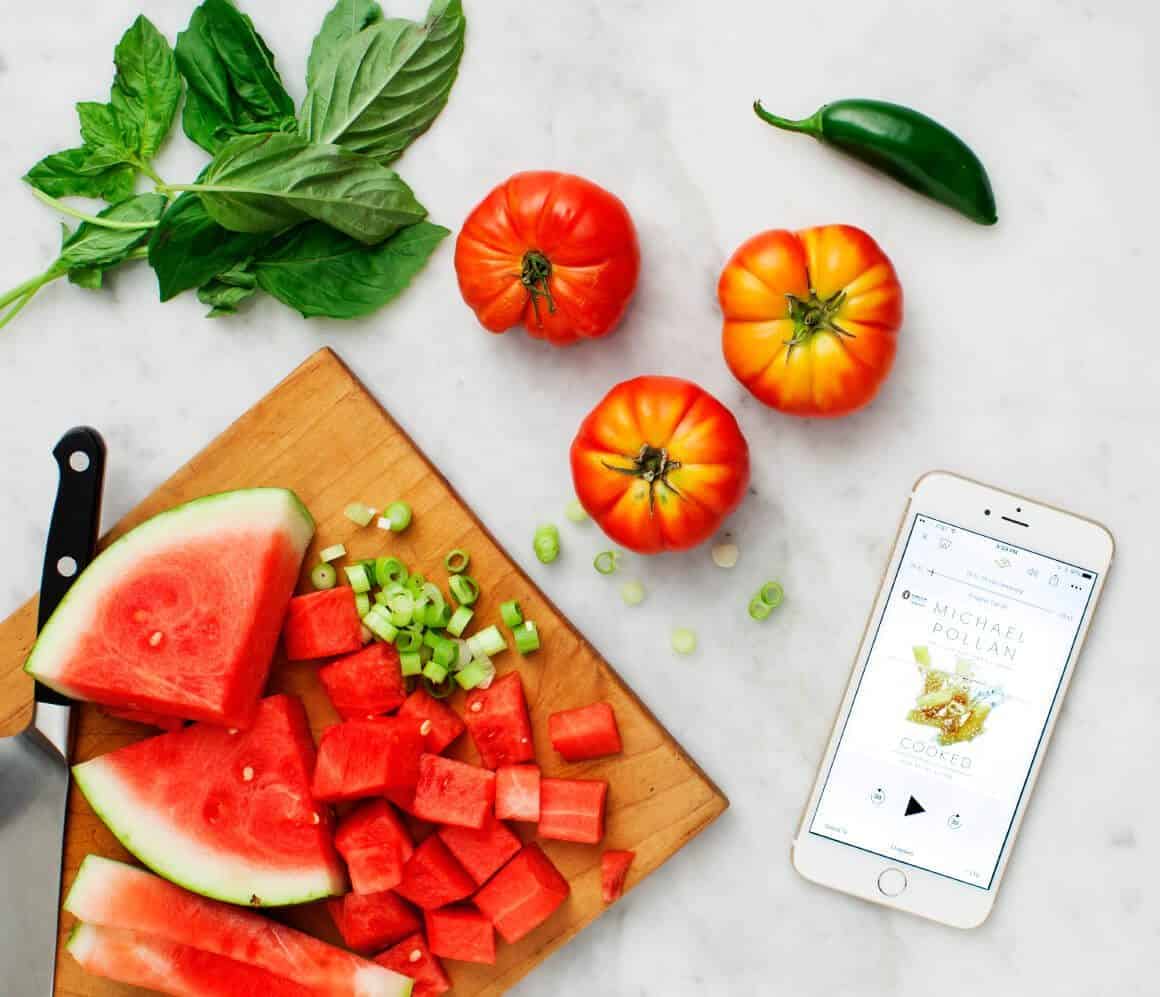 5. Listen to a great book while you work! Currently, I'm listening to Michael Pollen's Cooked (which is sort of ironic because this particular prep-session is entirely raw, but I digress). His previous book, In Defense of Food, was one of the reads that inspired my love for eating real, unprocessed, whole foods. His quote: "Eat food. Not too much. Mostly plants." has really stuck with me. I love listening to these books while cooking because they remind me why I love what I do so much.
These are some other foodie books that I love:
Animal Vegetable Miracle by Barbara Kingsolver
The Third Plate by Dan Barber
32 yolks by Eric Ripert
Stir by Jessica Fechtor
If you have favorites, please recommend them to me in the comments! And don't forget to download your first audio book for free as part of Audible's 30 day trial offer. 
6 steps to prep for a healthy week
Ingredients
Basil Jalapeño Sauce:
½ cup hemp seeds
½ cup water
3 tablespoons olive oil
1 small garlic clove
2 cups fresh basil
2 tablespoons lime juice
½ jalapeño (less if you're sensitive to spice)
¼ teaspoon maple syrup or honey, optional
sea salt and freshly ground black pepper
How to cook quinoa:
1 cup quinoa, rinsed
1¾ cups water
Instructions
For the sauce: Combine the hemp seeds, water, olive oil,garlic, basil, lime juice, and jalapeño with a few generous pinches of salt and freshly ground black pepper. Blend until creamy. Taste and adjust seasonings, adding the maple syrup (or honey) if the flavor is too tart. Add more sea salt, to taste. Store in the fridge for up to about 4 days.
For the quinoa: Combine the rinsed quinoa and water in a large pot and bring to boil. Cover, reduce heat, and simmer for 15 minutes. Remove the pot from heat and let it sit covered 10 more minutes. Fluff with a fork. Allow the quinoa to cool completely before storing in an airtight container in the fridge.
This post is in partnership with Audible. All opinions & recommendations are my own.